Camino a enterrar los fantasmas legales de la hiperinflación de Brasil
,
SAN PABLO – Una batalla legal de décadas entre consumidores e instituciones financieras sobre el impacto de las políticas económicas de Brasil de los años 1980 y 1990 se está aproximando a su fin. En diciembre, abogados que representan a demandantes presentaron ante el Supremo Tribunal Federal de Brasil un pedido de ratificación de un acuerdo alcanzado con los bancos.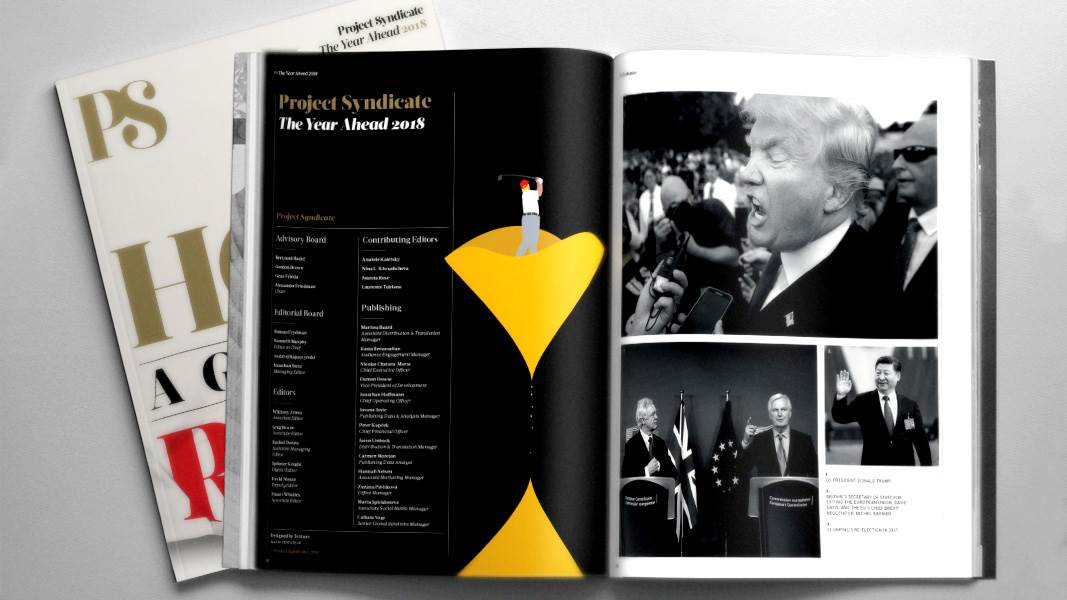 The Year Ahead 2018
The world's leading thinkers and policymakers examine what's come apart in the past year, and anticipate what will define the year ahead.
Si el tribunal aprueba el trato, el acuerdo colocaría miles de millones de reales en los bolsillos de los ahorristas. Pero más que una retribución largamente esperada por alrededor de un millón de demandantes, la restitución ordenada por la corte también marcaría un fin oficial de la guerra aparentemente interminable de Brasil a la hiperinflación.
Durante fines de los años 1980 y principios de los años 1990, el gobierno brasileño luchó por estabilizar la economía y la moneda del país. En el pico de la crisis, la inflación anual alcanzó el 2.477%; a esa tasa, los precios de los alimentos y los enseres domésticos aumentaban diariamente. Una serie de políticas infructuosas habían acelerado la inflación en los contratos públicos y privados, afectando los salarios, los alquileres y los depósitos bancarios. Unas medidas sumamente polémicas -como una decisión en 1990 de incautar los depósitos- frenaron brevemente la inflación pero contribuyeron a una profunda recesión.
La implementación en 1994 del Plano Real ("El plan real") trajo cierto alivio, al introducir un conjunto de medidas de estabilización que crearon la moneda actual. Pero esos también eran años problemáticos para Brasil desde un punto de vista político, ya que el país todavía estaba consolidando su transición a la democracia después de 20 años de dictadura militar. La hiperinflación y sus consecuencias sociales representaban un problema económico para los nuevos líderes de Brasil, y una creciente desigualdad planteaba una seria amenaza para las esperanzas democráticas del país.
Si bien los políticos finalmente surfearon la crisis monetaria, las tensiones económicas en realidad nunca desaparecieron, ni siquiera después de que entrara en vigencia el plan de 1994. Muchas de las medidas monetarias fallidas le costaron a la gente ahorros significativos; en consecuencia, casi todos los planes de estabilización desde ese período fueron litigados, inclusive el exitoso Plano Real. Las demandas legales en ese caso todavía están pendientes en el Tribunal Supremo.
Muchos en Brasil, especialmente los banqueros centrales, han advertido que un litigio continuo de políticas monetarias pasadas podría resultar en un colapso del sistema financiero actual, lo que derivaría en nuevos niveles de disfunción económica, como un crédito insuficiente.
Esa posibilidad parece haber tenido un efecto aleccionador en el principal tribunal del país. Históricamente, el Tribunal Supremo se ha puesto de parte de los consumidores en casos vinculados a ajustes por inflación en los depósitos de ahorros. Pero los jueces también han atemperado sus decisiones en casos con implicancias económicas de gran envergadura. Y, en el caso de las demandas legales que tenían que ver con la política económica, nunca se alcanzó una decisión final, a pesar de permanecer años en la lista de casos. Es por eso que se podría interpretar que el acuerdo alcanzado en diciembre -que fue ratificado por el procurador general- le dio una salida al tribunal.
Los detalles completos del acuerdo no han sido revelados. Pero parece cada vez más evidente que después de casi tres décadas de disputas legales, los consumidores y las instituciones financieras han acordado que una estrategia negociada es la única salida.
Como resultado de ello, más allá de cuál sea el cálculo final, los bancos probablemente terminen mejor parados de lo que las autoridades habían temido. Según informes, el acuerdo final estará cerca de los 12.000 millones de reales (3.800 millones de dólares), una cifra que dista mucho de una estimación previa del banco central de 150.000 millones de reales, o los 341.000 millones de reales que había pronosticado Febraban, la Federación Brasileña de Bancos.
Si este extenso derrotero legal efectivamente termina este año, gran parte del crédito lo merecerán las actualizaciones del Código Procesal Civil Brasileño. Los cambios implementados en marzo de 2016 alientan a los litigantes a buscar la mediación y el arbitraje, una medida destinada a reducir las decenas de millones de demandas civiles que hoy están taponando las cortes. Estas revisiones también podrían ayudar a cerrar otras causas legales de larga data.
Un acuerdo aprobado marcaría el fin de una batalla legal compleja y divisoria que durante demasiado tiempo ha impedido que los líderes de Brasil dejaran atrás un legado de iniciativas económicas fallidas. Eso sería una buena noticia para los consumidores, las instituciones financieras y la salud económica general de Brasil.