كذبة بوريس الكبرى
بروكسل- ما تزال المملكة المتحدة بعد مرور ثلاثة اعوام على اعلان نتيجة الاستفتاء على خروجها من الإتحاد الأوروبي لا تدرك كيفية الخروج من الاتحاد الأوروبي وما الذي سيحدث لاحقا لذلك علما انه تجري حاليا انتخابات على زعامة حزب المحافظين وذلك من اجل استبدال رئيسة الوزراء المنصرفة تيريزا ماي وبالنسبة للمتابعين للمشهد من بعيد فإن الجدل القائم بين المترشحين يؤكد انهم لم يتعلموا شيئا البتة من مفاوضات العامين الماضيين مع الإتحاد الأوروبي.
للإسف ، ان هذا ليس مفاجئا وذلك نظرا لإن المرشح المتصدر هو بوريس جونسون والذي كان أبرز شخص وراء حملة الدعوة للخروج من الاتحاد الاوروبي وهو رجل يستمر في تضليل العامة عن الخروج البريطاني من الاتحاد الاوروبي بريكست وتقديم معلومات مخادعة ومبالغ بها عن ذلك الخروج. لقد خدع جونسون وزملاءه من أنصار بريكست اغلبية بسيطة من الناخبين البريطانيين عندما اقنعهم ان الخروج من الاتحاد الأوروبي سيؤدي بطريقة أو بأخرى الى تقديم مبلغ اضافي لخدمة الصحة العامة البريطانية يصل الى 350 مليون جنيه استرليني (445 مليون دولار امريكي ) كل اسبوع. لقد اثار بوريس جونسون المخاوف من ان عضوية بريطانيا بالإتحاد الأوروبي ستؤدي بطريقة ما الى هجرة جماعية من تركيا ( والتي هي في واقع الأمر موطن جد بوريس جونسون من ناحية الأب علي كمال ).
على الرغم من احتمالية ان يجد جونسون نفسه في وضع يتوجب عليه ان ينفذ وعوده ، فإنه يستمر في نشر الاخبار الزائفة واهمها خرافة أن بإمكان بريطانيا ان تمزق اتفاقية الخروج والتي تفاوضت بشأنها تيريزا ماي مع الاتحاد الاوروبي والإمتناع عن التقيد بالتزاماتها المالية للاتحاد الاوروبي وبشكل متزامن البدء بالتفاوض بشأن صفقات تجارة حرة. لكن بالنسبة لإنصار جونسون هو نبي اكثر منه سياسي وفقط هو يستطيع ان ينفذ "بريكست حقيقي" اسطوري  يستطيع ان يقدم للناس الرفاهية التي تم تقديم وعود بتحقيقها خلال حملة الإستفتاء.
وكما هو الحال بالنسبة للشعبويين فإن الواقع ليس له علاقة بمزيج جونسون الساحر من الوعود الكاذبة والوطنية الزائفة واستهداف الاجانب . ان جونسون وزملاءه المؤيدين لبريكست يتحدثون عن "بريطانيا العالمية " التي ستتاجر بشكل حر مع بقية العالم وحتى لو جروا بلدهم الى طريق مليء بالعلاقات التجارية التي تم اقتلاعها وحواجز جديدة كبيرة في وجه التجارة.
ان القوة التجارية العالمية الحقيقة بالطبع هي الاتحاد الاوروبي والتي توصلت مؤخرا الى صفقات تجارية مع اليابان وكوريا الجنوبية وكندا وكدولة عضو في الاتحاد الأوروبي فإن بريطانيا تستفيد بشكل تلقائي من الاتفاقيات التجارية الاربعين التي وقعتها المجموعة مع اكثر من 70 دولة . لو اختارت بريطانيا "بريكست قاس" وخرجت من الاتحاد الأوروبي بدون صفقة كما اشار جونسون عن استعداده لذلك ، فإن بريطانيا ستخسر فورا الميزه التفضيلية لدخول اسواق تشكل حوالي 11% من اجمالي تجارتها ( على الرغم من ان حكومة ماي وقعت صفقات استمرارية مع بعض البلدان ، إلا انها لا تغطي نفس كمية التجارة بموجب الترتيبات الحالية لبريطانيا ضمن الاتحاد الأوروبي).
بالإضافة الى ذلك ، يضع الاتحاد الأوروبي اللمسات الاخيرة على مفاوضات من اجل التوصل لاتفاقية تجارة حرة مع تجمع ميركوسور (الارجنتين والبرازيل والبارغواي والاورغواي ) وذلك كجزء من اتفاقية شراكة أوسع بين المنطقتين وهذا سيعزز من وضع الإتحاد الأوروبي الذي يعتبر القائد العالمي للتجارة المفتوحة وعلى الرغم من ان الشركات الاوروبية تصدر بالفعل الكثير الى تجمع ميركوسور – 42 مليار يورو من البضائع سنة 2016 و22 مليار يورو من الخدمات سنة 2015- فإن حواجز التعرفة الجمركية تعتبر مرتفعة حاليا حيث يواجه المصدرون الاوروبيون رسوما تصل الى 35% على السيارات و 20-35% على الالات والمكونات المرتبطة بها و14% على المستحضرات الصيدلانية.
Subscribe now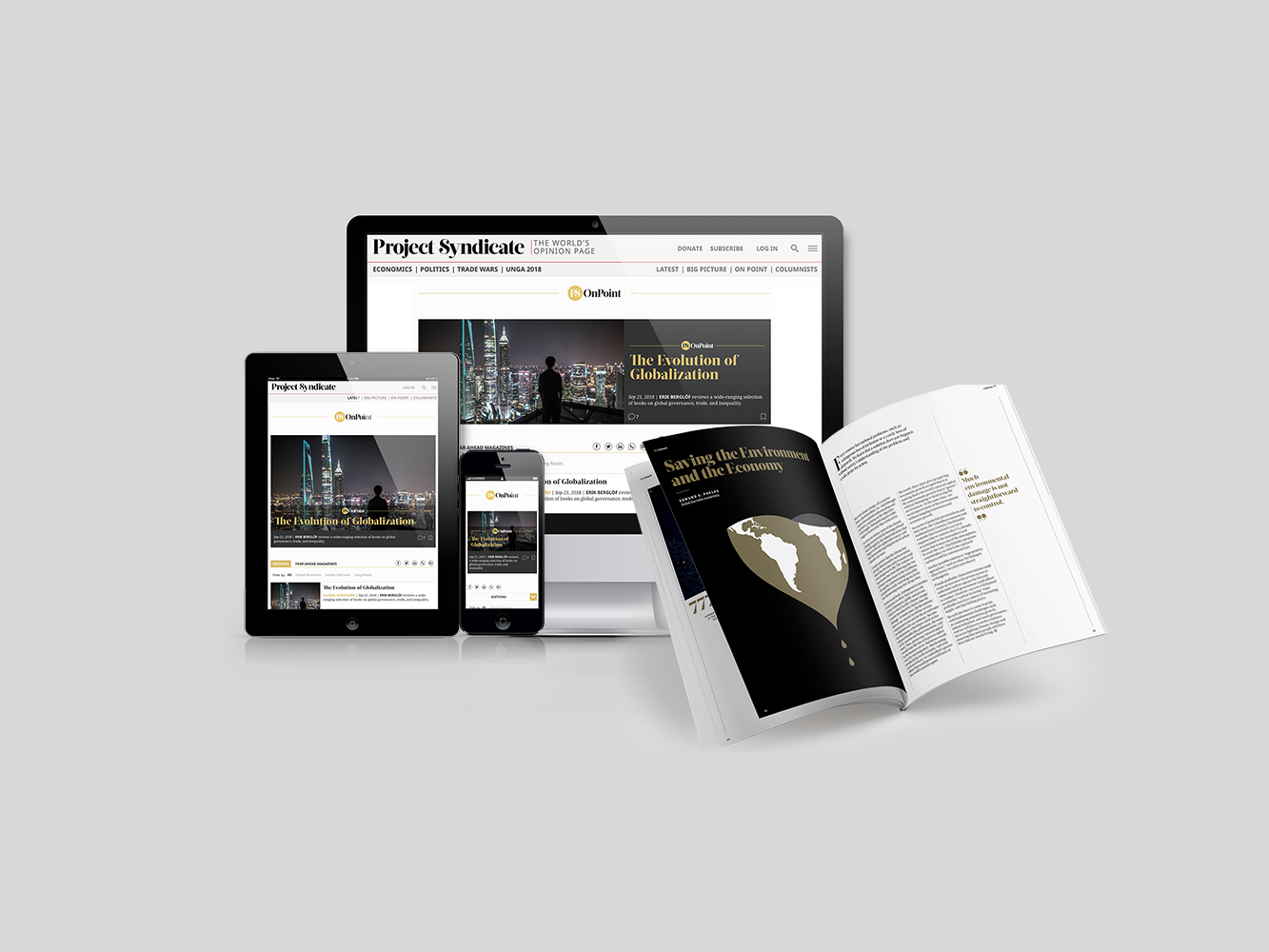 Subscribe now
Get unlimited access to OnPoint, the Big Picture, and the entire PS archive of more than 14,000 commentaries, plus our annual magazine, for less than $2 a week.
إن الصفقة التجارية المقترحة لا تفتقد للمعارضين بما في ذلك بعض المنظمات غير الحكومية والدول الاعضاء بالاتحاد الاوروبي والتي لديها صناعات لحوم ابقار كبيرة . يتوجب على مفاوضي الإتحاد الأوروبي ان يحققوا توازنا دقيقا من اجل حماية حقوق جميع الاوروبيين عبر القطاعات الاقتصادية كما يتوجب عليهم كذلك التعامل مع الأوضاع المتدهورة المتعلقة بحقوق الانسان والبيئة في البرازيل والضغط من اجل التوصل لقواعد وأحكام تشجع الشركات على التصرف بمسؤولية وتطبيق معايير سلامة الغذاء وضبط موضوع تقليد منتجات الطعام والشراب الاوروبية .
بشكل عام فإن اتفاقية التجارة بين الاتحاد الأوروبي وتجمع ميركوسور –والتي ستصبح واحدة من اضخم الصفقات التجارية في العالم بحيث تضم 750 مليون شخص – هي صفقة رابحة تماما حيث ستخلق فرصا للنمو ووظائف للطرفين وفي وقت الولايات المتحدة الأمريكية والصين في خضم حرب تجارية وتقنية مع عدم وجود حل في الأفق فإن لدى دول الاتحاد الأوروبي وتجمع ميركوسور فرصة لقيادة العالم في إتجاه اكثر تفاؤلا وايجابية.
إن هناك اسبابا استراتيجية قوية في واقع الامر تدفع من اجل إبرام الاتفاقية وكما جادل مارتن ساندبو في جريدة فاينانشال تايمز مؤخرا فإن "الإتحاد الأوروبي لا يوجد لديه العديد من الفرق العسكرية .... ولكن لديه شيئا بنفس الروعة تقريبا وهو السلطة على أضخم سوق في العالم ". يتوجب على الإتحاد الأوروبي استخدام قدرته الشرائية الجماعية على رفع المعايير العالمية وخاصة فيما يتعلق بالحماية البيئية.
إن اختتام محادثات الاتحاد الاوروبي-تجمع ميركوسور بنجاح سيرسل رسالة لبقية العالم عن قيمة وأهمية التجارة المفتوحة ومع احتمالية ان يتولى جونسون مهام السلطة في اواخر يوليو فإن اوروبا تكون قد قدمت المزيد من الادلة على ان بريكست ليس فقط عملية غير ضرورية فحسب ،بل ايضا عملية تضر بالمصالح الاقتصادية لبريطانيا وعندئذ ربما سيضطر اخيرا اولئك المغامرون من المؤيدين لبريكست لشرح ما هو الشيء الذين ما يزالوا يتذمرون بشأنه .