Boris' große Lüge
BRÜSSEL – Drei Jahre nach dem britischen Brexit-Referendum ist das Vereinigte Königreich einer Lösung hinsichtlich Austrittsmodalitäten aus der EU und Strategien für die Zeit danach um keinen Schritt näher, als zum Zeitpunkt der Bekanntgabe des Abstimmungsergebnisses. Und momentan ist gerade die Wahl des Parteichefs der Konservativen im Gange, um einen Nachfolger für die scheidende Premierministerin Theresa May zu bestimmen. Für uns Außenstehende bestätigt die Debatte der Kandidaten, dass diese aus den letzten zwei Jahren der Verhandlungen mit der EU absolut nichts gelernt haben.
Das kommt leider nicht überraschend, da der aussichtsreichste Anwärter Boris Johnson ist, prominentester Architekt der Austrittskampagne und ein Mann, der hinsichtlich des Brexits weiterhin täuscht, übertreibt und die Öffentlichkeit falsch informiert. Im Jahr 2016 haben Johnson und seine Brexiteers eine knappe Mehrheit der britischen Wähler in die Irre geführt, indem sie diese glauben ließen, ein Austritt aus der EU würde das nationale britische Gesundheitssystem National Health Service wöchentlich mit zusätzlichen 350 Millionen Pfund ausstatten. Außerdem weckte er Ängste, wonach Großbritanniens EU-Mitgliedschaft irgendwie zu Masseneinwanderung aus der Türkei (zufälligerweise Heimat seines Großvaters väterlicherseits, Ali Kemal) führen würde.
Obwohl Johnson höchstwahrscheinlich bald eine Position innehaben wird, an der er seine Versprechungen wird einlösen müssen, verbreitet er weiterhin Unwahrheiten. Darunter sticht besonders der Mythos hervor, wonach Großbritannien, das von May ausgehandelte Austrittsabkommen mit der EU aushebeln, seine finanziellen Verpflichtungen gegenüber der Union ignorieren und gleichzeitig mit den Verhandlungen über Freihandelsabkommen beginnen könne. Allerdings ist Johnson für seine Anhänger auch weniger Politiker als vielmehr Prophet: nur er kann einen mythenbehafteten "echten Brexit" zustande bringen, der jenen Wohlstand liefert, wie er während der Referendumskampagne versprochen wurde.
Wie so oft bei den Populisten stimmt die Realität nicht mit Johnsons erfundener Mischung aus falschen Versprechungen, Pseudo-Patriotismus und Ausländerfeindlichkeit überein. Er und seine Brexiteers sprechen von einem "globalen Großbritannien", das mit dem Rest der Welt Freihandel treiben wird, obwohl sie das Land auf einen Weg führen, der mit gescheiterten Handelsbeziehungen und erheblichen neuen Handelshemmnissen gepflastert ist.
Die wahre globale Handelsmacht ist freilich die EU, die kürzlich Handelsabkommen mit Japan, Südkorea und Kanada abgeschlossen hat. Als EU-Mitgliedstaat profitiert Großbritannien automatisch von den 40 Handelsabkommen, die zwischen der Union und mehr als 70 Ländern bestehen. Wenn sich das Vereinigte Königreich für einen "harten" Brexit entscheidet und ohne Abkommen aus der EU austritt, wie Johnson das angedeutet hat, würde es sofort den bevorzugten Zugang zu Märkten verlieren, auf die rund 11% des gesamten britischen Handelsvolumens entfallen. (Obwohl Mays Regierung Kontinuitätsvereinbarungen mit einigen Ländern geschlossen hat, decken diese nicht annähernd das Handelsvolumen der derzeitigen Arrangements Großbritanniens innerhalb der EU ab.)
Darüber hinaus steht die EU vor dem Abschluss der Verhandlungen über ein neues Freihandelsabkommen mit dem Mercosur – Argentinien, Brasilien, Paraguay und Uruguay – als Teil eines umfassenderen Assoziierungsabkommens zwischen den beiden Regionen. Das wird den Rang der EU als weltweit führende Macht im Bereich des offenen Handels festigen. Obwohl europäische Unternehmen bereits in großem Umfang in die Mercosur-Region exportieren – 2016 Waren im Wert von 42 Milliarden Euro und 2015 Dienstleistungen für  22 Milliarden Euro – bestehen derzeit hohe Zollschranken.  Für europäische Exporteure fallen Abgaben in Höhe von 35 Prozent für Autos, 20 bis 35 Prozent für Maschinen und zugehörige Komponenten sowie 14 Prozent für Arzneimittel an.
Subscribe now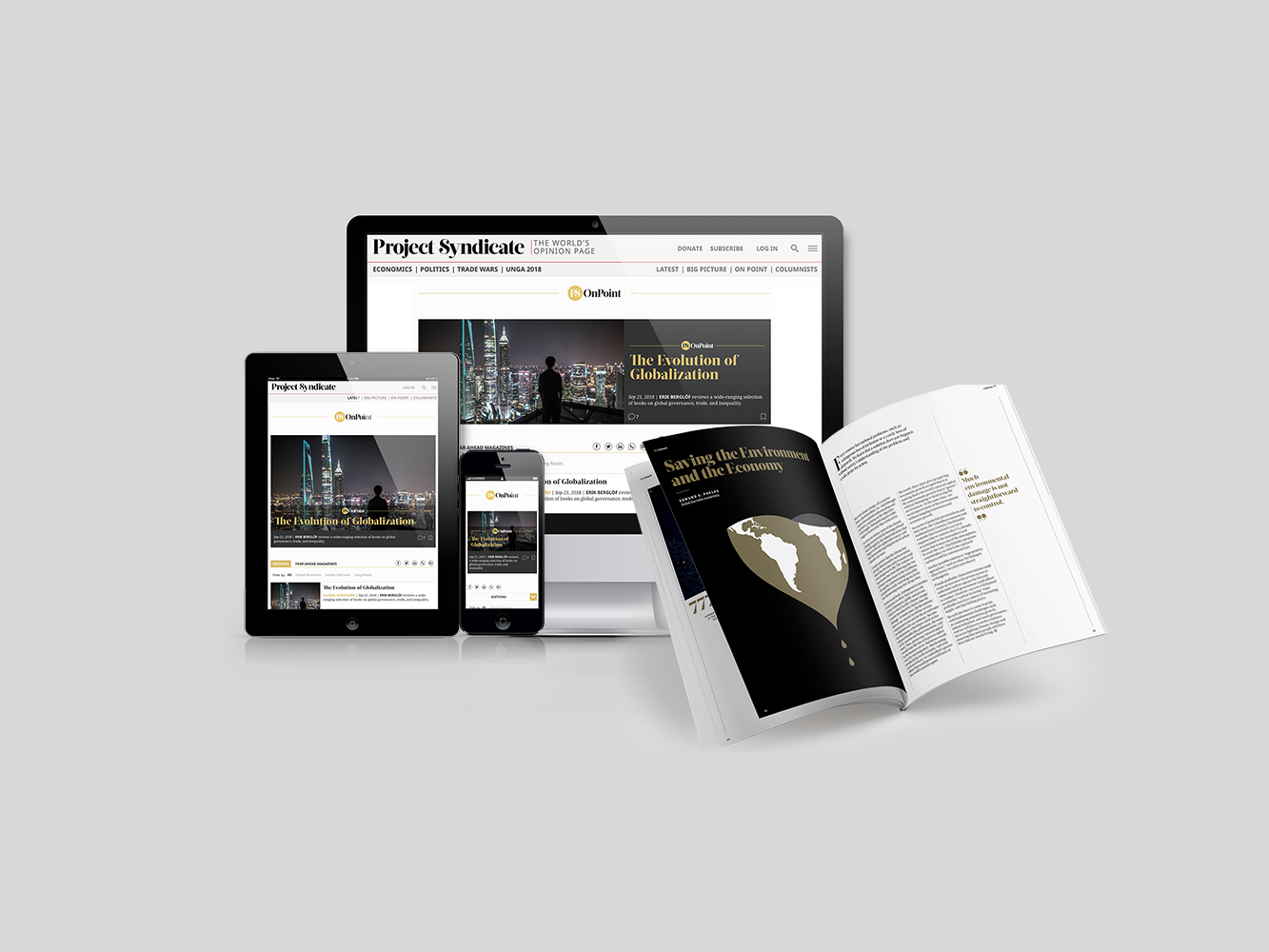 Subscribe now
Get unlimited access to OnPoint, the Big Picture, and the entire PS archive of more than 14,000 commentaries, plus our annual magazine, for less than $2 a week.
Dem vorgeschlagenen Handelsabkommen mangelt es nicht an Gegnern, darunter Nichtregierungsorganisationen und EU-Mitgliedsstaaten mit großer Rindfleischindustrie. Die Verhandlungsführer in der EU werden einen Mittelweg finden müssen, um die Rechte aller Europäer in allen Wirtschaftssektoren zu schützen. Sie werden  sich auch mit den sich verschlechternden Menschenrechts- und Umweltbedingungen in Brasilien befassen und auf Bestimmungen drängen müssen, die Unternehmen dazu ermutigen, verantwortungsbewusst zu handeln, Lebensmittelsicherheitsstandards einzuhalten und gegen Nachahmungen europäischer Lebensmittel und Getränke vorzugehen.
Insgesamt jedoch stellt ein EU-Mercosur-Handelsabkommen – mit 750 Millionen Menschen eine der umfangreichsten Handelsvereinbarungen weltweit – eine Win-Win-Situation dar, die auf beiden Seiten Chancen für Wachstum und Arbeitsplätze schafft. Zu einer Zeit, da die USA und China in einen Handels- und Technologiekrieg verstrickt sind, dessen Ende noch nicht abzusehen ist, haben die EU und die Mercosur-Länder die Chance, die Welt in eine vielversprechendere Richtung zu führen.
In der Tat besteht ein starkes strategisches Argument für den Abschluss des Abkommens. Wie Martin Sandbu von der Financial Times kürzlich meinte: "Die EU verfügt nicht über viele militärische Divisionen… dafür aber über etwas ebenso Fantastisches, nämlich die Macht über den größten Markt der Welt."  Die EU muss ihre kollektive Kaufkraft nutzen, um die Standards weltweit anzuheben, insbesondere im Hinblick auf den Umweltschutz.
Ein erfolgreicher Abschluss der EU-Mercosur-Gespräche würde dem Rest der Welt eine Botschaft über den Wert und die Bedeutung des offenen Handels übermitteln. Zum Zeitpunkt seiner wahrscheinlichen Amtsübernahme Ende Juli wird Europa Johnson noch weitere Beweise vorgelegt haben, dass der Brexit nicht nur unnötig ist, sondern auch den wirtschaftlichen Interessen Großbritanniens zuwiderläuft. Dann werden die "freibeuterischen" Brexiteers möglicherweise endlich erklären müssen, worüber sie sich noch immer beschweren.  
Aus dem Englischen von Helga Klinger-Groier