Argentina necesita cuidados intensivos
WASHINGTON, DC – Imagine a un hombre que haya vivido de manera demasiado extravagante y quien, con el pasar del tiempo, debe acudir al médico para recibir tratamiento por que sufre una enfermedad aguda, junto con  varias otras afecciones crónicas. El médico receta a su paciente un tratamiento de antibióticos de diez días de duración, y le aconseja comenzar a cuidarse mejor. Después de tomar las píldoras durante tres días y seguir las instrucciones del médico, el hombre se siente mucho mejor. Sin embargo, también siente que la vida tranquila es dolorosa, así que olvida los consejos de su médico y los medicamentos, y no sólo retoma, sino que redobla su vida de libertinajes.
Durante un tiempo, su retorno a la gran vida libertina hace que se sienta genial. Pero, en poco tiempo, acude nuevamente al médico, en peor situación que antes. El ciclo se repite: toma sus medicamentos durante una semana completa esta vez, pero finalmente vuelve a sus viejos hábitos.
Argentina es ese hombre, quien crónicamente gasta y regula de manera excesiva hasta que se ve obligado a ir al Fondo Monetario Internacional para recibir una nueva ronda de tratamiento. En el año 2001, el país sufrió una crisis importante y tuvo que pedir prestado al exterior para cubrir los gastos gubernamentales. Ya que el país tenía un déficit en cuenta corriente superior al 5% del PIB y su moneda estaba vinculada al dólar estadounidense, sus políticas estructurales eran ostensiblemente insostenibles. El país necesitaba del apoyo del FMI sólo para cubrir sus gastos corrientes, y no le quedaban recursos para el servicio de la deuda.
Al dejar de lado la vinculación al dólar, Argentina adoptó políticas monetarias y fiscales que fueron necesariamente restrictivas, e ingresó en un programa de préstamos del FMI. Pero su reestructuración de la deuda fue desordenada, y las políticas para abordar sus problemas estructurales subyacentes – como el reducir las barreras comerciales y permitir que los precios de los servicios públicos aumenten – se aplicaron a medias o no se aplicaron en absoluto.
Después de varios años de políticas económicas relativamente restrictivas, el crecimiento repuntó ligeramente, y el gasto público y los déficits fiscales comenzaron una vez más a aumentar. El gasto público consolidado aumentó de un mínimo del 22,9% del PIB en el año 2002 al 30,1% del PIB en el 2008, y al 42,2% en el 2015. Hasta el año 2010, los altos precios de las materias primas habían permitido un auge, pero los gobiernos peronistas de los presidentes Néstor Kirchner y de su esposa y sucesora, Cristina Fernández de Kirchner, habían impuesto controles de precios, y evitaban que las agencias estatales informaran las cifras de inflación correctas.
Cuando terminó el auge de las materias primas, aumentó tanto el gasto público como el déficit fiscal, y los problemas de Argentina retornaron. Se impusieron nuevamente controles de capital para frenar la fuga de capitales, y el tipo de cambio del peso frente al dólar estadounidense se depreció de 3,90 a fines del 2010 a 8,50 a finales del 2014. Los precios de los servicios públicos fueron mantenidos en niveles que causaban pérdidas; y, había una abundancia de problemas estructurales.
Subscribe now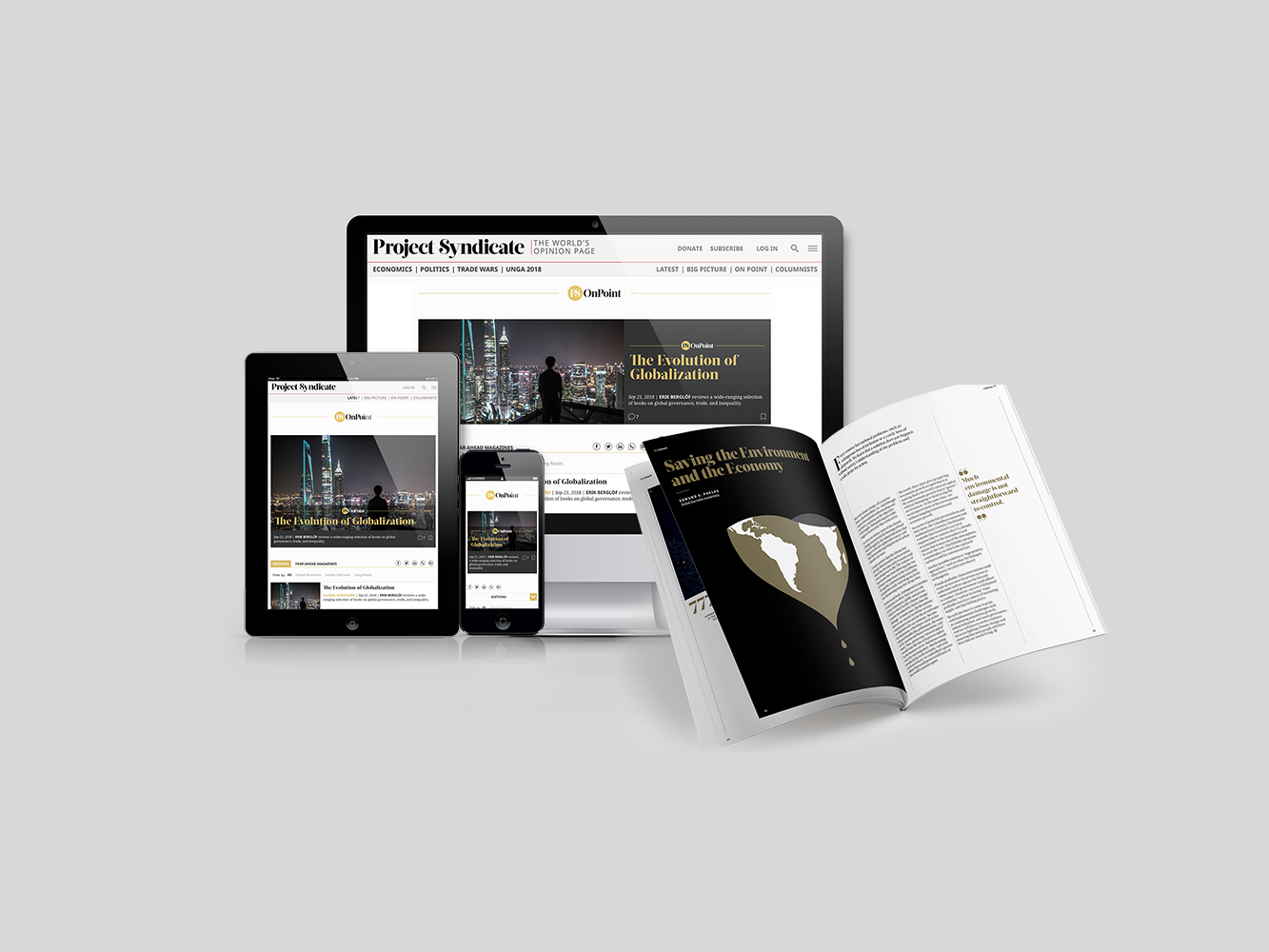 Subscribe now
Subscribe today and get unlimited access to OnPoint, the Big Picture, the PS archive of more than 14,000 commentaries, and our annual magazine, for less than $2 a week.
Para una economía tan distorsionada como la argentina, no existe un medicamento que pueda evitar un período de ajuste doloroso. Cuando el actual presidente de Argentina, Mauricio Macri, se posesionó en el cargo en el año 2015 después de los gobiernos peronistas, heredó un desastre absoluto. Mientras que las altas y crecientes tasas de interés reales atraían flujos de entrada de capital para financiar los déficits gubernamentales y de cuenta corriente, la inflación era alta y la tasa de crecimiento era baja.
Macri había prometido reformas, incluyendo la eliminación de los controles de capital, un tipo de cambio flotante, recortes fiscales y precios de servicios públicos más realistas. Las dos primeras reformas se llevaron a cabo poco después de que asumió el cargo, pero otras medidas se retrasaron o ralentizaron para mantener el apoyo público. Como resultado, el déficit fiscal en los hechos se incrementó durante el primer año de Macri, y las otras reformas resultaron insuficientes para estabilizar la economía. Si bien la tasa de inflación había disminuido, pronto comenzó a subir de nuevo.
A principios de 2018, Argentina estaba en otra crisis. Si bien el gasto público había disminuido ligeramente, hasta 40,4% del PIB, el déficit fiscal consolidado fue del 4,2% del PIB. Además, la deuda gubernamental denominada en dólares se había elevado en un 80%,  los flujos de entrada de capital privado se habían convertido en flujos de salida, una sequía había reducido la producción, la tasa de inflación se había disparado a más del 40% y el PIB real había disminuido en un 2,5%. En respuesta a todo esto, el banco central abandonó su marco de metas de inflación, debilitando aún más la confianza en las políticas del gobierno.
Más pronto que tarde, Argentina se vio obligada a volver a rastras al médico. Debido a las reformas que ya se habían emprendido, en junio de 2018 el FMI aprobó un programa de préstamos de $50 mil millones, el más grande en la historia del Fondo. A lo largo del siguiente año, parecía que el programa del FMI y las políticas del gobierno de Macri aún podrían volcar el curso de las cosas, reduciendo la inflación y reiniciando el crecimiento. Pero Macri sufrió una derrota simbólica en las elecciones primarias del país el mes pasado, lo que sugiere con mucha fuerza que será derrocado por los peronistas en las elecciones presidenciales del próximo mes. De manera demasiado previsible, los flujos de salida de capital se convirtieron en un diluvio de salidas, el peso argentino se depreció bruscamente, la inflación se elevó y el gobierno se vio obligado a restablecer los controles de capital.
De nuevo, el problema es que el medicamento no fue lo suficientemente fuerte. Ante la insistencia del paciente, las medidas fueron demasiado leves para ser efectivas y se retrasaron las reformas estructurales más difíciles. Obviamente, la estabilización macroeconómica es esencial. Pero la única forma posible de evitar una profundización de la crisis antes de los comicios de octubre es que los candidatos se comprometan a realizar reformas serias después de las elecciones. Eso es lo que hizo Luiz Inácio Lula da Silva en las elecciones presidenciales del año 2002 en Brasil, y funcionó. Lula honró su compromiso de reforma una vez en el cargo, y Brasil no sólo evitó una crisis, sino que experimentó varios años de fuerte crecimiento.
La crisis de Argentina exige la continuación de las medidas fiscales, monetarias y cambiarias esbozadas en el programa del FMI. Más allá de eso, el país necesita reformas estructurales, especialmente una mayor reducción en el tamaño del sector gubernamental, comenzando con las pensiones. Un mayor gradualismo sólo prolongará el dolor y permitirá que la oposición política sea cada vez mayor. Si el paciente toma el medicamento pero continúa de fiesta, puede disfrutar de unos años de estabilidad, pero inevitablemente terminará nuevamente en el consultorio del médico. Por lo tanto, lo primero es lo primero: los candidatos presidenciales deben comprometerse a realizar reformas serias, o el médico puede decidir desconectar al paciente de las máquinas que le mantiene vivo.
Traducción del inglés: Rocío L. Barrientos.