Der Mythos solider Rahmendaten
NEW HAVEN – Die Reaktion war nur allzu vorhersehbar. Nun, da der US-Aktienmarkt nach der deutlichen Korrektur Anfang Februar wieder langsam steigt, ist das geistlose Mantra des großen Bullenmarktes zurück. Die jüngste Korrektur wird nun als flüchtige Anomalie – als Volatilitätsschock – innerhalb eines nach wie vor als sehr günstig betrachteten Investitionsklimas dargestellt. Schließlich seien die wirtschaftlichen Rahmendaten – nicht nur in den USA, sondern weltweit – so gut wie seit langer, langer Zeit nicht mehr.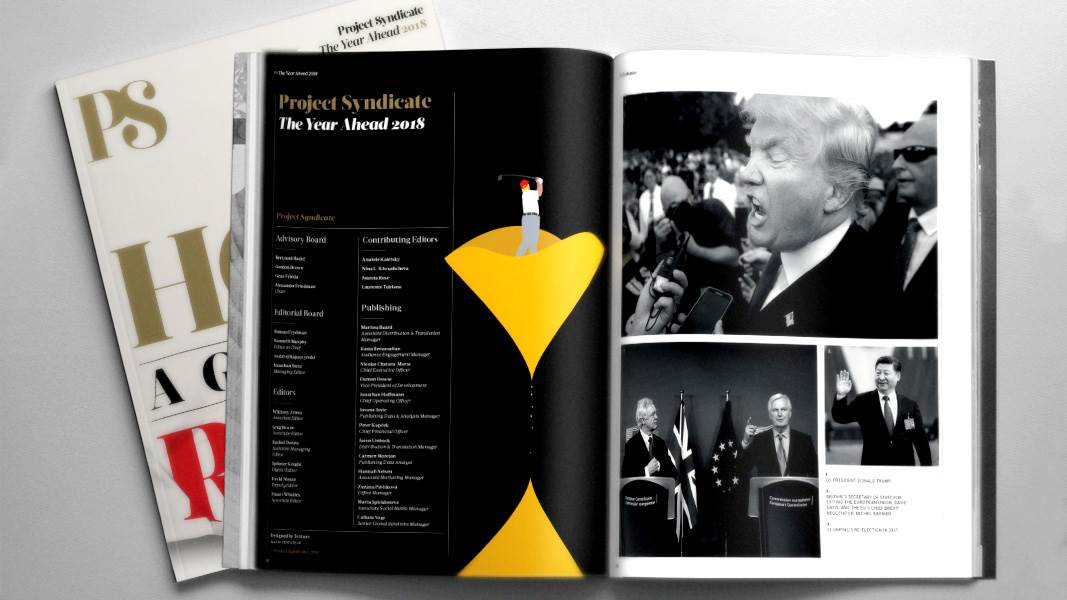 The Year Ahead 2018
The world's leading thinkers and policymakers examine what's come apart in the past year, and anticipate what will define the year ahead.
Aber sind die Rahmendaten wirklich so solide? Für eine US-Volkswirtschaft mit einem rasiermesserdünnen Rücklagenpolster entspricht dies in keiner Weise den Tatsachen. Amerikas nationale Nettosparquote – die Summe der Ersparnisse der Unternehmen, der privaten Haushalte und des öffentlichen Sektors – betrug im dritten Quartal 2017 gerade mal 2,1% vom Volkseinkommen. Das ist nur ein Drittel des Durchschnittswertes von 6,3% der letzten drei Jahrzehnte des 20. Jahrhunderts.
Es ist wichtig, Ersparnisse unter Nettoaspekten zu betrachten, also abzüglich der Wertminderungen für veraltete oder abgenutzte Kapazitäten, um einzuschätzen, wie viel die Volkswirtschaft zur Finanzierung der Ausweitung ihrer Produktionskapazitäten beiseitelegt. Die Nettoersparnisse stellen die heutigen Investitionen in die Zukunft dar, und Amerika spart so gut wie gar nichts.
Leider ist die Geschichte damit noch nicht vorbei. Zur Finanzierung von Konsum und Wachstum nehmen die USA Kredite in Form ausländischer Kapitalüberschüsse auf, um das eigene Defizit auszugleichen. All diese Kredite implizieren ein großes Zahlungsbilanzdefizit gegenüber der übrigen Welt, das ein gleichermaßen hohes Handelsdefizit verursacht. Auch wenn man die Regierung von Präsident Donald Trump kaum für diesen traurigen Zustand verantwortlich machen kann, ist ihre Politik dabei, eine schwierige Situation noch deutlich zu verschlimmern.
Unter dem Deckmantel einer Steuerreform hat Trump Ende letzten Jahres Gesetze unterzeichnet, die das Haushaltsdefizit des Bundes im kommenden Jahrzehnt um 1,5 Billionen Dollar erhöhen werden. Und der US-Kongress hat in seiner unendlichen Weisheit nun bei seinem jüngsten Kompromiss zur Vermeidung eines Regierungsstillstandes die Ausgaben noch um weitere 300 Milliarden Dollar erhöht. Ganz abgesehen davon, dass eine Defizitfinanzierung bei annähernder Vollbeschäftigung keinen Sinn ergibt: Diese deutliche Ausweitung des Bundesdefizits reicht allein schon aus, um die ohnehin schon niedrige nationale Nettosparquote in Richtung null zu drücken. Und nicht nur die roten Zahlen der Regierung sind problematisch. Die private Sparquote ist im Dezember 2017 auf 2,4% der verfügbaren (versteuerten) Einkommen gefallen; das ist der niedrigste Stand in zwölf Jahren und nur ein Viertel des Durchschnittswertes von 9,3% der letzten drei Jahrzehnte des 20. Jahrhunderts.
Angesichts steil sinkender Inlandsersparnisse haben die USA zwei Möglichkeiten: eine Reduzierung der Investitionen und des dadurch gestützten Wirtschaftswachstums oder eine zunehmende Kreditaufnahme in Form ausländischer Kapitalüberschüsse. In den vergangenen 35 Jahren hat sich Amerika konsequent für Letzteres entschieden und dabei seit 1982 jedes Jahr Zahlungsbilanzdefizite aufgewiesen (eine kleine Ausnahme war 1991, was die ausländischen Beiträge zu den Militärausgaben der USA im Golfkrieg widerspiegelt). Natürlich gehen mit diesen Defiziten gleichermaßen chronische Handelsdefizite gegenüber einem breiten Querschnitt von Amerikas ausländischen Partnern einher. Im Jahr 2017 wiesen die USA Handelsdefizite gegenüber 102 Ländern auf.
Die multilateralen ausländischen Handelsdefizite einer ersparnisarmen US-Wirtschaft bereiten den Boden für die vielleicht ungeheuerlichste Dummheit der Trump-Regierung: eine Hinwendung zum Protektionismus. Ein weiterer Druck auf die schon jetzt niedrigen nationalen Ersparnisse wird sich in wachsenden Leistungsbilanz- und Handelsdefiziten niederschlagen – ein grundlegendes makroökonomisches Axiom, das die US nie so richtig zu würdigen scheinen.
Der Versuch, ein multilaterales Ungleichgewicht durch bilaterale Zölle zu lösen, die sich größtenteils gegen China richten – wie etwa jene auf Solarzellen und Waschmaschinen im Januar – ergibt keinen Sinn. Und die wachsende Wahrscheinlichkeit weiterer Handelsschranken, wie sie in den jüngsten Empfehlungen des US-Handelsministeriums für Zölle auf Aluminium und Stahl vorgeschlagen werden, macht die Kombination aus Protektionismus und stetig steigenden Handelsungleichgewichten für die immer stärker von ausländischem Kapital abhängige US-Wirtschaft noch problematischer. Die Rahmendaten der ersparnisarmen US-Wirtschaft sind also alles andere als solide, sondern erscheinen anfälliger denn je.
Den USA fehlt nicht nur eine solide Unterstützung durch erwirtschaftete Einkommen: Die niedrigen Ersparnisse erhöhen zudem die Abhängigkeit des Landes von den wankelmütigen Vermögensmärkten deutlich stärker, als das sonst möglicherweise der Fall wäre. Dies gilt insbesondere für die amerikanischen Verbraucher, die sich zur Unterstützung ihres überzogenen Lebensstils auf Wertzuwächse ihrer Aktienbestände und Eigenheime stützen. Es gilt zudem für die US Federal Reserve, die sich auf eine unkonventionelle Geldpolitik verlegt hat, um die Realwirtschaft mittels sogenannter Vermögenseffekte zu stützen. Und natürlich reagieren ausländische Investoren extrem sensibel auf die relativen Renditen unterschiedlicher Vermögenswerte – US-amerikanischer und der anderer Märkte – sowie auf die Umrechnung dieser Renditen in ihre Heimatwährungen.
Angetrieben von der Dynamik der Trends bei der Beschäftigung, Industrieproduktion, Verbraucherstimmung und den Unternehmenserträgen werden die Argumente für solide Rahmendaten in Phasen der Volatilität an den Finanzmärkten wie bei einer kaputten Schallplatte gebetsmühlenartig wiederholt. Aber Dynamik und Rahmendaten sind zwei sehr unterschiedliche Dinge. Eine Dynamik kann sehr kurzlebig sein, insbesondere für eine ersparnisarme US-Wirtschaft, die dabei ist, das Saatgut künftigen Wohlstands aufzuzehren. Angesichts der dysfunktionalen Politik, die auf einen weiteren Rückgang der Ersparnisse in den kommenden Jahren hinweist, klingt der Mythos solider US-Rahmendaten heute unglaubwürdiger denn je.
Aus dem Englischen von Jan Doolan