El mito de los fundamentos sólidos
NEW HAVEN – Era demasiado predecible. Ahora que la bolsa estadounidense comienza trabajosamente a recuperarse de la fuerte corrección de principios de febrero, se oye una vez más la letanía irreflexiva del gran mercado alcista. Nos dicen que la corrección reciente fue una aberración pasajera (un shock de volatilidad) en lo que todavía se considera un clima de inversiones sumamente propicio. Después de todo (sigue el argumento), hace mucho que los fundamentos económicos no estaban tan bien (no sólo en Estados Unidos, sino en todo el mundo).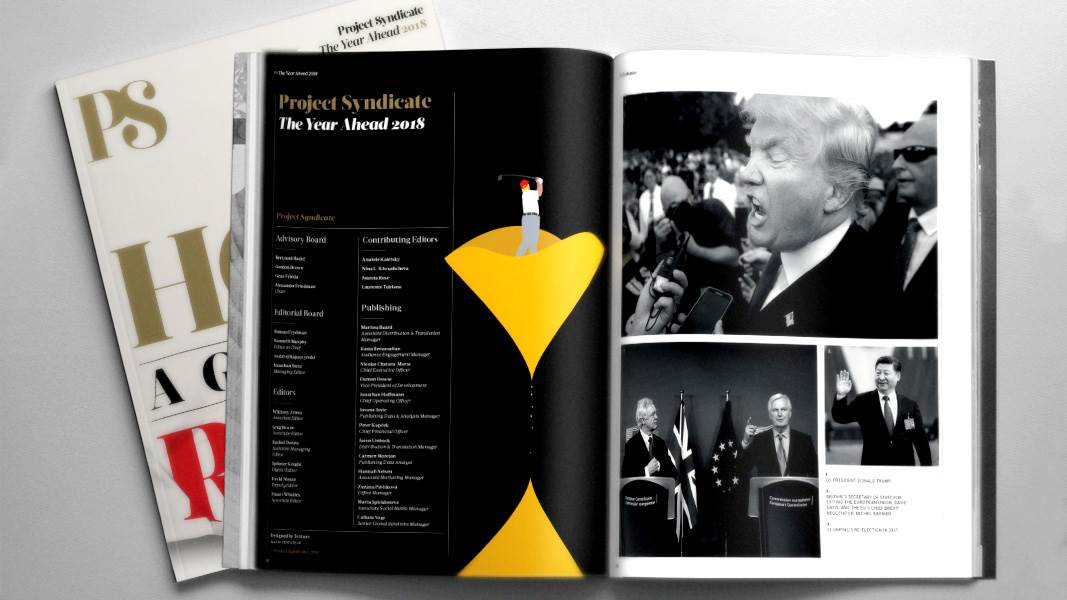 The Year Ahead 2018
The world's leading thinkers and policymakers examine what's come apart in the past year, and anticipate what will define the year ahead.
Pero ¿son los fundamentos realmente tan sólidos? Para la economía estadounidense, con un colchón de ahorro casi inexistente, la verdad parece ser más bien todo lo contrario. El tercer trimestre de 2017, la tasa de ahorro nacional neto (la suma del ahorro de las empresas, de las familias y del sector público) en Estados Unidos no superó el 2,1% del producto nacional; es decir, sólo un tercio del 6,3% promedio que imperó en las últimas tres décadas del siglo XX.
Para evaluar cuánto está reservando la economía para financiar la ampliación de la capacidad productiva, es importante analizar las cifras de ahorro "netas" (descontando la depreciación de la capacidad gastada u obsoleta). El ahorro neto es la inversión del presente en el futuro; y la conclusión es que Estados Unidos no ahorra casi nada.
Lamentablemente, la historia no termina aquí. Para financiar el consumo y el crecimiento, Estados Unidos compensa la falta de ahorro interno pidiendo prestados excedentes de ahorro extranjeros. Todo ese endeudamiento implica un enorme déficit de balanza de pagos con el resto del mundo, que engendra un déficit comercial igualmente grande. Si bien no se puede culpar por esta difícil situación al gobierno del presidente Donald Trump, sus políticas la agravarán en gran medida.
A fines del año pasado, bajo el manto de una reforma tributaria, Trump promulgó una ley que aumentará 1,5 billones de dólares el déficit del presupuesto federal durante los próximos diez años. Y ahora el Congreso de los Estados Unidos, en su infinita sabiduría, sumó otros 300 000 millones con el último acuerdo para evitar un "cierre del gobierno". Dejando a un lado el hecho de que el gasto deficitario no tiene sentido cuando la economía se acerca al pleno empleo, esta enorme ampliación del déficit federal por sí sola bastará para llevar más cerca de cero la tasa de ahorro neto nacional, que ya de por sí es baja. Y el rojo del gobierno no es el único problema. En diciembre de 2017, la tasa de ahorro personal había caído a 2,4% de los ingresos disponibles (tras pago de impuestos), la cifra más baja en doce años, y apenas un cuarto del 9,3% promedio que imperó durante las últimas tres décadas del siglo XX.
El derrumbe del ahorro nacional deja a Estados Unidos dos opciones: una reducción de la inversión y del crecimiento económico que aquella sustenta, o un aumento de la absorción de ahorro excedente extranjero en forma de deuda. En los últimos 35 años, Estados Unidos eligió sistemáticamente lo segundo: desde 1982, tuvo déficit de balanza de pagos todos los años (con una pequeña excepción en 1991, por los aportes extranjeros a los gastos militares de Estados Unidos en la Guerra del Golfo). Y por supuesto, este déficit genera un desequilibrio igualmente crónico en la mayor parte del comercio internacional estadounidense: aunque parezca increíble, en 2017 Estados Unidos tuvo déficit comercial con 102 países.
El déficit comercial multilateral, con una economía estadounidense escasa de ahorro, sentó las bases para lo que tal vez sea el error más flagrante de la administración Trump: el giro al proteccionismo. Seguir comprimiendo una posición de ahorro nacional que ya es débil llevará a un aumento de los déficits de cuenta corriente y comercial (un axioma fundamental de la macroeconomía, que al parecer Estados Unidos nunca termina de entender).
Tratar de resolver un desequilibrio multilateral con aranceles bilaterales dirigidos sobre todo a China (como los que se impusieron en enero a los paneles solares y las lavadoras) no cierra. Y como es cada vez más probable que se sumen más barreras comerciales (según se desprende de las últimas recomendaciones del Departamento de Comercio de los Estados Unidos para que se impongan altos aranceles al aluminio y el acero), la combinación de proteccionismo y desequilibrios comerciales en alza se torna mucho más problemática para una economía estadounidense que será cada vez más dependiente del capital extranjero. Más que sólidos, los fundamentos de esta economía escasa de ahorros se ven más inestables que nunca.
Sin apoyo suficiente desde la generación de ingresos, la falta de ahorro también deja a Estados Unidos mucho más expuesto a la volatilidad de los mercados de activos. Esto vale especialmente para los consumidores estadounidenses, que se apoyaron en la valorización de las acciones y los inmuebles para sostener estilos de vida excesivos. También para la Reserva Federal de los Estados Unidos, que apeló a políticas monetarias no convencionales para sostener la economía real por medio del "efecto riqueza". Y por supuesto, los inversores extranjeros son muy sensibles a la comparación de rendimientos de activos entre Estados Unidos y otros mercados, así como a la conversión de esos rendimientos a sus monedas locales.
A impulso de las tendencias en materia de empleo, producción industrial, sentimiento de los consumidores y ganancias corporativas, en tiempos de volatilidad financiera vuelve a oírse como un disco rayado el argumento de que los fundamentos son sólidos. Pero impulsos y fundamentos son cosas muy diferentes. Un impulso puede ser pasajero (especialmente para una economía estadounidense escasa de ahorros que se está comiendo las semillas de la prosperidad futura). Ahora que políticas disfuncionales apuntan a una mayor constricción del ahorro en los años venideros, el mito de que los fundamentos económicos de Estados Unidos son sólidos suena más hueco que nunca.
Traducción: Esteban Flamini