Amerikas falsches China-Narrativ
NEW HAVEN – In einem seltenen Moment parteiübergreifender Übereinstimmung sind Amerikas Republikaner und Demokraten bei einem zentralen Thema nun einer Meinung: Sie geben China die Schuld für alles, woran die USA kranken. Auf China einzuprügeln hatte noch nie derart breit gestreute Attraktivität wie heute.
Diese Fixierung auf China als existentielle Bedrohung des geliebten "Amerikanischen Traums" hat inzwischen ernste Konsequenzen. Sie hat zu wechselseitigen Zollerhöhungen, eskalierenden Sicherheitsbedrohungen, Warnungen über einen neuen Kalten Krieg und sogar Geflüster über einem militärischen Konflikt zwischen der aufstrebenden Macht und dem amtierenden globalen Hegemon geführt.
Angesichts einer scheinbar unmittelbar vorherstehenden Einigung beim Handel ist es verführerisch, nun zu dem Schluss zu kommen, dass all dies vorübergehen wird. Das könnte Wunschdenken sein. Das chinesisch-amerikanische Vertrauensverhältnis liegt in Scherben. Die Wahrscheinlichkeit einer oberflächlichen Einigung wird daran nichts ändern. Eine neue Ära des gegenseitigen Misstrauens, der Spannungen und des Konflikts ist eine sehr reale Möglichkeit.
Was aber wäre, wenn die Stammtische völlig falsch liegen und dieses Einprügeln auf China mehr eine Begleiterscheinung US-interner Probleme ist als eine Reaktion auf eine echte externe Bedrohung? Tatsächlich gibt es starke Gründe für die Annahme, dass ein unsicheres Amerika – das unter selbstverschuldeten gesamtwirtschaftlichen Ungleichgewichten leidet und Angst vor den Konsequenzen des eigenen Rückzugs aus seiner globalen Führungsrolle hat – sich ein falsches Narrativ in Bezug auf China zu eigen gemacht hat.
Man betrachte etwa den Handel. In 2018 wiesen die USA ein Defizit beim Warenhandel mit China in Höhe von 419 Milliarden Dollar auf; das sind volle 48% ihres enormen Handelsdefizits von 879 Milliarden Dollar. Dies ist der Blitzableiter in der Debatte – der Missetäter, der hinter dem steht, was US-Präsident Donald Trump als "Gemetzel" von Arbeitsplatzverlusten und Lohndruck bezeichnet.
Doch was Trump – und die meisten anderen US-Politiker – nicht zugeben, ist, dass die USA 2018 Handelsdefizite gegenüber 102 Ländern aufwiesen. Dies spiegelt einen profunden Mangel an nationalen Ersparnissen wider, der zu einem großen Teil durch die unverantwortlichen Haushaltsdefizite bedingt ist, die von niemand anderem als dem Kongress und dem Präsidenten selbst bewilligt wurden. Auch werden die Verzerrungen in den Lieferketten – die sich aus dem Einsatz des in anderen Ländern erbrachter, aber in China zusammengebauter und verschiffter Vorleistungen ergeben – in keiner Weise anerkannt: Diese sind laut Schätzungen dafür verantwortlich, dass das Handelsungleichgewicht zwischen den USA und China um etwa 35-40% zu hoch angesetzt wird. Außer Acht gelassen werden dabei die grundlegende Makroökonomik und Effizienzsteigerungen aus globalen Produktionsplattformen, von denen die US-Verbraucher profitieren. Es ist anscheinend viel leichter, China als das große Hindernis dabei zu verteufeln, "Amerika wieder groß zu machen".
Subscribe now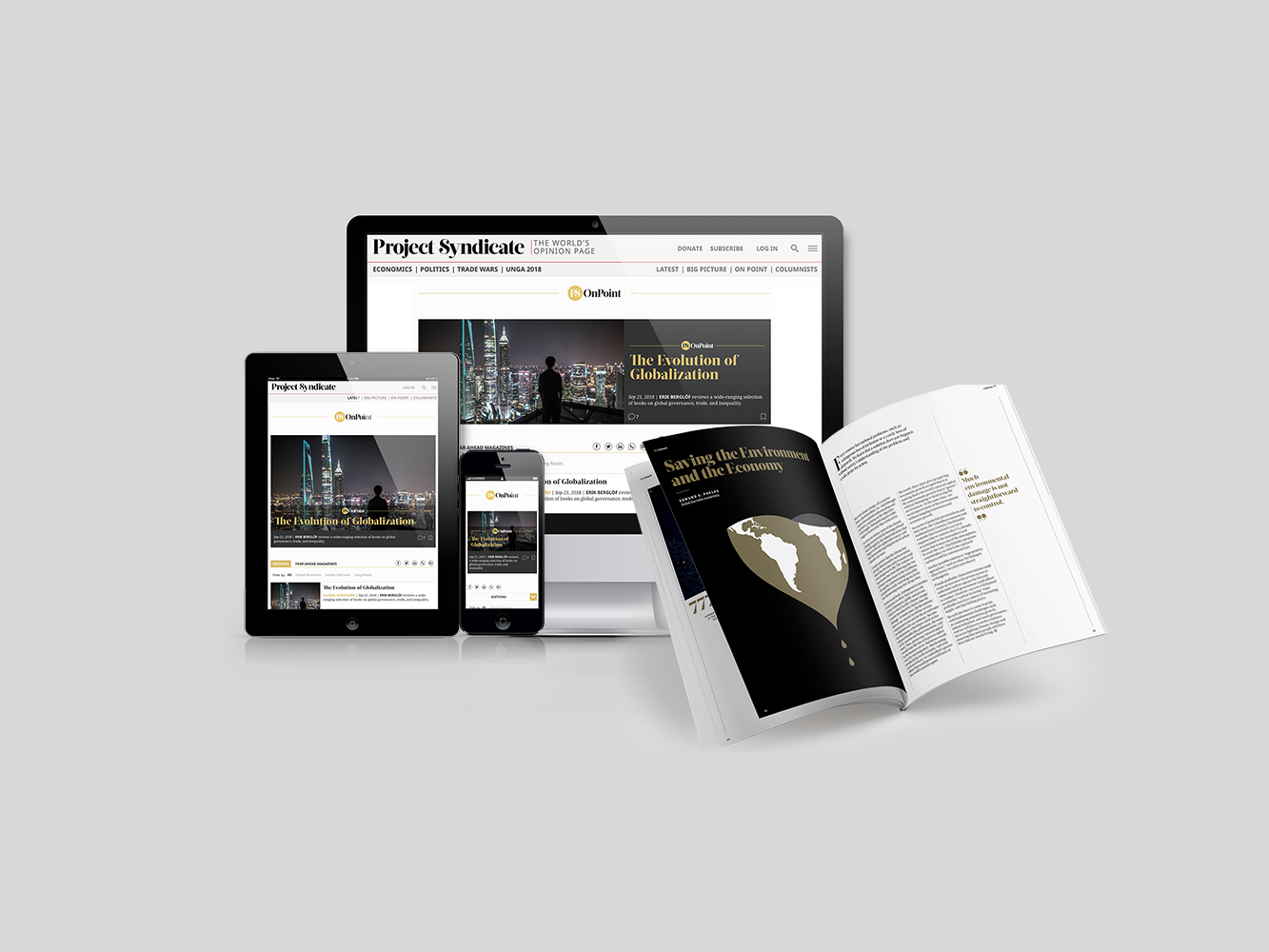 Subscribe now
Get unlimited access to OnPoint, the Big Picture, and the entire PS archive of more than 14,000 commentaries, plus our annual magazine, for less than $2 a week.
Man betrachte an Nächstes den Diebstahl geistigen Eigentums. Es ist inzwischen eine allgemein akzeptierte "Wahrheit", dass China jedes Jahr US-amerikanisches geistiges Eigentum im Wert von hunderten von Milliarden Dollar stiehlt und so einen Pflock ins Herz von Amerikas innovativer Lebenskraft schlägt. Laut der anerkannten Quelle dieser Behauptung, der sogenannten IP Commission, kostete der Diebstahl geistigen Eigentums die US-Wirtschaft in 2017 zwischen 225 und 600 Milliarden Dollar.
Selbst wenn man einmal die lächerlich breite Spanne einer derartigen Schätzung beiseitelässt, beruhen die Zahlen auf unsoliden Belegen aus der zweifelhaften "Proxy-Modellierung", die versucht, den Wert der gestohlenen Handelsgeheimnisse anhand schändlicher Aktivitäten wie Drogenhandel, Korruption, berufsmäßigem Betrug und illegalen Finanzströmen zu ermitteln. Der chinesische Anteil an diesen angeblichen Diebstählen wird dabei anhand von Zoll- und Grenzschutzdaten der USA berechnet, laut denen 2015 gefälschte und nachgemachte Waren im Wert von insgesamt 1,35 Milliarden Dollar beschlagnahmt wurden. Gleichermaßen zweifelhafte Modelle extrapolieren diese winzige Summe zu einer Gesamtschätzung für die USA und unterstellen, dass 87% der Gesamtsumme auf China entfällt (52% auf Festlandschina und 35% auf Hongkong).
Dann ist da das im Section 301 Report des Handelsvertreters der USA (USTR) im März 2018 herausgestellte Scheinargument, das die grundlegende Rechtfertigung für die gegen China erhobenen Zölle darstellt: erzwungene Technologietransfers zwischen US-Unternehmen und ihren chinesischen Joint-Venture-Partnern. Das Schlüsselwort ist an dieser Stelle "erzwungen"; es suggeriert, dass arglose US-Unternehmen, die willentlich Vertragsvereinbarungen mit chinesischen Unternehmen eingehen, gezwungen werden, ihre geschützten Technologien aufzugeben, um in China Geschäfte tätigen zu können.
Natürlich beinhalten Joint-Ventures die Abstellung von Mitarbeitern und die Weitergabe von Geschäftsstrategien, Betriebsplattformen und Produktdesigns. Doch der Vorwurf ist, dass dies unter Zwang geschieht, was untrennbar mit der Annahme verbunden ist, dass welterfahrene multinationale U-Konzerne dumm genug sind, ihren chinesischen Partnern zentrale geschützte  Technologien zu überlassen.
Dies ist ein weiteres schockierendes Beispiel einer schweren Anschuldigung auf Basis wenig tragfähiger Beweise. Unglaublicherweise gibt der USTR im Section 301 Report sogar zu (auf Seite 19), dass es keine Beweise für diese "impliziten Praktiken" gibt. Wie die IP Commission stützt sich der USTR stattdessen auf Stellvertreterbefragungen von Handelsorganisationen wie dem US-China Business Council, deren Teilnehmer ein gewisses Unbehagen über Chinas Umgang mit ihren Technologien äußern.
Das Washingtoner Narrativ malt zudem ein Bild Chinas als eines planwirtschaftlichen Giganten mit riesigen staatseigenen Unternehmen, die von an viel publizierte industriepolitischen Maßnahmen wie "Made in China 2025" und "Künstliche Intelligenz 2030" geknüpften Vorzugskrediten und unfairen Subventionen und Anreizen profitieren. Die zahlreichen Hinweise auf die Effizienz- und Renditeschwäche der chinesischen Staatsunternehmen bleiben dabei unbeachtet.
Zugleich steht außer Zweifel, dass Japan, Deutschland, Frankreich und sogar die USA seit langem eine vergleichbare Industriepolitik betreiben. Im Februar erließ Trump eine Durchführungsverordnung, die die Einführung einer KI-Initiative ankündigte – komplett mit Vorgaben für die Entwicklung eines KI-Aktionsplans innerhalb von 120 Tagen. China ist durchaus nicht das einzige Land, das die Innovation zur nationalen politischen Priorität erhoben hat.
Und schließlich ist da das abgenutzte Thema der chinesischen Währungsmanipulationen: die Angst, dass China den Kurs des Renminbi vorsätzlich nach unten drückt, um sich einen unfairen Wettbewerbsvorteil zu verschaffen. Doch auf breiter handelsgewichteter Basis hat der Renminbi seit Ende 2004 real um über 50% aufgewertet. Und Chinas früher übergroßer Leistungsbilanzüberschuss ist inzwischen so gut wie verschwunden. Trotzdem lebt die Kritik früherer Jahre bezüglich der chinesischen Währung fort und erfährt bei den laufenden Verhandlungen starke Beachtung. Dies verstärkt das falsche Narrativ zusätzlich.
Alles in allem nimmt es Washington mit Fakten, Analysen und Schlussfolgerungen nicht so genau, und die amerikanische Öffentlichkeit ist, was ihre Akzeptanz des falschen Narrativs angeht, bisher viel zu leichtgläubig. Ich will damit nicht die Rolle bestreiten, die China bei der Verschärfung der wirtschaftlichen Spannungen im Verhältnis zu den USA spielt. Vielmehr geht es mir darum, die Notwendigkeit von mehr Objektivität und Ehrlichkeit bei den geäußerten Vorwürfen zu betonen – insbesondere, weil bei dem gegenwärtigen Konflikt so viel auf dem Spiel steht. Leider ist es scheinbar viel einfacher, sich auf Sündenböcke zu fixieren, als einen langen, harten Blick in den Spiegel zu tun.
Aus dem Englischen von Jan Doolan