Ancaman Kanker Terhadap Masa Depan Afrika
CHICAGO – Salah satu tantangan kesehatan yang paling mendesak di Afrika, namun paling sedikit mendapatkan pemberitaan adalah kanker, yang juga merupakan penyebab utama kematian di dunia. Setiap tahunnya, sekitar 650,000 orang di Afrika di diagnosa mengidap kanker, dan lebih dari setengah juta orang meninggal karena penyakit ini. Dalam lima tahun ke depan, diperkirakan akan terdapat lebih dari satu juta kematian akibat kanker setiap tahunnya di Afrika, hal ini merupakan sebuah lonjakan kematian yang menjadikan kanker sebagai salah satu penyebab kematian utama di benua tersebut.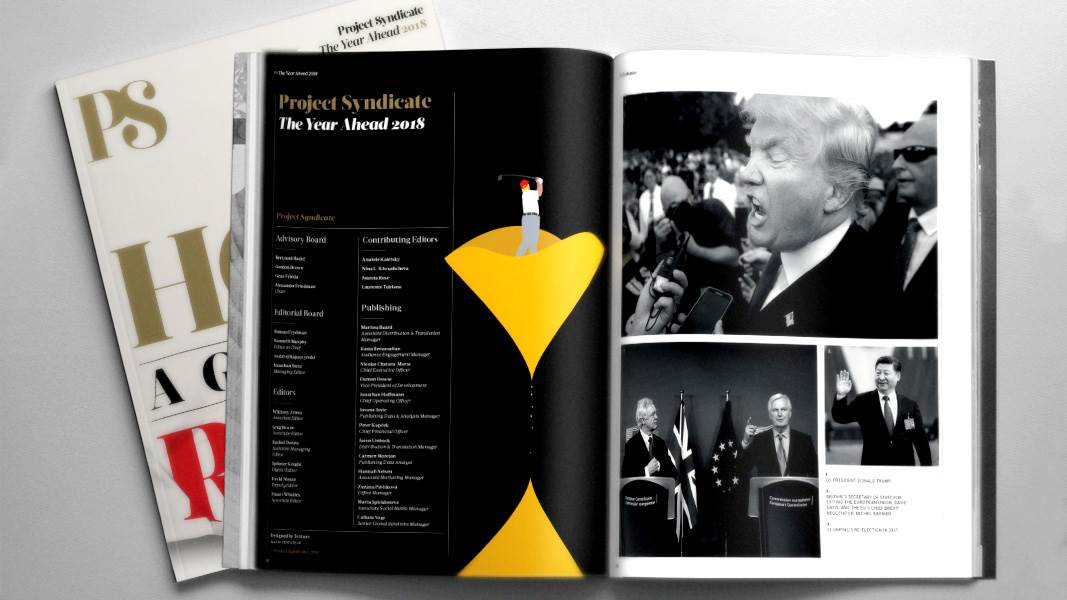 The Year Ahead 2018
The world's leading thinkers and policymakers examine what's come apart in the past year, and anticipate what will define the year ahead.
Di seluruh wilayah Afrika Sub-Sahara, kemajuan luar biasa telah dicapai dalam memerangi penyakit menular yang mematikan. Dalam beberapa dekade terakhir, kerja sama internasional dan domestik telah menurunkan angka kematian akibat malaria di Afrika sebesar 60%, mendorong polio hingga ambang batas pemberantasan, dan meningkatkan angka harapan hidup bagi jutaan orang Afrika yang terinfeksi HIV/AIDS.
Sayangnya, kemajuan yang sama tidak terjadi pada penyakit tidak menular (NCDs), termasuk kanker. Saat ini, kanker membunuh lebih banyak orang di negara-negara berkembang dibandingkan kombinasi dari AIDS, malaria, dan TBC. Namun, ketika Afrika hanya menerima 5% dari dana global untuk pencegahan dan pengendalian kanker, perkembangan penyakit ini melampaui upaya untuk menanggulanginya. Sama dengan upaya global untuk membantu Afrika melawan wabah penyakit menular, pendekatan kolaboratif yang serupa juga diperlukan untuk menghentikan krisis akibat penyakit kanker.
Pengidap kanker memerlukan banyak hal untuk bertahan dari penyakit ini, namun akses ke dokter spesialis yang tepat waktu, laboratorium, dan pendapat medis lain adalah beberapa hal yang paling mendasar. Namun, di banyak wilayah di Afrika, kurangnya pengobatan yang terjangkau, dan kurangnya dokter dan perawat yang terlatih, berarti bahwa pasien jarang menerima pengobatan yang diperlukan. Pada rata-rata, negara-negara di Afrika mempunyai kurang dari satu orang ahli patologi terlatih untuk satu juta orang, yang berarti bahwa kebanyakan diagnosa terlambat diketahui untuk mendapatkan pengobatan. Menurut ahli onkologi dari Universitas Chicago, Olufunmilayo Olopade, diagnosa kanker di Afrika "hampir selalu fatal."
Membangun sistem layanan kesehatan yang mampu menangani penyakit menular, dan juga memberikan pelayanan berkualitas bagi pengidap kanker, memerlukan banyak investasi dalam hal waktu, uang, dan keahlian. Untungnya, Afrika mempunyai keunggulan dalam hal ini. Inisiatif di masa lalu – misalnya Dana Global untuk Melawan AIDS, TBC, dan Malaria, Rencana Darurat Presiden Amerika untuk Bantuan AIDS, dan Proyek Jaringan Laboratorium Kesehatan Masyarakat di Afrika Timur – telah sangat mengembangkan infrastruktur medis di benua tersebut. Upaya-upaya di tingkat nasional juga telah memperkuat rantai pasokan farmasi, meningkatkan pelatihan medis, dan meningkatkan kualitas jaringan diagnostik.
Namun, masyarakat Afrika tidak bisa melakukan hal ini sendiri. Itulah sebabnya American Society for Clinical Pathology, yang merupakan tempat Saya bekerja, bekerja sama dengan inovator layanan kesehatan global lainnya untuk melawan krisis penyakit kanker yang kian meningkat di benua tersebut. Kami telah bekerja sama dengan American Cancer Society (ACS), dan perusahaan farmasi Novartis untuk mendukung pengobatan kanker dan upaya melakukan pengujian di empat negara: Ethiopia, Rwanda, Tanzania, dan Uganda. Bersama-sama, kami telah mengenalkan imunohistokimia, yang merupakan alat diagnosis utama, ke tujuh laboratorium regional, yang merupakan sebuah upaya yang kami harap akan mengarah pada diagnosa kanker yang lebih tepat waktu dan sangat meningkatkan kualitas layanan.
Untuk mendukung upaya-upaya teknis ini, ACS juga memberikan pelatihan bagi pekerja kesehatan profesional di Afrika mengenai cara untuk melakukan biopsi dan kemoterapi. Inisiatif tersebut, yang didanai oleh Novartis, dipandang sebagai program percontohan yang dapat diperluas ke negara-negara lain di wilayah tersebut.
Pada akhirnya, organisasi kami menganjurkan peningkatan panduan pengobatan kanker dalam upaya perencanaan layanan kesehatan nasional, protokol yang kami pandang penting untuk meningkatkan keluaran kesehatan. Inisiatif-inisiatif ini selaras dengan upaya lain, seperti program Inisiatif Akses Kesehatan ACS- Clinton untuk memperluas akses terhadap pengobatan kanker.
Ketika dunia melihat bahwa penyakit menular seperti HIV/AIDS, polio, dan malaria melanda Afrika, rencana aksi dibuat dan solusi dilakukan. Saat ini, upaya global serupa juga diperlukan untuk menjamin bahwa setiap orang Afrika yang mengidap kanker bisa mendapat pengobatan yang mereka perlukan. Saat ini, sama dengan di masa lalu, kesuksesan bergantung pada koordinasi antara negara-negara Afrika, penyedia layanan kesehatan, pembuat obat, dan organisasi non-pemerintah.
Tidak ada tempat di bumi yang kebal dari diagnosa kanker; dimana pun diagnosa tersebut disampaikan, sering kali sangat menghancurkan perasaan pasien dan keluarganya Namun geografi tidak boleh menjadi faktor penentu dalam perjuangan pasien untuk melawan penyakit ini. Kanker telah lama menjadi pembunuh tersembunyi di Afrika, dan komunitas kesehatan global tidak boleh lagi tinggal diam dalam menghadapi krisis ini.