Rakovina a její hrozba pro budoucnost Afriky
CHICAGO – Jeden z nejpalčivějších problémů veřejného zdravotnictví v dnešní Africe zároveň patří mezi problémy, o nichž se nejméně hovoří: je to rakovina, celosvětově hlavní příčina úmrtí. Každý rok je tato nemoc diagnostikována přibližně 650 tisícům Afričanů a více než půl milionu Afričanů na rakovinu zemře. Během příštích pěti let se počet úmrtí na rakovinu v Africe může zvýšit na více než milion ročně – takový nárůst úmrtnosti by z rakoviny učinil jednoho z největších zabijáků na kontinentu.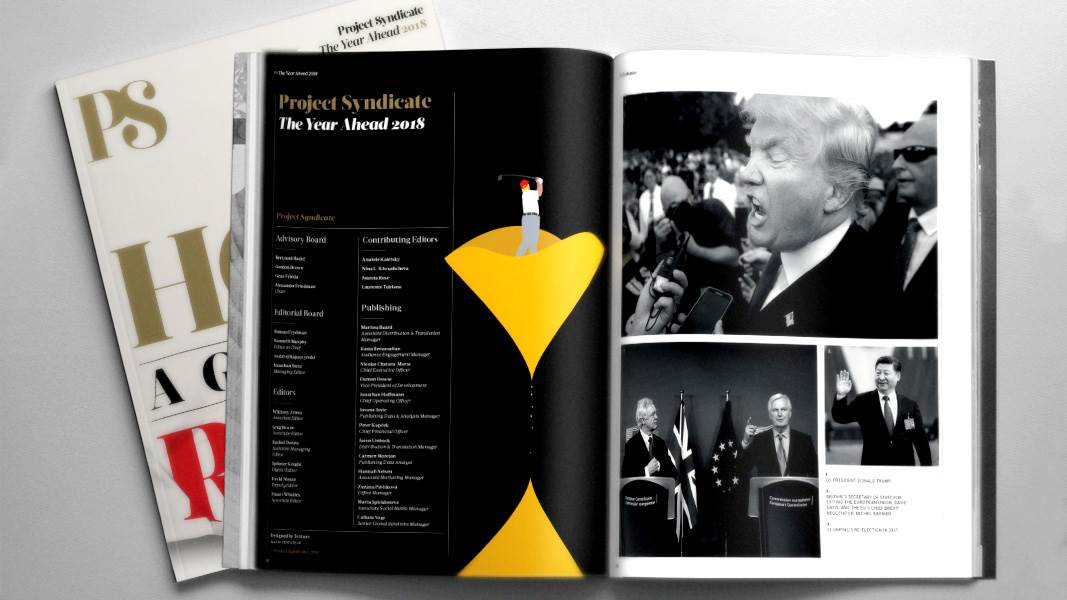 The Year Ahead 2018
The world's leading thinkers and policymakers examine what's come apart in the past year, and anticipate what will define the year ahead.
V boji proti smrtelným infekčním onemocněním bylo v celé subsaharské Africe dosaženo úžasného pokroku. Díky mezinárodní i místní spolupráci se počet úmrtí na malárii v Africe snížil o 60%, obrna se dostala na pokraj vymýcení a podařilo se prodloužit životy milionů Afričanů nakažených virem HIV/AIDS.
Boj proti chronickým neinfekčním onemocněním (NCD), mezi něž patří i rakovina, bohužel tak úspěšný není. Rakovina dnes v rozvojových zemích zabije víc lidí než AIDS, malárie a tuberkulóza dohromady. Afrika je příjemcem pouhých 5% globálních financí určených na prevenci a kontrolu rakoviny, a boj s touto nemocí tak nestačí držet krok s jejím šířením. A podobně jako se svět sjednotil a pomohl Africe překonat epidemie infekčních onemocnění, je stejný přístup na bázi spolupráce zapotřebí i k zastavení krize kolem rakoviny.
Přežít rakovinu vyžaduje mnoho různých věcí, ale mezi nejzákladnější z nich patří včasný přístup ke specialistům, laboratořím a názorům nezávislých odborníků. Ve velké části Afriky však pacienti kvůli absenci dostupných léčiv a nedostatku kvalifikovaných lékařů a sester málokdy dostanou potřebnou péči. Africké země mají v průměru méně než jednoho kvalifikovaného patologa na milion obyvatel, což znamená, že většina diagnóz je stanovena příliš pozdě na to, aby se daly léčit. Podle onkoložky Olufunmilayo Olopadeové z Chicagské univerzity je diagnóza rakoviny v Africe "téměř vždy smrtelná".
Vybudování zdravotnických systémů schopných kontrolovat infekční onemocnění a současně poskytovat kvalitní péči o pacienty s rakovinou vyžaduje značné časové, finanční i znalostní investice. Naštěstí už má Afrika dobře našlápnuto. Dřívější iniciativy, jako jsou Globální fond pro boj proti AIDS, tuberkulóze a malárii, Krizový plán amerického prezidenta pro zmírnění dopadů AIDS nebo Projekt východoafrické sítě laboratoří veřejného zdraví Světové banky, výrazně rozšířily zdravotnickou infrastrukturu na kontinentu. Národní iniciativy posilují také farmaceutické nabídkové řetězce, zlepšují výcvik lékařů a zkvalitňují diagnostické sítě.
Afričané však nedokážou čelit této hrozbě sami. Proto Americká společnost pro klinickou patologii, ve které působím, spolupracuje s dalšími globálními zdravotnickými inovátory na zažehnání prohlubující se onkologické krize v regionu. Spojili jsme se s Americkou společností pro rakovinu (ACS) a farmaceutickou firmou Novartis a ve vzájemné spolupráci podporujeme léčbu a testování rakoviny ve čtyřech zemích: Etiopii, Rwandě, Tanzanii a Ugandě. Do sedmi laboratoří jsme společně zavedli imunohistochemii a doufáme, že tento klíčový diagnostický nástroj povede ke včasnějším diagnózám rakoviny a výrazně zvýší kvalitu péče.
Vedle tohoto technického úsilí ACS také učí profesionální africké zdravotníky provádět biopsie a aplikovat chemoterapie. Tato iniciativa financovaná firmou Novartis je považovaná za pilotní program, který by se mohl rozšířit i do dalších zemí v regionu.
A konečně naše organizace podporují rozšíření metodických pokynů pro léčbu rakoviny v národních zdravotnických plánech, protože se domníváme, že tyto protokoly jsou pro zlepšení zdravotnických výstupů nezbytné. Zmíněné iniciativy probíhají v kombinaci s dalšími programy, jako je společná iniciativa ACS a nadace Clinton Health Access, která rozšiřuje přístup k lékům proti rakovině.
Když si svět všiml, že Afriku pustoší infekční onemocnění jako HIV/AIDS, obrna a malárie, byly sepsány akční plány a objevila se řešení. Dnes je obdobný globální přístup zapotřebí k tomu, aby každý Afričan s diagnózou rakoviny dostal potřebnou léčbu. Dnes stejně jako tehdy závisí úspěch na koordinaci mezi africkými vládami, poskytovateli zdravotní péče, výrobci léčiv a nevládními organizacemi.
Na světě neexistuje místo, které by bylo vůči strašlivé diagnóze rakoviny imunní; ať je tato diagnóza sdělena pacientovi kdekoliv, často má zničující dopad na něj i na jeho rodinu. Zeměpisná poloha by však nikdy neměla být určujícím faktorem v boji pacientů za přežití. Rakovina je v Africe až příliš dlouho tichým zabijákem a globální zdravotnická komunita už nesmí ve světle této krize mlčet.
Z angličtiny přeložil Jiří Kobělka.