Helmut K. Anheier
Says More…
This week, PS talks with Helmut K. Anheier, Professor of Sociology at the Hertie School of Governance in Berlin, Professor Emeritus at Heidelberg University's Max Weber Institute, and a faculty member at UCLA's Luskin School of Public Affairs.
Project Syndicate: You recently reviewed four books on Germany, each of which offers a different take on your country, but all of which point to the same conclusion: "Germany's political class has long indulged a dangerous complacency that can no longer be justified." Of the various reforms and recommendations that the authors present – from Ulrike Herrmann's "shared progress" at the European level to Christoph Butterwegge's universal insurance system to Daniel Goffart's EU-level tax reform – which are most urgent? Is there something about Germany's economy or society that these authors missed?
Helmut K. Anheier: For government, the most important objectives are to reverse two key trends: rising economic inequality and declining social mobility. Policies that could advance these goals include a livable minimum wage, reforms to the "Hartz-IV" system for delivering unemployment and welfare benefits, and massive investments in education and skills training. To paraphrase the late sociologist Ralf Dahrendorf, such measures would cut the supply route to the new precariat.
To make these reforms financially sustainable, government must find new revenue sources. This requires tax reforms that correct blatant inequities, simplify a staggeringly complex system, and shift more of the burden to corporations and the digital economy, rather than low- and middle-income households. A financial transaction tax would be a good place to start. European Union-wide efforts to tax multinational corporations more fairly are also promising.
The four books I reviewed focus on economic and social policy. They neglect aspects of German society and culture that, to some extent, are rooted in the dangerous complacency of the country's elite and upper middle class.
Germany has come to terms with its history, and it invests heavily in the politics and practice of remembrance. But it still hasn't developed a clear vision of a multi-ethnic society – vital to prevent the kind of divisiveness ones sees today in countries like the United States and the United Kingdom. German society is marred by latent and overt racism, both interpersonal and structural. Yet it remains largely in denial, even self-righteously so. This is standing in the way of open debate.
PS: Last November, you cited Dahrendorf's observation that globalization required countries to make "perverse choices": to become and remain competitive in international markets, they had to use resources in ways that threatened social cohesion and political freedom. Does the current retreat from globalization, accelerated by the COVID-19 crisis, offer an opportunity to make better choices? What should those choices be?
HKA: At the peak of globalization in the 1990s, Dahrendorf argued that, over time, a growing and globalizing world economy would require liberal democracies, to stay competitive, either to adop measures detrimental to civil society or restrict civil liberties and political participation. For OECD countries, he wrote, the task for the early twenty-first century was "to square the circle between growth, social cohesion, and political freedom."
Dahrendorf advanced a set of what he called "modest proposals" to address this quandary: shift public discourse to encourage a broad debate of the salient tensions; anticipate changes in the workplace and prepare affected population groups for them; create a stakeholder economy; strengthen local communities and regions at risk of being cut off and left behind; and adjust government responsibilities and budgetary priorities to what's possible. In essence, Dahrendorf envisioned a forward-looking, realistic government engaging in open dialogue with a vibrant civil society and applying liberal market policies.
By contrast, in 2017, Marco Buti and Karl Pichelmann suggested what could be labeled a social democratic approach, with an emphasis on pre-market measures. Specifically, they proposed aligning the social and the economic via a "prosperity model" based on five policy pillars: higher quality public spending, better management of competitive markets, more investment in education and training, modernized tax-benefit systems, and efforts to ensure both employment security and workplace flexibility. This approach, they argued, would bring greater overall stability, efficiency, and prosperity in the medium to long term.
Whereas Buti and Pichelmann focus on market readiness, Dani Rodrik champions controlled economic globalization. His approach, which focuses on the relationship between economic policy and national sovereignty, aims to strengthen nation-states' governance of globalization, in order to reduce pressures on national economies. Specific measures include stricter regulation of capital flows (including foreign direct investment), corporate ownership, and market access (such as through preferential treatment of domestic firms). A similar approach could also be taken at the regional level, with a kind of pooled sovereignty providing some political space to implement measures that addressing globalization's adverse effects.
In fact, to manage globalization, Dahrendorf's "social dialogue," Buti and Pichelmann's "market readiness," and Rodrik's "(external) economic control" are all vital. Like any crisis, the COVID-19 pandemic represents an opportunity for change. The world should seize it, and pursue all three of these approaches.
Yet that outcome is far from guaranteed. While the European Union has shown some openness to the new multilateralism that is needed, US President Donald Trump and Chinese President Xi Jinping favor strong-arm protectionism and neo-mercantilism. Without a change of leadership (and direction) in either or both countries, there is little hope that the needed transformation will come.
PS: On the 75th anniversary of World War II's end, you discussed Germany's generally commendable, albeit imperfect, efforts to come to terms with its Nazi past. At a time when other countries, such as the US, are facing a reckoning with their own history of racism, what lessons can Germany's experience – both its successes and missteps – provide?
HKA: Germany should be very careful in lecturing the US – or the UK, France, or Belgium, for that matter. US leadership – recall denazification, the Nuremberg trials, and so on – was vital to enable Germany to face its crimes.
One lesson the German experience does provide for others is that policies aimed at remembering and reconciling with a terrible past must be linked to a positive and realistic vision of the future. Such policies must focus not only on the victims, but also the perpetrators – including the silent majority of bystanders – and they must rest on a sufficiently broad political consensus, so that they are widely accepted over time, rather than becoming politicized. Finally, they must be long-term measures – implemented over several generations – which are adjusted over time to reflect changing circumstances.
PS: During the COVID-19 crisis, the role of philanthropy has again attracted significant attention, as private donors have sought to fill gaps in official responses, such as by funding vaccine development. Could this be an opportunity to establish the philanthropic code that you outlined last summer?
Subscribe to Project Syndicate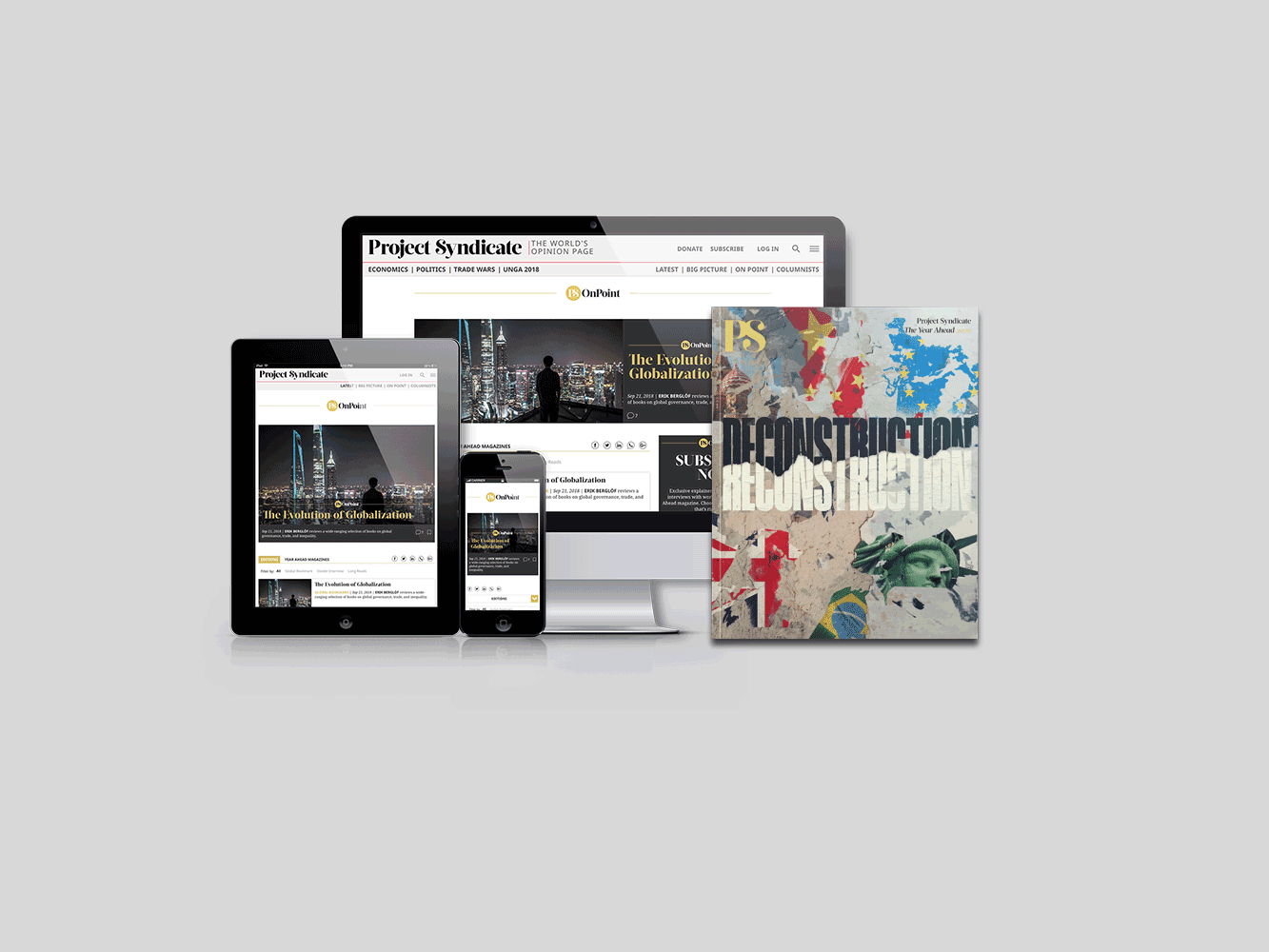 Subscribe to Project Syndicate
Enjoy unlimited access to the ideas and opinions of the world's leading thinkers, including weekly long reads, book reviews, and interviews; The Year Ahead annual print magazine; the complete PS archive; and more – all for less than $2 a week.
HKA: The world has changed more than philanthropy. The world has become increasingly unequal. The philanthropists' fortunes are thus still the product of an unequal world. Moreover, their purposes and performance remain basically unaccountable.
In this context, the legitimacy questions faced by large philanthropic institutions – Does the money come from legitimate sources? Are donors paying their fair share of taxes? Do donations advance a political or financial agenda? – will only gain greater urgency. Conspiracy theories involving very wealthy and high-profile philanthropists – the Bill Gateses and George Soroses of this world – will continue to fester and flourish.
The philanthropic code I proposed could help to change this context. Much like a corporate governance code, foundations and similar institutions could pledge to ensure that their philanthropy adheres to an established set of principles and standards.
Of course, philanthropic support in the fight against COVID-19 should be welcomed. Anything less would be a tragic failure – one that would only fuel their legitimacy problem. But how much are they really contributing, relative to the scale of the public-health, social, and economic crisis?
To maximize their impact, whatever actions philanthropists finance must be well targeted and place a premium on coordination with government agencies and the private sector. Such an approach – together with a commitment to the philanthropic code I propose – would go a long way toward addressing philanthropy's legitimacy problem.
BY THE WAY. . .
PS: With the EU recovery plan, Germany is crossing its longstanding "red lines" regarding fiscal transfers and the accumulation of EU-level debt. Beyond the current crisis, how might this flexibility benefit Germany in the longer run?
HKA: Germany's previous approach simply did not generate the economic growth needed to sustain Europe's social model. Instead, it produced a long-term economic and social stalemate, with Italy and Greece as prime examples. Moreover, more than a decade after the global financial crisis, Germany's economy is more intertwined than ever with the rest of Europe.
Germany seems increasingly to recognize the shortcomings of its approach. If this recognition, reflected in the response to the COVID-19 crisis, leads to a shift of mindset at the EU level, it will represent a major step forward. We will likely enter a transition phase of more conditionality, whereby countries can receive EU funding in exchange for implementing various reforms.
PS: Germany recently assumed the EU Council presidency – the last one under Chancellor Angela Merkel. Managing the COVID-19 crisis obviously will be at the top of the agenda. What other goals should Germany pursue over the next six months?
HKA: There is Brexit – both a nuisance and a challenge for Merkel. It is a nuisance, because the timing is terrible, it involves a tremendous number of issues and details, and it remains unclear what exactly the UK wants to achieve. It is a challenge, because so much is at stake for the EU. Consider that, despite British Prime Minister Boris Johnson's neo-nationalist bent, London remains Europe's top start-up hub. Why not Paris, Milan, Amsterdam, or Berlin? Answering this question will require the EU to do some serious soul-searching.
There is also the transatlantic relationship. Germany will most likely focus on staving off further deterioration of ties with the US, in the hope that Trump loses the presidential election in November.
Looking East, Germany should push hard for a more assertive and coherent stance on Russia and China. EU foreign policy remains woefully weak, and Merkel's global standing could give it some much-needed vigor.
Finally, within the EU, Merkel should focus on updating the prevailing approach to economic cooperation, as outlined above.
PS: Not long ago, you launched Global Perspectives, a social science journal that aims to "help overcome national and disciplinary fragmentation and isolation," by fostering "new concepts, approaches, and forms of academic discourse." How are you going about that in an environment where institutional pressures for specialization can be overwhelming, and is it working?
HKA: The world that gave rise to the social sciences in their current form is no more. To capture the complexities of this new world, entrenched disciplines must open up. Global Perspectives aims to facilitate that process.
The journal is not organized by conventional disciplines like economics or sociology. Instead, it features eight themes: communication and media; culture, value, and identities; global change and sustainability transformations; global epistemologies; political economy, markets, and institutions; politics, governance, and law; security, cooperation, and international institutions and relations; and social institutions, organizations, and relations.
Of course, disciplinary boundaries and entrenched academic interests form strong headwinds. But we have a stellar board, which includes leading academics from all major social sciences and world regions. And there has been much interest in the journal, especially as we test new formats, like forthcoming essays by leading thinkers addressing "The Great Question of Our Times."
PS: Before pursuing an academic career, you served as Social Affairs Officer at the United Nations. What prompted you to change course, and to what extent did your UN experience influence your subsequent work?
HKA: I faced a choice between job security and professional autonomy, and I chose autonomy – something you cannot get in the international civil service until pretty much the last third of your career. The UN experience taught me the importance of agreed-upon standards for administrative processes in a diverse world. International bureaucracies are, after all, a crucial source of stability in volatile times.
Anheier recommends
We ask all our Say More contributors to tell our readers about a few books that have impressed them recently. Here are Anheier's picks:
by Eugen Ruge

Following the international success of In Times of Fading Light, a family saga about life in the former German Democratic Republic (GDR), Ruge heads to the 1930s to tell the story of three young communists who moved to the Soviet Union to escape the Nazi regime, only to find themselves in the midst of Stalin's Terror. Skillfully combining fact and fiction, Ruge offers readers a fascinating account of how three idealists navigate the tension between conviction and doubt, obedience and knowledge, and loyalty and betrayal. How do you know who you are, when everything you believed is called into question?

by Jackie Thomae

Ruge was born to a German historian father in the Soviet Union in 1954 and later moved to East Germany. By contrast, Thomae was born in the GDR to mixed-race parents at a time – the 1970s – that many of its citizens recall as stable and hopeful. In Brothers, she tells a story about race, gender, and identity with a lightness and ease that is rare among German novels. A medical student moves back to his native continent, leaving behind two sons – one in Berlin and the other in Leipzig – each with a different mother. How the lives of the half-brothers unfold makes for gripping reading, offering important insights into the complexities of race and identity in today's Germany.

by Saša Stanišić

The winner of the 2019 German Book Award, Origins tells the story of Stanišić himself, in a book that blends autobiography, novel, and essay with remarkable grace and coherence. Born in 1978 in the former Yugoslavia to a Bosnian mother and a Serbian father, Stanišić was forced to flee to Germany with his family to escape the Bosnian War. In telling his story, Stanišić engages the reader with a blend of humor, tragedy, and reflection, considering how past and current events have shaped not only his own identity and sense of belonging, but also those of people he's known over the years. It's worth noting that Stanišić is also an outspoken critic of Peter Handke, the Nobel laureate novelist who supported Slobodan Milošević's regime in the 1990s.
From the PS Archive
From 2019
Anheier suggests how developed countries should address worsening economic inequality and declining social mobility. Read more.
From 2017
Anheier shows how small civic measures can go a long way toward ensuring stable, representative governance. Read more.
Around the web
Anheier and Stefan Toepler argue for governments to take a more proactive policy approach toward the non-profit sector, and adopt a differentiated model for regulating it. Read the research paper.