Ten Hours that Shook America
The storming of the US Capitol by Donald Trump's supporters in a last-ditch effort to overturn the result of the 2020 election was as predictable as it was shocking. Four years of Republican complicity in the face of Trump's erosion of US democracy have brought the country to its most fraught moment since the Civil War.
MOSCOW – The January 6 insurrection at the US Capitol lacked the gravitas of the storming of the Winter Palace, that much is certain. Incited by President Donald Trump at a nearby rally, where he encouraged his supporters to march on the US Capitol, the mob did succeed in interrupting a joint session of Congress to confirm the Electoral College vote in favor of President-elect Joe Biden. But lawmakers will still carry out their constitutional duty, and Biden's inauguration will take place on January 20.
The insurrectionists were nowhere near as disciplined as Lenin's Bolshevik cadres of armed revolutionary soldiers and sailors. Most were paunchy, middle-aged, red-hatted "weekend warriors" who were as interested in getting a good selfie from the Capitol rotunda as they were with overthrowing the US government and establishing Trump as an unelected dictator. It was, as one commentator put it, a "Beer Belly Putsch."
And yet, the insurrectionists' actions – pathetic though they were – will have revolutionary implications for America's self-image and standing in the world. For the first time in the country's history, a defeated incumbent president summoned a mob to intimidate Congress into violating the US constitution to keep him in power. Aided and abetted by the right-wing press and rank-and-file Republicans, Trump's four years of open contempt for democratic values, institutions, and norms have yielded precisely what he has always wanted: a lawless, nihilistic revolt against the "elites" by the "losers" that he has made into his core supporters.
Breaking windows and overwhelming the Capitol police, the rioters stormed into the chambers of the Senate and the House of Representatives, forcing congressional members and their staff to evacuate. As of this writing, one woman has been shot and killed, but it remains to be seen how many have been injured, and how much damage has been done to the Capitol building.
One thing that Trump does have in common with Lenin – as well as Napoleon and everyone else who has launched a coup against a sitting government – is his contempt for the rule of law and the political figures who came before him. Like Lenin, Trump resents norms that are meant to limit the exercise of power, and thus has little patience for the culture of compromise that underpins representative governments. And, like Lenin, he has a feral ability to sniff out weakness – not just in an established regime, but in his own sycophantic hangers-on, some of whom are prepared to violate their oath of office on his behalf.
Still, the regimes that were confronted by Lenin, Napoleon, Mussolini, and Franco were not only weak; they lacked the will to survive. The most notorious putschists in history were usually pushing on open doors.
Judging by his own behavior in recent weeks, Trump appears to have concluded that he was, too. To his mind, after four years of his attacks, America's representative institutions lacked the will to defend themselves. How else to explain his efforts to strong-arm officials in Arizona, Michigan, and Georgia to "find" enough votes to make him the winner? Instead of seeing repeated official rebuffs as a sign that the American Republic was not yet ready to fall, Trump focused on the fact that he has paid no price for his efforts to subvert US democratic processes and institutions over the past four years. Having faced no consequences so far, why wouldn't he keep pushing until the system broke entirely?
After all, the sad spectacle on Capitol Hill was also suborned by Republican lawmakers like Senators Ted Cruz of Texas, Josh Hawley of Missouri, and almost three-quarters of the Republican caucus in the House. All had openly signaled their intent to object to votes that have already been duly certified by state governments. Validating paranoid conspiracy theories of "voter fraud," it is they who gave Trump – a true coward in any other circumstance – the bravado to egg on the baying mob.
But the "sedition caucus" is not the only culpable party. For four years, Republican Senate Majority Leader Mitch McConnell and the rest of the Republican Party have looked the other way as Trump degraded the US presidency. Following Trump's impeachment last year by the House of Representatives, Republican Senators voted to acquit him, and then initially lent credence to his false claims of election fraud. Even today, as the mob approached the Capitol, McConnell continued to spread the lie that it was the Democrats who undermined American democracy first. Similarly, Senator Susan Collins of Maine has for years expressed "concern" about Trump's behavior, but offered no resistance as he waged war on American institutions throughout his one and only term.
These spineless politicians will live in infamy, but so, too, will every Fox News journalist (and the broadcaster's owner, Rupert Murdoch) who has parroted Trump's lies. So, too, will the leaders of the social-media platforms – particularly Facebook CEO Mark Zuckerberg – that have served as fire hoses of disinformation and lies.
America now finds itself confronting something that hasn't happened since the time of Abraham Lincoln: rejection of the constitutional order by a significant share of the electorate. While America's adversaries watched the events of January 6 with glee, its many friends and allies around the world did so with dismay.
Like Lincoln, Biden will now need to confront this existential homegrown challenge head on. One thing is already certain: The Trumpian insurrection will not be pacified by soothing speeches about "moving on" without holding the guilty to account. For Trump, for the Republican Party, the brutal truth of Proverbs 11:29 must now be applied: "He that troubleth his own house shall inherit the wind."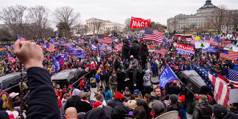 The Truth About Trump's Mob
The storming of the US Capitol by predominantly white supporters of President Donald Trump was in keeping with a long tradition of mob violence directed by white elites in the service of their own interests. The difference this time is that the rioters turned on their own.
NEW YORK – The storming of the US Capitol on January 6 is easily misunderstood. Shaken by the ordeal, members of Congress have issued statements explaining that America is a nation of laws, not mobs. The implication is that the disruption incited by President Donald Trump is something new. It is not. The United States has a long history of mob violence stoked by white politicians in the service of rich white Americans. What was unusual this time is that the white mob turned on the white politicians, rather than the people of color who are usually the victims.
Of course, the circumstance of this rioting is crucial. The aim was to intimidate Congress into stopping the peaceful transition of power. This is sedition, and in stoking it, Trump has committed a capital offense.
In the past, such mob violence has been aimed at more traditional targets of white hate: African-Americans trying to vote or desegregate buses, housing, lunch counters, and schools; Native Americans trying to protect their hunting lands and natural resources; Mexican farmworkers demanding occupational safety; the Chinese immigrant laborers who previously built the railways and worked the mines. These groups were the targets of mob violence stoked by Americans from President Andrew Jackson and the frontiersman Kit Carson in the nineteenth century to Alabama Governor George Wallace in the twentieth.
Viewed in this historical light, the mob of righteously indignant "good old boys" who stormed the Capitol had a familiar appearance. As Trump put it in his speech fomenting the riot, they were out to "save" America. "Let the weak [politicians] get out. This is a time for strength," he declared, deploying familiar riffs. "They also want to indoctrinate your children in school by teaching them things that aren't so. They want to indoctrinate your children. It's all part of the comprehensive assault on our democracy."
Throughout American history, most mob violence has come not as a spasmodic explosion of protest from below, but rather as structural violence from above, instigated by white politicians preying on the fears, hatreds, and ignorance of the white underclass. As the historian Heather Cox Richardson documents in her brilliant new book, How the South Won the Civil War, this variety of mob violence has been a critical part of upper-class white America's defense of a hierarchical society for more than 150 years.
America's culture of white mob violence goes hand in hand with its gun culture. The hundreds of millions of privately owned firearms in the US disproportionately belong to whites; and as the historian Roxanne Dunbar-Ortiz points out powerfully in Loaded: A Disarming History of the Second Amendment, "gun rights" have long been invoked by vigilante white mobs to suppress blacks and Native Americans.
Stoking mob violence against people of color is typically how rich whites channel poor whites' grievances away from themselves. Far from being a specifically Trumpian tactic, it is the oldest trick in the American political playbook. Want to pass a regressive tax cut for the rich? Just tell economically struggling whites that blacks, Muslims, and immigrants are coming to impose socialism.
Trump has done precisely this throughout his presidency, warning that without him in office, Americans will "have to learn to speak Chinese." At his rallies, he routinely champions the Second Amendment and rails against nonwhites, telling congresswomen of color to "go back" to the "totally broken and crime infested places from which they came." He has urged his followers to manhandle opposition demonstrators, and to throw them out – not just from his rallies, but from the country itself. He has praised white supremacists as "very fine people." After his Confederate-flag-waving mob stormed the Capitol, he said, "We love you, you're very special."
The Republican Party fully backed Trump and his politics of incitement right up until the afternoon of January 6, when the mob swarmed the Capitol. But Republican leaders' fealty to Trump has not been driven merely by his hold on the party's base. Trump represents the essence of the American right. His assigned role has always been clear: to stack the judiciary, cut taxes for corporations and the rich, and push back against demands for social spending and environmental regulation, all while inciting the baying mob to fight "socialism."
January 6 went awry because the white mob turned on the white politicians themselves. This was unacceptable, but not unpredictable. Trump has repeatedly told his followers that they are losing America; and the Republicans' loss of Georgia's two Senate seats to an African-American and a Jew doubtless added to the rage.
Trump may have been unusually crude in his race-baiting, but his approach has been perfectly in keeping with that of the Republican Party at least since the party's "Southern strategy" in the 1968 election, in the wake of that decade's civil-rights legislation. Until last year, Trump was getting the job done for his party's plutocrat donors, bosses, and business allies. The 2020 election was his to lose – and lose it he did. But the reason was not that he was too racist toward people of color; it was that he was overwhelmingly malevolent and incompetent in the face of a killer pandemic.
In the grand sweep of history, America is indeed turning the corner on its past of racism and white mob violence. Barack Obama was elected to the presidency twice, and when Trump won in 2016, he received fewer votes than his opponent. Between Kamala Harris's election as vice president and Georgia's Senate elections this week, there is strong evidence to show that America is gradually shifting away from white oligarchic rule. By 2045, non-Hispanic whites will constitute only around half of the population, down from around 83% in 1970. After that, America will become a "majority-minority" country, with non-Hispanic whites accounting for around 44% of the population by 2060.
For good reason, younger Americans are more cognizant of racism than previous generations were. The Trumpian virulence on display at the Capitol may have been dismaying. But it should be seen as a desperate, pathetic last gasp. Fortunately, the America of racist white rule is receding, if still far too slowly, into history.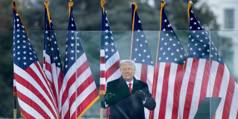 Remove and Ban Trump Now
Although it is a serious matter to deny individuals their basic civil rights, outgoing US President Donald Trump richly deserves such a punishment. For Republicans to avoid being devoured by the insurrectionist movement they have unleashed, they must support Trump's impeachment, removal, and permanent exclusion from political life.
BERLIN – A year ago, jurists and pundits were debating whether impeaching an American president is primarily a matter of law or of politics. It is both, of course, and there is nothing wrong with the political part. Under the US Constitution, it is politicians, not courts, who are supposed to judge whether a president has committed "high crimes and misdemeanors," and, crucially, whether a chief executive poses an ongoing threat to the republic.
With less than two weeks to go before Joe Biden replaces Donald Trump in the White House, the issue has come up again, with Speaker of the House Nancy Pelosi making clear that the president should be removed either by his cabinet, through the 25th Amendment, or by impeachment.
The violent insurrection at the US Capitol, incited by Trump, represents something new and profane in American history. Even though Biden will be inaugurated on January 20, the office of the presidency cannot be made safe in Trump's hands. He must be impeached (again), removed from office, and barred from holding public office ever again.
Congress has a right, but not a duty, to impeach. Sometimes, lawmakers might simply tolerate certain presidential misdeeds, having concluded that the costs of pursuing further action would outweigh the benefits. But this is not one of those times.
Just as the act of punishing a public official sends a message about a polity's moral commitments, so, too, does a failure to punish when it is warranted. By voting to acquit Trump last year, after the House of Representatives impeached him over the Ukraine scandal, Senate Republicans signaled that they were sticking with a career criminal, come what may. Trump enablers like Senator Susan Collins of Maine hoped that those proceedings would teach Trump a lesson. And so they did: Trump learned that there were no consequences for illegally coercing others into doing him favors and rigging elections on his behalf.
Recall Trump's "perfect" phone call with Ukrainian President Volodymyr Zelensky in the summer of 2019, when he threatened to withhold US military aid unless Ukraine announced an investigation into Biden's son, Hunter. After getting off scot-free for that abuse of his office, Trump went on to have another perfect chat in the winter of 2020, when he tried to blackmail Georgia's Republican secretary of state, Brad Raffensperger, into falsifying the result of last November's election on his behalf. All those Republicans who have condemned the second call should be asking themselves why they condoned the first one.
If there is no punishment for the insurrection at the Capitol, congressional Republicans will again be signaling their own complicity in the crime. The message will be that this, too, is acceptable: a sitting president may indeed incite violence against one of the republic's three political branches.
Some will worry that a second impeachment and a permanent ban would merely provoke Trump's "base." But this argument no longer holds water. No matter what Democrats or half-way responsible Republicans like Senator Mitt Romney do or don't do, Trump and his cheerleaders in the right-wing media will incite the movement anyway.
After all, right-wing populism is not subject to a reality check; an actual vote count is practically irrelevant for people who see themselves as the only "real Americans" (and therefore the only ones that count). Mobilizing these supposedly "real Americans" against nefarious elites and minorities (who should all go back to their "shit-hole countries") has been Trump's political model from day one, just as his business model as a real-estate developer was based on flimflam and fraud. Many a MAGA grifter and opportunistic Republican has invested in that political enterprise, and it will take more than a little bit of sedition and a few dead bodies in Washington, DC, for them to start dumping their shares.
The crucial step is not just to remove Trump but to ban him from politics for life. Though this entails a permanent restriction of an individual's basic political rights, many democracies nonetheless allow for such a possibility. For example, according to the German Basic Law, those who abuse free speech and other fundamental liberties in order to undermine liberal democracy can lose their rights. This provision has never been successfully applied, though, partly because the neo-Nazis for whom a permanent loss was considered had already been taken out of political circulation by criminal convictions.
To be sure, a permanent ban sits uneasily with a core assumption of democracy: people can change their minds. Contrary to Hillary Clinton's assertion in her infamous 2016 speech describing Trump's base as a "basket of deplorables," no one is utterly "irredeemable." If you are one of the many people who favors restoring voting rights to convicted felons, how could you justify a ban against someone like Trump? What if Trump were to repent and reinvent himself? Should we not be consistent in refusing to ban anyone permanently?
Never mind that repentance is unlikely. Trump has persistently tried to subvert the democratic process itself. That is not just any high crime or misdemeanor; nor is it comparable to any business dealings before (and during) the presidency for which he could be prosecuted. If someone refuses to play by the rules of the game (especially rules as basic as "the candidate who gets the most votes wins"), it is perfectly reasonable to eject that player.
Would Republicans support such a move? Plenty, like Senators Josh Hawley of Missouri and Ted Cruz of Texas, have bet their political fortunes on genuflecting to America's burgeoning far-right movement. But others might now be looking for a way out of the Trumpian maw. The storming of the Capitol demonstrated that you cannot have QAnon à la carte; neither Trump nor his Republican collaborators can control the forces they have unleashed. The revolution always devours its own children, and sometimes their fathers, too. If Republicans fail to de-Trumpify fully and immediately, they will learn that for themselves – but not before things get much, much worse.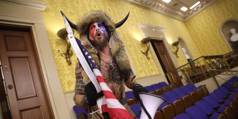 Trump's Götterdämmerung
Without Trump's bizarre but effective grip on the party, Republicans may well face a period of vicious infighting, which could conceivably tear their party apart. If so, they richly deserve it.
NEW YORK – Anyone who was surprised by the mayhem in Washington, DC has not been paying attention for the last four years. The grotesque scenes around the Capitol on January 6 were indeed shocking: wild-eyed thugs with neo-Nazi flags and Trump banners smashing their way into the House of Representatives and the Senate, while mobs roared "USA" and "Stop the Steal" and others took selfies to show their moment of glory to their grandchildren one day.
But the most disgusting spectacle of all was that of Trump himself inciting his frenzied followers to march on the Capitol to overturn the election and fight the "evil" enemies who had supposedly robbed him of his victory.
It was shocking, but not surprising. Anyone could have seen this coming from that moment in 2016, during the second presidential debate, when Trump was asked whether he would accept the result of the coming election. He replied that this would depend on the result. In other words, he would accept only his own victory. Any other outcome would be illegitimate. It was clear then that he would not abide by the basic rules of liberal democracy.
That was not the only evidence: the free press were "enemies of the people," Hillary Clinton, his political opponent, should be "locked up," immigrants were rapists and drug dealers, and so on. As president, Trump condoned, and even encouraged, violent extremists who declared war on blacks and Jews ("Jews will not replace us!" they chanted in Charlottesville, Virginia, in 2017).
Nonetheless, Republican Party leaders – including those who distanced themselves from the president at the very last minute – supported him, flattered his colossal ego, and protected him against all efforts to temper his outlandish, and possibly illegal, behavior. They didn't do so for love of Trump. But as long as he gave them what they wanted – deregulation, lower taxes for the very rich, and the swift appointment of far-right judges – he could do as he pleased.
Some Republicans would admit that Trump was, well, not a "conventional politician." That is certainly true. Trump is more like a cult leader, a charismatic agitator who promised his followers salvation from the wicked world of violent and decadent cities, liberal elites, blacks, gays, immigrants, and other polluting aliens in the body politic. Many people voted for Trump because they believed in him more as a messiah than as a politician.
The big question now is whether a cult can last once the leader is out of power. Can Trumpism survive for long without Trump? He still owns much of the Republican Party. And he will try to preserve his influence through social media. He might even build his own little media empire. But will this be enough? Will it last?
Trumpism may survive under a different leader. This is what a politician like Senator Ted Cruz of Texas is hoping. His attempt to pander to Trump's voter base by sabotaging President-elect Joe Biden's victory is a play for a future presidential run. But Cruz lacks the vulgar charisma of Trump. He is a highly-educated cynic, a ruthless political operator, but not someone who can easily inspire the masses.
The future of Trumpism also hinges on a long-debated philosophical question. Which is the greater driver of history: great leaders or socioeconomic conditions? Like Hitler, Trump is often seen, especially by people on the left, as a symptom, rather than the cause, of a social pathology.
There is something to be said for this view. Trump has shrewdly exploited problems and resentments that were there long before he entered politics: the widening gulf between rich and poor, fear of immigrants, loathing of Islam, the increasing dominance of big cities and finance over impoverished de-industrialized and rural areas, hatred of racial minorities, and so on.
These issues have been used, with more or less success, by other contemporary demagogues as well. But, to succeed, such political operators still need to project a certain magnetism, a quality that more conventional politicians often underestimate at their peril.
Looks and demeanor play an important part in this. It is no mere coincidence that quite a few populist leaders sport such weird hairdos – former Italian Prime Minister Silvio Berlusconi's painted implants, Trump's platinum comb-over, British Prime Minister Boris Johnson's carefully calculated blond mess. The hair, like Hitler's moustache, is part of their "brand." A born demagogue knows how to stand out.
More than most of his colleagues in the demagogue business, Trump is a creature of show business. His great success was not in real estate; he was in fact a terrible businessman, blundering from one failure to another. What made him was a television show. That is what boosted his brand, which he has used with a truly mammoth talent for self-promotion. Cruz, Josh Hawley, Tom Cotton, or Marco Rubio – all Republican senators with ambitions to follow in Trump's footsteps – don't even come close.
The rage, resentments, and economic problems that Trump exploited won't go away, of course. And he has made the social and political ills of America far worse. The symptoms will remain, but perhaps without a man with the malevolent genius to inflame them.
And Trump's followers will lose their messiah. Without Trump's bizarre but effective grip on the party, Republicans may well face a period of vicious infighting, which could conceivably tear their party apart. If so, they richly deserve it.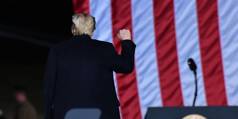 Preventing "Trump 2024"
Republicans and Democrats shouldn't agree on everything, but they should be operating from a shared reality. Only then can they devise policies in good faith, find broadly beneficial compromises, and protect US democracy from would-be authoritarians eager to exploit Americans' cognitive divide.
NEW HAVEN – In his victory speech in November, US President-elect Joe Biden promised to reach across the aisle, work with Republicans, and unite the country. Two months later, outgoing President Donald Trump still has not conceded, and some of his loyalists reportedly plan to vote against the counting of Electoral College votes this week. The effort won't prevent Biden from being inaugurated this month, but it does demonstrate just how polarized the United States is – and the threat this poses to America's democracy.
To be sure, the US Constitution has proved hardy over the last four years. Since the presidential election two months ago, Trump and his Republican allies have filed more than 50 lawsuits challenging the results. They have lost all of them, with even the Supreme Court – which Trump has packed with right-wing justices – ruling against them.
Nonetheless, the lengths to which Trump loyalists have been willing to go to for him, together with the support he still enjoys among voters, raise serious questions about the state of American society. After all, polarization in America today is not fueled by disagreement over, say, which tax policies would do the most good for Americans and their economy. Such debates are the lifeblood of democratic politics. But they seem to have been abandoned in favor of disputes over reality itself – with deadly consequences.
Consider the COVID-19 pandemic. From the beginning, Trump played down the severity of the coronavirus, despite knowing better. Moreover, he has repeatedly endorsed unproven treatments, while refusing to support the mandatory use of proven preventive measures, like mask wearing. Over 350,000 Americans have died.
Yet many of Trump's supporters remain as loyal as ever. More than 74 million Americans voted for Trump in November, compared to 81 million for Biden. And, though Trump and his allies have put forward no evidence of electoral fraud, only one-quarter of Republicans say they trust the results of the recent vote.
Yet this should not be particularly surprising. From asserting that special counsel Robert Mueller's investigation into Russian interference in the 2016 election "completely and totally exonerated" him to claiming that water-conservation restrictions force people to flush their toilets 10-15 times instead of once, Trump's go-to strategy throughout his political career has been simply to make things up. Republicans have willingly echoed his lies, and conservative media have amplified and built on them.
For the last four years, that job has fallen primarily to Fox News, Trump's number one cheerleader and megaphone. More recently, however, Trump has lashed out at the network, which he believes has been insufficiently loyal in its election coverage, and embraced even more extreme outlets, such as Newsmax and One America News Network.
Such media allies could pave the way for a political comeback. Trump has already discussed running for president again in 2024, and there is speculation about his daughter Ivanka Trump's political ambitions. But it doesn't have to be a Trump who takes up the mantle of right-wing populism, nationalism, and authoritarianism in the US; a figure from outside the family could also emerge to fill this role, possibly much more deftly than Trump.
The best way to mitigate this risk is to close the cognitive gap that is distorting US political discourse, returning Americans to a shared reality. The question is how. After all, plenty of existing media outlets – including legacy newspapers like The Washington Post and The New York Times, as well as mainstream American television networks like CNN – already provide fact-based, data-driven journalism. Many simply don't listen.
Instead, Trump and his supporters decry the "mainstream media" for pushing a "liberal agenda," which includes, for example, recognizing and exposing racial injustice and other forms of discrimination. But this approach is only as radical as democracy itself, and has contributed significantly to American social progress, particularly since the civil rights movement of the 1950s and 1960s.
Even so, a significant share of people – especially those who benefit from biased systems – will resist social progress, regardless of how strong a case the media make for it. And they will embrace political leaders and news sources that provide an alternate reality in which their position is rationalized, defended, and shared.
This is hardly a uniquely American phenomenon. In Japan, progress toward gender equality has been slow, despite the obvious benefits of increasing female labor-force participation amid rapid populating aging. Nearly eight years ago, then-Prime Minister Shinzo Abe made policies aimed at reaping those benefits – dubbed "womenomics" – a pillar of his "Abenomics" strategy for economic revitalization. But Japan still has a long way to go, owing largely to social resistance.
Overcoming such resistance to progress – in the US, Japan, and elsewhere – will require not just information, but persuasion. Communication must be painstaking, non-threatening, and people-oriented, aimed not at telling people they are wrong, but at influencing how they perceive the issue.
Biden cannot do this alone. It must be a bipartisan effort, led by America's most senior political leaders. Fortunately, the latest COVID-19 relief package, which passed with overwhelming bipartisan support despite Trump's objections, offers reason for hope that this is possible. Whether such compromises will continue into Biden's presidency remains to be seen.
Republicans and Democrats will never agree on everything, as well they shouldn't: a vibrant democracy depends on spirited debate. But they should agree on empirical facts. Only then can they devise policies in good faith, find broadly beneficial compromises, and protect US democracy from would-be authoritarians eager to exploit Americans' cognitive divide.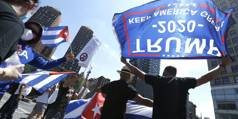 Trump's Right-Wing Rainbow Coalition
Though mainstream observers were shocked that Donald Trump increased his support among many ethnic minority groups in the 2020 election, this should not have come as a surprise. The common thread linking the Trump base has little to do with demographics, and much more to do with a personality type.
BOSTON – Although Donald Trump will pack his bags and leave the White House on January 20, he has presided over an authoritarian awakening among a large swath of the American population – one that will persist long after he is gone. As president, Trump not only deployed racist, sexist, homophobic, xenophobic, and Islamophobic rhetoric, but actually baked it into his policies. Nonetheless, more than 74 million Americans voted for him in 2020.
Even more strikingly, exit polls suggest that Trump actually gained support from all of the demographic groups that he had maligned, insulted, and harmed, garnering more black, Hispanic, and Muslim votes than he did in 2016. Asian-Americans also pivoted to Trump, voting for him by a larger margin than they did for him in 2016. And Trump won around 55% of white women in 2020. In two consecutive elections, the majority of white women chose a blatant misogynist over a female presidential or vice-presidential candidate.
Writing in the Washington Post just after this year's election, Fareed Zakaria argued that there is no common ground among ethnic and religious minority groups, the implication being that their members found Trump appealing for different reasons. But this is the wrong way to frame the issue. Trump created his rainbow coalition, and his supporters are more blindly loyal than President-elect Joe Biden's. The right question, then, is what united minority Trump supporters, both among themselves and with his white supporters.
To be sure, Biden has his own rainbow coalition, but he earned it through hard work, sincerity, and conscientiousness. He put an African-American woman on his ticket and promised to protect the Deferred Action for Childhood Arrivals (DACA) immigration policy. By contrast, Trump was showered with support from the very people he savagely attacked and harmed. He has referred to immigrants from Latin America as "drug dealers, criminals, rapists," and has presided over the separation of migrant families at the US-Mexico border. Nonetheless, he increased his Hispanic support in critical districts this election cycle.
Trump's trade war with China, moreover, had a devastating impact on rural America. But that didn't stop him from winning Iowa and other farm states by a healthy margin. Likewise, some first-generation Chinese immigrants (with PhDs and Ivy League credentials) are fervent Trump supporters, despite his malicious labeling of COVID-19 as the "China virus."
The common foundation supporting this vast Trumpian tent of rural whites, Latinos in Texas, Chinese-American entrepreneurs, white suburban women, and a small but growing share of black men is a deep-seated notion of authority – a more primordial disposition than ethnic tribalism, religious affiliation, and sexual identity. These voters worship power and the powerful, and identify with all exercises of power by their chosen leader.
This perspective can explain a wide range of Trump supporters' attitudes. His racist, sexist, homophobic, xenophobic, and Islamophobic utterances are each an assertion of power. Racism is a power play, exercised by whites over other ethnic groups; sexism is also a power play, exercised by men over women. Religious intolerance and xenophobia are power plays in the same fashion. "Make America Great Again" offers the promise of restoring lost privileges and status for those whose sensibilities are offended by a changing world.
In economics, the "circular flow of money" describes how a cost incurred by one person in the economy amounts to income for somebody else. Buying a loaf of bread is a cost to me, but it is income to the baker. Now apply this idea to politics. A white woman is a victim of misogyny; but in a Trumpian world, she also belongs to a class of victors (whose dominance is demonstrated through racism and xenophobia). In this hierarchical vision of the world, white women may be reduced to handmaids, but at least they can still exercise power over others, such as black people and immigrants. In this scenario, while others hold power over her in one instance, she can simultaneously hold power over others in a separate exchange.
I got my first glimpse of this circular flow of power in 2016. I had just delivered a speech on why so many Chinese supported Trump, and a young MIT alumnus shared an exchange she had had with a classmate who said he was okay with a white-supremacist president as long as he, as a young Chinese immigrant, could discriminate against blacks and Latinos.
But how does this dynamic explain Trump's share of the black and Hispanic vote? As it happens, there is a common thread uniting conservative whites, Asian Trump supporters, and a significant portion of African-Americans and Latinos: a disposition known as right-wing authoritarianism. RWA comprises certain psychological traits that map onto individuals with an "authoritarian personality." This personality type has many dimensions, but a key component concerns the perception and exercise of power.
RWA is the tie that binds Trump's rainbow coalition. As political scientist Matthew C. MacWilliams of the University of Massachusetts Amherst shows, 2016 Republican primary voters who scored high on RWA were more likely to vote for Trump than for other GOP candidates.

In a November 2016 paper, "American Authoritarianism in Black and White," MacWilliams finds that on average, African-Americans outscore whites on RWA. Here, a particularly illuminating data point is the social and organizing function of religion in African-American life. MacWilliams finds that those who attend church on a regular basis exhibit more RWA tendencies, on average. And similar research since the 1950s has shown that Mexican-Americans, too, are more authoritarian-leaning than white Americans, probably also owing to their churchgoing.
Instead of trying to sort Trump voters by skin color or gender, a more nuanced view of psychology might help us understand why the 45th president appeals to so many voters whose ethnic, religious, and sexual identities he has mercilessly disparaged. Unless we improve our understanding of these voters' overriding identification with those able and willing to exercise power, and their own latent thirst for power, we risk being blindsided by it again.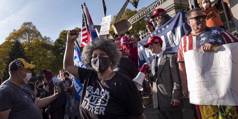 Can Americans Forgive One Another?
After unprecedented attacks on political norms and the basic pillars of democracy, one might think that America's political turmoil could not get much worse. But it can, particularly if attacks on the rule of law and the mobilization of partisan antipathy continue to escalate.
CAMBRIDGE – As someone who often writes about law and forgiveness, I have been receiving many queries lately. Should President-elect Joe Biden pardon President Donald Trump? Should pandemic-era debts be forgiven? Should the United States establish a truth and reconciliation commission to heal national divisions?
These questions do not have obvious answers, especially when such difficult times still lie ahead. But wrestling with them may yield valuable guidance for the near term and beyond.
Let's start with the basics: In addition to surging COVID-19 infections and the pandemic's attendant economic hardships, the US is seething with resentment and division. Donald Trump, the lame-duck president, openly speculates about pardoning himself, and has raised vast sums of money on the false claim that Biden owes his victory to widespread electoral fraud. Already, people have sent the Trump campaign more than $200 million to fund his effort to overturn the election result.
And yet, neither 50-plus lawsuits nor investigations by Trump's own Department of Justice have produced evidence to challenge Biden's triumph. The responses from judges hearing these cases – even those who were appointed by Trump – have been mostly scathing. At the same time, ordinary Americans, including many who helped to administer the November election, are growing increasingly frightened by threats of violence.
Managing a peaceful transfer of power is only the start of the challenges facing the US. Although this summer's protests against police violence – ignited by the deaths of Breonna Taylor, George Floyd, and many other African-Americans – have quieted with the arrival of winter, the demands for justice and reform have grown more persistent. Meanwhile, politicians on the right have been appealing even more openly to white resentment, stoking fears about race and crime.
These cynical politicians are right about one thing: Americans are bitterly divided. But this fact raises a difficult question. How can we talk about forgiveness and healing when we don't know who should be doing the forgiving, or what others should be forgiven for? We cannot agree about what is wrong, or who did what. We don't even agree about who counts as "we."
Indeed, the belief that we are divided is perhaps one of the few things that Americans still have in common. We all know in our hearts that we are on the right side, and that those on the other side are wrong, and we resent them for it. Nelson Mandela, who waged a lifelong struggle against apartheid and oversaw its peaceful end, knew better. "Resentment," he said, "is like drinking a poison and then hoping it will kill your enemies."
Whatever happens next in the US will depend on which priority wins out in the coming months. While many are issuing righteous demands for justice, others would prefer to start mending societal fissures, while still others want to focus on righting the ship of state.
These options cannot all be pursued at the same time. Should the Biden administration investigate Trump and, if warranted, prosecute him for potential federal crimes? Should the country – or local communities – pursue a South-Africa-style truth-and-reconciliation process to hear grievances and responses? Or should the events of the recent past be put aside so that we can focus squarely on managing the pandemic, delivering vaccines, and addressing economic dislocation – not to mention longer-term challenges such as criminal-justice reform and climate change?
To simplify the choice before us, it should now be clear that resolving the immediate health and economic crisis comes first. In the meantime, there are at least two things that should not happen.
First, Trump should not pardon himself. The US Constitution's presidential pardon power is notably broad, but it makes an explicit exception for "cases of impeachment," and it applies to only federal (not state or local) crimes. The Constitution also obliges the president to "take Care that the Laws be faithfully executed," which is hardly compatible with the legal immunity that a self-pardon would entail.
For hundreds of years, it has been an axiom of justice that "no man should be judge in his own case" ("nemo judex in causa sua"). When President Richard Nixon explored the possibility of pardoning himself over the Watergate scandal, his own Justice Department opined that the presidential pardon power does not extend that far – a position that has not been revised since.
Most important, a self-pardon would vitiate the rule of law, understood as the commitment to restrict the arbitrary exercise of power with well-defined and established rules. The rule of law calls for laws to be promulgated publicly, enforced equally, and judged independently. If Trump were to issue a self-pardon, the distrust that has been eroding US institutions would surge to new heights.
The second thing that should not happen is a further outpouring of scorn toward others. This will not be easy. Whatever one's political beliefs, we are all capable of contempt for other viewpoints. But insisting on the exclusive rightness of one's own views is antithetical to freedom and can lead to suppression and violence.

To be sure, allowing for the possibility that I could be wrong may feel like an unthinkable sacrifice of freedom. It may seem like too much to ask in the face of so much that I see as clearly wrong. But the US federal judge and legal philosopher Learned Hand put it well when he argued in 1944 that liberty is not "freedom to do as one likes," for that leads straight to society's overthrow. Instead, he explained:
"The spirit of liberty is the spirit which is not too sure that it is right; the spirit of liberty is the spirit which seeks to understand the minds of other men and women; the spirit of liberty is the spirit which weighs their interests alongside its own without bias; the spirit of liberty remembers that not even a sparrow falls to earth unheeded."
If Americans genuinely care about liberty, they will have to disarm enough to disagree with civility, if not yet to render justice.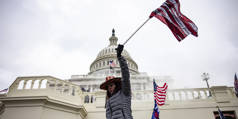 What Next for the MAGA Insurrection?
Having been fed a steady stream of lies by Donald Trump and right-wing media outlets like Fox News, many of those who stormed the US Capitol on January 6 may have genuinely believed that they were saving the American Republic from usurpers. Now that they have returned home, defeated, what will they do for the next four years?
BERKELEY – When people stormed the Bastille in Paris on July 14, 1789, their purpose was to free inmates whom they saw as political prisoners of the monarchy. And when Frenchwomen marched from Paris to Versailles that October, their goal was to force the king to return with them and live among the people.
What goal did Donald Trump's supporters have in mind when they stormed the US Capitol on January 6? Some vandalized the Speaker of the House's offices, and some destroyed memorials to the late civil-rights leader and congressman John Lewis. Others broke into the Senate chamber to take selfies from the presiding officer's chair. A Florida man walked off with a podium.
To understand why they were there in the first place, we need to roll back the tape. Just before the insurrection, Trump held a "Save America Rally" in a park behind the White House, where he told his audience that:
"All of us here today do not want to see our election victory stolen by emboldened radical left Democrats, which is what they're doing and stolen by the fake news media. That's what they've done and what they're doing. We will never give up. We will never concede, it doesn't happen. You don't concede when there's theft involved. Our country has had enough. We will not take it anymore and that's what this is all about. To use a favorite term that all of you people really came up with, we will stop the steal. … We won this election, and we won it by a landslide…"
The problem, Trump went on to claim – falsely – is that seven states had sent "illegitimate" electoral vote tallies to Congress. "With only three of the seven states in question, we win the presidency of the United States."
The news that Democrats had won both Georgia Senate seats in run-off elections the previous day raised the stakes. Starting on January 20, Vice President Kamala Harris will cast the tie-breaking vote in the Senate, and Majority Leader Mitch McConnell will become the minority leader, handing control over to Democratic Senator Chuck Schumer of New York.
Thus, unlike in 2016, "We have no back line anymore," Trump warned. "The only line that we have is the veto of the president of the United States." He pointed out that many Republicans are still fighting hard to overturn the election. "I want to thank the more than 140 members of the House… warriors… studying the roots of the Constitution…. They know we have the right to send a bad vote that was illegally got [back to the states]." He then went on to thank the 13 Republican senators who also "stepped up," not least Josh Hawley of Missouri and Ted Cruz of Texas.
But Trump warned that there are "weak" Republicans, too – "Mitch [McConnell] and the group" – who "don't realize that that's going to be the end of the Republican Party as we know it." But it's "never going to be the end" for Trump's movement. "Let the weak ones get out," Trump advised, "This is a time for strength."
Trump concluded his speech with a call to action: "We're going to walk down Pennsylvania Avenue… give our Republicans, the weak ones… the kind of pride and boldness that they need to take back our country."
Suppose that you believed that the president was a serious person who was telling the truth (or at least not exaggerating more than the typical politician). What would you do? Surrounded by others of a similar mind, you might conclude that you should "walk down Pennsylvania Avenue" to get in the face of those "weak" politicians so that they will "come through for" you. According to the president, Vice President Mike Pence, McConnell, and the others needed a push to "do the right thing": halt the counting of the Electoral College votes and send the fake and "illegal" certified tallies "back to the states to recertify." If that happens, "we become president, and you are the happiest people."
Believing this, you might be willing to push people out of the way – to break a few windows and club a few police officers – to get in front of the legislators who need to grow a backbone.
But now it is the day after the storming of the Capitol, and you find that, even though you had done your job, not enough senators had grown a backbone; in fact, their ranks had been halved, with only six proving "brave" enough to object to the certification of the election. What happened? You belong to the real majority, and you passed the baton to cowardly McConnell and Pence so that they could do the right thing. But in the end, they dropped it.
What will you do next? If the past is any guide, you will eagerly await your leader's instructions – even if they are directions to the next cliff.