The Big Picture brings together a range of PS commentaries to give readers a comprehensive understanding of topics in the news – and the deeper issues driving the news. The Big Question features concise contributor analysis and predictions on timely topics.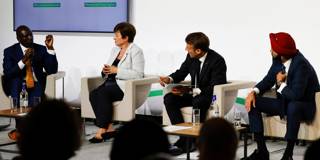 A Financing Revolution in Paris?
French President Emmanuel Macron's Summit for a New Global Financing Pact has begun, and hopes are high that it will deliver real progress on a new contract between the Global North and South that will support climate action and sustainable development. But the barriers to an effective agreement that can be successfully implemented should not be underestimated.
A diverse group of global leaders – Macron, Barbadian Prime Minister Mia Amor Mottley, Brazilian President Luiz Inácio Lula da Silva, European Commission President Ursula von der Leyen, European Council President Charles Michel, German Chancellor Olaf Scholz, Japanese Prime Minister Fumio Kishida, Kenyan President William Ruto, Senegalese President Macky Sall, South African President Cyril Ramaphosa, Emerati President Mohamed bin Zayed Al Nahyan, British Prime Minister Rishi Sunak, and US President Joe Biden – have declared that they are "united in [their] determination" to make the most of the Summit. Through "solidarity and collective action," these leaders seek to "reduce the challenges facing developing countries and to fulfill our global agenda." To that end, they aim to ensure that "development and climate commitments" are fulfilled and "all sources of finance" – including official development assistance, domestic resources, and private investment – are leveraged.
But, as Barry Eichengreen of the University of California, Berkeley, and TCX CEO Ruurd Brouwer point out, the devil is in the details. Likely proposals at the Summit include "a capital increase for the multilateral development banks and another round of concessional lending." But "if the resulting loans are again denominated in [US] dollars," this will "create more problems than it solves."
According to Brigitte Granville of Queen Mary University of London, the effort to "restore fiscal space to countries facing short-term difficulties" will succeed only "if it embraces the spirit of innovation." Fortunately, "those who have long studied, and managed, the problem" – such as former Pakistan Central Bank Governor Reza Baqir, Harvard's Dani Rodrik, and Ishac Diwan of the Paris School of Economics, to name a few – have advanced promising proposals, including a "careful redesign" of lending by international financial institutions.
But whereas Granville thinks that a "radical overhaul" of the Bretton Woods institutions is "unrealistic at this point," Sébastien Treyer of the Institute for Sustainable Development and International Relations and Bertrand Badré, a former managing director of the World Bank, argue that it is essential. "Western countries must join the effort to transform multilateral financial institutions, even if doing so means ceding some of their own influence to others who have previously been marginalized." Here, the stakes of the Paris Summit are high: "If the only result is a hollow political declaration, the broader reform effort could lose credibility."
Belizean Prime Minister John Antonio Briceño and The Nature Conservancy's Jennifer Morris highlight yet another piece of the puzzle: nature. To make progress on climate, development, and debt, the Summit must embrace proven solutions that account for the "needs of nature," beginning with debt-for-nature swaps. Otherwise, any agreement on financial reforms "will prove unsustainable in the long run."
Featured in this Big Picture
https://prosyn.org/Sgl8r92;