Warum der Westbalkan in die EU gehört
BRÜSSEL – Am 16. Januar haben sich Vertreter Serbiens und des Kosovo zu vertrauensbildenden Gesprächen in Brüssel getroffen. Aber am gleichen Tag wurde der serbisch-kosovarische Minderheitenführer Oliver Ivanović in dem unter serbischer Verwaltung stehenden Mitrovica im nördlichen Kosovo ermordet, und die Gespräche wurden abgesagt.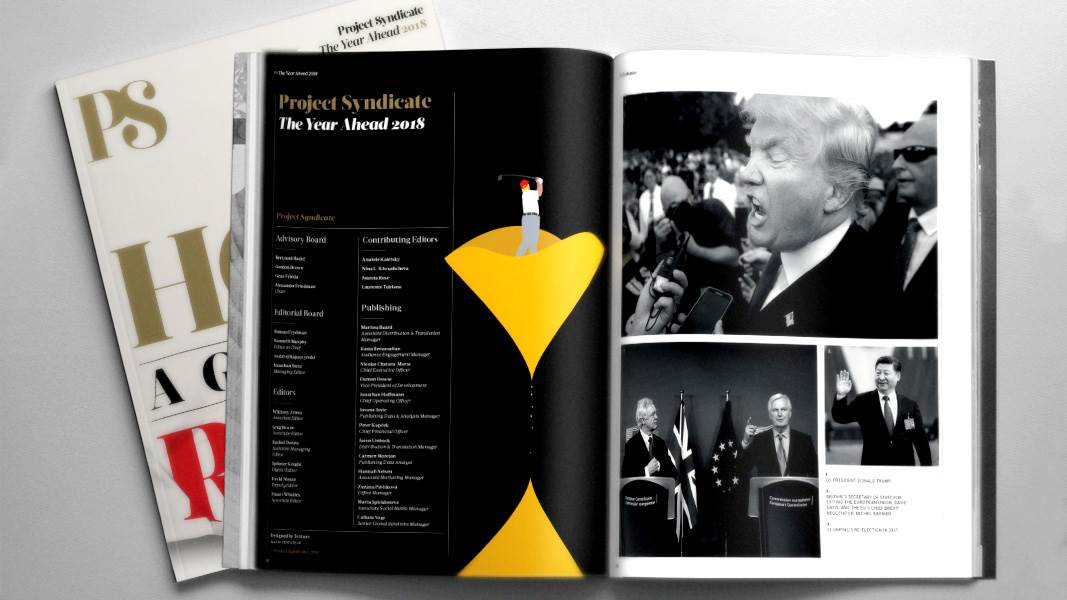 The Year Ahead 2018
The world's leading thinkers and policymakers examine what's come apart in the past year, and anticipate what will define the year ahead.
Seit dem Ende des Kosovokrieges 1999 hat der Westbalkan große Fortschritte gemacht, die nationalistischen und reaktionären Kräfte zum Schweigen zu bringen, die den brutalen ethnischen Konflikt verursacht hatten. Aber die Ermordung von Ivanović, wahrscheinlich durch Verbrecherbanden, die sich im nördlichen Kosovo ungehindert entfalten konnten, droht jetzt, Öl auf ein noch immer schwelendes Feuer zu gießen. Die nationalistischen Geister der Region werden aus ihrem Schlummer gerissen.
Die Länder des Westbalkans müssen sich noch vielen anderen Herausforderungen stellen. Korruption ist weit verbreitet, aufgrund von Netzwerken organisierten Verbrechens, die aus dem Sicherheitsapparat der kommunistischen Ära entstanden. Der Einfluss der Vereinigten Staaten nimmt ab, Russland wird immer revanchistischer. Und, wie bei allen anderen Ländern der Region, hängt ein großes Fragezeichen über dem Weg zur EU-Mitgliedschaft.
Das muss sich ändern. Mazedonien (mit provisorischem Namen 'ehemalige jugoslawische Republik Mazedonien') ist seit 2005 Kandidat für die EU-Mitgliedschaft, aber die Beitrittsverhandlungen sind noch nicht in Gang gekommen. Aufgrund eines Streits um den Namen des Landes hat Griechenland angekündigt, gegen dessen Beitritt ein Veto einzulegen. Und das Land selbst ist seit langem über innenpolitischen Themen wie Machtmissbrauch und ethnische Minderheiten zerstritten.
Aber es gibt noch Grund zur Hoffnung. Beim diesjährigen Treffen des Weltwirtschaftsforums in Davos hat sich der mazedonische Premier Zoran Zaev mit dem griechischen Premier Alexis Tsipras getroffen und zugestimmt, den größten Flughafen des Landes umzubenennen. Sein aktueller Name, Alexander der Große, war den Griechen schon lange ein Dorn im Auge.
Montenegro wurde im Juni 2017 Mitglied der NATO. Aber es hat auch mit Russlands zunehmenden Einfluss zu kämpfen, einschließlich dem Komplott, die aktuelle Regierung zu stürzen. Montenegro hat zusammen mit Serbien den EU-Beitrittsprozess begonnen, aber ist noch weit davon entfernt. Von den 35 Kapiteln EU-Recht, die verhandelt werden müssen, hat Montenegro 30 eröffnet und drei provisorisch abgeschlossen. Serbien hat zwölf eröffnet und zwei provisorisch abgeschlossen.
Viele andere Länder sind ganz blockiert, entweder aufgrund von Vetos aus der EU oder aufgrund interner Hürden. Bosnien und Herzegowina beispielsweise kämpfen noch immer mit den Beschränkungen des Friedensabkommens von Dayton. Und Milorad Dodik, der vom Kreml unterstützte Führer der serbischen "Republika Srpska" spielt mit dem Gedanken, ein Unabhängigkeitsreferendum durchzuführen.
Russland hat ganz klar ein Interesse daran, die Länder des Westbalkans daran zu hindern, Mitglieder der NATO und der EU zu werden, und das ist umso mehr ein Grund für die EU, ihr Engagement in der Region zu verstärken. Zu diesem Zweck hat der EU-Kommissionspräsident Jean-Claude Juncker in seiner Rede zur Lage der Union im vergangenen September für eine "glaubwürdige Erweiterungsperspektive" für die Region geworben. Und im Februar will die Europäische Kommission eine neue "Erweiterungsstrategie" annehmen, die für den Beitritt von Serbien und Montenegro ein Zieldatum von 2025 setzt.
Aber wenn eine derartige Strategie erfolgreich sein soll, muss sie durch Reformen im Westbalkan begleitet sein, die von der EU begleitet werden und diese Länder näher an den EU-Mitgliedschaftsanforderungen ausrichten. Mehr noch, die EU muss klarmachen, dass ein Beitritt letztlich von Leistung abhängig ist und dass Zieldaten als Orientierung dienen und nicht bindend sind. Wie der Beitritt von Rumänien und Bulgarien gezeigt hat, können beliebig festgesetzte Zieldaten kontraproduktiv sein, wenn sie zu viel Gewicht bekommen, weil sie die Anreize für wirkliche Reformen schwächen.
Die Erweiterungsstrategie der EU erfordert Unterstützung durch die einzelnen EU-Mitgliedsstaaten, die nicht vergessen dürfen, dass der Westbalkan im europäischen Einflussgebiet bleiben sollte, andernfalls könnte eine Rückkehr zum Blutvergießen der 1990er oder Schlimmeres drohen. Sie benötigt auch Unterstützung von europäischen Partnern und Verbündeten, besonders der USA, die daran erinnert werden sollten, welche geopolitische Bedeutung es hat, derartige Folgen zu verhindern.
Und in Bezug auf die Region selber müssen politische Eliten motiviert werden, die notwendigen Reformen durchzuführen, anstatt ihre eigenen wirtschaftlichen Interessen an erste Stelle zu setzen. Die höchste Priorität müssen Rechtsreformen haben, die dazu beitragen werden, in den Gesellschaften eine Rechtsordnung zu verankern und eine regionale Aussöhnung herbeizuführen, ohne die es keinen Fortschritt in Richtung Beitritt geben kann. Abgesehen von diesen Grundvoraussetzungen braucht die Region auch massive Investitionen in Transport und Kommunikation, um es mit dem Rest von Europa zu verbinden, anstatt mit China und Russland, was in den letzten Jahren geschehen ist.
Die Alternative zu einem europäischen Engagement im Westbalkan ist erstarkender Nationalismus und eine mögliche Rückkehr zu gewaltsamem Konflikt. Die EU muss alles tun, was in ihrer Macht steht, um das zu verhindern.
Aus dem Englischen von Eva Göllner