Warum der US-chinesische Handelskrieg erneut eskalieren könnte
WASHINGTON, DC – Nach fast 18 Monaten immer höherer Zölle auf beiden Seiten haben die Vereinigten Staaten und China ein "Phase-Eins-Abkommen" abgeschlossen, um die Eskalation des Handelskriegs zu beenden. Als Teil des Deals hat US-Präsident Donald Trump weitere Zollerhöhungen auf chinesische Waren, die eigentlich am 15. Dezember in Kraft treten sollten, ausgesetzt und die Zölle von ursprünglich 15% auf Importe aus China im Wert von 120 Milliarden Dollar halbiert. China wiederum hat seine geplanten Vergeltungsmaßnahmen auf Eis gelegt und sich verpflichtet, in den nächsten beiden Monaten US-Agrarprodukte im Wert von jeweils 50 Milliarden Dollar zu importieren.
Aber die versprochene Deeskalation sollte nicht überschätzt werden. Zunächst einmal ist es nicht klar, wie China seinen Importverpflichtungen nachkommen will, ohne damit das WTO-Prinzip der Nichtdiskriminierung zwischen Handelspartnern zu verletzen. Darüber hinaus bleiben andere US-Zölle in Höhe von 25% auf chinesische Waren im Wert von 250 Milliarden Dollar immer noch bestehen. Zusätzliche Senkungen werden von weiteren Fortschritten bei den zukünftigen Verhandlungen abhängig gemacht.
Tatsächlich deckt das aktuelle Abkommen nur einen Teil der Handelsbeschwerden der USA gegen China ab, und die verbleibenden Forderungen werden viel schwerer durchzusetzen sein. Generell verlangen die USA von den chinesischen Behörden, Schritte zu unternehmen, um ihren bilateralen Handelsüberschuss mit den USA abzubauen, die "Währungsmanipulation" zu beenden, mit dem Diebstahl intellektuellen Eigentums aufzuhören, von weiteren erzwungenen Technologietransfers abzusehen, die Subventionierung staatseigener Betriebe zu beenden und die Übernahme US-amerikanischer Unternehmen durch staatlich gesponsorte Investitionen zu stoppen.
Wären dies Verhandlungen gewesen, könnte man vernünftigerweise fragen, was die chinesischen Behörden von den USA als Gegenleistung für diese Maßnahmen verlangen. Aber dies waren keine Verhandlungen: Die Trump-Regierung stellte China eine Reihe von Forderungen, die, wenn sie nicht erfüllt werden, eine "Bestrafung" nach sich ziehen.
Bei diesen amerikanischen Forderungen gibt es aber drei große Probleme: Erstens sind einige von ihnen konzeptuell falsch. Zweitens führen bilaterale Maßnahmen in einem globalen Handelssystem häufig nur dazu, dass ein Handelspartner durch einen anderen ersetzt wird. Und drittens ist unklar, was die chinesische Regierung tun könnte, um einige der US-Forderungen zu erfüllen.
Zunächst einmal ist die Forderung, China solle seinen bilateralen Handelsüberschuss gegenüber den USA abbauen, unangebracht. Es gibt keinen Grund dafür, dass Handelsungleichgewichte im Warenbereich überhaupt eine Rolle spielen sollten. Erstens ist der Handel mit Dienstleistungen ebenso wichtig. Beispielsweise ist der Export von Finanzdienstleistungen sicherlich wirtschaftlich einträglicher als der Export von Kohle. Darüber hinaus bieten einige Länder viel bessere Investitionsgelegenheiten als andere. Bürger von Ländern mit weniger attraktiven Möglichkeiten profitieren vom Kauf rentablerer Vermögensanlagen, und diese Investitionen werden durch Ungleichgewichte in der Leistungsbilanz finanziert. Sogar in diesem Fall sind bilaterale Gleichgewichte irrelevant. Die Leistungsbilanz entspricht der Differenz zwischen den Inlandsinvestitionen und den Inlandsersparnissen (im privaten und öffentlichen Sektor), und das US-Defizit ist globaler Natur: Verringert ein Land seinen Überschuss gegenüber Amerika, wird die US-Wirtschaft lediglich ihre Importe und Exporte anpassen.
Subscribe now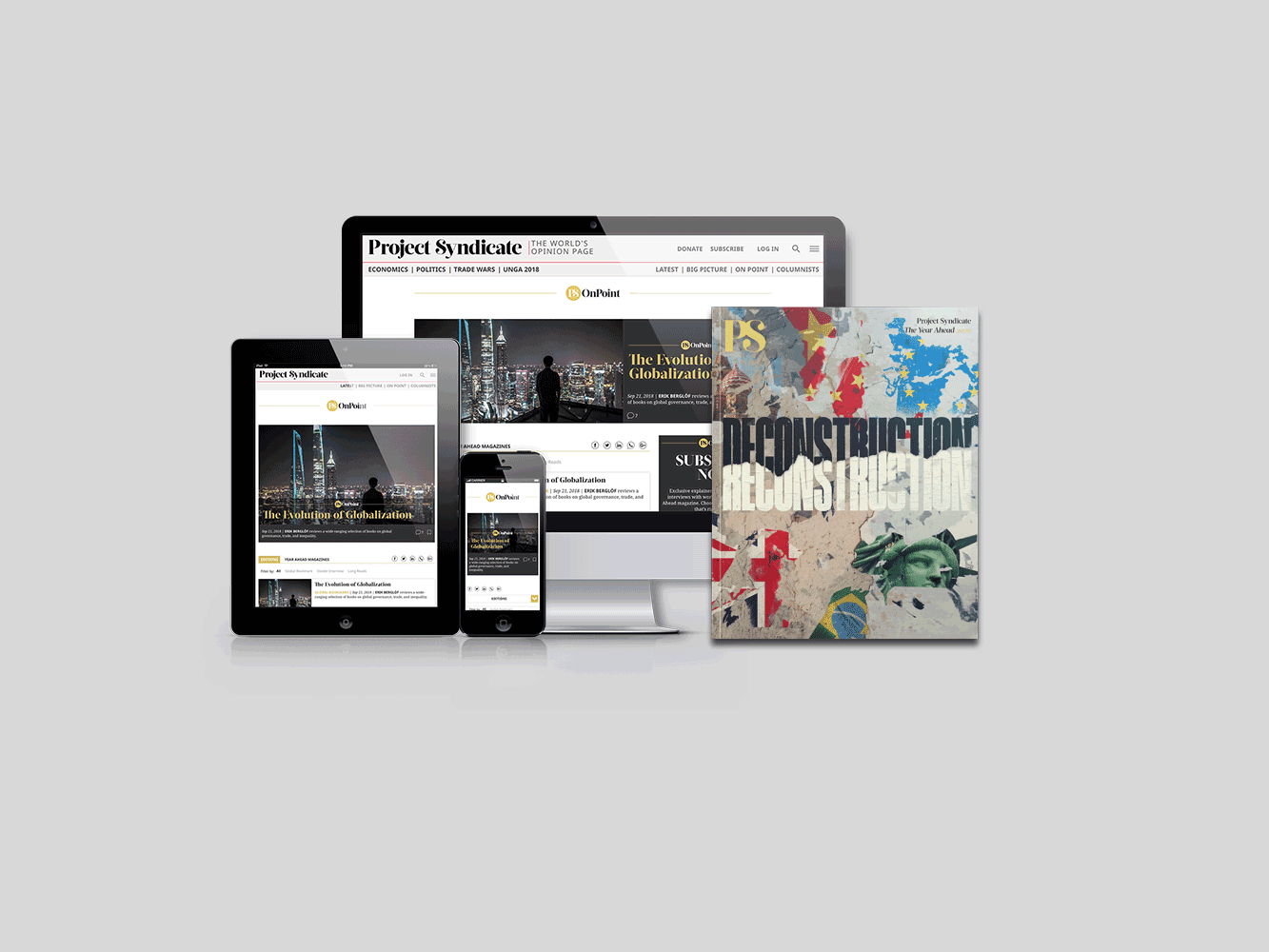 Subscribe now
Subscribe today and get unlimited access to OnPoint, the Big Picture, the PS archive of more than 14,000 commentaries, and our annual magazine, for less than $2 a week.
Die US-Forderung nach einem Ende der Währungsmanipulation spiegelt einen ähnlichen Trugschluss wider: Offensichtlich steckt die Absicht dahinter, Amerikas bilaterales Handelsdefizit gegenüber China zu verringern, aber bevor sich innerhalb der USA das Verhältnis der Ersparnisse zu den Investitionen ändert, wird dies nicht geschehen. Das US-amerikanische Recht sieht drei Kriterien zur Erkennung einer Währungsmanipulation durch einen Handelspartner vor: einen globalen Leistungsbilanzüberschuss von über 3% des BIP; dauerhafte Interventionen in Form des Kaufs ausländischer Währungen und des Verkaufs inländischer Währung; und einen bilateralen Handelsüberschuss gegenüber den USA von mehr als 20 Milliarden Dollar. Da China momentan nur das dritte Kriterium erfüllt, ist das Land laut US-Recht kein Währungsmanipulator (was die Trump-Regierung nicht daran hinderte, das Land im August als solchen zu bezeichnen).
Die anderen Ziele der USA – bezüglich des Diebstahls intellektuellen Eigentums, der Subventionierung staatseigener Betriebe und der Investitionsanforderungen – können nur auf multilateraler Ebene zufriedenstellend erreicht werden. Glauben die USA, ein Handelspartner habe sich nicht an die WTO-Regeln gehalten (die zugegebenermaßen verbessert werden könnten) können sie wie alle anderen WTO-Mitglieder dort Beschwerde einreichen. Aber dies hat die Trump-Regierung gegenüber China bislang nur zweimal getan – trotz der Tatsache, dass die USA bisher 91% der von ihnen vorgebrachten Fälle bei der WTO gewonnen haben, und obwohl die chinesischen Behörden nach WTO-Entscheidungen zu ihren Ungunsten ihre Praktiken häufig geändert haben.
Decken die WTO-Regeln gewisse Fälle nicht ab, müssen sie von den Mitgliedstaaten geändert werden. Darüber hinaus haben andere große Handelspartner der USA – wie Kanada, die Europäische Union und Japan – sich oft ähnlich über die chinesischen Handelspraktiken beschwert. Würden sich die USA ihnen anschließen, hätten sie eine viel bessere Verhandlungsposition gegenüber China als allein.
Aber statt sich an die WTO zu wenden, untergräbt Trump sie noch, indem er die Ernennung neuer Richter für ihre Streitschlichtungsbehörde blockiert. Dieser Behörde sollten sieben ernannte Mitglieder angehören – drei davon in jedem Gremium, das sich mit einem Fall beschäftigt. Aber da die USA neue Kandidaten für frei gewordene Richterstellen immer wieder mit ihrem Veto verhindert haben, hat die Streitschlichtungsbehörde jetzt nur noch ein Mitglied und kann daher nicht mehr arbeiten. Obwohl die Behörde sicherlich effektiver sein könnte, war sie bei der Schlichtung von Streitigkeiten und der Vorbeugung von Handelskriegen immer sehr hilfreich. Den ganzen Prozess zu torpedieren macht keinen Sinn.
Und schließlich gibt es selbst angesichts verständlicher US-Sorgen keinen Hinweis darauf, was die chinesische Regierung ändern könnte, um Trump und seine Verwaltung zufrieden zu stellen. Dass das offene und multilaterale globale Handelssystem floriert und weltweit das Wirtschaftswachstum fördert, liegt sowohl im amerikanischen als auch im chinesischen Interesse. Leider gibt es kaum Aneichen dafür, dass die aktuelle amerikanische Politik dieses Ziel erreichen könnte.
Aus dem Englischen von Harald Eckhoff