المتعاونون الجمهوريون مع ترامب
نيويورك - بعد تسعة أشهر من رئاسة دونالد ترامب، يبدو أن قادة الحزب الجمهوري يدركون أخيرا الواقع القاسي لبلادهم المعرضة للخطر. لكنهم يملكون الخيار الآن: يمكنهم إما الاستمرار في التعاون مع ترامب، وبالتالي الحفاظ على قيادته وكراهيته المدمرة، أو التخلي عنه، وإعطاء الأولوية للديمقراطية في بلدهم قبل الولاء لحزبهم أو قبيلتهم.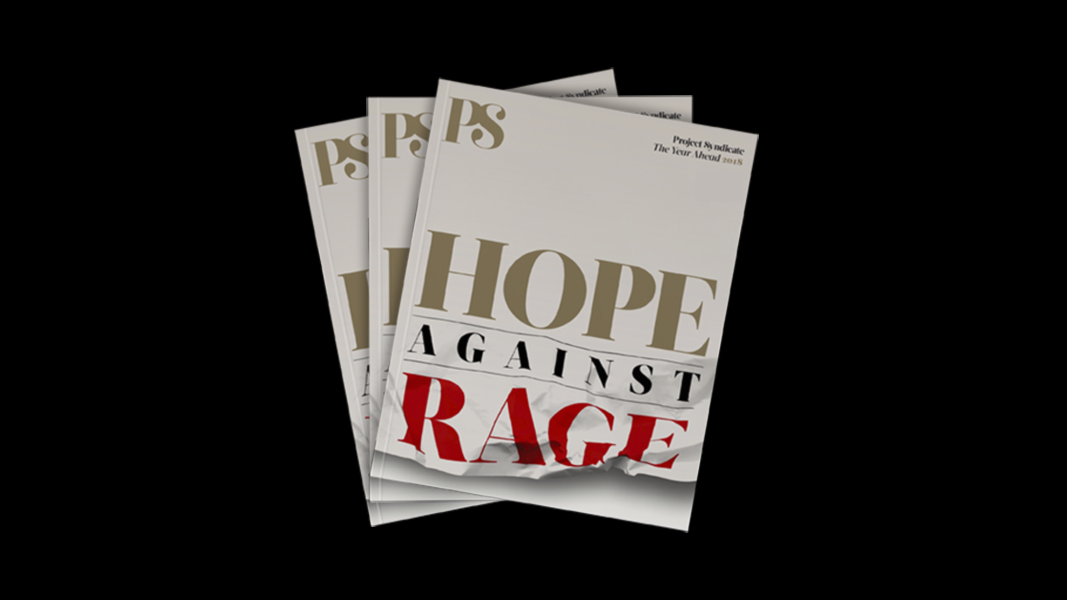 The Year Ahead 2018
The world's leading thinkers and policymakers examine what's come apart in the past year, and anticipate what will define the year ahead.
تشير التصريحات الأخيرة التي أدلى بها عضو مجلس الشيوخ الجمهوري من ولاية تينيسي، بوب كوركر، إلى أن هناك توجه ضد ترامب. وقال كوركر إن "البيت الأبيض أصبح مركزا للرعاية النهارية للبالغين" قبل أن يحذر من أن تهديدات ترامب على تويتر قد تضع الولايات المتحدة "على طريق الحرب العالمية الثالثة". كما حذر السيناتور جون ماكين من التهديد الذي تمثله "القومية الزائفة والغير الناضجة".
لكن الشرف السياسي الحقيقي يتطلب أكثر من إدانات محتشمة (لم يشر ماكين لترامب بالاسم في خطابه)، أو الانسحاب ببساطة، كما فعل كوركر وعضو الحزب الجمهوري بات تيبيري من ولاية أوهايو. بدلا من ذلك، فإن الشرف يستدعي تغيير المسار السياسي، كما فعل ونستون تشرشل ( الذي يعتبرانه بطلا بلا شك)، عندما انتقل من الحزب الليبرالي إلى حزب المحافظين.
وكما أثبت تشرشل، ليس هناك خطأ في تغيير الولاءات السياسية. ومع ذلك، من العار إظهار الولاء لحزب أو قضية مشينة أو مؤسفة. ويجب على الجمهوريين اليوم الذين يظنون أنه يمكنهم تأخير الانفصال عن ترامب، مخافة الإضرار بسمعتهم، أن يتذكروا مصير الآخرين - في الاتحاد السوفيتي في عام 1917، وألمانيا في عام 1932، وفي روسيا وتركيا اليوم - الذين اعتقدوا أنه بإمكانهم ترويض وحش.
وكذلك بالنسبة لنيكولاي بوخارين، رئيس تحرير صحيفة "برافدا"، الذي كان مُفضلا عند فلاديمير لينين. ولأكثر من عقد من الزمن بعد الثورة البلشفية، حاول بوخارين التوفيق بين فهمه الأكاديمي ل "ديكتاتورية البروليتاريا" وتنفيذها في العالم الحقيقي. ولم يكن ذلك صعبا جدا بينما كان لينين مسؤولا: على الرغم من إراقة الدماء التي خلفها النظام الجديد، لم يكن القتل الجماعي هدفه أو مصدره الرئيسي للطاقة.
لكن حدث تغيير مع تولي جوزيف ستالين السلطة، الذي كان الإرهاب بالنسبة له وسيلة وغاية. ومع ذلك، فقد انحاز بوخارين اٍلى ستالين للتخلص من ليون تروتسكي وغيره من البلاشفة الذين سعوا إلى التقيد بشكل وثيق بأوامر لينين (وعارضوا ستالين). وخلص بوخارين إلى أن أساليب ستالين سوف تُحول التطور السريع للاتحاد السوفيتي إلى قوة صناعية، و كان مستقبل الشيوعية، بالنسبة له، أهم بكثير من فقدان بضعة آلاف من الأرواح - أو حتى بضعة ملايين.
وسرعان ما ندم بوخارين بشأن هذا التفكير. وبمجرد استبعاد تروتسكي، هاجم ستالين جميع البلاشفة الكبار الآخرين، ووصفهم ب "أعداء الشعب"، وهي عبارة أحياها أنصار ترامب الشعبويين، مثل المتشددين لصالح البريكست في بريطانيا، للتنديد بأي شخص يجرؤ على تحدي نظام "سلالتهم وأرضهم". وقد أُعدم بوخارين في عام 1938.
كما راهن فرانز فون بابن أيضا على ترويض زعيم ديكتاتوري. ولتحقيق أهدافه السياسية الخاصة، أقنع بابن الرئيس الألماني بول فون هيندينبيرغ بتعيين أدولف هتلر في منصب المستشار في عام 1933. وهو سياسي محنك ذو طابع استبدادي، واعتقد بابن أنه بمجرد أن يتولى هتلر السلطة، يمكنه السيطرة على الزعيم النازي الذي اعتبره بابن ريفيا متباهيا.
وبدلا من ذلك، في ليلة السكاكين الطويلة، قام النازيون بمطاردة وإعدام زملاء بابن الموثوق بهم، هربرت فون بوس وإريش كلاوسينر، وسيطروا على الحكومة. كان مصير بابن أكثر روعة من بوخارين، على الرغم من أن هتلر أرسله للعمل كسفير في النمسا ثم تركيا. وبعد الحرب العالمية الثانية، تمت تبرئة بابن في محاكمات نورمبرغ.
كما دفع بوريس بيريزوفسكي، ذو السمعة الغامضة ، الرئيس  السابق  بوريتس يلتسين إلى التقرب من مستبد مستقبلي. لقد كان بيريزوفسكي هو من أثار انتباه يلتسين تجاه فلاديمير بوتين، وتوقع أن يكون الضابط السابق في الاستخبارات "كي جي بي" المرشح المثالي لحماية ثروات عائلة يلتسين - وثروة بيريزوفسكي الخاصة - عندما يتقاعد يلتسين. ولكن بعد تولى بوتين السلطة، خسر بيريزوفسكي إمبراطوريته التجارية واضطر إلى الهجرة إلى انكلترا حيث توفي في نهاية المطاف في ظروف مشبوهة.
وأخيرا، في تركيا، عمل الرئيس رجب طيب أردوغان وسلفه عبد الله غول معا لإنشاء حزب العدالة والتنمية الذي هيمن على السياسة التركية منذ عام 2002. ولكن، حين استولى أردوغان على السلطة، استغنى عن غول. وبالمثل، أيد رئيس الوزراء السابق وحزب العدالة والتنمية أحمد داوود أوغلو طويلا أردوغان، إلى أن أدى تطور الخلافات - وذلك بسبب ازدراء أردوغان لموقف رئيس الوزراء نفسه - إلى إجبار داوود أوغلو على الاستقالة في العام الماضي.
وبطبيعة الحال، فإن الديمقراطية الأمريكية أقوى من الديمقراطية في تركيا أو روسيا. ولكن مع أكاذيبه المخزية والهجمات القاسية على أولئك الذين يختلفون معه - واقتراحه الأخير أنه قد يكون من المناسب "إيقاف" رخصة البث الإخبارية الرئيسية لشبكة الأنباء الأمريكية - أظهر ترامب أنه غير مهتم بالتقيد بالمعايير الديمقراطية.
إن إضعاف الديمقراطية ثمن مرتفع جدا تدفعه الولايات المتحدة - لكن ما السبب؟ في البداية، أراد الجمهوريون استخدام ترامب لتمرير تشريع من أجل إلغاء قانون الرعاية بأسعار معقولة لعام 2010 ("أوباماكير") وتمرير الإصلاح الضريبي. ولكن بعد عشرة أشهر من السيطرة على الرئاسة وكلا مجلسي الكونغرس، لم يحقق الجمهوريون شيئا من الناحية التشريعية. وعند هذه النقطة، يبدو أنهم يريدون ببساطة السلطة من أجل السلطة فقط - وهذا يعني هزم، وليس التعاون مع الديمقراطيين.
ولكن قد يتغير الأمر. ففي الآونة الأخيرة انضم جمهوريو الكونغرس بالفعل إلى الديمقراطيين لسن عقوبات "ترامب" ضد روسيا، وكانت هناك خطوات نحو التعاون على الحفاظ على الإعانات التي يعتمد عليها برنامج أوباماكير (بعد قيام ترامب بإيقافها بأمر تنفيذي).
هذه خطوات تسير في الاتجاه الصحيح. ولكن، مع سلوك ترامب الذي أصبح متقلبا وخطيرا للغاية، فإن ذلك ليس كافيا. الجمهوريون الذين يريدون أن يكونوا في الجانب الصائب من التاريخ لا يمكن أن يبقوا في جانب ترامب لفترة أطول.