La cruzada de Trump para que Estados Unidos vuelva a ser blanco
NEW HAVEN – Veamos si pueden adivinar quién es el autor de esta cita: "La Unión Americana siente que es un estado nórdico-germano y de ninguna manera una mescolanza internacional de pueblos. Esto queda demostrado por sus cuotas de inmigración… a escandinavos… luego ingleses y finalmente alemanes se les ha concedido el mayor continente".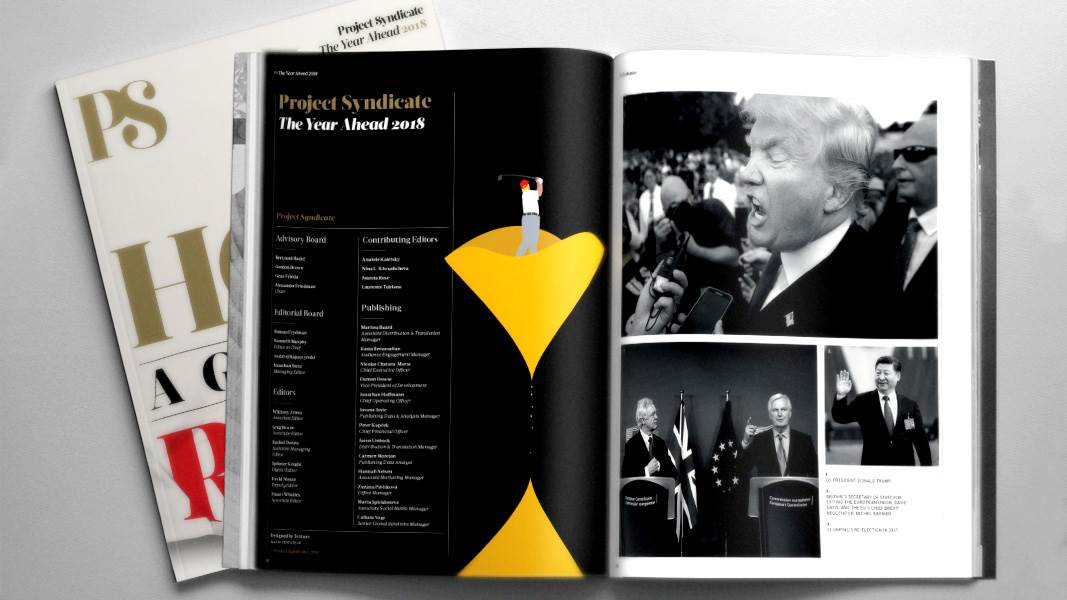 The Year Ahead 2018
The world's leading thinkers and policymakers examine what's come apart in the past year, and anticipate what will define the year ahead.
Esas palabras fueron escritas por Adolf Hitler en 1928, en un elogio a las leyes de inmigración estadounidenses de ese momento. Sin duda, no deberían invocarse a la ligera las referencias a Hitler. A pesar de todas las cosas desagradables que genera la Casa Blanca del presidente Donald Trump, especialmente su denigración de Haití, El Salvador y los estados africanos como "agujeros de mierda", Estados Unidos sigue estando muy lejos de asemejarse a la Alemania nazi.
Trump es un autoritario irreflexivo y una involución a los viejos días de la supremacía blanca en Estados Unidos, pero muchos más controles institucionales tendrían que fallar antes de que pudiera provocar el fin de la democracia norteamericana. E inclusive con respecto a la política de inmigración, existe una profunda diferencia entre las deportaciones masivas de la administración Trump, por más crueles y estúpidas que sean, y los asesinatos en masa.
De todas maneras, cada vez se ha vuelto más evidente que la elección estadounidense de 2016 instaló a un presidente ignorante y racista en la Casa Blanca. Peor aún, las declaraciones de Trump en el poder recuerdan un período de la historia en el que Hitler encontró inspiración en la ley inmigratoria estadounidense.
Hitler admiraba específicamente la Ley de Inmigración de Estados Unidos de 1924 -también conocida como la Ley Johnson-Reed- que había erigido barreras abiertamente racistas a la inmigración sobre la base de un sistema de "cuota nacional". La ley prohibía directamente la inmigración árabe y asiática, y tornó la inmigración de África prácticamente imposible. Como observó Hitler, también favorecía a candidatos "nórdico-germanos" para la inmigración y eventual ciudadanía estadounidense por sobre los europeos del sur y del este, inclusive los judíos. (Mis propios ancestros judíos llegaron a Ellis Island en 1922, justo a tiempo). Fue esta ley restrictiva la que sirvió como base legal para no aceptar refugiados judíos de la Alemania nazi en los años previos al Holocausto.
La ley de 1924 está recibiendo mucha atención de los medios luego de la sugerencia de Trump de que Estados Unidos debería aceptar más inmigrantes de Noruega (que difícilmente quieran inmigrar), en lugar de lugares como Haití. Pero no es el único ejemplo de políticas de inmigración racistas en Estados Unidos. Durante el período del llamado Peligro Amarillo a fines del siglo XIX, Estados Unidos implementó un conjunto de leyes antiasiáticas, inclusive una ley de 1882 que directamente prohibía la inmigración de China. Y allá por 1790, el Congreso de Estados Unidos reveló su sesgo racista al ofrecer la naturalización  de "cualquier extranjero, que sea una persona libre y blanca".
Hitler, por su parte, no fue el primero ni el único racista de derecha en encontrar inspiración en esos capítulos oscuros de la historia estadounidense. Cuando él llegó, todos en la extrema derecha europea ya estaban bien empapados del modelo estadounidense de barreras de inmigración basadas en la raza. Después de todo, Theodor Fritsch, uno de los antisemitas más despreciables de Europa, lo había pregonado décadas antes, en su Manual de la Cuestión Judía de 1893.
En el manifiesto de Hitler, Mein Kampf, él elogiaba a Estados Unidos como "el único estado" que progresaba en el camino de convertirse un orden racialmente saludable. Y cuando los nazis llegaron a l poder en los años 1930, los abogados nazis cuidadosamente estudiaron el largo historial de políticas de Estados Unidos para cerrar sus puertas a los no-blancos.
En retrospectiva, es importante recordar que no fue hasta la Ley de Inmigración y Nacionalidad de Estados Unidos de 1965 que Estados Unidos comenzó a alejarse de los peores aspectos de su pasado racista. Y, como deja en claro la presidencia de Trump, ese pasado todavía no se ha superado de manera permanente.
Los recientes comentarios vulgares de Trump sobre la inmigración deberían impulsar a todos los norteamericanos a recordar que Hitler y sus colaboradores nazis alguna vez fueron grandes admiradores de Estados Unidos. Y a medida que nos acercamos al primer aniversario de la asunción del mando de Trump, sus políticas de inmigración deberían dar que pensar a quienes se consuelan con la idea de que la democracia estadounidense todavía no ha sido fatalmente menoscabada.
Que la democracia estadounidense sobreviva o no no es el patrón con el cual juzgar la presidencia de Trump. Después de todo, para los machos blancos por lo menos, la democracia estadounidense siempre ha estado viva y sana, aun cuando se sancionaron leyes de inmigración racistas en 1790, a fines del siglo XIX y en los años 1920.
La historia de Estados Unidos de racismo sancionado democráticamente es demasiado sórdida como para que la gente sea complaciente con los comentarios recientes y las políticas inmigratorias tóxicas de Trump. Los norteamericanos que aman a su país deberían sentir pena al leer lo que dijo Hitler al respecto en 1928. Y deberían sentirse consternados al oír a su presidente añorar abiertamente una política inmigratoria que pondría al pueblo nórdico al frente de la fila una vez más.