Gefangene des Amerikanischen Traums
CAMBRIDGE – Angesichts der sich verschlimmernden wirtschaftlichen Ungleichheit in den USA könnte man annehmen, dass die Amerikaner die Einkommensunterschiede durch Einrichtung eines progressiveren Steuersystems verringern würden wollen. Diese Annahme wäre falsch, denn im Dezember verabschiedete der US-Kongress ein umfassendes Steuergesetz, von dem zumindest kurzfristig die einkommensstarken Haushalte überproportional profitieren werden.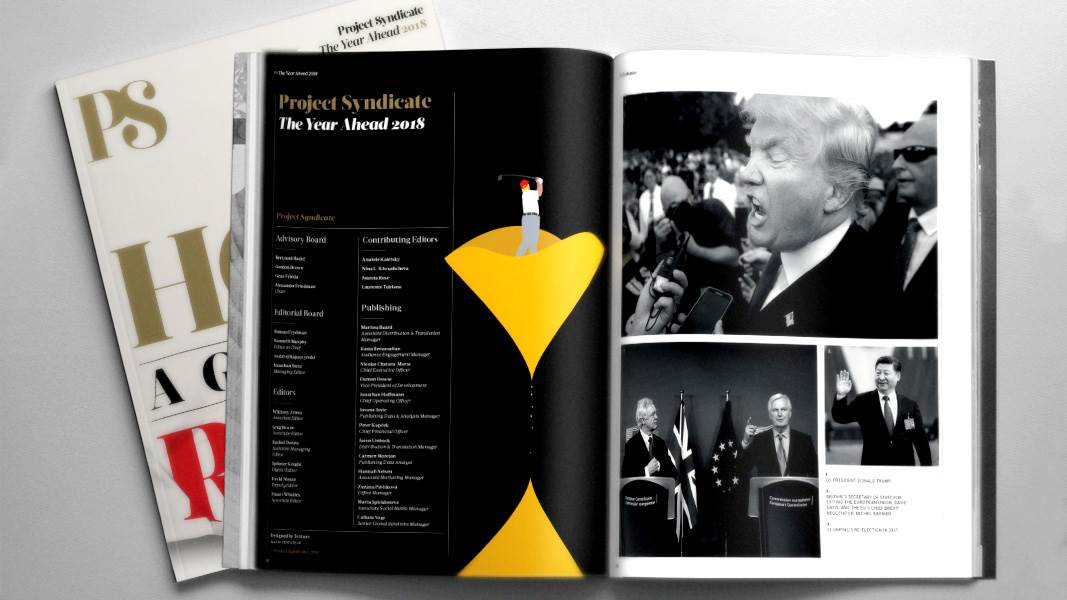 The Year Ahead 2018
The world's leading thinkers and policymakers examine what's come apart in the past year, and anticipate what will define the year ahead.
Trotz steigender Einkommensunterschiede im Lande ist die Unterstützung der Amerikaner für Umverteilungsmaßnahmen laut dem General Social Survey seit Jahrzehnten unverändert geblieben. Vielleicht stimmt der angeblich von John Steinbeck stammende Ausspruch, dass der "Sozialismus in Amerika nie Wurzeln geschlagen [habe], weil die Armen sich nicht als ausgenutztes Proletariat sehen, sondern als vorübergehend in Verlegenheit befindliche Millionäre."
Für jemanden, der glaubt, dass eine Gesellschaft ihren Mitgliedern Chancengleichheit bieten sollte und dass jeder, der hart arbeitet, auf der sozioökonomischen Leiter nach oben klettern kann, ist Umverteilung unnötig und unfair. Schließlich ist, so die Anhänger dieser Denkweise, wenn alle vom selben Ausgangspunkt aus starten, Misserfolg zwangsläufig durch Fehltritte der betreffenden Person bedingt.
Dies ist mehr oder weniger die Sichtweise der Mehrheit der Amerikaner. Laut dem World Values Surveyglauben 70% der Amerikaner, dass die Armen aus eigener Kraft der Armut entkommen können. Dies steht im scharfen Widerspruch zu den Einstellungen in Europa, wo nur 35% dieser Ansicht sind. Anders ausgedrückt: Die meisten Europäer sehen die Armen als Menschen an, die im Leben Pech gehabt haben; die meisten Amerikaner betrachten sie als träge. Dies könnte ein Grund sein, warum die europäischen Länder großzügigere (und teurere) Sozialleistungen unterstützen als die USA.
Die Amerikaner haben tief sitzende optimistische Ansichten über soziale Mobilität – Meinungen, die ihre Wurzeln in der amerikanischen Geschichte haben und die durch Narrative wie das des Aufstiegs vom Tellerwäscher zum Millionär gestützt werden. Heute freilich beruht der Glaube der Amerikaner an die soziale Mobilität mehr auf Mythen als auf Tatsachen.
Laut Meinungsumfragen, die einige Kollegen und ich in letzter Zeit durchgeführt und ausgewertet haben, schätzen die Amerikaner, dass es von den Kindern der niedrigsten Einkommensgruppe 12% bis zu ihrer Verrentung in die oberste Einkommensgruppe schaffen werden. Die Amerikaner glauben außerdem, dass mit harter Arbeit nur 22% der Kinder, die heute in Armut leben, auch als Erwachsene arm sein werden.
Die tatsächlichen Werte liegen bei 8% bzw. 33%. Anders ausgedrückt: Die Amerikaner überschätzen die soziale Aufwärtsmobilität und unterschätzen die Wahrscheinlichkeit, für Generationen in der Armut festzustecken. Sie glauben außerdem, dass, wenn alle hart arbeiten würden, der Amerikanische Traum des selbst verdienten Erfolges näher an der Realität liegen würde.
Die europäischen Umfrageteilnehmer sind, was die Mobilität angeht, pessimistischer: Anders als die Amerikaner überschätzen sie die Wahrscheinlichkeit, arm zu bleiben. So erklärten etwa französische, italienische und britische Umfrageteilnehmer, dass 35%, 34% bzw. 38% der Kinder aus einkommensschwachen Familien arm bleiben würden, während es in Wahrheit 29%, 27% bzw. 31% sind.
Die Ansichten über die soziale Mobilität sind innerhalb des politischen Spektrums oder über geografische Regionen hinweg ungleich verteilt. Sowohl in den USA als auch in Europa glauben Menschen, die sich selbst in Fragen der Wirtschaftspolitik als "konservativ" bezeichnen, dass alle Kinder die gleichen Chancen haben und dass die freie Marktwirtschaft in ihrem Land fair ist.
Das Gegenteil trifft auf Menschen zu, die sich selbst als "liberal" bezeichnen. Diese Menschen befürworten staatliche Interventionen, weil sie glauben, dass die Märkte, wenn man sie sich selbst überlässt, keine Fairness gewährleisten, sondern sogar für mehr Ungleichheit sorgen.
Ein sogar noch auffälligeres Muster ist, dass die Amerikaner gerade in jenen Teilen ihres Landes, wo die soziale Mobilität besonders niedrig ist, diesbezüglich übertrieben optimistisch sind. Dies gilt insbesondere in den südlichen Bundesstaaten an der Ostküste: Georgia, Alabama, Virginia, North Carolina und South Carolina. In diesen Staaten schätzen die Umfrageteilnehmer die Mobilität mehr als doppelt so hoch ein, wie sie in Wirklichkeit ist. In nördlichen Bundesstaaten – Vermont, Montana, North Dakota, South Dakota und Washington – unterschätzen die Umfrageteilnehmer die soziale Mobilität dagegen, obwohl sie dort tatsächlich höher ist.
Wir haben im Rahmen unserer Studie Daten zur sozialen Schichtung in Europa und Amerika an unsere Teilnehmer weitergegeben. Wir haben festgestellt, dass Menschen, je nachdem, ob sie sich selbst als "liberal" oder als "konservativ" einstufen, diese Informationen unterschiedlich interpretieren. Wenn man ihnen beispielsweise pessimistische Informationen über die Mobilität zeigte, unterstützten "liberale" stehende Personen Umverteilungsmaßnahmen wie beispielsweise ein öffentliches Bildungswesen und eine allgemeine Krankenversicherung noch stärker.
Konservative dagegen zeigten sich unbeeindruckt. Zwar erkannten sie an, dass eine niedrige soziale Mobilität wirtschaftliche Beschränkungen schafft, doch blieben sie staatlichen Interventionen und Umverteilungsmaßnahmen gegenüber genauso negativ eingestellt wie bevor wir ihnen die Daten mitteilten.
Die Reaktion der Konservativen gründet sich meiner Meinung nach teilweise auf Misstrauen. Viele Konservative haben für die Regierung tiefe Verachtung übrig; nur 17% der konservativen Wähler in den USA und Europa sagen, dass man der politischen Führung ihres Landes vertrauen könne. Der Anteil der Konservativen mit einer insgesamt negativen Ansicht über den Staat betrug 80%; unter "liberalen" Teilnehmern lag er näher an 50%. Zudem sagt ein hoher Prozentsatz der Konservativen, dass der beste Weg zur Verringerung der Ungleichheit in der Senkung der Steuern für Unternehmen und Bevölkerung liege.
Doch könnte das Misstrauen gegenüber dem Staat auch aus dem Glauben rühren, dass die politischen Systeme manipuliert sind und dass die Politiker die Situation nicht verbessern können oder wollen, weil sie durch Partikularinteressen "vereinnahmt" seien, in einer parlamentarischen Sackgasse feststecken oder durch die Bürokratie ausgebremst werden. Verkürzt gesagt: Wenn Konservative erfahren, dass die soziale Mobilität niedriger ist als sie dachten, glauben sie, dass der Staat das Problem sei und nicht die Lösung. Wie J. D. Vance in seinen 2016 erschienen Memoiren Hillbilly-Elegie anmerkte, glauben heute viele Amerikaner, dass es "nicht deine Schuld ist, wenn du ein Verlierer bist; es ist Schuld der Regierung".
Möglicherweise ist die Polarisierung in den USA und Europa derart groß, dass wir, selbst wenn wir dieselben Informationen erhalten, darauf unterschiedlich reagieren. Die Linke will mehr Staat und die Rechte weniger. Die Realität ist offensichtlich nicht so einfach. Klar jedoch ist, dass die Ansichten der Menschen über soziale Mobilität mit Ideologie und Geografie genauso viel zu tun haben wie mit ihren Lebensumständen.
Aus dem Englischen von Jan Doolan