De nieuwe ideocratie van Rusland
MOSKOU – Het "Poetinisme" is al langere tijd een populair onderwerp in het Westen, waar de term – die het beleid en de praktijk van de Russische president Vladimir Poetin beschrijft – over het algemeen wordt begroet met een combinatie van angst en afkeuring. Maar onder de heersende elite van Rusland wordt het Poetinisme beschouwd als een complexe en aantrekkelijke ideologie, die zijn naamgever wel eens zou kunnen overleven.
Het Poetinisme is niet zozeer het geesteskind van de president zelf als van zijn naaste medewerker Vladislav Soerkov. Als hoofdideoloog van het Kremlin is Soerkov een soort moderne incarnatie van Lazar Kaganovich, een van de naaste medewerkers van Jozef Stalin en een vooraanstaand pleitbezorger van het vervangen van het leninisme door het "progressievere" stalinisme als de ideologische hoeksteen van de Sovjet-Unie.
Soerkov heeft het Poetinisme onlangs omschreven als een "functionerende ideologie van alledag, met al zijn sociale innovaties en productieve tegenstrijdigheden." In zijn ogen hebben de Russen geen westerse democratie nodig, omdat Poetin een systeem heeft opgebouwd dat de behoeften, wensen en doelstellingen van het volk beter begrijpt dan het volk zelf.
Op dezelfde manier meent de door het Kremlin omarmde fascistische filosoof Aleksandr Doegin dat het Poetinisme werkt vanwege zijn ideologische fundamenten. Doegin, een toonaangevende propagandist van het Sovjet-revanchisme dat ten grondslag lag aan de illegale annexatie door Rusland van de Krim in 2014, heeft dikwijls betoogd dat ideologie van cruciaal belang is voor het overleven van de Russische staat, niet in de laatste plaats omdat de verticale machtsstructuur van die staat de flexibiliteit ontbeert die nodig is om een economische dynamiek teweeg te brengen die zich kan meten met die van het Westen.
Tegen deze achtergrond betoogt Doegin dat de sleutel tot het overleven van de Russische staat  het bevorderen van een of ander hoger doel is. Dat doel zelf is grotendeels irrelevant: het kan het vestigen van een Russisch-orthodoxe monarchie zijn, het herstel van het communisme, of – op het niveau van de hogere strategie – het tegengaan van wat in Doegins ogen het op de zee gebaseerde imperialisme van het Atlantisme is via een op het land gebaseerd Neo-Eurazianisme. Wat ertoe doet is dat het regime een ideologische kern heeft.
De conclusie, voor zowel Doegin als Soerkov, is dat Rusland net als de Sovjet-Unie een "ideocratie" moet zijn, geregeerd door een geheiligde minderheid die het land voortstuwt op weg naar een doel dat zíj alleen helemaal kennen. Het is niet verrassend dat dit concept is omarmd door de siloviki, de machtige voormalige en huidige veiligheidsfunctionarissen van de staat, die zichzelf als een soort broederschap beschouwen – wat Stalin heeft beschreven als een soort "orde der zwaardvechters," vergelijkbaar met de Letse Broeders van het Zwaard.
Subscribe now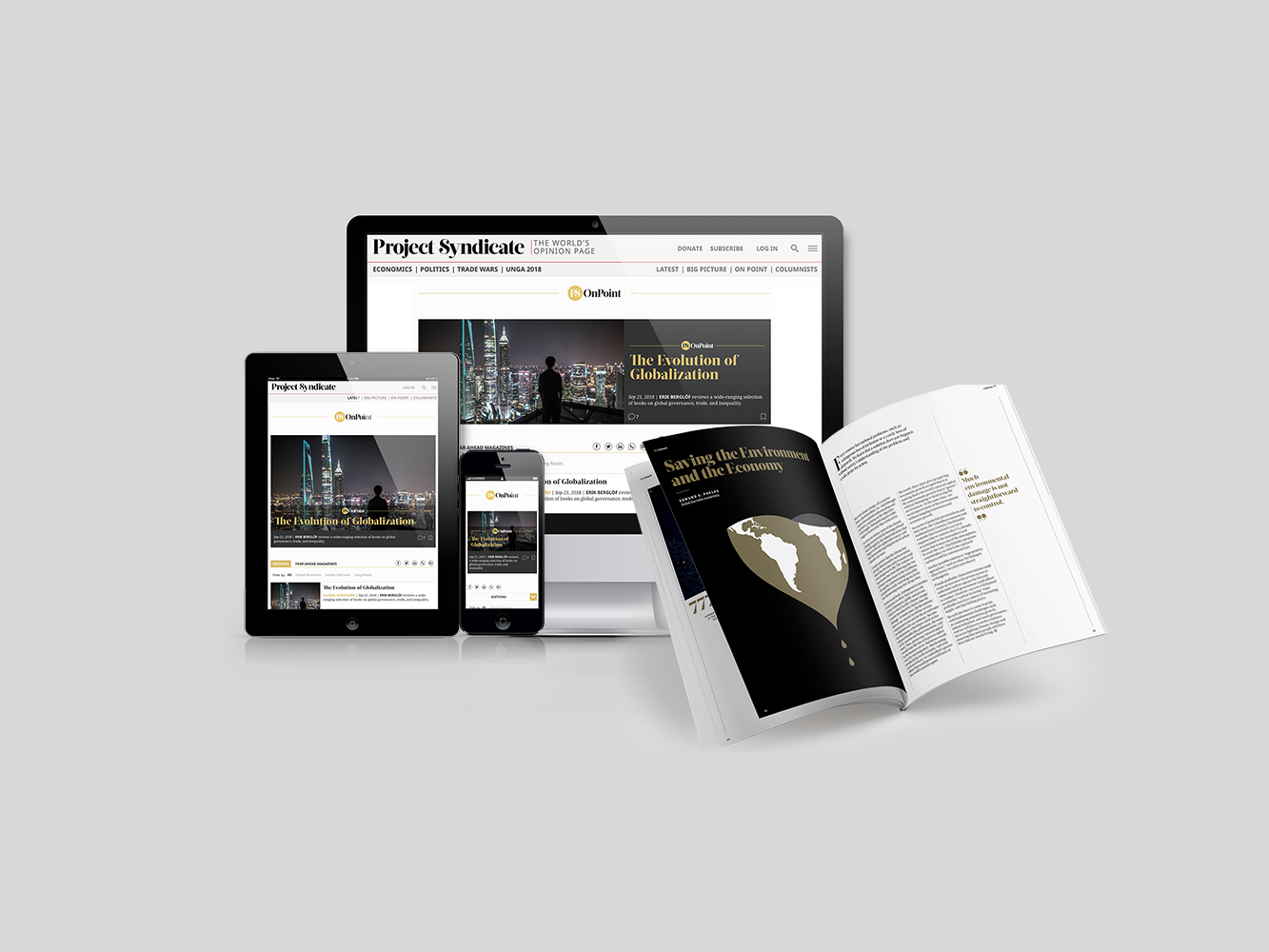 Subscribe now
Subscribe today and get unlimited access to OnPoint, the Big Picture, the PS archive of more than 14,000 commentaries, and our annual magazine, for less than $2 a week.
Niet alleen garandeert het Poetinisme de aanhoudende dominantie van de siloviki; het sluit ook iedere aansprakelijkheid uit. Als alleen de heersende klasse het hogere doel van Rusland kan begrijpen, kunnen alleen haar leden hun prestaties beoordelen. Zij beslissen wanneer hun collega's moeten worden verwijderd of vervangen, en hoe de natuurlijke rijkdommen van het land, inclusief arbeid, moeten worden gebruikt – om de economische groei aan te jagen en de levensstandaard te verhogen, of om de ideocratie te consolideren.
Onder het Poetinisme moeten de mensen een afname van – bijvoorbeeld – hun reële inkomen zien als een noodzakelijk – en zelfs heroïsch – offer. Als hun leiders hun pensioenen confisqueren of de verkiezingen vervalsen, moeten ze ervan uitgaan dat dit ten dienste staat van een hoger doel. Op grond van deze logica staat de eis dat de overheid hun mensenrechten respecteert gelijk aan opruiing.
Het Poetinistische Rusland is zeker niet de enige ideocratie ter wereld. Het socialistische Cuba en "Bolivariaanse" Venezuela zijn dat ook, evenals de Islamitische Republiek Iran. De Noord-Koreaanse staatsideologie of  juche – die inhoudt dat Noord-Korea zelfvoorzienend moet blijven en loyaal aan een goddelijke leider – ligt ten grondslag aan de legitimiteit van de erfelijke dictatuur van de familie Kim.
De geschiedenis zit vol ideocratieën, waarvan Nazi-Duitsland en uiteraard de Sovjet-Unie prominente recente voorbeelden zijn. Het is juist vanwege deze geschiedenis dat de Russische grondwet een staatsideologie verbiedt. De overheid, zo maakt de grondwet duidelijk, is er om te voorzien in de behoeften van de samenleving, niet om een of ander specifiek dogma te propageren.
Met andere woorden: de Poetinistische ideocratie van Rusland is overduidelijk illegaal. Maar dat zal haar voorstanders niet effectief kunnen dwarsbomen, net zo min als dat het memorandum van Boedapest Rusland ervan wist te weerhouden het oosten van Oekraïne binnen te vallen en de Krim te annexeren.
Tot nu toe heeft Soerkov slechts vage aanwijzingen geboden van de ideologische inhoud van het Poetinisme, maar hij zegt dat dit zal worden opgehelderd door aanhoudende besprekingen ervan. De fundamentele contouren laten zich echter makkelijk raden. Zij omvatten oppositie tegen het Westen, een combinatie van isolationisme en militaire expansie, materiële opofferingen door het volk, en de vervolging van andersdenkenden. Hoewel de grondwet de seculiere aard van de overheid onderstreept, zal religie waarschijnlijk een steeds prominentere rol spelen.
Als slimme propagandist houdt Soerkov zijn pleidooi voor het Poetinisme in veel modernere termen dan de oudere en filosofischer ingestelde Doegin. Hij noemt het "a global political life hack" ("een ingreep in het mondiale politieke leven"). Wat dit ook mag betekenen, één ding is duidelijk: noch de rechtsstaat noch de hoop van het Russische volk zal daar vermoedelijk tegenop kunnen.
Vertaling: Menno Grootveld