El canto seductor de la autonomía estratégica
BRUSELAS – Durante más de un año, la guerra proteccionista contra China que libra el presidente de Estados Unidos Donald Trump – así como el uso más extenso que Trump hace de los aranceles de importación con el propósito de avanzar en objetivos geopolíticos – ha estado exacerbando la ansiedad acerca del futuro del comercio mundial. Sin embargo, los aranceles son sólo la punta del iceberg del nacionalismo económico. Si el mundo no navega con cuidado, peligros ocultos podrían hundir el sistema de comercio mundial.
Estados Unidos no ha encontrado países que sigan sus pasos respecto a su uso agresivo de los aranceles. En los países en desarrollo, existe poca presión para implementar medidas similares, debido a que muchas empresas manufacturan en todo el mundo, e incluso este es el caso para aquellas empresas que no dependen de las cadenas de suministro mundiales. Y, en las economías desarrolladas, los principales sectores que en el pasado enfrentaron dificultades para hacer frente a la competencia de importaciones, como por ejemplo las industrias de la confección y el acero, en su mayoría hasta ahora ya se han adaptado y ya no juegan un papel importante. Esto explica por qué los líderes empresariales estadounidenses se opusieron en gran medida a los aranceles de Trump. Por lo tanto, parece poco probable que el uso de los aranceles se extienda más allá de la disputa entre Estados Unidos y China.
A pesar de involucrar a las dos economías más grandes del mundo, la guerra arancelaria parece estar disminuyendo. Incluso Trump, quien se autodenominó "el hombre de los aranceles" está comenzando a reconocer los límites de este instrumento de política. Un creciente conjunto de pruebas muestra que, de manera contraria a las expectativas de la mayoría de los economistas, las empresas chinas han aumentado sus precios pari passu con los aranceles, negando cualquier beneficio que Estados Unidos pudiera obtener al exprimir más aranceles de sus proveedores.
El mes pasado, Estados Unidos y China concertaron la "fase uno" de un convenio que, según se espera, conducirá a un acuerdo que ponga fin a la guerra comercial. Pero, incluso si no se llega a tal acuerdo, las consecuencias para la economía mundial pueden no ser tan graves como muchos temen. Al fin y al cabo, el comercio bilateral entre Estados Unidos y China asciende a alrededor de $700 mil millones, menos del 1% del PIB mundial.
No obstante, los mercados están reaccionando a cada nuevo acontecimiento en la saga arancelaria entre Estados Unidos y China. Toman conciencia de los riesgos más profundos, y mucho más graves, que son generados por el nacionalismo económico: la creencia de que la seguridad nacional se ve comprometida cuando la economía y el ejército de un país dependen de las importaciones.
El ejemplo más claro podría ser el temor que tiene Estados Unidos a las importaciones de productos procedentes de China que contienen chips de computadora. Pero, ¿deberían prohibirse todas esas importaciones en nombre de la seguridad nacional? ¿Qué pasa con las exportaciones de software o chips de computadora? ¿Son dichas exportaciones también una amenaza para la seguridad nacional? A juzgar por su decisión de agregar al gigante tecnológico chino Huawei a la Lista de Entidades del Departamento de Comercio de  Estados Unidos (prohibiendo, de esa manera, que las empresas estadounidenses vendan a la mencionada empresa los componentes que necesita), se puede afirmar que la administración Trump cree que sí se constituyen en una amenaza.
Subscribe now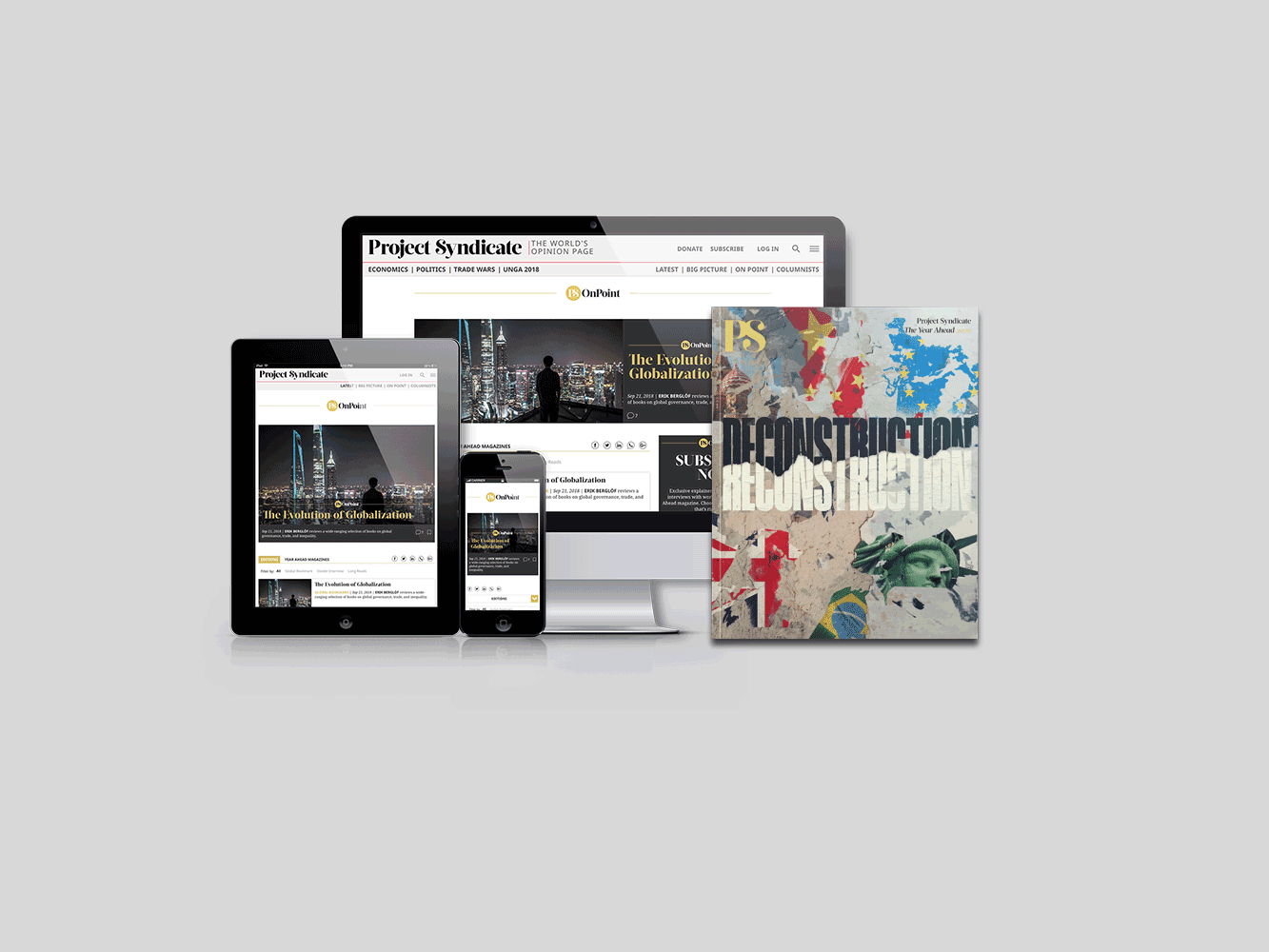 Subscribe now
Subscribe today and get unlimited access to OnPoint, the Big Picture, the PS archive of more than 14,000 commentaries, and our annual magazine, for less than $2 a week.
Por supuesto, esto no pasa inadvertido para los encargados de formular políticas de China. Ellos reconocen que Estados Unidos puede cortar el acceso de China a microchips o diseños avanzados en cualquier momento, con el propósito de obstaculizar el desarrollo de sus industrias de alta tecnología. Y ahora, como parte de la política denominada 'Made in China 2025', están trabajando para que el país sea autosuficiente en cuanto a tecnologías clave.
La motivación original detrás de la política 'Made in China 2025' podría haber sido económica: garantizar el crecimiento de los sectores de alta tecnología que serán vitales para la competitividad futura. Pero, en el nuevo entorno geopolítico, el plan ha mutado hacia una sustitución estratégica de las importaciones, que nunca ha sido una fórmula eficaz para el crecimiento sostenido.
Tales esfuerzos geoestratégicos para reducir la interdependencia tienen un impacto económico más grade y de mayor alcance  en comparación con los aranceles bilaterales, que al menos crean oportunidades para otros proveedores (por ejemplo, las exportaciones vietnamitas de teléfonos inteligentes están en auge). Por el contrario, los efectos indirectos de las medidas de seguridad nacional son en su mayoría negativos. Las empresas de alta tecnología en todo el mundo pronto tendrán que elegir entre el mercado chino y el estadounidense.
Pero el riesgo del nacionalismo económico se extiende más allá de Estados Unidos y China para incluir el bloque comercial más grande del mundo: la Unión Europea. La UE se fundó con la creencia de que la interdependencia haría que sea menos probable el conflicto. Había poca lógica económica en la unión de las industrias del carbón y el acero de Francia y Alemania. Pero la lógica política era clara: con esos sectores vitales bajo una única autoridad común, sería materialmente imposible para cualquiera de las partes planificar una guerra de una contra la otra.
Más recientemente, sin embargo, Europa parece estar tomando un rumbo diferente, al menos en relación con las otras grandes potencias. Este desplazamiento se ejemplifica en un informe reciente del grupo interno de expertos de la Comisión Europea, que pidió que Europa apunte a una mayor "autonomía estratégica".
A primera vista, parece un objetivo inocuo: si la UE quiere defender sus valores a nivel mundial, primero debe consolidar su propia capacidad de actuar. Pero, este impulso por la autonomía estratégica podría fácilmente dar un giro económico-nacionalista. Los expertos en política exterior ya lideran el llamado a una política industrial europea que tenga algo más que un poco en común con la política 'Made in China 2025'.
Algunos podrían preguntar qué hay de malo en eso. Si el gobierno de China puede intervenir para proteger o fomentar ciertos sectores de alta tecnología por razones de seguridad, Europa debería poder subsidiar la producción nacional de tecnologías estratégicamente significativas, como por ejemplo los equipos 5G y la inteligencia artificial. Sin embargo, tal carrera por subsidiar tiene poco sentido en términos económicos o de seguridad.
Naturalmente, el comercio crea dependencia mutua. Si Europa importa determinados productos de alta tecnología, es probable que exporte otros, incluidos entre ellos, quizás, las máquinas para fabricar esos mismos productos. Cuando se trata de equipos y software 5G, por ejemplo, ningún proveedor puede desarrollar y producir todos los componentes necesarios. Es por ello que las empresas de este mercado han creado un grupo de patentes que les permite utilizar la tecnología de sus competidores.
Sin duda, se puede argumentar a favor del aumento de la inversión en investigación y desarrollo, de modo que una mayor cantidad de empresas europeas puedan participar en el desarrollo de las tecnologías del futuro. Sin embargo, el nacionalismo económico – ya sea en forma de una carrera por dar más subsidios o como un intento por convertirse en autosuficientes con respecto a algunas tecnologías – hará mucho más daño que bien.
Traducción del inglés: Rocío L. Barrientos