Сможет ли Европа удержать успех Макрона?
СТОКГОЛЬМ – В начале 2017-го многие опасались, что в наступившем году европейский проект может приблизиться к своему краху. Великобритания решила выйти из Евросоюза; США выбрали президента, который поддержал сторонников Брексита; популисты, баллотировавшиеся на выборах во Франции и Германии, поставили европейскую интеграцию под неминуемую угрозу.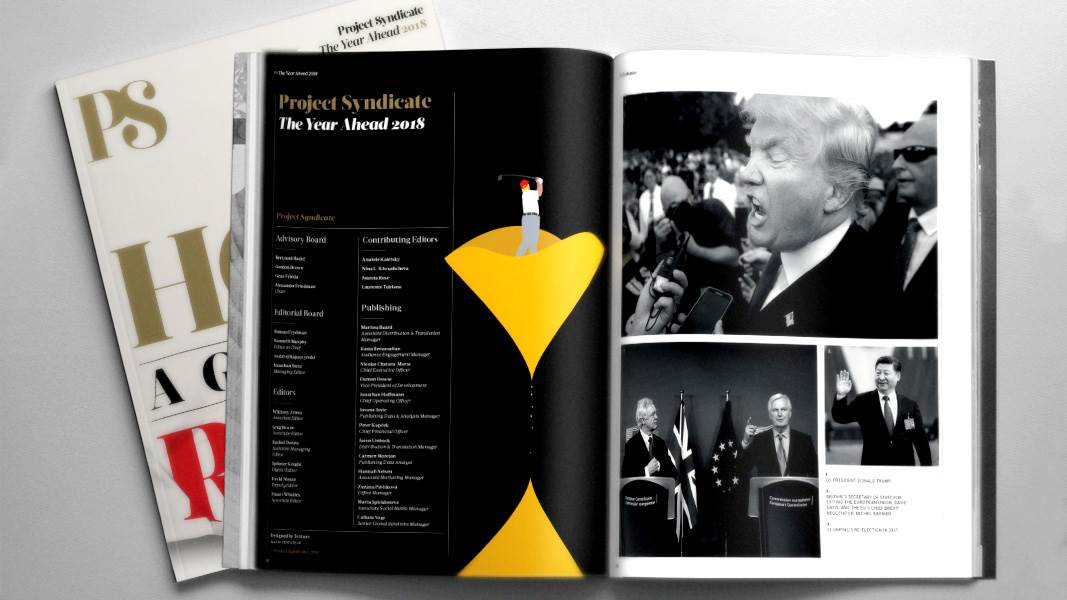 The Year Ahead 2018
The world's leading thinkers and policymakers examine what's come apart in the past year, and anticipate what will define the year ahead.
Но мы приближаемся к началу 2018-го и видим совершенно иную картину. Европейский проект не просто выжил, но и, возможно, получил новый импульс. По крайней мере, в мире институтов Евросоюза в Брюсселе ощущается вновь обретённая уверенность.
Центральной фигурой в этом развороте стал президент Франции Эммануэль Макрон. Его победная речь после майских выборов сопровождалась гимном ЕС, бетховенской «Одой к радости». Это был сильный символический жест. С тех пор Макрон предлагает одну за другой инициативы по укреплению институтов ЕС, при этом взяв на себя лидерство в европейской внешней политике. Канцлер Германии Ангела Меркель столкнулась с трудностями при формировании нового правительства после всеобщих выборов в сентябре, поэтому все взоры устремлены теперь на Макрона.
На изменение настроений в Европе в течение минувшего года особенно повлияли три фактора. Первый фактор – Брексит, который совершенно неоспоримо создал проблемы для британцев. Это, в свою очередь, заставило многих европейцев прийти к пониманию, до какой же степени переплетены экономики и общества их стран. Когда-то прославленная страна, Великобритания оказалась сейчас в состоянии политической агонии, пытаясь разобраться с политическими, экономическими и логистическими аспектами выхода из ЕС. Маловероятно, чтобы избиратели любой другой страны ЕС начали завидовать британскому положению.
Второй фактор – Дональд Трамп. Его администрация имеет худшую репутацию в Европе, чем любая другая администрация США в известной истории. По данным недавнего опроса, немцы считают сейчас Трампа даже более серьёзной угрозой интересам своей страны за рубежом, чем президента России Владимира Путина или диктатора Северной Кореи Ким Чен Ына. В этом соревновании за звание худшего Трамп лидирует.
За прошедший год европейские лидеры осознали, что Европе теперь придётся нести больше ответственности за собственные дела. После неприятной встречи с Трампом на майском саммите G7 в Италии Меркель суммировала настроения, которые сейчас разделяет большинство остальных европейских лидеров. «Мы, европейцы, должны сражаться за наше будущее, – заявила она экспромтом на предвыборном митинге. – Мы, европейцы, должны реально взять свою судьбу в собственные руки».
Третий фактор – путинская Россия, которая продолжает вмешиваться в выборы на Западе и агрессивно действовать в Украине. В целом, «эффект БТП» – Брексит, Трамп, Путин – убедил даже скептически настроенных европейцев в необходимости сотрудничества на уровне ЕС.
Однако помимо влияния «эффекта БТП» Европа получила дополнительный толчок за счёт ускорения роста экономики. Мрачные дни кризиса евро блёкнут в воспоминаниях, равно как и кризис беженцев в конце 2015 года, оказавший глубокое политическое влияние на Германию, Швецию и другие страны. Хотя огромная задача углубления интеграции ЕС по-прежнему остаётся не выполненной, политические и экономические условия для завершения этой работы улучшились.
Кроме того, ЕС внезапно превратился в защитника либерального мирового порядка. В сентябре вступило в силу «Всеобъемлющее экономическое и торговое соглашение» (CETA) между ЕС и Канадой. А после этого ЕС начал двигаться к завершению работы над ещё более важным торговым соглашением с Японией, параллельно ведя переговоры о соглашении со странами-основателями блока Меркосур – Аргентиной, Бразилией, Парагваем и Уругваем. Да, Британия выходит из ЕС, но остальные страны мира, похоже, выстроились в очередь на подписание соглашений с Евросоюзом.
Впрочем, для самоуспокоения нет поводов. Несмотря на множество позитивных событий, в некоторых европейских странах госуправление становится всё более сложной задачей из-за расширения трещин в политическом ландшафте. Раньше формирование нового правительства после выборов в Германии было простым делом. Теперь же страна может оказаться под управлением переходного правительства вплоть до марта, при этом совершенно не ясно, какого рода правительство в итоге будет создано. Всё это время Германия вряд ли сможет играть привычную роль якоря стабильности в Европе.
В придунайских землях Венгрии, Австрии и Баварии наблюдается подъём национализма. И мало кто решится дать хоть сколько-нибудь убедительные прогнозы итогов следующих всеобщих выборов в Италии, которые должны состояться до 20 мая 2018 года.
Кроме того, европейцы не могут бесконечно рассчитывать на низкие процентные ставки, способствовавшие нынешнему восстановлению экономики. Лидерам ЕС придётся намного активнее, чем сейчас, проводить структурные реформы. Да, Испания оживила экономику с помощью важных реформ, а Макрон взялся за трудовой кодекс Франции, знаменитый своей византийщиной, тем не менее, на многих фронтах Евросоюз по-прежнему отстаёт. Например, несмотря на героические усилия Эстонии по разработке программы цифровой реформы, которые она предпринимала во время председательства в Совете ЕС, на этом направлении ещё многое не сделано.
Предстоящий год станет последним шансом для проведения реформ на уровне ЕС, потому что затем наступит роковой год расплаты. В марте 2019 года Британия выйдет из ЕС, вне зависимости от того, будет у неё соглашение о разводе или нет. Затем, в мае, состоятся выборы в Европейский парламент, и новые лидеры будут назначены в ключевые институты ЕС. Мы глазом не успеем моргнуть, как председательство Жан-Клода Юнкера в Европейской комиссии завершится.
Макрон с нетерпением ждёт появления нового правительства в Берлине. Пока что нет никаких гарантий, что новая немецкая коалиция поддержит его программу реформ в ЕС. А у Еврокомиссии с каждым днём сокращается время на любые новые инициативы, которые можно было бы действительно реализовать до 2019 года.
Итак, хотя полная безысходность 2016 года, может быть, и отступила, она с лёгкостью может вернуться. Сохранение позитивного настроя, вызванного избранием Макрона во Франции, и выполнение обещаний, которые с ним были связаны, потребуют решительных действий в предстоящие месяцы.