Freiheit und Musik
NEW YORK – Nordkorea, offiziell Demokratische Volksrepublik Korea, ist eine der repressivsten, verschlossensten und übelsten Diktaturen der Welt. Das Land ist vielleicht das letzte existierende Beispiel des reinen Totalitarismus – wo der Staat jeden Aspekt des menschlichen Lebens unter Kontrolle hält. Ist das der geeignete Schauplatz für eine Veranstaltung eines Orchesters aus dem Westen? Kann sich jemand vorstellen, dass die New Yorker Philharmoniker, die in Pjöngjang ein umjubeltes Konzert gaben, vor Stalin oder Hitler aufgetreten wären?
Eines ist allen totalitären Systemen gemeinsam: Indem man sämtliche Formen politischen Ausdrucks unterbindet – außer die Beweihräucherung des Regimes – wird alles politisch. In Nordkorea gibt es keinen unpolitischen Sport oder eine unpolitische Kultur. Daher ist es keine Frage, dass die Einladung an die New Yorker Philharmoniker dazu gedacht war, das Prestige des Regimes unter dem Lieben Führer Kim Jong-Il aufzupolieren, dessen Reputation – selbst im benachbarten China – schon derartig auf dem Tiefpunkt ist, dass man jede sich bietende Chance zur Imagekorrektur wahrnimmt.
In Interviews mit einigen Musikern trat ein gewisses Bewusstsein dafür zu Tage. Eine Geigerin wurde mit folgender Aussage zitiert: "Viele von uns schenken der Parteilinie keinen Glauben, dass Musik das Politische überwindet."  Sie war sich "sicher, dass das Konzert von der nordkoreanischen Führung  und von unserer eigenen Regierung benutzt [würde], um politische Akzente zu setzen." Der Dirigent Lorin Maazel, der ein Programm mit Stücken von Wagner, Dvorak, Gershwin und Bernstein zusammengestellt hatte, war weniger zynisch. Das Konzert, sagte er, würde "eine Eigendynamik" entwickeln und positive Wirkung auf die nordkoreanische Gesellschaft haben. 
Nun, das musste er wohl sagen. Aber könnte er nicht vielleicht Recht haben? Niemand, nicht einmal Maazel behauptet, dass das Konzert eines berühmten Orchesters aus dem Westen eine Diktatur beseitigen könnte, aber das Misstrauen autoritärer Machthaber gegenüber der subversiven Kraft der Musik geht schon auf Platons Politeia zurück. Musik, die nicht strengstens kontrolliert wird, facht nach Ansicht Platons die Emotionen an und macht die Menschen widerspenstig. Er wollte musikalischen Ausdruck auf Klänge beschränken, die der Harmonie und Ordnung förderlich waren. 
Das war und ist mehr oder weniger auch die Linie in Diktaturen. Die offiziell vorgeschriebene musikalische Diät in Nordkorea besteht aus patriotischen Hymnen an die kommunistische Partei, aus Oden an den Lieben Führer, an seinen Vater, den Großen Führer Kim Il-Song und an den heroischen Geist des koreanischen Volkes. Alles andere ist nicht erlaubt – außer in  den Privatgemächern der Machthaber selbst. Der Sohn des Lieben Führers, Kim Jong-chol, soll ein Fan von Eric Clapton sein. Dem britischen Rockstar wurde nun eine Einladung für einen Auftritt in Nordkorea übermittelt. Das wäre wirklich einmal etwas Neues.
Aufgrund der von Platon angeführten Gründe war Rockmusik in den kommunistischen Diktaturen ebenso stark eingeschränkt wie Jazz in Nazi-Deutschland: Unkontrollierte Emotionen wurden als Bedrohung der perfekten Staatsordnung gesehen. Genau deshalb wurde "verbotene" Musik zum Politikum. Subversive Jugendliche in Hitler-Deutschland – die "Swing-Jugend" – hörte heimlich Jazz.
Subscribe to Project Syndicate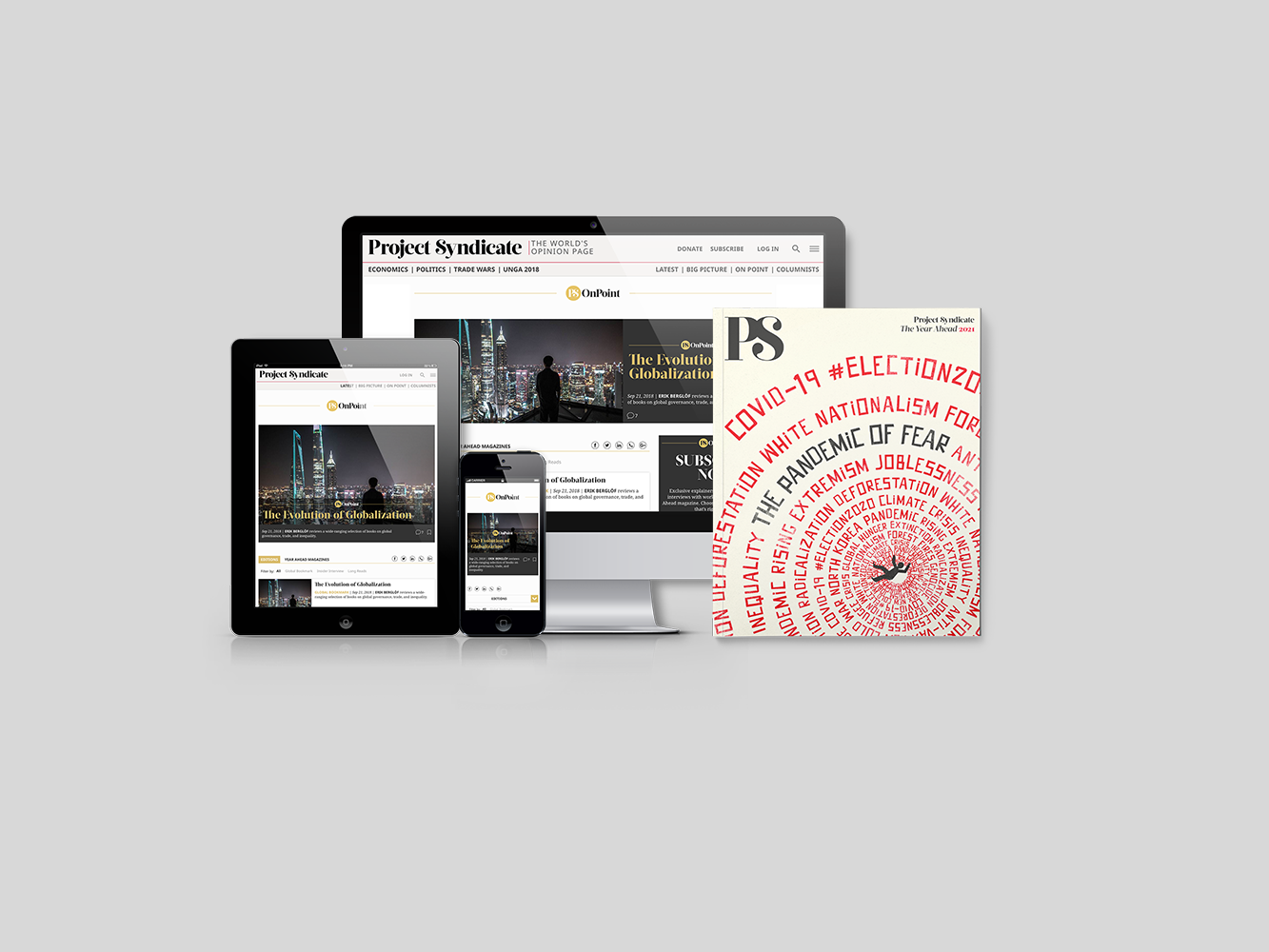 Subscribe to Project Syndicate
Enjoy unlimited access to the ideas and opinions of the world's leading thinkers, including weekly long reads, book reviews, topical collections, and interviews; The Year Ahead annual print magazine; the complete PS archive; and more – for less than $9 a month.
Im Jahr 1968 war die Stimmung in der Tschechoslowakei elektrisiert vom importierten Sound der Rolling Stones und Frank Zappas Mothers of Invention. Nachdem die sowjetischen Panzer, dem Prager Frühling ein Ende gesetzt hatten, drohte ein russischer Polizist einem jungen Tschechen, dass er ihm "die Zappa-Musik aus dem Leib prügeln" würde.
Václav Havel war Zappa-Fan. Neben ihm auch eine tschechische Rockband namens Plastic People of the Universe, die die Kommissare derart aufbrachten, dass man die Rocker ins Gefängnis warf – nicht weil sie in politische Aktivitäten involviert waren, sondern weil sie, wie ihr Sänger Milan Hlavsa es formulierte, "einfach tun wollten, was uns Spaß machte". 
Das war natürlich genau das Problem. Hlavsa und seine langhaarigen Fans, die in Tom Stoppards brillantem Stück Rock n'Roll verewigt wurden, wollten sich einfach nicht vom Staat ihre Party verderben lassen. Es war ihnen egal, was die Kommissare dachten. Sie wollten nach ihrer eigenen Musik tanzen. 
Dvorak und Wagner sind natürlich nicht Zappa und die Stones. Und käme Clapton wirklich nach als Gast der Regierung nach Pjöngjang, würde seine Glaubwürdigkeit vermutlich nicht ausreichen, um die Lunte einer Rebellion zu entzünden. Als die Stones im Jahr 2003 schließlich in China auftraten, beschlossen sie, manche ihrer gewagteren Nummern aus dem Programm zu streichen. Ihr lokaler Promoter formulierte die Gründe dafür so: "Sie wissen, dass es Unterschiede zwischen der chinesischen und der westlichen Kultur gibt. Sie wollen nichts tun, was sich gegen die chinesische Regierung richtet." Soviel zum Geist von 1968.
Maazel könnte dennoch nicht ganz Unrecht haben. In Nordkorea gute Musik aufzuführen, könnte tatsächlich positive Wirkung haben. Stalins Imperium brauchte keine klassischen Orchester aus dem Ausland. Davon hatte man selbst genug. China braucht die Stones auch nicht mehr. Es gibt in China bereits eine Vielzahl von Rockbands. Aber der Würgegriff der nordkoreanischen Diktatur beruht auf totaler Isolation. 
Seit einem halben Jahrhundert enthält man den Nordkoreanern jede Art von Kunst, Ideen oder Musik vor, die nicht vom Staat autorisiert sind.  Man erzählte ihnen, Nordkorea wäre ein heldenhaftes kleines Land, belagert von teuflischen Feinden unter der Führung der USA. Mit dieser permanent propagierten Paranoia wurde so etwas wie eine landesweite Nervenheilanstalt erzeugt, wo Ignoranz, Terror und Argwohn herrschen.
Unter derartigen Bedingungen wirkt selbst ein konventionelles Programm klassischer Musik gespielt von den New Yorker Philharmonikern wie eine Brise Frischluft. Damit stürzt man keine Diktatur, aber vielleicht ist es ein kleiner Trost für diejenigen, die gezwungen sind, in dieser Diktatur zu leben. Das ist vorerst Grund genug, um dort aufzutreten.