El asedio al Taj Mahal
NUEVA DELHI – En un país cuya política se ha vuelto tóxica y casi todo (desde los fuegos de artificio de los festivales al manejo de los animales) adquirió un tinte religioso "comunal", tal vez no sea sorprendente que hasta uno de los monumentos más famosos del mundo se haya vuelto blanco de ataque. Pero no por eso deja de ser un hecho trágico y destructivo.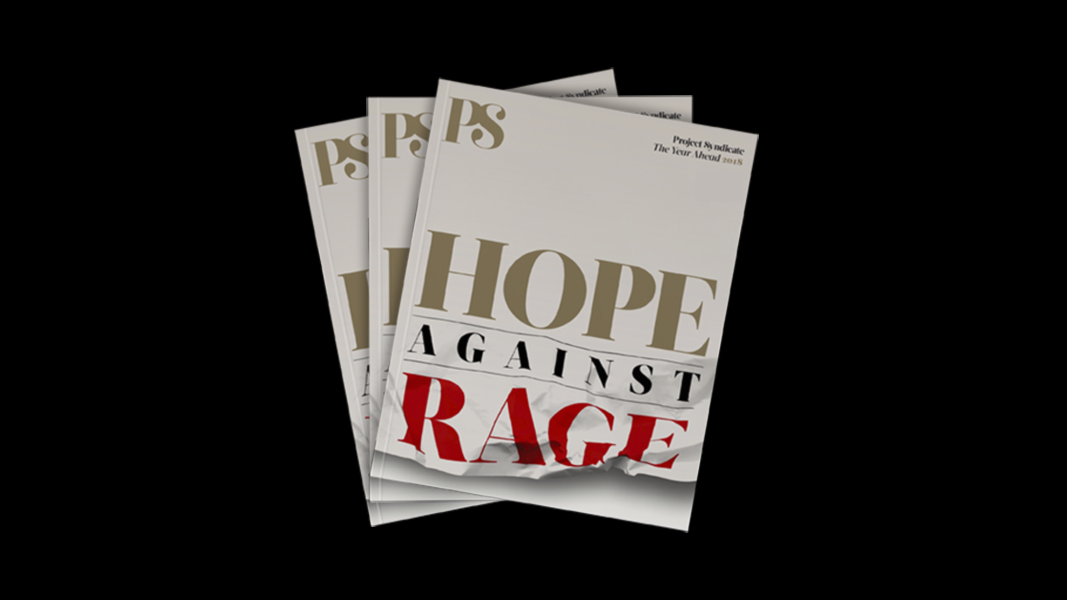 The Year Ahead 2018
The world's leading thinkers and policymakers examine what's come apart in the past year, and anticipate what will define the year ahead.
El Taj Mahal es la máxima maravilla arquitectónica de la India. Construido hace casi cuatro siglos por el emperador mogol Shah Jahan como mausoleo para su amada esposa, el monumento de mármol fue celebrado por Rabindranath Tagore (único escritor indio ganador del Premio Nobel) como "una lágrima en la mejilla del tiempo".
Pero esta vez las lágrimas son por el Taj mismo. Su radiante superficie blanca ya amarillea por la contaminación del aire procedente de fábricas e industrias informales cercanas. Necesita reparaciones con tanta frecuencia que sus famosos minaretes suelen estar ocultos detrás de andamios. La ciudad de Agra, en el estado de Uttar Pradesh, donde se encuentra el Taj, está sobrepoblada y sucia.
No es de extrañar que el turismo haya decaído: la cantidad de visitantes extranjeros al Taj Mahal se redujo 35% entre 2012 y 2015, y también disminuyó el turismo interno. Los que todavía se acercan al lugar quedan impresionados por el Taj, pero también horrorizados por lo que ven a su alrededor. El verano pasado, el basquetbolista estadounidense Kevin Durant hizo unas gráficas descripciones de los alrededores del monumento que generaron polémica.
Pero ahora el Taj se ha vuelto objeto de rechazo hasta para el gobierno indio. Parece que el Partido Popular Indio (Bharatiya Janata Party, BJP) del primer ministro Narendra Modi, que ahora gobierna Uttar Pradesh, no quiere saber nada del Taj, y la razón es puro chauvinismo religioso.
El asedio lo inició el nuevo jefe de ministros de Uttar Pradesh, un monje hindú de hábito azafrán, de nombre Yogi Adityanath, quien condenó la vieja práctica del gobierno del estado de ofrecer réplicas del Taj como regalo a los dignatarios extranjeros visitantes. Adityanath declaró que el monumento no es "reflejo de la cultura india" y anunció que el gobierno entregará copias del libro sagrado del hinduismo, el Bhagavad Gita, en vez del Taj.
Para completar la negación, el departamento de turismo de Uttar Pradesh publicó un folleto con las mayores atracciones locales, en el que omitió el Taj Mahal, principal destino turístico del estado (y del país). El gobierno prefiere promover el turismo religioso hinduista (por ejemplo las atracciones de la ciudad sagrada de Benarés), y este año fiscal excluyó al Taj Mahal de recibir la financiación correspondiente a los monumentos culturales.
Para alguien que la vea de afuera, la campaña del BJP contra el Taj Mahal puede parecer extraña. ¿Por qué querría alguien (y mucho menos el partido gobernante de un país) subestimar una maravilla arquitectónica que es admirada en todo el mundo y es una fuente de ingresos? Pero cualquiera que conozca al BJP sabe que sus ataques al Taj son sólo una manifestación de su política de odio a todo lo relacionado con la historia del dominio musulmán en la India.
Para los fieles del BJP, los musulmanes que gobernaron la India por siglos fueron invasores extranjeros que saquearon una tierra próspera, destruyeron templos y palacios, esclavizaron a los hindúes y los discriminaron, abusaron de las mujeres y convirtieron a millones al Islam. Según este relato, esta sórdida saga de ataque a los hindúes culminó en 1947 con la partición de la India por los británicos, que creó Pakistán.
Es una interpretación muy simplista de una historia compleja, que se caracterizó mucho más por la asimilación y la coexistencia que por el conflicto religioso. Pero eso no importa a los chauvinistas hindúes que constituyen el grueso de la base electoral del BJP. Concuerdan con el halcón del movimiento y legislador del BJP, Sangeet Som, que el mes pasado dijo que el Taj Mahal es una "mancha en la cultura india", que fue "construido por traidores" y que "no debería tener lugar en la historia de la India". Y agregó que si personas como Shah Jahan (quien presuntamente quería "borrar a todos los hindúes de la India") fueron parte de la historia del país, entonces "cambiaremos esa historia".
Para los extremistas hindúes siempre ha sido humillante que un monumento construido por un emperador musulmán sea el sitio más reconocible de la India, país de mayoría hindú. Pero ahora ya no son un grupúsculo minoritario: sus miembros gobiernan Uttar Pradesh y tienen aliados en la capital.
Adityanath, por ejemplo, se hizo famoso por sus incendiarios discursos antimusulmanes (en 2007 pasó once días en prisión por fomentar la tensión religiosa) y por liderar un escuadrón de voluntarios especializados en ataques a blancos de esa religión; incluso acusó de terrorista a la estrella de cine más querida de la India (un musulmán). Más cerca en el tiempo, exhortó al gobierno nacional a que prohíba el ingreso de viajeros musulmanes (como intentó hacer el presidente estadounidense Donald Trump).
Pero los ataques de Adityanath al Taj generaron tanta controversia nacional que se vio obligado a visitar Agra para dar garantías a la atemorizada población de que su gobierno está comprometido con proteger el monumento. A regañadientes, dijo que "lo importante es que fue construido con la sangre y el sudor de los agricultores y obreros de la India".
Esta admisión no tranquiliza demasiado, ya que abona otra idea extremista en relación con el Taj: la afirmación del difunto historiador chauvinista P. N. Oak de que el monumento era originalmente un templo a Shiva llamado "Tejo Mahalaya". Algunos despistados elementos del movimiento nacionalista Hindutva ya intentaron realizar allí un puja (ritual de veneración del Señor Shiva). La Organización Nacional Patriótica (Rashtriya Swayamsevak Sangh, RSS), movimiento que agrupa a la "familia" de organizaciones hinduistas a la que pertenece el BJP, llegó a pedir que se prohíba a los musulmanes rezar en el Taj.
Por espacio de siete décadas tras la independencia, la identidad india se basó en el pluralismo cultural. Ahora el chauvinista BJP intenta redefinir a la India como una nación hindú históricamente sometida a los extranjeros, no sólo los colonizadores británicos, sino también los conquistadores musulmanes. Atizando resentimientos latentes y promoviendo el odio a los musulmanes, la kulturkampf del BJP divide a la sociedad india, fragmenta su discurso político y debilita su poder blando en el mundo.
Si el BJP no quiere hacer más daño a la nación india, debe reconocer que el pasado no es un arma con la que anotarse victorias políticas mezquinas. No es posible vengar la historia, porque ella misma es su propia venganza.
Traducción: Esteban Flamini