Anatomie der kommenden Rezession
NEW YORK – Es gibt drei negative angebotsseitige Erschütterungen, die bis 2020 eine globale Rezession auslösen könnten. Alle drei spiegeln politische Faktoren wider, die die internationalen Beziehungen beeinflussen. Zwei davon betreffen China, und bei allen stehen die USA im Mittelpunkt. Zudem lässt sich keinem davon durch die traditionellen Instrumente antizyklischer makroökonomischer Politik beikommen.
Die erste potenzielle Erschütterung rührt aus dem chinesisch-amerikanischen Handels- und Währungskrieg her, der in diesem Monat eskalierte, als die Regierung von US-Präsident Donald Trump mit weiteren Zöllen auf chinesische Exporte drohte und China offiziell als Währungsmanipulator einstufte. Die zweite betrifft den vor sich hin köchelnden Kalten Krieg zwischen den USA und China in Technologiefragen. China und die USA konkurrieren im Rahmen einer Rivalität, die alle Kennzeichen einer "Thukydides-Falle aufweist, um die Dominanz in den Zukunftsbranchen Künstliche Intelligenz (KI), Robotik, 5G usw. Die USA haben den chinesischen Telekommunikationsriesen Huawei auf ihre "Entity List" gesetzt, auf der ausländische Firmen stehen, die als Bedrohung für die nationale Sicherheit eingestuft werden. Und obwohl Huawei vorläufige Befreiungen erhalten hat, die es dem Unternehmen gestatten, weiterhin US-Komponenten zu nutzen, hat die Trump-Regierung diese Woche angekündigt, dass sie zusätzliche 46 verbundene Unternehmen von Huawei auf die Liste setzen würde.
Das dritte wichtige Risiko betrifft das Ölangebot. Obwohl die Preise in den letzten Wochen gefallen sind und eine durch einen Handels-, Währungs- und Technologiekrieg ausgelöste Rezession die Energienachfrage verringern und auf die Preise drücken würde, könnte Amerikas Konfrontation mit dem Iran die gegenteilige Wirkung haben. Sollte dieser Konflikt zu einem Militärkonflikt eskalieren, könnten die weltweiten Ölpreise steil steigen und eine Rezession herbeiführen, so wie das während früherer Flächenbrände im Nahen Osten in den Jahren 1973, 1979 und 1990 der Fall war.
Alle drei potenziellen Erschütterungen hätten eine stagflationäre Wirkung: Die Preise für importierte Konsumgüter, Halbfertigwaren, technologische Komponenten und Energie würden steigen, während die Produktionsleistung durch Störung der globalen Lieferketten sinken würde. Schlimmer noch: Der chinesisch-amerikanische Konflikt befeuert schon jetzt einen breiter angelegten Prozess der Entglobalisierung, weil Länder und Unternehmen nicht länger auf die langfristige Stabilität dieser integrierten Wertschöpfungsketten zählen können. Angesichts der zunehmenden Balkanisierung des Handels mit Waren, Dienstleistungen, Kapital, Arbeit, Informationen, Daten und Technologie werden die weltweiten Produktionskosten branchenübergreifend steigen.
Zudem werden der Handels- und Währungskrieg und der Konkurrenzkampf im Bereich der Technologie einander gegenseitig verstärken. Betrachten wir den Fall Huawei, das gegenwärtig ein global führender Anbieter von 5G-Ausrüstung ist. Diese Technologie wird schon bald die gängige Technologie zur Vernetzung des größten Teils der wichtigen zivilen und militärischen Infrastruktur sein, von über das im Entstehen begriffene Internet der Dinge vernetzten grundlegenden Konsumgütern gar nicht zu reden. Das Vorliegen eines 5G-Chips bedeutet, dass vom Toaster bis zur Kaffeemaschine alles zum Abhörgerät werden könnte. Dies bedeutet, dass, wenn Huawei weithin als Bedrohung für die nationale Sicherheit wahrgenommen wird, dasselbe für tausende von chinesischen Konsumgüterexporten gelten würde.
Man kann sich leicht vorstellen, wie die heutige Situation zu einem kompletten Zusammenbruch des offenen Welthandelssystems führen könnte. Die Frage ist daher, ob die geld- und fiskalpolitischen Entscheidungsträger auf eine nachhaltige – oder sogar dauerhafte – negative angebotsseitige Erschütterung vorbereitet sind.
Subscribe now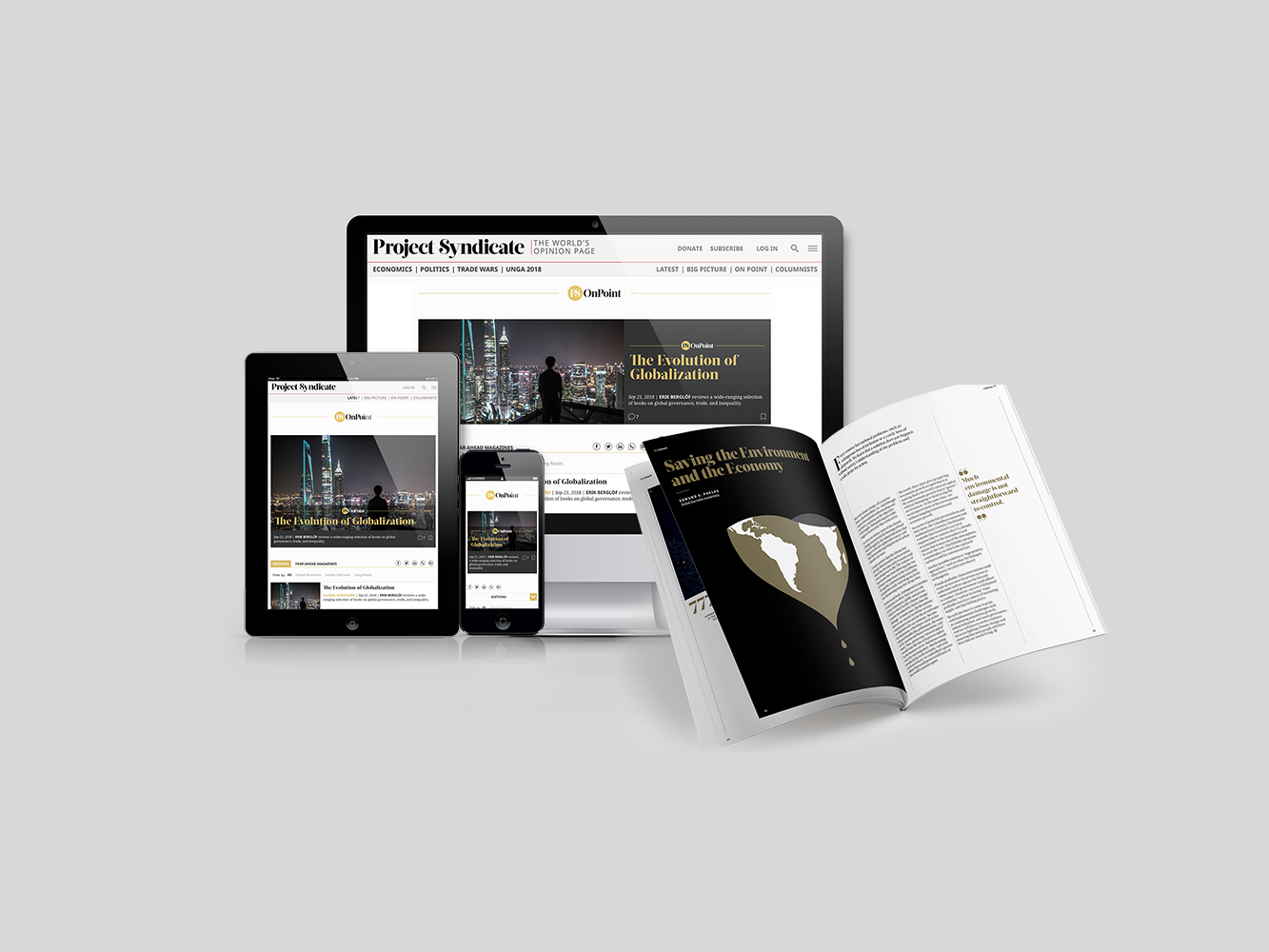 Subscribe now
Subscribe today and get unlimited access to OnPoint, the Big Picture, the PS archive of more than 14,000 commentaries, and our annual magazine, for less than $2 a week.
Im Gefolge der stagflationären Erschütterungen der 1970er Jahre reagierten die Geldpolitiker mit einer Straffung der Geldpolitik. Heute jedoch verfolgen wichtige Notenbanken wie die US Federal Reserve bereits eine geldpolitische Lockerung, weil die Inflation und die Inflationserwartungen niedrig bleiben. Jeder von einem Ölschock ausgehende inflationäre Druck dürfte von den Notenbanken als bloßer Preisniveaueffekt und nicht als dauerhafter Anstieg der Inflation wahrgenommen werden.
Zudem neigen negative angebotsseitige Erschütterungen dazu, sich im Laufe der Zeit zu vorübergehenden negativen nachfrageseitigen Erschütterungen zu entwickeln, die sowohl das Wachstum als auch die Inflation verringern, indem sie auf den Konsum und die Investitionen drücken. Tatsächlich sind die Investitionsaufwendungen der Unternehmen unter den aktuellen Bedingungen in den USA und weltweit, bedingt durch die Unsicherheit über Wahrscheinlichkeit, Schweregrad und Hartnäckigkeit der drei potenziellen Erschütterungen, sehr niedrig.
In Wahrheit befindet sich der weltweite Technologie-, Fertigungs- und Industriesektor bereits in der Rezession, da die Unternehmen in den USA, Europa, China und anderen Teilen Asiens ihre Investitionen zurückgefahren haben. Der einzige Grund, warum sich dies bisher nicht in einem globalen Konjunktureinbruch niedergeschlagen hat, ist der weiterhin starke private Konsum. Falls die Preise für Importgüter infolge einer dieser negativen angebotsseitigen Erschütterungen weiter steigen, wird sich dies negativ auf den realen (inflationsbereinigten) Anstieg der Haushaltseinkommen und auf das Verbrauchervertrauen auswirken und die Weltwirtschaft vermutlich in die Rezession stürzen.
Angesichts der Möglichkeit einer kurzfristigen negativen Erschütterung bei der Gesamtnachfrage tun die Notenbanken Recht daran, die Leitzinsen zu senken. Doch sollten sich die Fiskalpolitiker auf eine ähnliche kurzfristige Reaktion vorbereiten. Ein steiler Rückgang des Wachstums und der Gesamtnachfrage würde nach einer antizyklischen fiskalischen Lockerung rufen, um zu verhindern, dass die Rezession zu schwerwiegend wird.
Mittelfristig jedoch bestünde die optimale Reaktion nicht darin, den negativen angebotsseitigen Erschütterungen durch akkommodierende Maßnahmen zu begegnen, sondern sich ohne weitere Lockerung an sie anzupassen. Schließlich wären von einem Handels- und Technologiekrieg ausgehende negative angebotsseitige Erschütterungen – und auch die Verringerung des Wachstumspotenzials – mehr oder weniger von Dauer. Dasselbe gilt für den Brexit: Der Austritt aus der Europäischen Union wird dem Vereinigten Königreich eine dauerhafte negative angebotsseitige Erschütterung bescheren und damit sein Wachstumspotenzial dauerhaft verringern.
Derartige Erschütterungen lassen sich durch die Geld- oder Fiskalpolitik nicht umkehren. Auch wenn sie sich kurzfristig steuern lassen, würden Versuche, ihnen dauerhaft durch akkommodierende Maßnahmen zu begegnen, letztlich zu einem Anstieg der Inflation und der Inflationserwartungen deutlich über die von den Notenbanken angestrebten Zielwerte führen. In den 1970er Jahren bekämpften die Notenbanken die Folgen von zwei großen Ölschocks. Das Ergebnis waren eine stetiger Anstieg der Inflation und der Inflationserwartungen, nicht aufrechtzuerhaltende Haushaltsdefizite und eine steigende Staatsverschuldung.
Und schließlich gibt es einen bedeutenden Unterschied zwischen der globalen Finanzkrise von 2008 und den negativen angebotsseitigen Erschütterungen, die die Weltwirtschaft heute in Mitleidenschaft ziehen könnten. Weil Erstere überwiegend eine große negative Erschütterung der Gesamtnachfrage darstellte, die auf das Wachstum und die Inflation drückte, lies sich ihr durch geld- und fiskalpolitische Impulse angemessen begegnen. Diesmal jedoch hätte es die Welt mit nachhaltigen negativen angebotsseitigen Erschütterungen zu tun, die mittelfristig eine völlig andere Art politischer Reaktion erfordern. Zu versuchen, den Schaden durch endlose geld- und fiskalpolitische Impulse zu beheben, ist dabei keine sinnvolle Option.
Aus dem Englischen von Jan Doolan