Obituario de un año aciago
MADRID – Desgraciadamente, el año 2018 no pasará a la historia por haber estado plagado de éxitos políticos y diplomáticos. Si 2017 ya nos había traído una notable erosión del orden internacional, hoy vivimos en un mundo todavía más caótico, más inflamable y más hostil. No es casualidad, al fin y al cabo, que estos tres adjetivos sean aplicables también al Gobierno de la primera potencia mundial.
2018 ha estado marcado por la llamada "guerra comercial" que ha puesto en marcha Estados Unidos, principalmente —pero no exclusivamente— contra China. Las disputas arancelarias han dejado muy tocada a la Organización Mundial del Comercio y han acentuado las suspicacias mutuas entre Washington y Pekín, que se dispararon con la llegada de la Administración Trump. Además, China eliminó a principios de año los límites a los mandatos presidenciales, avivando los temores de que la "nueva era" de Xi Jinping destierre por completo el liderazgo colectivo y la circunspección que propuso en su día Deng Xiaoping.
Otro país reemergente en términos geopolíticos —aunque en su caso no lo sea en términos económicos— es Rusia. El pasado mes de marzo se celebraron elecciones presidenciales en ese país, en las que Vladimir Putin, como cabía esperar, se impuso sin mayores dificultades. Con una economía estancada, fruto de su excesiva dependencia de los hidrocarburos, Putin gusta de jugar la carta de la política exterior para apuntalar su popularidad doméstica. El episodio del envenenamiento de Sergei y Yulia Skripal en el Reino Unido consiguió lo propio justo antes de las elecciones, y la reciente escalada de tensiones con Ucrania en el Mar de Azov podría estar persiguiendo este mismo objetivo, entre otros. En un escenario de exacerbado militarismo ruso, si Estados Unidos y Rusia desecharan el Tratado de Eliminación de Misiles de Corto y Medio Alcance (Tratado INF) nos hallaríamos ante una complicación añadida, que afectaría muy especialmente a Europa.
Mientras tanto, Oriente Próximo sigue siendo el principal foco de conflictos en el mundo. Si bien se ha confirmado durante este año el retroceso territorial del Estado Islámico (que no su derrota, pese a lo que asegure Trump), la guerra en Siria sigue cobrándose víctimas sin pausa. Tampoco ha menguado la tragedia humanitaria provocada por el conflicto yemení, aunque recientemente se han reanudado las negociaciones que habían encallado en 2016, produciéndose algunos avances significativos. En Afganistán, Estados Unidos sigue inmerso en la que suele considerarse como la guerra más larga de su historia, y se estima que el porcentaje de distritos controlados actualmente por los talibanes es el mayor desde que fueron derrocados en 2001.
Más allá de los últimos movimientos que se han producido en estos tres conflictos, los fundamentos de la estrategia de la Administración Trump en Oriente Próximo han permanecido intactos a lo largo de 2018. Estados Unidos ha redoblado su apuesta por el eje formado por Israel, Arabia Saudí y los Emiratos Árabes Unidos, que se opone frontalmente a Irán. La apertura de la embajada estadounidense en Jerusalén coincidiendo con el 70 aniversario de Israel, el abandono del acuerdo nuclear con Irán (con la sucesiva y abusiva reimposición de sanciones extraterritoriales, que refleja la creciente militarización del dólar) y la tibia respuesta de Trump al asesinato del periodista saudí Jamal Khashoggi han sido sucesos destacados que se han derivado de este enfoque. El fracaso del mismo ha sido rotundo: Estados Unidos no ha conseguido otra cosa que azuzar a los sectores más militaristas de todos estos países. Israel e Irán, por ejemplo, han protagonizado este año la primera colisión directa de su historia. 
De un modo u otro, Trump también ha contribuido al avance del populismo en los últimos doce meses. En Latinoamérica, Andrés Manuel López Obrador y Jair Bolsonaro fueron elegidos presidentes de México y Brasil, respectivamente, poniendo de manifiesto que el término "populismo" engloba ideologías de distinto signo. Pese a que ambos reivindican el poder del "pueblo" frente al de las "élites", el izquierdista López Obrador fue elegido en cierta medida como reacción contra Trump, mientras que el derechista Bolsonaro es más afín ideológicamente al presidente estadounidense y tiene el apoyo de amplios sectores de las propias élites brasileñas.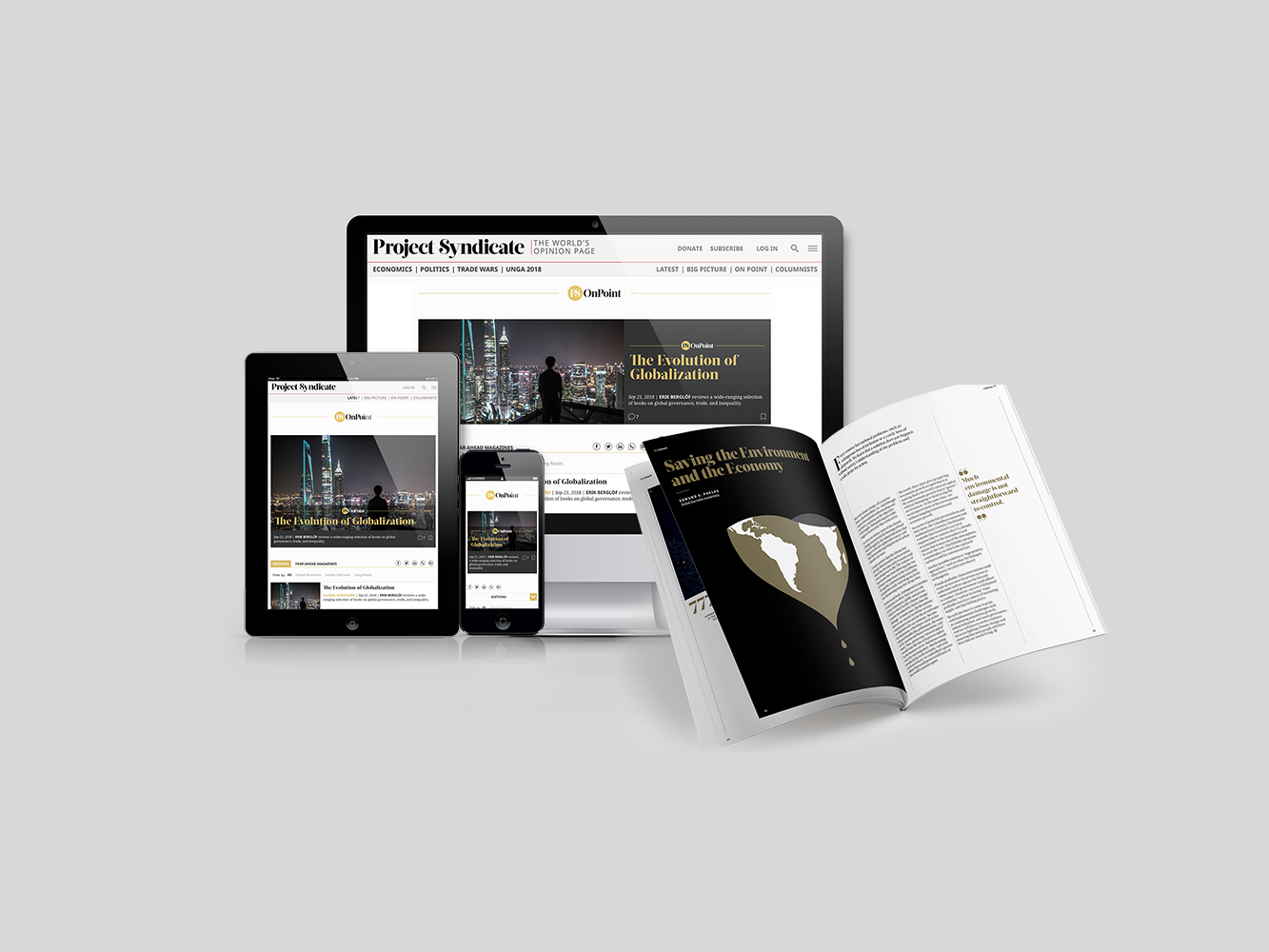 Subscribe now
For a limited time only, get unlimited access to On Point, The Big Picture, and the PS Archive, plus our annual magazine, for less than $2 a week.
Dice el controvertido filósofo Aleksandr Dugin, catalogado frecuentemente como uno de los ideólogos de referencia del Kremlin, que "el populismo debe unir la derecha de los valores con el socialismo, la justicia social y el anticapitalismo". Dugin considera que el nuevo Gobierno italiano, que tomó posesión en junio, ilustra a la perfección su definición de "populismo integral". Ávido de impulsar la agenda política de Luigi Di Maio y Matteo Salvini, el Gobierno de Giuseppe Conte emprendió en octubre una batalla presupuestaria contra la Unión Europea —que afortunadamente acaba de resolverse— apelando a una interpretación anticuada del concepto de "soberanía". En su defensa de dicha interpretación, los líderes italianos coinciden con los partidarios del Brexit, una triste saga que avanza a marchas forzadas y cuyo desenlace es todavía incierto.  
Llegados a este punto, es de justicia resaltar una noticia inesperada, y claramente positiva, que nos regaló 2018: la distensión entre Estados Unidos y Corea del Norte. Gran parte del mérito de este acercamiento recae en Moon Jae‑in, el moderado presidente de Corea del Sur, que aprovechó la celebración de los Juegos Olímpicos de invierno en la ciudad surcoreana de PyeongChang para tender la mano al régimen norcoreano. El subsecuente viraje de Trump hacia la vía diplomática —escenificado en su cumbre con Kim Jong-un— debe aplaudirse, aunque los progresos en lo referente a la desnuclearización de la península coreana han sido, por el momento, básicamente cosméticos.
Otra buena noticia de los últimos meses han sido los resultados de las elecciones de medio término en Estados Unidos. Habiendo obtenido los demócratas el control de la Cámara de Representantes, Estados Unidos se ha asegurado mayores contrapesos a las políticas de Trump a partir de 2019. En el Congreso estadounidense se están produciendo ya movimientos, como las votaciones en el Senado a favor de retirar el apoyo a la ofensiva saudí en Yemen y de condenar (unánimemente) al príncipe heredero Mohámed bin Salmán por el asesinato de Khashoggi, que auguran un cierto cambio de tendencia en el año próximo.
En Europa, que 2019 sea más positivo que 2018 dependerá esencialmente de que se den tres circunstancias: que seamos capaces de capear el Brexit, que Angela Merkel y Emmanuel Macron estén en disposición de unir sus fuerzas para reformar la Unión, y que las elecciones europeas de mayo dibujen un panorama razonablemente favorable para los defensores del Estado de derecho, la integración europea y el multilateralismo. Los que se oponen a estos principios han hecho gala de su empuje durante este año, pero sería un error infravalorar la voluntad que sigue existiendo —tanto en Europa como en el resto del mundo— de cultivar un espíritu de cooperación y concordia.