Russland und Europa – eine komplizierte Nachbarschaft
BERLIN – Die EU und Russland teilen eine Gemeinsamkeit, sie liegen beide auf demselben Kontinent, und werden dies, komme was da wolle, auch in alle Zukunft hinein gemeinsam tun müssen. Sonst haben sie aber nicht viel gemeinsam.
Eine bis heute von den Russen nicht beantwortete zentrale Frage ist die, wohin sich Russland eigentlich verortet. Der größte Teil Russlands liegt in Asien, wohingegen der größte Teil seiner Bevölkerung, über siebzig Prozent, in seinem europäischen Teil lebt. Wohin fühlt sich Russland also zugehörig? Zu Ostasien? Definitiv nicht! Zum islamischen Süden? Dies sogar noch weniger! Also bleiben nur noch zwei Optionen: allein oder westwärts, Richtung Europa!
Russland ist, betrachtet man nur seine Fläche, das größte Land der Erde, ein Riesenkoloss, und in Atomsprengköpfen gezählt, nach wie vor eine atomare Weltmacht. Demographisch, wirtschaftlich und technologisch, und exakt darauf wird es im 21. Jahrhundert ankommen, befindet sich das Land allerdings in einem dramatischen Niedergang. Nach wie vor lebt das Land im Wesentlichen davon, Energie in Form von Erdöl und Erdgas und andere Rohstoffe zu exportieren, aber trotz seiner gewaltigen Größe dürfte das im 21. Jahrhundert kaum dafür ausreichen, seinen Status als Weltmacht aufrechtzuerhalten und allein bleiben zu können. Es droht die Juniorpartnerschaft Chinas, die für Russland und das russische Selbstbewusstsein sehr schwierig werden dürfte.
Bleibt also nur Europa, aber beide Seiten sind in ihrer jeweiligen Geschichte gefangen. Die Osteuropäer haben ihre spezifischen Unterdrückungserfahrungen unter den Zaren und den Sowjets gemacht. Die Erinnerungen daran sind, vor allem bei den Polen und Balten, mitnichten vergangen und haben eine großes und tiefes Misstrauen gegenüber russischer Macht und den Absichten Moskaus geschaffen, das zudem durch Putins bewaffnete Landnahme und Grenzveränderung auf der Krim und seinen Krieg im Osten der Ukraine auf dramatische Weise aktualisiert wurde. Kann man Russland trauen? Die überwiegende Antwort der Osteuropäer lautet Nein!
Russlands Verhältnis zu Europa wird ebenfalls durch seine Geschichte bestimmt: Ja, unter Putin hat es sich, nach den schrecklichen 90er Jahren, mental ins 19. Jahrhundert, ins vorrevolutionäre Russland der Zaren zurückgezogen. Die Elite sieht das Land bis heute als europäische Großmacht und in Osteuropa als Hegemonialmacht, was es in einen scharfen Gegensatz zur EU bringt, die diesen Anspruch nicht akzeptieren kann und darf.
Die EU gründet auf der Überwindung von Einflusszonen in Europa, denn nur so war der europäische Hegemonialkonflikt, der so viel Unglück über den Kontinent gebracht hatte, zugunsten einer europäischen Friedensordnung zu überwinden. Diese schloss einen Verzicht auf gewaltsame Veränderung der Grenzen mit ein.
Subscribe now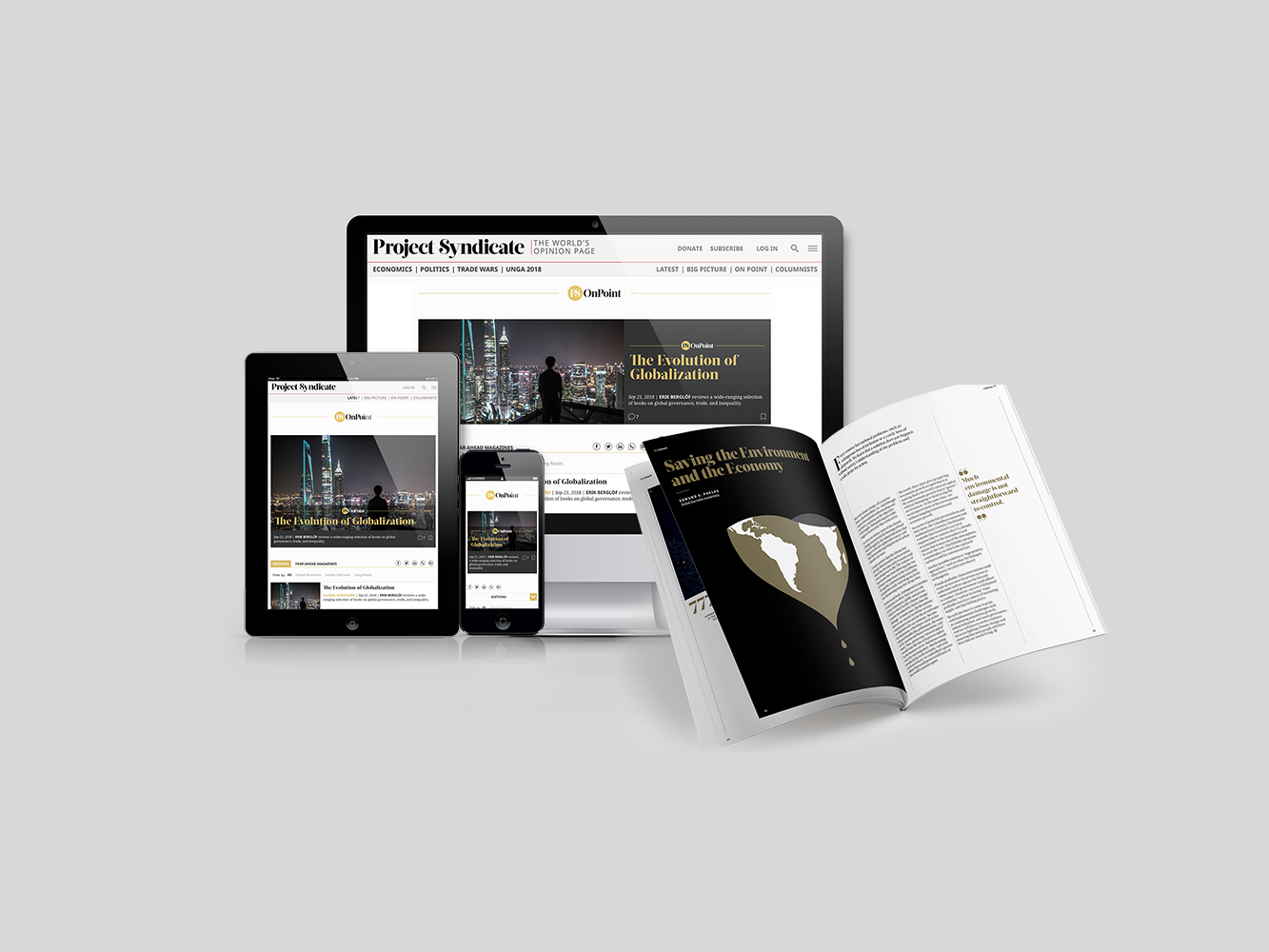 Subscribe now
Subscribe today and get unlimited access to OnPoint, the Big Picture, the PS archive of more than 14,000 commentaries, and our annual magazine, for less than $2 a week.
Russland ist aber auch zu groß, um über eine EU-Integrationsperspektive zu verfügen. Wer würde hier aufgrund der Größenverhältnisse eigentlich wen integrieren? Zudem teilen Russland und die EU nicht dieselbe Werteordnung, die Demokratie und die Unabhängigkeit der Justiz und die Herrschaft des Rechts.
Dennoch sind die EU und Russland als kontinentale Nachbarn aneinander gefesselt und müssen ihr Verhältnis nach Möglichkeit gedeihlich regeln. Dem steht allerdings der anhaltende Krieg im Osten der Ukraine entgegen.
Der französische Präsident Macron hat zu einer Verbesserung der Beziehungen durch ein Treffen mit Putin im Vorfeld des G7-Treffens in Biarritz einen neuen Anlauf unternommen. Europa habe weder ein Interesse daran, Russland wirtschaftlich immer weiter in die Arme Chinas zu treiben, noch dem fortschreitenden Zerfall der Rüstungskontrollverträge tatenlos zuzuschauen. In der Frage der Rüstungskontrolle sind die amerikanischen und europäischen Interessen jedoch alles andere als deckungsgleich, und zudem nimmt die amerikanische Seite auf die europäischen Interessen nur noch wenig Rücksicht. Zu Macrons Initiative ergeben sich aber eine Reihe von Fragen:
Welche Rolle kann die europäische Seite bei den Gesprächen um eine Erneuerung der Rüstungskontrollverträge überhaupt spielen? Was hat Europa, ohne die USA, Russland im nuklearen Mittelstreckenbereich denn ernsthaft anzubieten? Oder bleibt ihm am Ende nur die Rolle, die beiden kommunikations- und vor allem einigungsunwilligen großen Nuklearmächte von einer Einigung zu überzeugen? Geht das überhaupt, ohne China und dessen Mittelstreckenpotential, und würde das europäische Gewicht dafür ausreichen? Wohl kaum.
Verbesserungen bei den Wirtschaftsbeziehungen, wo Europa Russland in der Tat sehr viel zu bieten hat, werden für Europa schlechterdings nicht möglich sein ohne überprüfbare Fortschritte bei der Umsetzung des "Minsker Abkommens" zur Beendigung des Krieges im Osten der Ukraine. Ist Russland dazu bereit und Putin innenpolitisch noch stark genug? Man wird es sehen.
Der Kern des Problems zwischen Russland und der EU liegt jedoch in der Demokratiefrage. Die große Furcht Putins und der herrschenden Oligarchie ist die Wiederholung der Ereignisse auf dem Maidan in Kiew auf dem Roten Platz in Moskau. Dafür macht Moskau an erster Stelle die EU und ihre Werte verantwortlich, und keineswegs die NATO.
Die Anti-NATO-Rhetorik beruht im Wesentlichen auf Propaganda, auf einem gewohnten Feindbild aus den Zeiten des Kalten Krieges. Die demokratischen und rechtsstaatlichen Grundwerte der EU hingegen sind in den Augen der herrschenden Oligarchie eine echte Gefahr.
Betrachtet man sich die beiden Systeme in Russland und Europa, so ist es eindeutig, dass sie gegensätzlich sind, gegensätzlichen Werten in der Innen und Außenpolitik folgen, ja, dass ein echter Systemwiderspruch vorliegt.
Im 19. Jahrhundert, unter den Zaren, war Russland die reaktionäre Ordnungsmacht gegen die bürgerliche Revolution in Europa, der Anführer der "Heiligen Allianz". Unter den Bolschewiki nach dem Oktober 1917 wurde es unter umgekehrten Vorzeichen zum Hort der proletarischen Weltrevolution, verfolgte unter Stalin aber mehr oder weniger dieselben Ziele wie unter den Zaren, vor allem bei der Unterdrückung der Unabhängigkeitsbestrebungen der osteuropäischen Nationen. Putins oligarchisches Russland ist nunmehr mental ins 19. Jahrhundert zurückgekehrt, wenn man die Erklärungen über das Bündnis von orthodoxer Kirche und Macht und die Ausfälle gegen den dekadenten Westen und die Tiraden und Gesetze gegen Homosexuelle sieht. Auch die massive Unterstützung für illiberale, nationalistische Kräfte in Europa gehört dazu.
So wünschenswert die Verbesserung der Beziehungen auch ist, dies wird alles andere als einfach werden und schnell gehen können. Das Haupthindernis wird sich dabei in der Werte- und Demokratiefrage auftürmen, in denen Europa über wenig bis gar keine Flexibilität verfügen darf.