Základy zkrachovalé řecké ekonomiky
NEW YORK – Příliš mnoho politiků a ekonomů přičítá kolaps řecké ekonomiky úsporným opatřením – přijatým na naléhání věřitelů Řecka. Data však neukazují žádná výrazná úsporná opatření, alespoň podle historických měřítek, ani žádné vládní škrty, které by byly natolik drastické, aby vysvětlily obrovské ztráty pracovních míst. Místo toho odhalují ekonomické neduhy zakořeněné v hodnotách a názorech řecké společnosti.
Řecký veřejný sektor je zamořený klientelismem (s cílem získat hlasy) a nepotismem (s cílem získat protislužby), a to mnohem víc než jiné části Evropy. Maximální penze pro zaměstnance ve veřejném sektoru jsou v poměru ke mzdám téměř dvojnásobné než ve Španělsku; vláda upřednostňuje podnikatelské elity osvobozené od daní a někteří státní zaměstnanci čerpají mzdu, aniž by docházeli do práce.
Také v soukromém sektoru existují vážné neduhy – zejména všeprostupující vliv partikulárních zájmů a podnikatelských a politických elit v zemi. Zisk vyjádřený jako podíl na příjmu z podnikání činí v Řecku podle nejnovějších dostupných dat ohromujících 46%. Itálie figuruje na druhém místě s 42% a Francie je třetí s 41%. (V Německu činí tento podíl 39%, Ve Spojených státech 35% a ve Velké Británii 32%.) Zatímco členové vnitřní kliky získávají dotace a kontrakty, lidé zvenčí se těžko prosazují. Zarážející je, že mladí řečtí podnikatelé se údajně zdráhají registrovat své firmy v Řecku z obavy, že by je někdo mohl pomocí falešných dokumentů o firmu připravit. Podle Světové banky patří Řecko k evropským zemím, kde se nejobtížněji zakládá nová společnost. Výsledkem je slabý konkurenční boj a málo firem s novými nápady.
Tento zakrnělý systém má kořeny v řeckých korporativistických hodnotách, které kladou důraz na sociální ochranu, solidaritu namísto konkurence a nelibost vůči nekontrolovaným změnám. Takové hodnoty jsou možná přínosné pro rodinný život, ale i při nejlepších záměrech představují recept na statickou ekonomiku a znehodnocené kariéry.
Řecká produktivita práce (HDP na zaměstnance) činí pouze 72% úrovně ve Velké Británii a Itálii a pouhých 57,7% německé úrovně. Z průzkumu navíc vyplývá, že spokojenost Řeků se životem je mnohem nižší než v nejbohatších zemích EU (EU15). Navzdory tvrzením řecké vlády korporativismus zbídačuje méně privilegované. Unijní data o míře chudoby pro rok 2010 uvádějí u Řecka hodnotu 21,4% – to je mnohem více než střední míra chudoby v EU15, která dosahuje 16,7%.
Jistě, Řecko po druhé světové válce zaznamenalo růst produktivity – ovšem vesměs díky zvýšení vzdělání a kapitálu na zaměstnance, jež má své limity. Jinak řecký systém blokuje dva důležité zdroje všeobecné prosperity. Prvním z nich je dostatek podnikatelů snažících se nacházet nové ekonomické příležitosti a využívat jich. Bez nich se Řecko špatně přizpůsobuje měnícím se podmínkám (což je imperativ, který zdůrazňoval Friedrich Hayek). Například tolik opěvovaní řečtí rejdaři se příliš pomalu adaptovali na kontejnerizaci, a proto ztratili někdejší tržní podíl.
Subscribe to PS Digital Now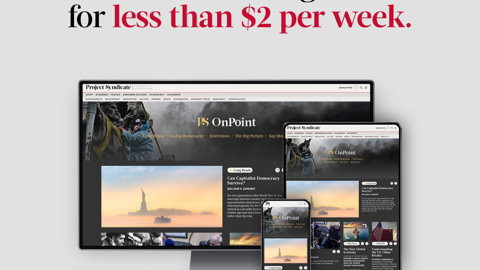 Subscribe to PS Digital Now
Access every new PS commentary, our entire On Point suite of subscriber-exclusive content – including Longer Reads, Insider Interviews, Big Picture/Big Question, and Say More – and the full PS archive.
Druhým zdrojem široce založené prosperity je dostatek podnikatelů snažících se vymýšlet a vytvářet nové produkty a procesy – kterážto činnost se často označuje jako "původní inovace". Také zde Řecko postrádá nezbytnou dynamiku: investiční toky rizikového kapitálu jsou v Řecku v poměru k HDP nižší než v kterékoliv jiné zemi EU. Řecká ekonomika má proto omezenou schopnost vytvářet trvalý růst produktivity a zajišťovat spokojenost občanů.
Někteří ekonomové se domnívají, že tyto strukturální podmínky nijak nesouvisejí se současnou krizí Řecka. Ve skutečnosti strukturální perspektiva ozřejmuje, co se stalo špatně – a proč.
Několik let čerpalo Řecko z příhodně pojmenovaných "strukturálních fondů" EU a z půjček německých a francouzských bank, aby mohlo financovat širokou paletu projektů vysoce náročných na pracovní sílu. Zaměstnanost a příjmy prudce vylétly vzhůru a úspory rostly. Když se příliv kapitálu zastavil, ceny aktiv v Řecku klesly a spolu s nimi klesla i poptávka po pracovní síle v sektoru kapitálového zboží. Protože navíc jmění domácností výrazně převyšovalo mzdové sazby, snížila se i nabídka pracovní síly. Řecko tak přešlo z boomu rovnou do poklesu.
Strukturální perspektiva také vysvětluje, proč je zotavení pomalé. Kvůli slabé konkurenci se podnikatelé nepředháněli v najímání nezaměstnaných osob. A když zotavení skutečně začalo, politický neklid loni na podzim udusil hned v zárodku důvěru.
Pravdou je, že Řecko potřebuje víc než jen restrukturalizaci dluhu, či dokonce jeho odpuštění. Mají-li mít mladí Řekové ve své zemi budoucnost, pak musí oni i jejich starší spoluobčané rozvíjet přístupy a instituce, které vytvoří inkluzivní moderní ekonomiku – což znamená odhodit korporativistické hodnoty.
Evropa zase musí myslet dál než jen na nezbytné reformy řeckého penzijního systému, daňového režimu a dohod o kolektivním vyjednávání. Řecko sice dosáhlo vrcholu korporativismu, avšak Itálie a Francie k němu nemají daleko – a Německo nemá daleko k nim. Nejen Řecko, ale celá Evropa musí přehodnotit svou ekonomickou filozofii.
Z angličtiny přeložil Jiří Kobělka.