Jerome Powells Dilemma
CAMBRIDGE – Einmal im Jahr zieht es die Führungen der Europäischen Zentralbank und der US Federal Reserve in die Berge, wo sie bezüglich ihrer Politik Erleuchtung suchen. Die EZB führt jeden Juni ein Forum in Sintra durch, einer Stadt in den Ausläufern des gleichnamigen portugiesischen Gebirgszuges. Und die Fed kommt Ende August in Jackson Hole, Wyoming, zum Wirtschaftssymposium der Niederlassung in Kansas City zusammen. Im Rückblick bieten die diesjährigen Bemerkungen aus der Höhe von EZB-Präsident Mario Draghi und US-Notenbankchef Jerome Powell Einblicke in die globalen Aussichten und die jüngsten geldpolitischen Maßnahmen der beiden Notenbanken, die zeitgleich erfolgten, aber nicht aufeinander abgestimmt waren.
In Jackson Hole benannte Powell die Herausforderung für die Aussichten der Weltwirtschaft – nicht auf eine Person (US-Präsident Donald Trump) bezogen, aber operational: Die erhöhte Unsicherheit beim Handel, so äußerte er, stelle einen neuen Bremsfaktor für die Gesamtnachfrage dar. Im Vorjahr hatten die meisten Fed-Vertreter die Ansicht vertreten, dass ein jährliches reales BIP-Wachstum von 3% nicht nachhaltig sei, weil die Ressourcenauslastung bereits an ihre Grenzen stoße. Diese Einschätzung bewegte die Fed dazu, den Leitzins viermal um einen Viertelpunkt zu erhöhen.
Diese Episode demonstriert die Fallgruben der politischen Entscheidungsfindung in Echtzeit: Ein Jahr später hat das Bureau of Economic Analysis das BIP-Wachstum für 2018 um fast einen halben Prozentpunkt nach unten korrigiert, und das Bureau of Labor Statistics hat seine Schätzung der monatlichen Beschäftigungszuwächse revidiert (ebenfalls nach unten).
Zu den Mechanismen, mittels derer eine Zinserhöhung die Gesamtnachfrage bremst, gehört der Devisenmarkt. Wenn die Fed die Geldpolitik strafft, während andere Notenbanken an der effektiven Untergrenze ihres nominalen Leitzinses festhalten, steigt der Dollar im Wert. Im Wesentlichen ist die Aufwertung des Dollars ein Kanal, über den die Entscheidungsträger US-Handelspartnern, die jetzt schwächere und damit attraktivere Währungen haben, etwas von der nationalen Wirtschaftskraft der USA "spenden". Angesichts des klar negativen Leitzinses der EZB und der Tatsache, dass ihrem APP-Programm der Dampf ausging, wusste insbesondere Draghi das Geschenk günstigerer europäischer Finanzbedingungen im letzten Jahr zu schätzen.
Natürlich war der oberste Chef über die Übertragung nationaler Wirtschaftskraft durch eine unabhängige Behörde (die Fed) verärgert und äußerte vernichtende Kritik. Doch es war nicht Trumps Nörgeln über die Dollaraufwertung, die die Fed zu einer Kursänderung bewegte. Vielmehr verstärkte Trumps Handelspolitik die Unsicherheit über Investitionen und Wachstum. Investitionen in langfristiges Kapital sind für ein Unternehmen immer riskant. Wenn Zweifel über eine derartige Investition aufkommen, bevor der Beton gegossen wird, wird weniger Beton gegossen.
Anfang 2019 gelangte die Fed zu der Ansicht, dass angesichts des neuen wirtschaftlichen Gegenwinds keine Notwendigkeit einer weiteren Anhebung des Leitzinses mehr bestand. Als sich der vom Handel ausgehende Gegenwind dann im weiteren Jahresverlauf verstärkte, änderten die Fed-Vertreter Kurs und begannen, die Geldpolitik zu lockern.
Subscribe now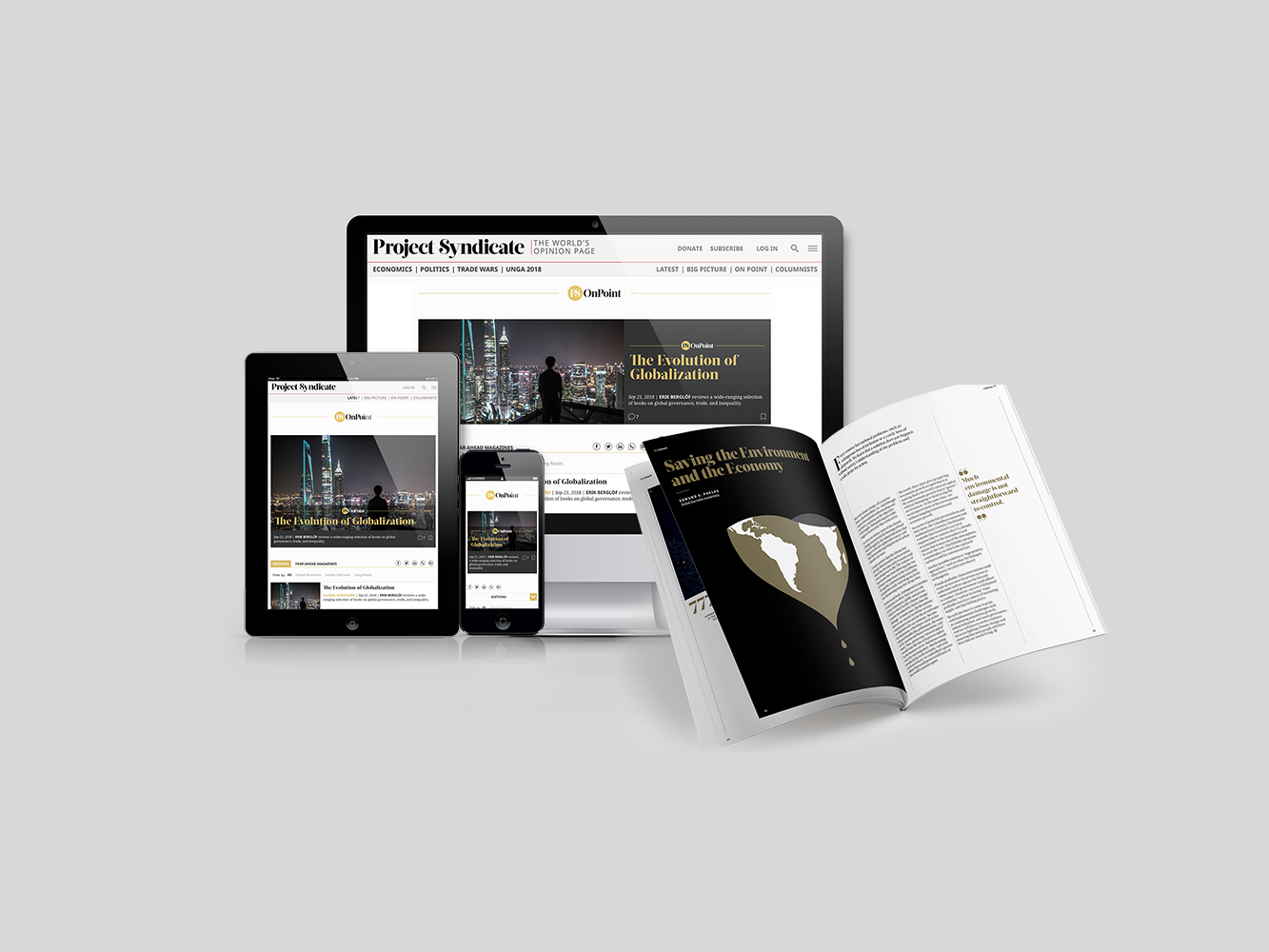 Subscribe now
Subscribe today and get unlimited access to OnPoint, the Big Picture, the PS archive of more than 14,000 commentaries, and our annual magazine, for less than $2 a week.
Einige wirtschaftliche Mechanismen sind jedoch asymmetrisch. Wenn die Fed eine straffere Geldpolitik verfolgt, schließen sich andere Notenbanken nicht unbedingt an, da sie es vorziehen, eine Abwertung ihrer Währungen zuzulassen. Wenn die Fed dagegen ihre Geldpolitik lockert, sind deutlich weniger internationale Partner bereit, ihre Währungen aufwerten zu lassen, damit der Dollar abwerten kann. Niemand meldet sich freiwillig, weil jeder Angst vor einem Aufwärtsdruck auf den Wechselkurs hat. Eine frühere Generation von Notenbankern hätte sich zur Verfolgung desselben Ziels auf direkte Interventionen am Devisenmarkt gestützt. Doch während dies in Schwellenvolkswirtschaften noch immer passiert, würde der Einsatz von Devisenreserven durch eine hochentwickelte Volkswirtschaft zu Vorwürfen der übrigen führen. Stattdessen erreichen sie dasselbe Ziel, indem sie den Leitzins ändern, um die Aufwertung abzuwehren, und begrüßen eine bescheidene Abwertung.
Daher zogen, als die Fed umschwenkte, alle anderen bedeutenden Notenbanken nach. Draghi drängte die EZB in Sintra in diese Richtung und ließ am 12. September eine weitere Lockerung folgen. Dies weckte in ähnlicher Weise Trumps Zorn, der diesen Schritt als auf den Wechselkurs gerichtet ansah. Indirekt hat er Recht. Ein schwächerer Euro ist das Zwischenergebnis, das Draghi anstrebt, um die nachgebende Wirtschaft zu stützen und die Inflation in Richtung des Zielwerts der EZB von knapp unter 2% nach oben zu drücken.
Natürlich hatte die Reaktion der EZB zur Folge, dass die Abwertung des Dollars geringer ausfiel, was die Anschubwirkung des Schritts der Fed schwächte. Dass die Fed durch Lockerung ihrer Politik im Alleingang eine weltweite akkommodierende Geldpolitik ausgelöst hat, wird im Weißen Haus als kein echter Trost angesehen. Trump hätte es lieber, wenn Powell beim Wettlauf um möglichst niedrige Zinsen schneller wäre als seine Amtskollegen. Powells Problem ist, dass die US-Wirtschaft derartiger Konjunkturimpulse anscheinend gar nicht bedarf. Die Beschäftigungszuwächse bleiben robust, und die Lohnentwicklung geht nach oben. Der Welthandel mag in der Rezession stecken, aber die US-Wirtschaft ist weniger abhängig vom Welthandel als ihre Handelspartner.
Vermutlich zu Powells tiefer Frustration – die nie ausgesprochen werden wird – legt die Fed ihren geldpolitischen Kurs so fest, dass sich die Wahrscheinlichkeit einer Wiederwahl Trumps im nächsten Jahr erhöht. Eine derartige Anweisung ist im Federal Reserve Act natürlich nicht enthalten, doch soll die Fed für ein Höchstmaß an Beschäftigung und für Preisstabilität sorgen. Ihr Mandat, auf ein nachhaltiges Wirtschaftswachstum hinzuarbeiten, erlegt es Powell daher auf, die Auswirkungen der politischen Unsicherheit unter Trump auszugleichen.
Die Vertreter der Fed denken nicht daran, die Wirtschaft vor der Wahl 2020 absichtlich stolpern zu lassen. Falls Powell daher Erfolg hat, wird Trump die Kosten seiner Äußerungen und Handlungen nicht tragen müssen. Dies lädt zum Weiterzumachen wie bisher ein.
Es hat seinen Grund, warum Powell häufig, und nicht nur in Jackson Hole, einen derart getriebenen Eindruck macht.
,