Die gefährliche Verteidigungsstrategie von Jean-Claude Juncker
MADRID – Dieser Tage gibt es nur drei Veranstaltungen, die alle Hauptakteure der internationalen Politik zusammenbringen: die Generaldebatte der Generalversammlung der Vereinten Nationen, den G20-Gipfel und die Münchner Sicherheitskonferenz. Da ist es umso enttäuschender, dass aus der Münchner Sicherheitskonferenz, die Mitte Februar stattfand,  nur eine große Idee hervorgegangen ist – und keine gute.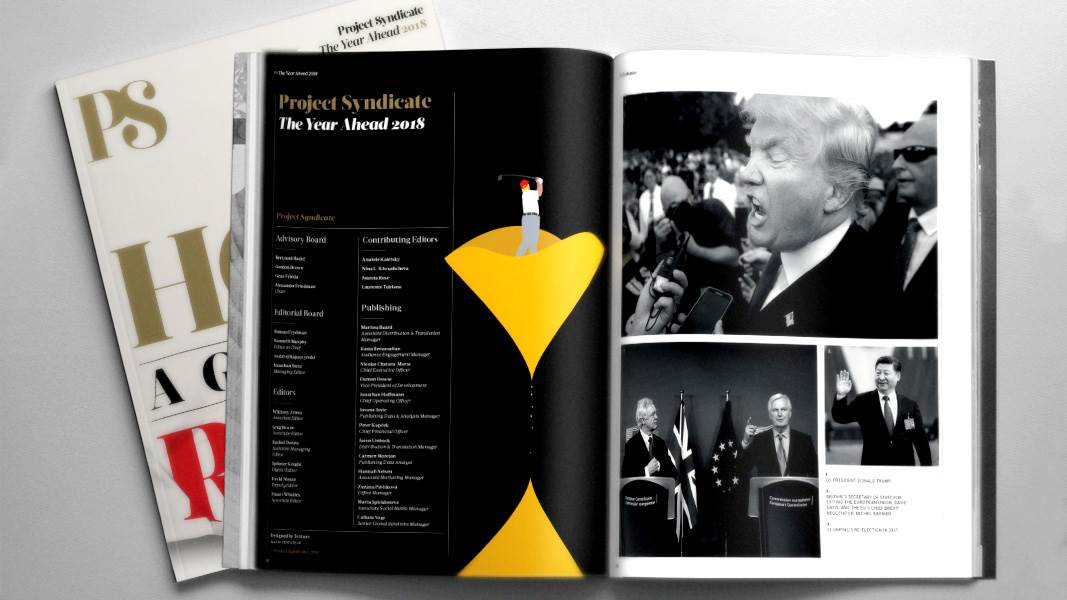 The Year Ahead 2018
The world's leading thinkers and policymakers examine what's come apart in the past year, and anticipate what will define the year ahead.
Die MSK ist schon lange ein Ort, an dem es nicht nur darauf ankommt, zu sehen, und gesehen zu werden, sondern auch zu hören und gehört zu werden. Dennoch schien bei dem diesjährigen Treffen das, was nicht gesagt wurde, wichtiger zu sein als das, was gesagt wurde. Im Nachhinein war das Treffen so etwas wie eine Anklage der zunehmend führungslosen globalen Ordnung. Beobachter haben sich hauptsächlich darauf konzentriert, wie wenig neue Ideen oder innovative Lösungen da waren, obwohl alle angesichts des Zustands der Welt die Hände über dem Kopf zusammenschlugen.
Das steht in starkem Kontrast zu den vergangenen Jahren. 2015 hat die MSK dazu beigetragen, einen Impuls für den kurz danach abgeschlossenen Atomwaffenvertrag mit dem Iran zu geben. Im letzten Jahr war es auf der MSK, als hochrangige Mitglieder der Administration von US-Präsident Donald Trump zum ersten Mal auf ihre globalen Ansprechpartner trafen. 2007 hat der russische Präsident Wladimir Putin die MSK bekanntermaßen dazu benutzt seine Sicht auf die Welt schonungslos zu präsentieren. Seine damalige Rede wies bereits auf die Interventionen Russlands in Georgien und der Ukraine hin.
Die eine große Idee der diesjährigen Konferenz war der Aufruf des Präsidenten der Europäischen Kommission Jean-Claude Juncker die Verantwortung für Außen- und Sicherheitspolitik von den Mitgliedsstaaten auf die Kommission zu übertragen. Aber während Juncker zwar Recht hat, wenn er fordert, dass die EU Schritte unternehmen muss, um sicherzustellen, dass sie auf der Weltpolitik wirksamer agieren kann, ist sein Ansatz äußerst mangelhaft.
Um eine führende Rolle in der Welt einzunehmen, braucht die EU eine Kultur und Anreize, die wahre Kohäsion und kooperative Aktion unterstützen. Anstatt sich hierzu die notwendige Zeit zu nehmen, will Juncker eine Abkürzung nehmen. Er begründet das damit, dass die EU, wenn es um Außen- und Sicherheitspolitik geht, nicht immer Einstimmigkeit erreichen kann.
Die EU begründet zwar auf der Vereinbarung, dass die Staaten im Gegenzug für die Mitgliedschaft einen gewissen Grad an Souveränität in bestimmten Bereichen abgeben. Aber Außen- und Sicherheitspolitik sind Bereiche, in welchen die Staaten ihre Souveränität behalten sollten. Wer diese Abmachung leichtfertig ändern will, missachtet politische Realitäten und riskiert, das europäische Projekt auf einen gefährlichen Kurs zu bringen.
Junckers Vorschlag bei der MSK erinnert an ähnliche Empfehlungen für den Einheitsmarkt, die er 2017 in seiner Ansprache zur Lage der Union äußerte. Beide sind Teil einer breiteren Anstrengung, die Macht vom Europäischen Rat zur Kommission zu verlagern – ein Unterfangen, das Juncker noch stützte, indem er seinen Svengali Martin Selmayr zum Generalsekretär der Kommission ernannte, den obersten Posten in der Administration.
Jetzt wird Selmayr, der als Junckers Stabschef bereits mit Machiavelli und Rasputin verglichen wurde, noch weitaus mehr Einfluss haben, unter anderem darauf, wer im nächsten Jahr Kommissionspräsident wird. Die Art und Weise, wie diese Ernennung gehandhabt wurde – hinter verschlossenen Türen, um die Einmischung der Mitgliedsstaaten zu verhindern – sollte etwas mehr als nur fragende Blicke hervorrufen.
Aber Ränkespiele wie diese sind nur ein Symptom für ein tiefergehendes Problem bei Junckers Ansatz. Das Problem ist nicht, dass sein Ansatz erfolgreich sein könnte – würden die Vereinigten Staaten von Europa funktionieren, könnte dadurch viel erreicht werden – sondern, dass er nicht erfolgreich sein kann. Europäer sind einfach nicht bereit, noch mehr Macht an die EU abzugeben.
Seit vor einem Jahrzehnt die globale Finanzkrise ausbrach, befindet sich Europa fest im zwischenstaatlichen Modus. Das letzte, was sie braucht ist einen weiteren hochtrabenden Plan, den sie nicht ausführen kann. Wirtschafts- und Währungsunion, Bankenunion und Energieunion, alle wurden mit großer Geste angekündigt, und nichts ist daraus geworden. Von diesen Projekten gibt es schon genug.
Anstatt höflich Luftschlösser zu beklatschen, sollten sich EU-Beamte und Mitgliederregierungen an die Arbeit machen, mit einer offenen und realistischen Haltung einen Konsens für Themen der Außen- und Sicherheitspolitik herbeizuführen. Das bedeutet nicht, die Regeln von ganz oben zu ändern, sondern eher, von unten her Kohäsion aufzubauen.
Um sicherzustellen, dass sich diese Bemühungen nicht endlos hinziehen, wie so viele Diskussionen in der EU, sollten wir mit konkreten Zielen beginnen. Die Ständige Strukturierte Zusammenarbeit im Bereich der Verteidigung, die im letzten Dezember vom Europäischen Rat beschlossen wurde, ist ein guter Ausgangspunkt, damit die Länder beispielsweise mit einer gemeinsamen strategischen Planung auf europäischer Ebene beginnen. Inspiriert durch den kürzlichen Vorschlag der deutschen Kanzlerin Angela Merkel, die Gewährung von EU-Geldern an die Aufnahme von Flüchtlingen zu koppeln, müssten die Mitgliedsstaaten auch daran arbeiten, stärkere Anreize für Kooperation zu schaffen.
Es steht außer Frage, dass es 27 souveränen Staaten schwerfällt, als eine Einheit zu handeln. Aber so verführerisch es auch sein mag, zu versuchen, Differenzen zu übertünchen oder Streitfragen aus dem Wege zu gehen – ganz abgesehen davon, den Kern des europäischen Projekts zu zerstören –, dadurch wird es nicht einfacher. Die einzige Möglichkeit, dahin zu gelangen, wo Europa hinmuss, ist ein realistischer und stufenweiser Ansatz zum Aufbau von mehr Einheit. Für Europa sollte das die wichtigste Lektion der MSK sein.
Aus dem Englischen von Eva Göllner.