Der 3. November 2020 – der Tag der Entscheidung für den Westen
BERLIN – Das Jahr ist noch jung- und dennoch ist bereits heute seine Bedeutung abzusehen. Es wird ein Jahr der Weichenstellung, zumindest aus westlicher Sicht. Denn am 3. November 2020 findet die wichtigste Entscheidung des Jahres statt, die, soviel lässt sich bereits heute sagen, wahrhaft historische Bedeutung haben wird. An diesem ersten Dienstag im November wählen die USA ihren Präsidenten.
Amerikanische Präsidentschaftswahlen waren und sind immer wichtig, weil dabei über die Führung der mächtigsten Nation für die Dauer von vier Jahren entschieden wird. Diesmal lautet aber die konkrete Frage, ob der amtierende Amtsinhaber, Donald Trump, wiedergewählt wird oder nicht, er also vier weitere Jahre erhalten wird, um die von Amerika seit den vierziger Jahren erfolgreich geschaffene liberale Weltordnung und deren Allianzen zugunsten eines engstirnigen Nationalismus weiter zu zerstören und am Ende gar die Demokratie und die Gewaltenteilung in den USA selbst zu gefährden. Ob er also das Mandat für vier weitere Jahre der Systemveränderung erhalten wird oder nicht.
Es wird einen großen Unterschied ausmachen, ob Trump vier oder am Ende acht Jahre im Amt bleiben wird, und nach den Amerikanern werden vor allem die Europäer diesen Unterschied zu spüren bekommen, da sie sowohl wirtschaftlich wie auch sicherheitspolitisch sehr stark, ja, fast "existentiell" von den USA abhängig sind.
Diese Abhängigkeit ist das Ergebnis der Geschichte des 20. Jahrhunderts gewesen mit seinen beiden heißen Weltkriegen und einem langen kalten Krieg. Diese historischen gewachsenen Realitäten werden sich nicht leichthin und innerhalb kurzer Zeit revidieren lassen. Der Schritt in die Selbstständigkeit, in die eigene Souveränität hinein, den Trump Europa aufzwingt, wird für die EU alles andere als einfach und schon gar nicht billig sein.
Bei der ersten Wahl Donald Trumps zum amerikanischen Präsidenten waren alle, innerhalb und außerhalb der USA, überrascht. Vier Jahre später weiß man noch nicht, ob er wiedergewählt wird, aber die Möglichkeit ist nicht auszuschließen. Einen Überraschungseffekt wird also niemand mehr für sich reklamieren können. Und auch nicht, dass man nicht wüsste, woran man mit Donald Trump ist. Er mag mit der Wahrheit auf dem Kriegsfuß stehen, aber seine Wahlversprechen setzt er um.
Es werden aber nicht nur vier weitere Jahre desselben zu erwarten sein, sondern es wird im Falle seiner Wiederwahl wohl noch radikaler und daher schlimmer zugehen. Es ist zu vermuten, dass ein wiedergewählter Donald Trump sich dann endgültig für den "Auserwählten" halten wird, der den heftigsten Widerständen und, so seine vermutbare eigene Meinung, den hinterhältigsten Angriffen von Opposition, altem Establishment, Medien und "tiefem Staat" erfolgreich widerstanden hat. Wer soll ihn dann noch aufhalten? Wer oder was ihn noch mäßigen?
Subscribe to Project Syndicate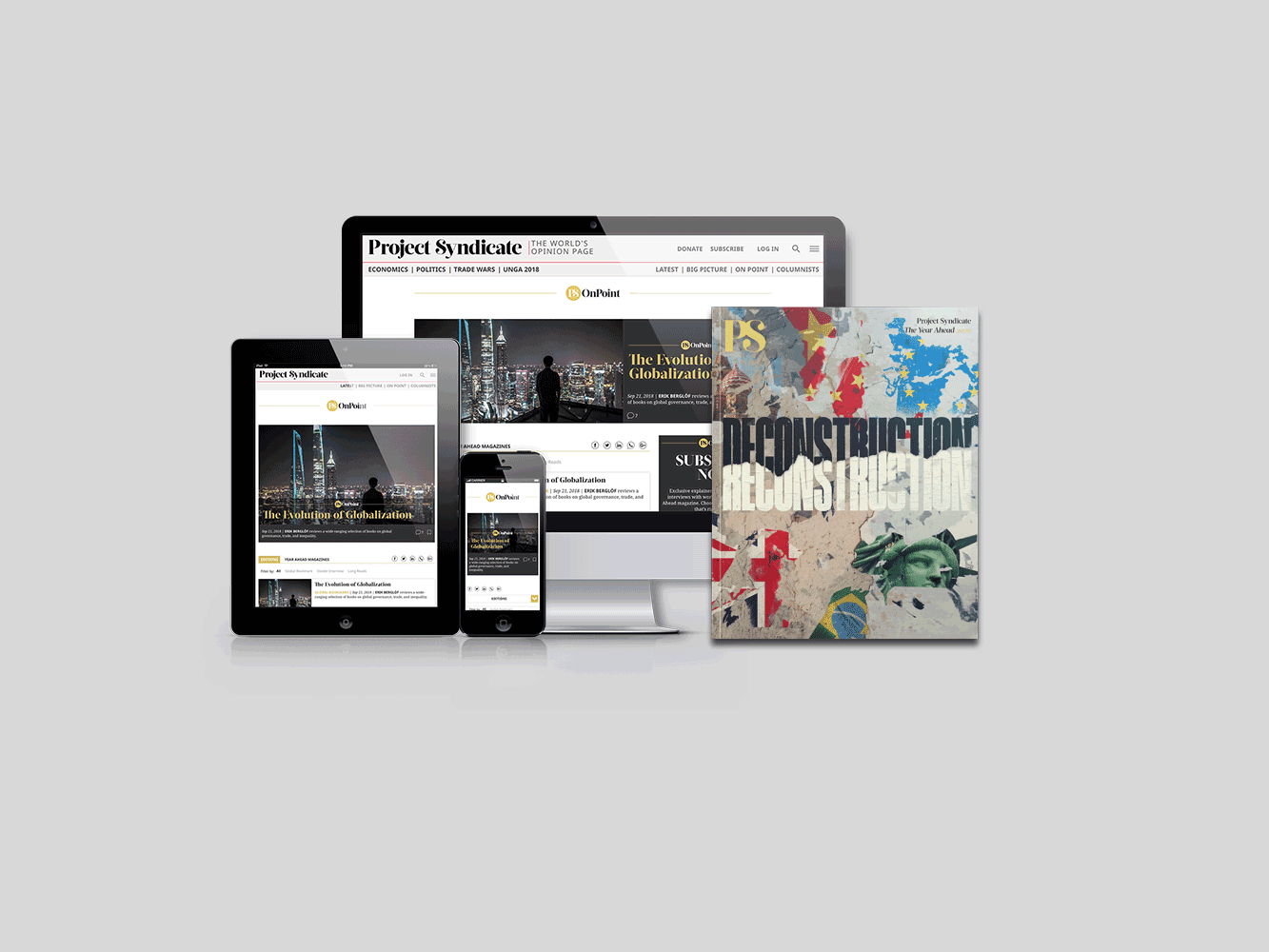 Subscribe to Project Syndicate
Enjoy unlimited access to the ideas and opinions of the world's leading thinkers, including weekly long reads, book reviews, and interviews; The Year Ahead annual print magazine; the complete PS archive; and more – all for less than $2 a week.
Angesichts dieser absehbaren Lawine namens "Trump, second term!" flüchten sich die Europäer in ihr gleichermaßen beliebtes wie frustrierendes Alltagsgeschäft der EU. Sie verhandeln gegenwärtig über die Verteilung der Gelder aus dem siebenjährigen EU-Finanzrahmen, der etwa eine Billion Euro umfasst. Zwischen finanziellen Brexitfolgen, Regionalfonds und gemeinsamer Agrarpolitik tobt die Verteilungsschlacht, Trump und die Folgen spielen dabei nur eine vernachlässigbare Rolle und eine Strategie zum Erreichen europäischer Souveränität, die stark von ihrer Finanzierung abhängig sein wird, ebenfalls.
Im Europäischen Rat regieren auf allen Seiten die kurzfristigen nationalen Interessen, als wenn sich mit Trump die Welt nicht grundsätzlich verändert hätte. Trump, der Aufstieg Chinas, ein auf militärische Stärke und Aufrüstung setzendes Russland und die Digitalisierung erzwängen eigentlich völlig andere Prioritäten. Stattdessen dominiert in Brüssel und den nationalen Hauptstädten Europas Gefeilsche (das wesentlich auch immer zur EU gehört!), statt Strategie und historischer Verantwortung.
Dabei zeichnet sich bereits heute ab, was die wichtigste Frage für die Europäer im Falle einer Wiederwahl Trumps sein wird: Kann und wird die NATO eine zweite Amtszeit Trumps überleben? Es wird die Schicksalsfrage für den Westen und Europa sein. Wenn nicht, dann steht Europa vor einer gewaltigen Sicherheitskrise, und der nordatlantische Raum ebenso. Ohne die transatlantische Klammer NATO wird man vom Westen dann kaum noch sprechen können. Und Europa nicht von seiner eigenen Sicherheit.
Auch in Brüssel, vor allem im Europäischen Rat der Staats- und Regierungschefs, sollte man zur Kenntnis nehmen, dass die Weichen für das 21. Jahrhundert jetzt, in der Gegenwart, gestellt werden, es geht nicht nur um die Wahlchancen bei den nächsten nationalen Wahlen.
Bei allem Respekt vor der Bedeutung der Regionalfonds und der gemeinsamen Agrarpolitik, auch bei allem Verständnis für die sparsamen Nettozahler und die von den EU-Zahlungen abhängigen ärmeren Empfängerländern, es geht heutzutage um Wichtigeres, nämlich um die europäische Sicherheit, um die Souveränität Europas unter völlig veränderten und sich dramatisch schnell verändernden geopolitischen und technologischen Bedingungen. Und damit vor allem um die Frage, ob Europa eigenständiger Akteur bleibt, oder besser im gemeinsamen Interesse aller Europäer zu einem Solchen wird. Demokratisch, souverän und selbstbestimmt.