Die EU braucht ein Brexit-Endspiel
PARIS – Nach 31 Monaten, in denen Großbritannien und die Europäische Union um den Brexit gerungen haben, weiß in Wahrheit keine Seite, was sie will. 
Am deutlichsten sichtbar ist diese traurige Realität im Falle Großbritanniens, wo die regierende konservative Partei hinsichtlich der tatsächlichen Bedeutung des Brexit-Referendums vom Juni 2016  beständig mit sich selbst im Clinch liegt. Nach einer Reihe strategischer Pannen und taktischer Fehler durch Premierministerin Theresa May erreichten die internen Machtkämpfe der Tories Mitte Januar ihren Höhepunkt, als das Parlament den ausgehandelten Austrittsvertrag ablehnte. Damit wurde deutlich, dass es May an Unterstützung in ihrer eigenen Partei für einen realistischen Kompromiss mit der EU fehlt.
Gleichzeitig lehnt eine Mehrheit der Parlamentsabgeordneten und der britischen Wähler den von den kompromisslosen Euroskeptikern unter den Konservativen befürworteten ungeregelten Ausstieg ab. Im Rahmen dieses Szenarios würde Großbritannien gegen rechtsverbindliche internationale Verpflichtungen verstoßen und das Abkommen von 1998 gefährden, mit dem die konfessionellen Konflikte in Nordirland beigelegt wurden. Überdies würde eine derartige Entwicklung unmittelbare wirtschaftliche Kosten und den Verlust von Arbeitsplätzen mit sich bringen.  Zu einer Zeit, da US-Präsident Donald Trump den Niedergang der Nachkriegsweltordnung beschleunigt, ist es ehrlich gesagt bemerkenswert, dass die britischen Austrittsbefürworter immer noch an die Fantasie eines florierenden, Freihandel treibenden, globalen Britanniens glauben. Aber so ist es nun einmal.
Die EU befindet sich in ein einer ganz anderen Situation. Seit dem Referendum haben die 27 anderen Mitgliedsstaaten tadellose Einigkeit an den Tag gelegt; ihr Brexit-Chefverhandler, Michel Barnier, hat sein Mandat geschickt umgesetzt. Die EU lehnte die Forderung Großbritanniens nach einer Entflechtung des Binnenmarktes sowie jedes Szenario, das zu neuen Zollkontrollen auf irischem Boden führen könnte, entschieden ab. Während der gesamten Verhandlungen hätte der Kontrast zwischen dem amateurhaften Durchwursteln Großbritanniens und der Klarheit und Beständigkeit der EU nicht stärker sein können.
Dennoch legte die EU einen bemerkenswerten Mangel an strategischer Perspektive an den Tag und konzentrierte sich anstatt auf Ergebnisse gänzlich auf Regeln und Prozesse. Freilich ist ihre unerschütterliche Ablehnung einer A-la-carte-Lösung Ausdruck der Angst, ein günstiger Deal für Großbritannien könnte die Regierungen anderer euroskeptischer Mitgliedsländer auf den Geschmack bringen. Doch das ist keine Entschuldigung für das Versäumnis, eine Strategie für die Gestaltung der künftigen Beziehung zwischen Großbritannien und der EU zu entwickeln.
Obwohl Großbritannien eine bedeutende europäische Macht mit einzigartigen globalen Perspektiven, finanziellen Einfluss und Kapazitäten im Sicherheitsbereich ist, hat die EU sehr wenig unternommen, um mit der britischen Zivilgesellschaft, den Wählern und Unternehmen in Kontakt zu treten oder produktive Gespräche über die Zukunft zu unterstützen. Das ist insbesondere zu einer Zeit bedauerlich, da Europa, dem Großbritannien noch immer angehört, vor immer stärkeren wirtschaftlichen und geopolitischen Bedrohungen steht.
Subscribe now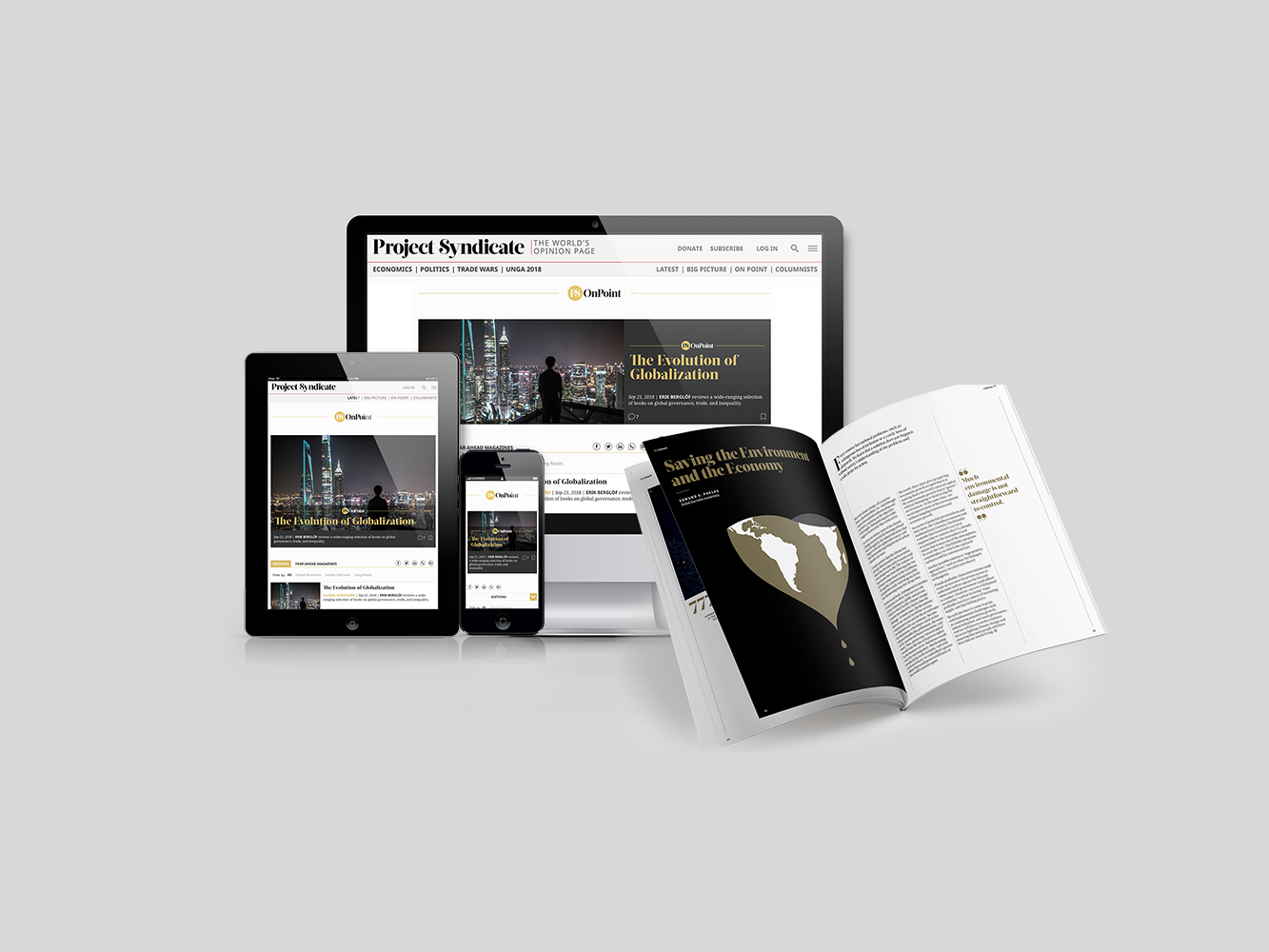 Subscribe now
Get unlimited access to OnPoint, the Big Picture, and the entire PS archive of more than 14,000 commentaries, plus our annual magazine, for less than $2 a week.
Diese Woche versuchten Abgeordnete der Konservativen und auch der Labour Party eine Allianz zu schmieden und die Kontrolle des Brexit-Prozesses von May zu übernehmen. In diesem Fall scheiterten die Bemühungen und der Premierministerin gelang es, ihr Lager um sich zu scharen und sich mit einem Mandat für die Neuverhandlung nicht näher definierter "alternativer Arrangements" für die irische Frage ausstatten zu lassen. 
Die unmittelbare und legitime Reaktion der EU bestand darin, eine Wiederaufnahme der im November abgeschlossenen Verhandlungen zu verweigern. Doch die EU sollte nicht so tun, als hätte sie mit dem Brexit nichts zu tun. Es ist zwar nicht die Aufgabe der EU für die Briten Entscheidungen zu treffen, aber sie kann sich hinsichtlich der Auswahlmöglichkeiten, die den Briten angeboten werden, nicht aus der Verantwortung stehlen. Die EU muss nun de facto entscheiden, ob man das Vereinigte Königreich zwischen dem bestehenden Abkommen und keinem Abkommen, zwischen einem ungeregelten Austritt und einem zweiten Referendum oder zwischen keinem und einem überarbeiteten Austrittsvertrag wählen lässt. Welche Position die EU einnimmt, wird über die Ja-Nein-Frage entscheiden, die die Briten letztlich zu beantworten haben werden.
Die erste Option der EU ist, ihrer Linie treu zu bleiben. Auf dem Kontinent sind viele Menschen der Meinung, dass es jetzt reicht und es für die Briten an der Zeit ist, ihr Schicksal in die Hand zu nehmen. Nimmt die EU allerdings diese kompromisslose Haltung ein, wird sie damit May schwächen, den Brexit-Hardlinern Auftrieb verleihen, den Spielraum für parlamentarische Initiativen beschränken und es wird keine Zeit für ein zweites Referendum geben. Das Vereinigte Königreich müsste sich zwischen einem ungeregelten Austritt und dem vor ein paar Wochen abgelehnten Deal entscheiden. Diese rigorose Strategie könnte aufgehen, würde aber auch das Risiko eines erbitterten ungeregelten Brexits erhöhen.
Die zweite Möglichkeit der EU besteht darin, in der Sache hart zu bleiben, aber eine Verlängerung der am 29. März endenden Frist zu akzeptieren, wenn Großbritannien ein weiteres Referendum abhält. Damit würde man die Position jener Briten stärken, die eine "Volksabstimmung" über die Optionen des Landes fordern. Die Variante für einen "Verbleib" würde an Zugkraft gewinnen und ein ungeregelter Austritt weniger wahrscheinlich werden.
Die dritte Option der EU besteht darin, Offenheit für einen geringfügig veränderten Deal zu bekunden. Man könnte entweder ein Zugeständnis machen, das May helfen würde im Hinblick auf die irische Frage ihr Gesicht zu wahren oder man könnte sich an die für einen weichen Brexit eintretende potenzielle Allianz aus Labour- und Tory-Abgeordneten wenden, indem man eine kurze Verlängerung der im März ablaufenden Frist akzeptiert, damit substanzielle Gespräche über ein zukünftiges Partnerschaftsabkommen geführt werden können. Beide Optionen würden ein zweites Referendum ausschließen und ein überarbeitetes Abkommen könnte sich gegenüber einem "harten" Brexit durchsetzen.
Für Europäer, die angesichts der Demagogie und der von der Kampagne der Austrittsbefürworter verbreiteten offensichtlichen Lügen schockiert waren, ist es verlockend, die Voraussetzungen für ein weiteres Referendum zu schaffen (die zweite Option). Das Problem dabei ist nicht, dass die Austrittsbefürworter erneut gewinnen könnten, sondern dass sie so knapp verlieren, dass das Vereinigte Königreich nicht in der Lage wäre, mit den EU-Partnern in sinnvoller Weise zusammenzuarbeiten. Eine derartige Entwicklung würde die Gefahr einer tiefergehenden Lähmung Europas zu einer Zeit verstärken, da es sich selbst neu erfinden muss. 
Angesichts der offenkundigen wirtschaftlichen und politischen Kosten der ersten Option scheint die dritte Option nun der beste Weg zu sein. Die EU sollte an ihren Grundsätzen festhalten, aber auch eine Abschwächung des ausgehandelten Vertrags oder eine kurze Fristverlängerung für Gespräche über die Zukunft in Erwägung ziehen, wenn dafür parteiübergreifendes Interesse besteht.
Eine Partnerschaft zwischen Großbritannien und der EU würde die über Jahrzehnte aufgebauten engen wirtschaftlichen, politischen und sicherheitsbezogenen Verbindungen bewahren. Und die EU wäre besser in der Lage mit den Herausforderungen ihrer eigenen differenzierten Integration umzugehen. Vielleicht werden in zehn oder zwanzig Jahren in der EU und Großbritannien umfassende Reformen umgesetzt worden sein, die beiden Seiten einen neuen Weg in Richtung Konvergenz ermöglichen. Der Brexit sollte in einer Art erfolgen, die eine derartige Zukunft ermöglicht.
Aus dem Englischen von Helga Klinger-Groier