Europa braucht einen neuen finanzpolitischen Handlungsrahmen
PARIS – Mitte der 1980er-Jahre hatten nur sieben Länder Fiskalregeln. Im Jahr 2015, als der Internationale Währungsfonds zuletzt zählte, waren es 96. Die meisten hatten Bestimmungen zur Begrenzung der Staatsverschuldung, des Haushaltsdefizits oder von beidem, und einige hatten zusätzliche Regeln für öffentliche Ausgaben.
Diese Einschränkung des fiskalischen Ermessensspielraums war zum Teil eine Reaktion auf traumatische Erfahrungen wie das "verlorene Jahrzehnt" Lateinamerikas nach den Schuldenkrisen der 1980er-Jahre, die schmerzhafte Anpassung der Länder, die Anfang der 1990er-Jahre von steigenden Zinsen überrascht wurden und die europäische Staatsschuldenkrise von 2010-12. Die Einführung von Fiskalregeln war allerdings auch dem wachsenden Misstrauen gegenüber fiskalischem Aktivismus geschuldet.
Im Jahr 2000 erfasste John B. Taylor von der Stanford University den Geist der Zeit, als er schrieb, dass es "am besten ist, die Fiskalpolitik ihre wichtigste antizyklische Wirkung über die automatischen Stabilisatoren entfalten zu lassen" – mit anderen Worten, sie auf Autopilot zu schalten. Konsens war damals, dass die Geldpolitik ein beweglicheres und effektiveres politisches Instrument ist, weil die wichtigsten Entscheidungen von einer unabhängigen Zentralbank getroffen und mit einem Federstrich umgesetzt werden.
Nirgendwo sind Fiskalregeln so detailliert und präskriptiv wie in der Europäischen Union, deren haushaltspolitisches Regelwerk fast 100 Seiten umfasst. Dafür gibt es gute Gründe. Weil die Euro-Mitglieder eine gemeinsame Währung haben, können sie ihre individuellen Schuldenlasten nicht weginflationieren. Wie Paul De Grauwe von der London School of Economics beobachtet hat, befinden sie sich in einer ähnlichen Situation wie Länder, die sich in einer Fremdwährung verschulden. Eine übermäßige Staatsverschuldung führt jedoch dazu, dass Partnerländer unter Druck geraten, zu Hilfe zu kommen, um die gravierenden finanziellen Folgen einer Umschuldung oder, schlimmer noch, einen Austritt aus der Währungsunion zu vermeiden. So geschehen in den 2010er-Jahren mit Griechenland. Es gibt also ein reales Motiv, fiskalische Verantwortungslosigkeit zu verhindern.
Es gibt aber auch schlechte Gründe dafür, haushaltspolitisches Verhalten derart umfassend zu regeln. Deutschland ist traditionell misstrauisch gegenüber der Stabilisierungspolitik (wenn auch nicht als Reaktion auf die Finanzkrise 2008 oder die Pandemie), und kleinere nordeuropäische Länder sind sogar noch argwöhnischer. Außerdem fehlt es den Mitgliedsstaaten an gegenseitigem Vertrauen. Infolgedessen haben sie ein so komplexes Regelwerk aufgetürmt, dass man in Brüssel scherzt, es gäbe nur eine Person in der gesamten Europäischen Kommission, die tatsächlich alles versteht.
Doch die Zeiten haben sich geändert. Seit nunmehr zwölf Jahren liegen die Zinsen nahe Null, was die Behauptungen über die Wirksamkeit der Geldpolitik ad absurdum führt. Anstatt die Zentralbank vor fiskalischen Unwägbarkeiten zu schützen, besteht die Priorität in einem solchen Umfeld darin, sicherzustellen, dass Geld- und Fiskalpolitik im Tandem funktionieren. Isabel Schnabel, Mitglied des Direktoriums der Europäischen Zentralbank, hat ein Tabu gebrochen und betont, dass die heutige Situation eine unkonventionelle Geldpolitik und eine unkonventionelle Fiskalpolitik erfordert, die sich gegenseitig ergänzen sollten, um die Wirtschaft vor großen Abschwüngen zu schützen. Wie in einem kürzlich erschienenen Geneva Report dargelegt, ist das längst vergessene Konzept des Policy-Mix wieder in Mode.
Subscribe to Project Syndicate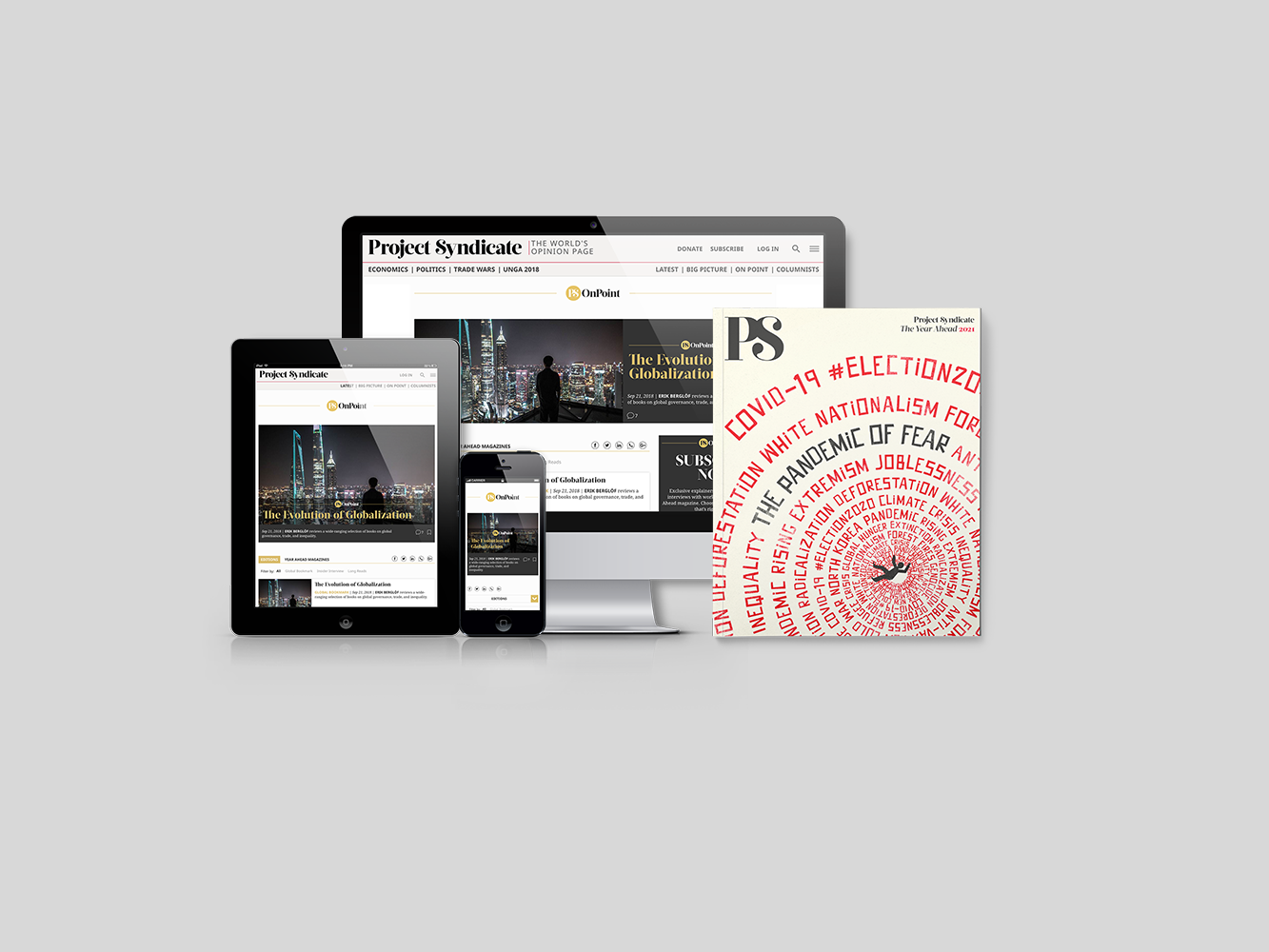 Subscribe to Project Syndicate
Enjoy unlimited access to the ideas and opinions of the world's leading thinkers, including weekly long reads, book reviews, topical collections, and interviews; The Year Ahead annual print magazine; the complete PS archive; and more – for less than $9 a month.
Parallel dazu haben Bedenken im Hinblick auf die Zahlungsfähigkeit der Staaten stark abgenommen. Wie der ehemalige IWF-Chefvolkswirt Olivier Blanchardanmerkt, gibt es keine nicht tragbare Schuldenlast, solange der Zinssatz unter der Wachstumsrate bleibt. In vielen Ländern ist dies nun schon seit einem Jahrzehnt der Fall; und selbst in den USA, wo die Zinsen für Staatsanleihen unlängst gestiegen sind, bleibt die Spanne groß.
Die Regierung von US-Präsident Joe Biden hat die Auswirkungen dieser Schuldendynamik erkannt und keine Zeit verloren, ihre fiskalpolitische Agenda zu verfolgen. Während das US-Konjunkturprogramm nach 2008 zu zaghaft war, beläuft sich das kürzlich verabschiedete Fiskalpaket in Höhe von gewaltigen 1,9 Billionen Dollar, das zu den im letzten Jahr unter Donald Trump beschlossenen Ausgaben in Billionenhöhe hinzukommt, auf zu viel des Guten.
Die Frage ist nun, was Europa tun wird. Im März 2020 machte es klugerweise von einer Ausweichklausel in seinem fiskalischen Regelwerk Gebrauch, die es den Mitgliedsstaaten erlaubt, "vorübergehend von den üblichen Haushaltsanforderungen abzuweichen". Diese Ausnahmeregelung wird voraussichtlich 2022 in Kraft bleiben, aber, sofern es die Pandemie zulässt, im Jahr 2023 enden. In der Zwischenzeit wird sich die Debatte darauf konzentrieren, ob die Regeln reformiert werden sollten, bevor sie wieder in Kraft gesetzt werden, und – noch grundsätzlicher – ob fiskalpolitische Initiativen als Problem oder als Lösung betrachtet werden sollten.
Die Argumente für eine umfassende Reform waren schon vor der Pandemie überzeugend und sind inzwischen überwältigend. Die aktuellen Regeln wurden für eine Welt geschaffen, die nicht mehr existiert. Sie sind undurchsichtig, übermäßig restriktiv und hängen von numerischen Zielen ab, die in einem Niedrigzinsumfeld keinen Sinn ergeben. Außerdem sind sie nicht mehr glaubwürdig. Mit einer Schuldenquote von annähernd 160% in diesem Jahr ist kaum zu erwarten, dass Italien die EU-Verschuldungsgrenze von 60% des BIP erreichen wird.
Machen wir uns nichts vor: In einer Währungsunion ist fiskalische Verantwortung entscheidend. Die Frage ist nicht, ob den Mitgliedsstaaten hohe Standards vorgegeben werden sollten, die sie zu erfüllen haben, sondern wie dies geschehen soll. Reformer wollen die Verpflichtung zur fiskalischen Disziplin beibehalten, aber den Maßstab für die Beurteilung des tatsächlichen Verhaltens ändern. Andere, die befürchten, dass diese Verpflichtung eine Neuverhandlung nicht überleben würde, wollen es lieber bei kosmetischen Korrekturen belassen. Aber das Festhalten an einer überholten Regelung aus Angst, keine bessere definieren zu können, wird das Vertrauen in die Regeln insgesamt untergraben.
Wenn es eine gute Seite an der Covid-19-Krise gibt, dann ist es der Umstand, dass wir gezwungen waren, Regeln zu überdenken, die aus Trägheit überlebt haben. Abgesehen von der radikalen Reform, die einige befürworteten, ist es möglich, einen finanzpolitischen Handlungsrahmen zu gestalten, der mehr Raum für fiskalpolitisches Ermessen schafft, aber die wesentliche Verpflichtung zur Verantwortung bewahrt. Der erste Schritt besteht darin, zu akzeptieren, dass nicht von allen Ländern erwartet werden kann, das gleiche Ziel zu erreichen. Der zweite Schritt besteht darin, anzuerkennen, dass fiskalische Disziplin auf Prinzipien beruhen und durch gut konzipierte Institutionen untermauert werden muss, statt durch starre numerische Ziele.
Die EU hat sich nicht gescheut, ohne Tabus auf die aktuelle Krise zu reagieren. Indem sie eine umfassende Reform ihres finanzpolitischen Regelwerks in Angriff nimmt, würde sie signalisieren, dass sie stark genug ist, Wirtschaftspolitik für die Zeit nach der Pandemie neu zu denken. Sie sollte die Diskussion jetzt beginnen, mit dem Ziel, sich innerhalb eines Jahres auf einen Entwurf zu einigen.
Aus dem Englischen von Sandra Pontow