La Chine et le Consensus de Washington
EDIMBOURG – En 2013, nombre d'économistes occidentaux ont jugé positivement l'engagement du président chinois Xinping en faveur du "rôle décisif" qu'allait avoir l'économie de marché en Chine. Mais au cours des quatre dernières années leur espoir en ce sens a été balayé, car l'influence de l'Etat sur l'économie s'est faite plus pesante. Pourtant la croissance de l'économie chinoise reste forte et elle va sans doute le rester. Dans ce cas, les idées admises de longue date sur l'équilibre optimal entre intervention de l'Etat et économie de marché seront à revoir.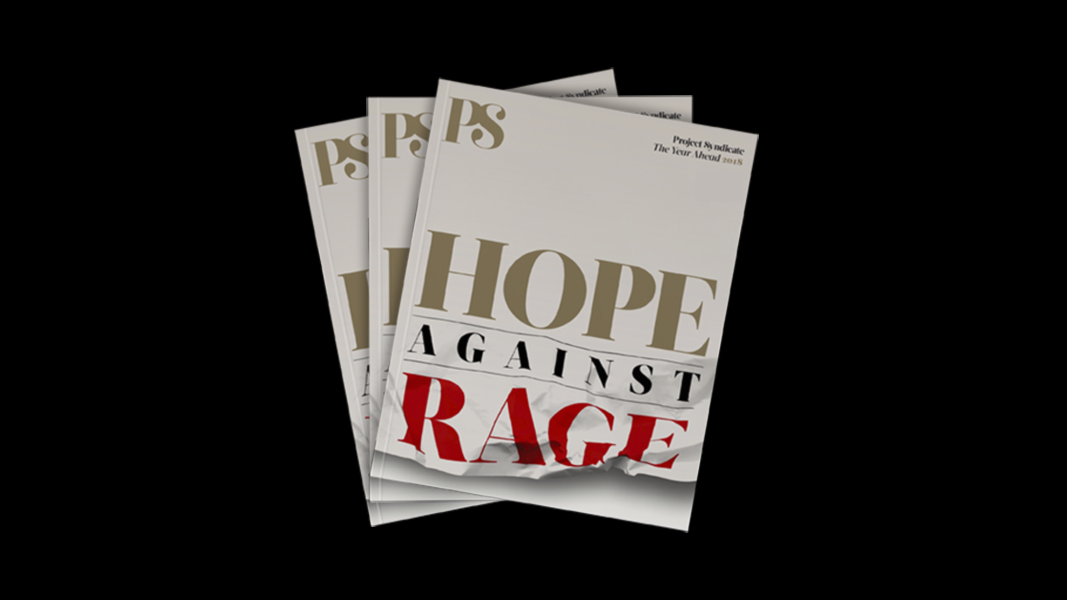 The Year Ahead 2018
The world's leading thinkers and policymakers examine what's come apart in the past year, and anticipate what will define the year ahead.
La crise financière de 2008 a ébranlé la confiance dans un marché financier non régulé. Mais beaucoup de commentaires sur l'économie chinoise reposent encore sur les idées néolibérales du "Consensus de Washington". Une libéralisation plus poussée des marchés financiers mettrait davantage d'ordre dans l'économie réelle et conduirait à une meilleure répartition des capitaux. La libéralisation des comptes de capitaux éviterait les gaspillages dus aux investissements dans des projets nationaux à faible rendement. Et la limitation du rôle des entreprises nationalisées stimulerait l'innovation et le dynamisme économique.
Pourtant Joe Studwell de la revue China Economic Quarterly montre dans son livre How Asia Works [Comment fonctionne l'Asie] que l'origine de la réussite de la Corée du Sud et du Japon tient en grande partie au fait qu'ils n'ont pas suivi cette voie. Ils ont contrôlé de près la finance, orienté le crédit vers des objectifs industriels précis, érigé des barrières douanières pour protéger leurs industries tout en les poussant à adopter une posture offensive sur les marchés étrangers. 
La Chine essaye de suivre la même voie pour vite rattraper son retard économique. Mais c'est bien plus difficile pour elle, car ne serait-ce qu'en raison de sa taille, elle doit abandonner un modèle économique reposant initialement sur les exportations. Elle doit pour cela trouver un bon équilibre entre les forces du marché et l'intervention de l'Etat.
Le secteur privé joue un rôle crucial. La capacité d'innovation de grandes entreprises telles que Tencent ou Alibaba est irremplaçable. Les pays avancés copient maintenant les applications chinoises destinées à la mise à disposition de vélos. Et les entreprises privées sont dans le peloton de tête en ce qui concerne les énergies renouvelables et les voitures électriques. Pour partie, l'économie chinoise est une économie capitaliste trépidante.
Néanmoins les gros investissements de l'Etat en matière d'infrastructure (par exemple la construction de ligne de métro et de trains à grande vitesse qui constituent un succès) sont à la base de la croissance d'une économie moderne, avec des villes en plein développement, bien reliées les unes aux autres. Et les dirigeants chinois veulent améliorer la technologie des industries chinoises et augmenter leur valeur ajoutée avec le programme "Made in China 2025".
Les secteurs prioritaires sont bien identifiés (notamment la robotique, l'aérospatiale, les véhicules électriques et les équipements médicaux sophistiqués) ; de même, les augmentations de budget en recherche et développement sont bien ciblées en direction d'un certain nombre de grandes entreprises nationalisées et d'entreprises privées. Cela ressemble fortement à la combinaison d'intervention de l'Etat et de libéralisme mise en œuvre à bon escient par la Corée du Sud lors de son boom économique dans les années 1960 et 1970. On  est donc très loin des idées du Consensus de Washington.
Après 2009, financée par les banques publiques, la hausse des investissements a eu un rôle macroéconomique crucial, car elle a permis de maintenir la croissance malgré le ralentissement mondial lié à la crise. Etant seulement partiellement dérégulé, le secteur financier a orienté l'épargne vers des investissements à des taux inférieurs à ceux du marché, ce qui a facilité les gros investissements nécessaires à une croissance rapide et durable.
L'avantage de cette combinaison comporte évidemment des risques. Si le secteur public venait à prendre trop de place, le secteur privé serait étouffé et le programme "Made in China" pourrait conduire à des investissements improductifs.
Or, encouragés par le crédit, les investissements immobiliers ont conduit à la construction à grande échelle de bâtiments qui restent inoccupés dans des villes de deuxième et troisième ordre. Les achats immobiliers servent à spéculer plutôt qu'à répondre à un manque de logements. Le contrôle serré du secteur bancaire a engendré une croissance spectaculaire de l'activité des banques de l'ombre, avec la création de structures et d'instruments financiers qui ressemblent étrangement à ceux qui sont en grande partie à l'origine de la crise de 2008. Et le gonflement marqué de la dette (hors secteur financier elle est passée de 1,5 fois à 2,5 fois le PIB entre 2008 et aujourd'hui) pourrait conduire à ce contre quoi le gouverneur de la Banque populaire de Chine, Zhou Xiaochuan, avait mis en garde : un "moment Minsky" - autrement dit la disparition de la confiance des investisseurs qui vendent en masse leurs actifs dont le prix s'écroule, entraînant l'assèchement des liquidités.
Compte tenu de ces risques, toute prévision sur la croissance à long terme est sujette à caution et un ralentissement à court terme est toujours possible. Le 19° Congrès national du parti communiste se terminant bientôt, les autorités chinoises pourraient provoquer délibérément un ralentissement pour que la dette ne continue pas à se creuser. Un tel ralentissement aurait un effet dépressif sur l'économie mondiale.
Il ne faut cependant pas mésestimer les outils dont dispose la Chine pour gérer un tel ralentissement dans le cadre d'une "économie de marché socialiste" et maintenir un taux de croissance élevé à moyen terme. Deux éléments jouent en ce sens : d'une part une grande partie de la dette est portée par des entreprises publiques débitrices à l'égard de banques publiques, d'autre part le système bancaire chinois n'entretient que peu de liens avec les systèmes bancaires étrangers. Il devrait donc être possible de restructurer les mauvaises dettes sans provoquer une crise qui se renforce d'elle-même. Et compte tenu de l'évolution démographique du pays, le marché du travail va se tendre, entraînant une hausse rapide des salaires. La demande intérieure va alors augmenter, suscitant une croissance forte sans recours excessif au crédit.
Ainsi, quelle que soient les perspectives à court terme, il est tout à fait possible que la Chine continue sa progression vers le stade de pays à revenu moyen ou élevé grâce à un modèle de développement combinant intervention de l'Etat et économie libérale. Si au cours des 10 ou 20 dernières années la Chine s'était entièrement alignée derrière le Consensus de Washington, sa croissance aurait été beaucoup plus faible. Les théories économiques sur lesquelles reposaient ce Consensus devraient intégrer cette réalité et tenir compte de la prolongation probable du succès chinois.
Traduit de l'anglais par Patrice Horovitz