¿Se estabilizó por fin el crecimiento económico de China?
BEIJING – La economía china lleva más o menos diez años en una especie de montaña rusa. Ahora que empezó 2018, ¿le espera al país un nuevo ascenso, una caída empinada o algo intermedio?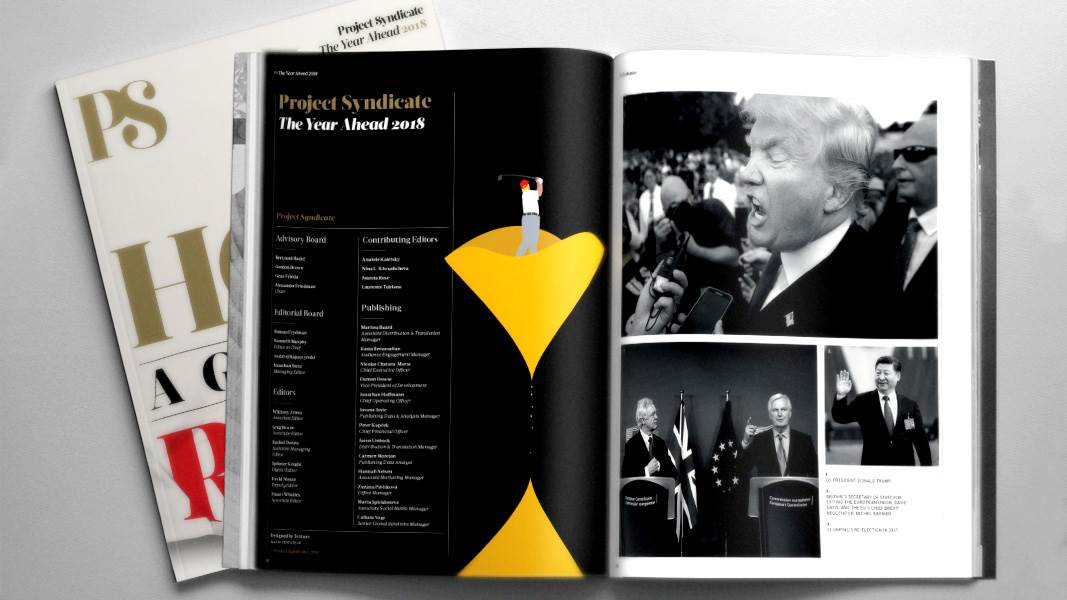 The Year Ahead 2018
The world's leading thinkers and policymakers examine what's come apart in the past year, and anticipate what will define the year ahead.
Antes de la crisis económica global de la década anterior, la economía china crecía a un ritmo vertiginoso; pero el estallido de la crisis trajo consigo una reducción bastante marcada de la tasa de crecimiento. Un paquete de estímulo de 4 billones de dólares logró detener la caída en poco tiempo y reanudar el ascenso, hasta llegar a un 12,2% interanual de crecimiento en el primer trimestre de 2010.
Pero poco después, un endurecimiento monetario volvió a poner el crecimiento económico en una senda descendente, lo que motivó al gobierno a flexibilizar la política e introducir minipaquetes de estímulo a fines de 2011 y comienzos de 2012. Esto produjo una recuperación efímera y moderada; al poco tiempo, el crecimiento económico empezó a disminuir de nuevo, aunque en forma no tan marcada.
Finalmente, en 2016, el crecimiento comenzó a estabilizarse otra vez, con una tasa anual que llegó al 6,7% durante tres trimestres consecutivos. Las últimas cifras muestran que la economía china creció 6,8% en el tercer trimestre de 2017, lo que llevó a muchos economistas a formular pronósticos bastante optimistas para el año entrante.
Pese a numerosas vulnerabilidades preocupantes que acechan al sistema financiero de China, muchos economistas chinos creen que el país entró por fin a un período de crecimiento estable de alrededor del 6,5% anual, compatible con el potencial. El Fondo Monetario Internacional expresó la misma idea en su último informe Perspectivas de la economía mundial, que predice un 6,8% de crecimiento para 2017 y 6,5% para 2018.
Yo no soy tan optimista. Hace décadas que el principal motor del crecimiento es la inversión en activos fijos, que equivale a casi la mitad de la demanda total. La proporción que representa dentro del PIB de China hoy supera el 50%, mientras que la inversión calculada como formación de capital residual supone más o menos el 45% del PIB.
Pero desde fines de 2013 el crecimiento de la inversión viene en bajada, tendencia que se aceleró en la segunda mitad de 2017. En los primeros tres trimestres de 2017, la inversión en activos fijos creció a un ritmo promedio de apenas 2,19% interanual; de hecho el crecimiento fue negativo (-1,1%) en el tercer trimestre. Hace décadas que China no veía semejante caída.
Desde la perspectiva del ajuste estructural, que la dependencia china de la inversión en activos fijos se reduzca debería verse como un logro. Pero como destacó en 2016 Martin Wolf, del Financial Times, a China le será muy difícil sostener la demanda agregada con menos crecimiento de la inversión.
Es poco probable que el consumo de los hogares cubra la demanda faltante. En los primeros tres trimestres de 2017, el consumo privado creció un 5,9% en cifras reales (ajustadas por inflación), lo que supone una caída de 0,5 puntos porcentuales respecto de 2016. Es difícil imaginar un repentino aumento del consumo de los hogares en 2018.
Tampoco parece que la disminución de las inversiones vaya a compensarse con un crecimiento de las exportaciones netas; en particular porque el presidente estadounidense Donald Trump sigue mostrando inclinaciones proteccionistas en relación con China. Y aunque es probable que el gobierno chino siga usando la política fiscal para apuntalar la demanda, hasta qué punto podrá hacerlo se verá limitado por factores como el endeudamiento de los gobiernos locales y la consiguiente aplicación de restricciones a los "instrumentos financieros locales". Es probable que el gobierno no permita que el déficit presupuestario supere el 3% del PIB.
La inversión china en activos fijos abarca tres grandes categorías: industria, infraestructura y bienes raíces. La inversión industrial supone la mayor parte (30%), pero viene cayendo en forma sostenida desde 2012, lo que debilita el crecimiento de la inversión en general. Y es improbable que repunte, de no mediar grandes cambios tecnológicos o institucionales en China.
En cuanto a la inversión en bienes raíces, en los últimos veinte años ha seguido una pauta cíclica, con una fuerte recuperación a principios de 2016 antes de volver a caer en 2017. Dado que el gobierno está decidido a contener el precio de la vivienda (que por momentos suscitó temor a posibles burbujas locales), hay pocos motivos para esperar una pronta recuperación de esta clase de inversión.
De modo que sólo queda la inversión en infraestructura, que desde 2012 viene creciendo como proporción del total. Pero ya está en un nivel tan alto que un ulterior crecimiento puede empeorar la asignación de recursos (precisamente lo opuesto a los objetivos declarados del gobierno). Teniendo en cuenta además las restricciones fiscales y el endurecimiento de la regulación financiera, una mayor ampliación de la inversión en infraestructura es, por lo menos, difícil.
Todo lo cual lleva a una conclusión simple: a menos que yo haya leído mal las estadísticas de inversión oficiales, el optimismo en relación con el crecimiento económico de China en 2018 no se justifica. Pero esto no quiere decir que el panorama para China sea totalmente negativo. De presentarse una caída del crecimiento muy por debajo de la meta de 6,5%, el gobierno empleará herramientas de estabilización macroeconómica (pese a los altos costos futuros) y tratará de impedir que las vulnerabilidades financieras se conviertan en riesgos sistémicos. Y sobre todo, es probable que los esfuerzos que está haciendo el gobierno chino para cultivar la innovación e implementar reformas estructurales produzcan grandes beneficios en el largo plazo.
Todo esto hace pensar que la economía de China va hacia un nuevo ascenso en la montaña rusa, y que en algún momento el crecimiento se estabilizará en una cifra aceptable. Pero como suele ocurrir con las atracciones más populares, es posible que los pasajeros tengan que esperar un poco.
Traducción: Esteban Flamini