Glücksspiel mit dem Geld der Bank
Viele Menschen fragen sich, warum der Dollar noch immer nicht abgestürzt ist. Werden die USA jemals die Zeche zahlen müssen für die Kette gewaltiger Handelsdefizite, die sie seit nunmehr einem Jahrzehnt vor sich herschieben? Einschließlich der Zinszahlungen für vergangene Defizite beläuft sich die Rechnung für 2006 allein auf über 800 Milliarden Dollar – rund 6,5% des US-Bruttoinlandsproduktes. Noch erschütternder ist, dass die Kreditaufnahme der USA inzwischen mehr als zwei Drittel der vereinten Überschüsse aller solche Überschüsse erwirtschaftenden Länder einschließlich Chinas, Japans, Deutschlands und der OPEC-Staaten aufsaugt.
Dabei fahren die Ausländer für ihre US-Investitionen alles andere als hohe Renditen ein. Im Gegenteil, sie erzielen in der Regel deutlich niedrigere Renditen, als Amerikaner sie für ihre Investitionen im Ausland erhalten. In einer Ära steil ansteigender Aktienkurse und Immobilienpreise halten allein die Zentralbanken Japans und Chinas niedrig verzinste Schuldverschreibungen im Wert von fast zwei Billionen Dollar. Ein enormer Anteil davon entfällt auf amerikanische Schatzanleihen und Hypotheken. Diese enorme Subventionierung des amerikanischen Steuerzahlers ist in vieler Hinsicht das größte Auslandshilfeprogramm der Welt.
Was für ein Zauber stützt den Dollar angesichts einer derart schwachen Wettbewerbsposition Amerikas? Die meisten nüchtern denkenden Analysten sagen schon lange einen stetigen Abwärtstrend des Dollars gegenüber den Währungen der amerikanischen Handelspartner insbesondere in Asien und den Schwellenländern voraus. Wieso also ist es nicht schon zu einer größeren Anpassung gekommen?
Die erste Antwort hieraus lautet natürlich, dass der Handelswert des Dollars gefallen ist – und zwar um real mehr als 15% seit seinem Spitzenwert im Jahre 2002. Doch die US-Defizite haben sich seitdem fortgesetzt und sind sogar gestiegen.
Dahinter stehen im Wesentlichen zwei Antriebskräfte. In erster Linie haben sich Amerikas Regierung und Verbraucher einem nicht enden wollenden Konsumrausch hingegeben. Auf Verbraucherseite ist dies nachvollziehbar. Mit einem Eigenheimanteil von über 80% hat sich der epische Boom bei den Häuserpreisen bis tief in die amerikanische Mittelschicht hinein ausgewirkt. Der Aktienbesitz ist vergleichsweise konzentrierter, aber auch hier haben viele der Mittelschicht angehörende Amerikaner indirekt über ihre Pensionsfonds profitiert.
Insgesamt haben die meisten Amerikaner nach nahezu 25 Jahren verblüffenden Wohlstands – unterbrochen nur durch zwei milde Rezessionen – relativ viel Vertrauen in ihre wirtschaftliche Lage. Die Arbeitslosigkeit befindet sich in einem zyklischen Tief, und die Konjunktur scheint weniger schwankungsanfällig als zu jedem anderen Zeitpunkt in der modernen Geschichte. Es überrascht also nicht, dass der private Verbrauch hoch bleibt, auch wenn das Wirtschaftswachstum in den USA einen Gang zurückgeschaltet hat. Die Menschen haben während des vergangenen Jahrzehnts derart enorme Vermögenszuwächse erfahren, dass sich die meisten wie Spieler nach einer langen Glückssträhne fühlen. Inzwischen haben sie das Gefühl, als würden Sie mit dem Geld der Bank (oder dem ihrer Häuser) spielen.
Subscribe to Project Syndicate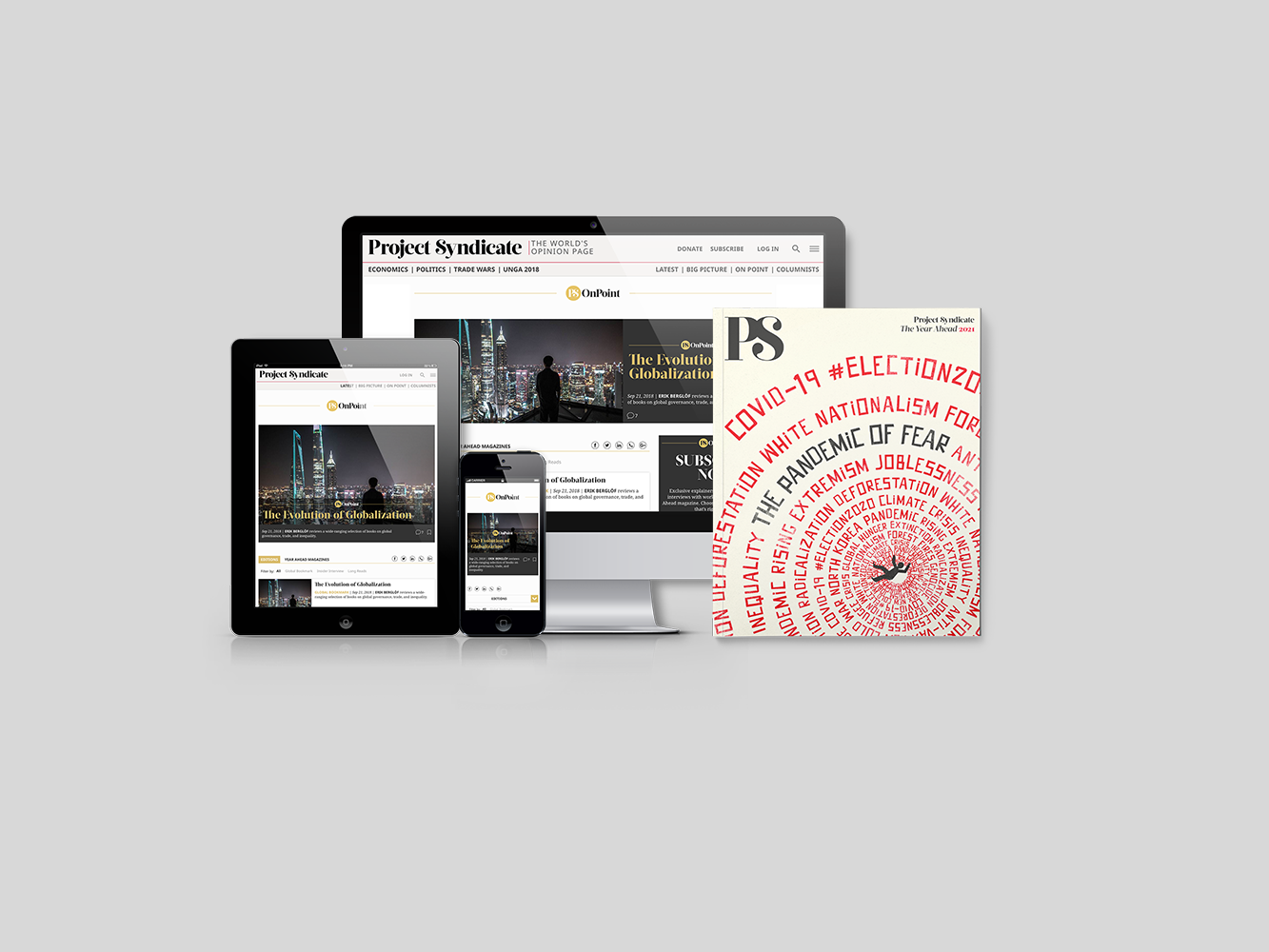 Subscribe to Project Syndicate
Enjoy unlimited access to the ideas and opinions of the world's leading thinkers, including weekly long reads, book reviews, topical collections, and interviews; The Year Ahead annual print magazine; the complete PS archive; and more. All for less than $9 a month.
Weniger leicht erklärbar ist es, warum die US-Regierung trotz eines zyklischen Booms weiter Haushaltsdefizite anhäuft. Wenn eine finanzpolitisch verantwortlich handelnde Regierung einen Krieg führt, senkt sie normalerweise die Inlandsausgaben oder erhöht die Steuern. Die Bush-Administration hat das Gegenteil getan. Dies mag wirtschaftlich gesehen falsch sein, aber politisch betrachtet hatte diese Strategie Erfolg – für eine gewisse Zeit. Leider ist es wenig wahrscheinlich, dass die neue demokratische Mehrheit im Kongress viel dagegen tun wird.
Natürlich gehören zu einem solchen Spiel immer zwei. Damit die US-Wirtschaft Defizite gegenüber der restlichen Welt auflaufen lassen kann, müssen andere Länder bereit sein, eine entsprechende Menge ihrer Ersparnisse zur Verfügung zu stellen. Der amerikanische Notenbankchef Ben Bernanke hat in einer berühmt gewordenen Äußerung einmal das gesamte amerikanische Leistungsbilanzdefizit auf das "weltweite Überangebot an Ersparnissen" zurückgeführt. Präziser wäre es wohl, zu sagen, dass zu wenig investiert wird: Trotz des Aufwärtstrends beim weltweiten Wachstum gibt es einen Abwärtstrend bei den Investitionen.
Diese unzureichende Investitionstätigkeit lässt sich auf viele Faktoren zurückführen, aber der vielleicht wichtigste ist, dass in vielen Entwicklungsländern, in denen die langfristigen Renditen derzeit deutlich am höchsten zu sein scheinen, mittelfristig erhebliche institutionelle Investitionshindernisse bestehen. Dies führt unterm Strich dazu, dass das Geld vorübergehend in weniger ertragreichen Anlagen in den USA geparkt wird, auch wenn dies kein langfristiger Trend sein kann.
Wo also liegt die Zukunft des Dollars?
Solange der Status quo andauert – mit starkem weltweiten Wachstum und verblüffender makroökonomischer Stabilität –, solange können sich die USA weiter Geld borgen und Handelsdefizite anhäufen, ohne dass dies unmittelbare Konsequenzen haben wird. Der Dollar wird trotzdem im Laufe der Zeit an Wert verlieren, aber möglicherweise nicht mehr als ein paar Prozentpunkte pro Jahr. Trotzdem ist es nicht schwer, sich Szenarios einfallen zu lassen, bei denen der Dollar zusammenbricht. Nuklearterrorismus, eine Rezession in China oder eine steile Eskalation der Gewalt im Nahen Osten könnten der aktuellen Wirtschaftsdynamik den Boden entziehen.
Im Prinzip sind auch Szenarien vorstellbar, in denen der Wert des Dollars in die Höhe schnellt, aber insgesamt scheinen diese weniger wahrscheinlich. Zusammengefasst: Die Tatsache, dass das US-Handelsdefizit der Schwerkraft schon über so viele Jahre trotzt, hat es ermöglicht, dass auch der Dollar dies tut. Es kann jedoch durchaus sein, dass die USA eines Tages die Zeche für ihren verschwenderischen Lebenswandel werden zahlen müssen. Die Amerikaner sollten lieber beten, dass ihre Gläubiger dann ebenso willig sind wie heute, Dollars zu akzeptieren.