Die USA und der Iran spielen ein gefährliches Spiel
BERLIN – Der asymmetrische Konflikt im Persischen Golf zwischen den USA und dem Iran droht außer Kontrolle zu geraten. Sofern sich die übrige Welt nicht einmischt, könnte das gefährliche Spiel, das beide Länder spielen, in eine direkte Konfrontation münden.
Man kann argumentieren, dass die Spirale des Konflikts im Mai 2018 in Gang gesetzt wurde, als die USA ihren Rücktritt von dem 2015 mit dem Iran geschlossenen Nuklearabkommen erklärten und erneut Sanktionen gegen das Land verhängten. Seitdem haben die USA diese Sanktionen im Rahmen einer Strategie "maximalen Drucks", die die Wirtschaftstransaktionen des Iran mit der übrigen Welt drastisch reduziert, seine Öleinnahmen ausgehöhlt, eine Währungsabwertung ausgelöst und das Land in die Rezession getrieben hat, mehrmals verschärft.
Weil der Iran nicht imstande ist, Gleiches mit Gleichem zu vergelten, musste er sich etwas einfallen lassen. Zunächst einmal hat er Amerikas europäische Verbündete – darunter Frankreich, Deutschland und das Vereinigte Königreich sowie die Europäische Union als Ganze – unter Druck gesetzt, indem er argumentierte, sie müssten eingreifen, um ihm die ihm im Rahmen des Gemeinsamen umfassenden Aktionsplans (JCPOA) (so der offizielle Name der Vereinbarung aus dem Jahre 2015) versprochenen Vorteile zu sichern.
Zugleich hat der Iran seine Einhaltung mehrerer Verpflichtungen, die er im Rahmen des JCPOA eingegangen war, reduziert. So hat er die vereinbarten Grenzwerte für die nukleare Anreicherung überschritten und die Erforschung moderner Zentrifugen wieder aufgenommen. Während die Regierung von US-Präsident Donald Trump außerstande scheint, die hiervon ausgehende Gefahr zu erkennen, ist sich die EU dieser Gefahr bewusst.
Zudem verfolgt der Iran im Persischen Golf und auf der arabischen Halbinsel eine asymmetrische Kriegsführung. In den letzten Monaten hat er mehrere ausländische Öltanker beschlagnahmt. Er hat zudem über der Straße von Hormus – einem wichtigen Seeweg für Öllieferungen – eine Überwachungsdrohne des US-Militärs abgeschossen und scheint für eine Reihe von Sabotage-Akten auf Schiffen in dem Gebiet verantwortlich zu sein. Die Angriffe der vom Iran unterstützten Huthi-Rebellen auf saudische Ölanlagen wurden ebenfalls dem Iran zugeschrieben.
Ob sich dem Iran diese Episoden direkt oder indirekt zuschreiben lassen ist weitgehend irrelevant. Wichtig ist, dass sie mit der Erklärung des iranischen Präsidenten Hassan Rouhani aus dem Jahre 2018 im Einklang stehen, dass, wenn man den Iran am Verkauf von Öl hindern würde, "aus dem Persischen Golf kein Öl [mehr] exportiert werden wird".
Subscribe now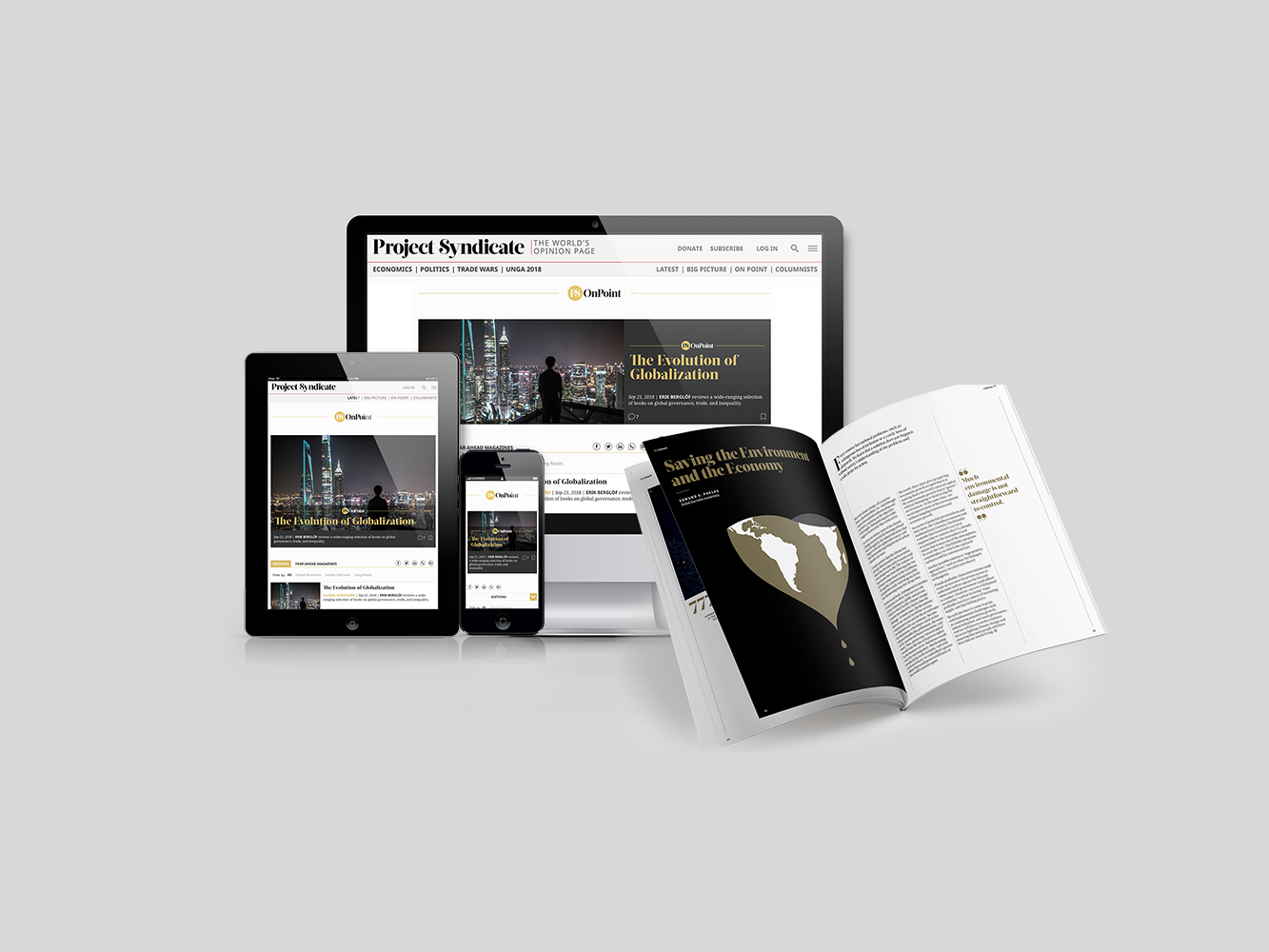 Subscribe now
Subscribe today and get unlimited access to OnPoint, the Big Picture, the PS archive of more than 14,000 commentaries, and our annual magazine, for less than $2 a week.
Der Iran hat es bisher geschafft, die Asymmetrie bei der absoluten Macht in einen taktischen Vorteil zu verwandeln. Zwar sind die USA militärisch überlegen. Doch Trump will die USA nicht in einen neuerlichen Krieg im Nahen Osten führen, insbesondere nicht in einen, der ihn zwingen würde, dort Zehntausende von US-Soldaten zu stationieren.
Darüber hinaus haben die US-Sanktionen dem Iran zwar schweren Schaden zugefügt, aber es besteht kaum Raum für weitergehende Maßnahmen. Indem sie einen derart starken Trumpf ausgespielt hat, hat die Trump-Regierung diesen möglicherweise endgültig verbraucht, sich damit um ihren eigenen Einfluss gebracht und dem Iran einen wichtigen Anreiz zur Einhaltung seiner Verpflichtungen aus dem JCPOA genommen. Durch Neutralisierung der in dem Abkommen enthaltenen Drohung einer Wiederaufnahme der Sanktionen haben die USA das Risiko von Verstößen durch den Iran erhöht, die diesen einer Entwicklung von Nuklearwaffen näher bringen.
Trotzdem ist die Position des Iran nicht besonders stark. Genau wie die USA ihr Sanktionspotenzial erschöpft haben, hat der Iran mit seiner asymmetrischen Taktik möglicherweise Amerikas Geduld erschöpft. Trump hat unmittelbar nach dem Angriff auf die saudischen Ölanlagen eine Militäraktion angedeutet. Ein weiterer derartiger Angriff ungeklärten Ursprungs – oder gar etwas Größeres, das zu amerikanischen Verwundeten oder Toten führt – könnte ein Schritt zu weit sein.
Wenn die USA und der Iran alle ihre Karten im laufenden Spiel ausgespielt haben, dürfte ein noch gefährlicheres Spiel beginnen. Das muss nicht zwangsläufig eine offene bewegliche Kriegsführung bedeuten. Doch könnten Drittparteien wie Saudi-Arabien und Israel ihre eigenen asymmetrischen Angriffe einleiten, und auch die USA selbst könnten sich einer asymmetrischen Kriegsführung zuwenden. Alle diese Akteure haben dieses Spiel bereits in der Vergangenheit gespielt, wenn auch nicht im großen Maßstab.
Im Bewusstsein der Gefahr einer fortgesetzten asymmetrischen Eskalation haben die europäischen Unterzeichnerstaaten des JCPOA sowie regionale Akteure wie die Vereinigten Arabischen Emirate Schritte zur Entschärfung des Konflikts vorgeschlagen. Hierzu gehören in erster Linie direkte Gespräche zwischen dem Iran und den USA; die Europäer scheinen darauf hinzuarbeiten, derartige Gespräche zu erleichtern.
Dabei wäre Europa gut beraten, den Hype über ein Treffen zwischen den Präsidenten der beiden Länder unbeachtet zu lassen. Treffen zwischen anderen hochrangigen Regierungsvertretern würden ausreichen und könnten in unterschiedlichen bilateralen oder multilateralen Zusammenhängen erfolgen.
Die verbleibenden Unterzeichnerstaaten des JCPOA – China, Frankreich, Deutschland, Russland, das Vereinigte Königreich und die EU – wollen retten, was vom Abkommen des Jahres 2015 noch zu retten ist; ein Treffen in Wien im Juli zu diesem Thema hat dies gezeigt. Doch wird die diplomatische Beilegung der Spannungen zwischen dem Iran und den USA auch die Beteiligung der Nachbarn des Iran erfordern.
Es liegen noch andere Ideen zur Lockerung der Spannungen auf dem Tisch. So hat der französische Staatspräsident Emmanuel Macronvorgeschlagen, dem Iran eine Kreditlinie in Höhe von 15 Milliarden Dollar einzuräumen, die dem Land helfen würde, die sanktionsbedingten Mindereinnahmen aus dem Ölgeschäft auszugleichen. Zudem wurden verschiedene Pläne für Verhandlungen zur Sicherheit in der Region vorgelegt.
Diese Bemühungen bieten einen gewissen Anlass zur Hoffnung. Doch die Lage ist zunehmend fragil, und sie könnte sich deutlich verschlechtern – und potenziell zu einer direkten Konfrontation zwischen den USA und dem Iran führen –, bevor die Diplomatie sie verbessern kann.
Aus dem Englischen von Jan Doolan