Eliminar a lacuna de apatia dos jovens
NAIROBI –quando os países-membros das Nações Unidas adotaram os Objectivos de Desenvolvimento Sustentável, há dois anos, assumiram o compromisso de reduzirem substancialmente "a proporção de jovens sem emprego, educação ou formação". Esse compromisso será praticamente impossível de cumprir, a menos que a participação política dos jovens aumente consideravelmente.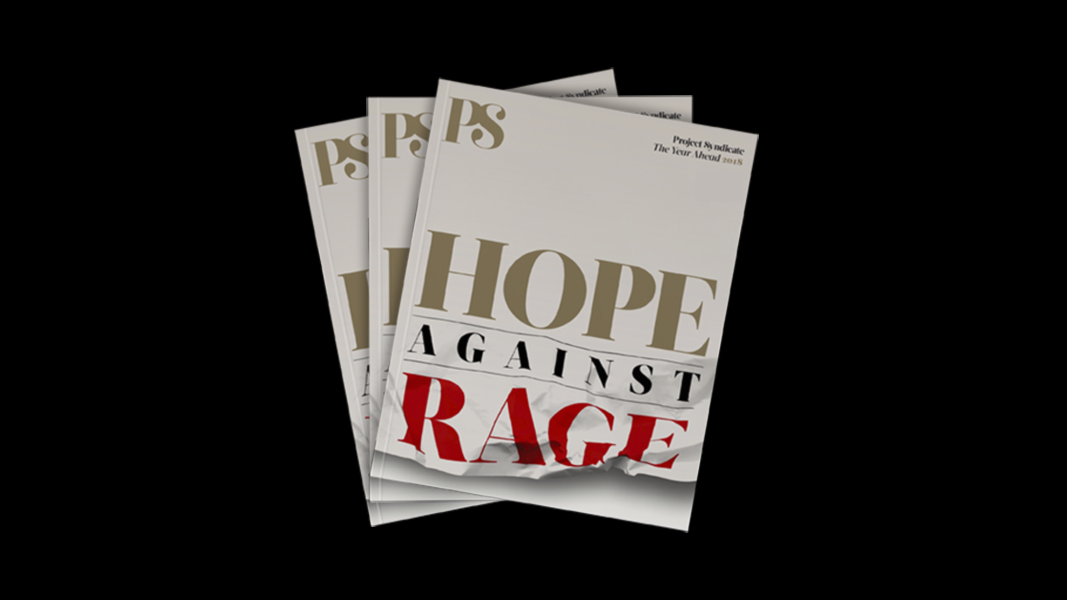 The Year Ahead 2018
The world's leading thinkers and policymakers examine what's come apart in the past year, and anticipate what will define the year ahead.
Os jovens são fundamentais para o progresso. Tal como, na altura, o presidente dos EUA, Barack Obama mencionou num discurso, em 2015, em Nairobi, "nenhum país consegue alcançar o seu total potencial, a menos que tire partido do talento de toda a sua população". E os jovens constituem, agora, uma grande percentagem dessa população –18% da população mundial, para ser mais preciso. A percentagem é ainda maior em grande parte do mundo em vias de desenvolvimento. A idade média da população de África é de apenas 19,5 anos.
Dado o número existente, para não falar do aumento das taxas de educação e de alfabetização, os jovens podem mudar o mundo, moldar o discurso político e os resultados eleitorais. Mas isso exige que estejam envolvidos e ativos.
No Reino Unido, a maioria dos jovens deseja permanecer na União Europeia. Tal como uma sondagem de Lord Ashcroft revelou, 73% dos jovens com idades compreendidas entre os 18 e os 24 anos, e 62% dos jovens com idades compreendidas entre os 25 e os 34 anos, votaram em conformidade no referendo do ano passado. Mas a maioria dos jovens britânicos não apareceu para exercer o seu direito ao voto, permitindo que os cidadãos mais velhos do Reino Unido, predominantemente coortes a favor do Brexit, levassem a melhor.
Presumivelmente, tendo aprendido a lição com o referendo de Brexit, os jovens britânicos contribuíram para uma vitória inesperada do partido Trabalhista "Labour" nas rápidas eleições gerais, em junho. Nas eleições presidenciais do Quénia, realizadas no mês passado, 51% dos eleitores registados tinham menos de 35 anos de idade. Embora o Supremo Tribunal tenha anulado os resultados e ordenado uma nova votação, devido a irregularidades e ilegalidades eleitorais, é provável que um grande número de jovens apareça novamente.
Infelizmente, o Quénia é a exceção que confirma a regra. A apatia política entre os jovens, como a que se viu no referendo Brexit, continua generalizada em todo o mundo. Em muitas regiões de África, por exemplo, os jovens estão desiludidos com a política, convencidos de que as pessoas mais velhas ricas irão sempre prevalecer e promover os seus próprios interesses, muitas vezes à custa das gerações mais jovens.
Este sentimento de impotência ameaça transformar a protuberância da juventude que existe no mundo em vias de desenvolvimento numa maldição da juventude –com graves potenciais consequências. As revoltas na Primavera Árabe, que levaram à violência e à instabilidade nos países mais afetados, foram alimentadas em grande parte por jovens desesperados que exigiam direitos e oportunidades.
Para evitar desfechos desse género, os jovens precisam de participar na vida política dos seus países, serem capazes de promover as suas próprias visões do futuro. À semelhança do que os jovens quenianos repetiram durante a recente campanha eleitoral: "Se não estás à mesa, estás no menu".
Então, o que é que pode ser feito para aumentar a consciência política e participação entre os jovens? No Quénia, os esforços do governo têm-se centrado na criação de três instituições: o Ministério da Função Pública, Juventude e Assuntos de Género; o Fundo de Desenvolvimento da Juventude Empresarial; e o Conselho Nacional de Juventude. Embora um tanto disfuncionais, estas instituições têm ajudado a empoderar os jovens quenianos, impulsionando uma participação eleitoral elevada no mês passado.
Mas talvez a abordagem mais eficaz para acabar com a lacuna de apatia se concentre em iniciativas lideradas pelos próprios jovens. Na Nigéria, os jovens lideraram a campanha Não é muito jovem para dirigir, que conduziu a uma alteração constitucional reduzindo a idade mínima para os candidatos. O sucesso que obtiveram inspirou uma campanha global de apoio ao direito dos jovens de se candidatarem.
No Quénia, o movimento Jiactivateliderado por jovens - o nome que combina os idiomas swahili e inglês, significa "Ativa-te" –procurou alavancar a participação dos jovens na política, realçando os principais assuntos que afetam os jovens. O Jiactivate, no qual estou envolvido como presidente nacional, pretende servir como uma plataforma que amplifica as vozes dos jovens quenianos, oferecendo-lhes formas mais fáceis de tomar medidas.
Para inspirar mais iniciativas idênticas, tem de haver um esforço deliberado para o envolvimento com os jovens, de uma maneira que apoie um envolvimento político real e não uma retórica simbólica e vazia. Para isso, a Organização da Juventude de África, da qual sou coordenador, não só trabalhou com grupos de jovens locais e redes comunitárias, como também recolheu aprendizagem de um inquérito da GeoPoll feito a 2000 jovens quenianos urbanos e rurais.
Esse inquérito mostrou que, enquanto 27% dos entrevistados nunca se tinham envolvido politicamente, 26% participaram num evento e 34% publicaram nas redes sociais. Além disso, 68% dos inquiridos disseram que só iriam participar na ação política se tivessem acesso a uma plataforma segura e confiável que os protegesse de vitimização, intimidação ou repreensão.
Uma lição que se pode tirar destes dados é o valor potencial das redes sociais, que, embora sejam limitadas em muitos países durante as eleições, continuam a ser uma ferramenta poderosa para facilitar o envolvimento político. Por exemplo, ao usar de forma criativa as redes sociais para recolher, agrupar e amplificar as prioridades dos jovens nas eleições quenianas, o Jiactivate ajudou a estimular o interesse dos jovens pela política.
No entanto, muitos quenianos que eram populares nas redes sociais não causaram muito impacto no resultado das eleições. Traduzir a energia das redes sociais para uma ação eficaz no mundo real continua a ser um desafio assustador.
Aumentar o envolvimento dos jovens na política exigirá um empenho contínuo e trabalho árduo. Mas, longe de ser um impedimento, isto deve servir como um poderoso incentivo para começar. Ninguém é mais afetado pelas políticas do passado, do presente e do futuro do que os jovens. Eles têm de ocupar o seu lugar à mesa, não ficar à espera que lhes seja oferecido um.