Nach dem Fall Afghanistans
BISCHKEK – Am 2. Juli übergab das US-Militär die Kontrolle über den riesigen Luftwaffenstützpunkt Bagram an die afghanische Regierung. Die US-Truppen und ihre Nato-Verbündeten sind nun also dabei, Afghanistan bis Mitte Juli zu verlassen – um einiges vor dem von US-Präsident Joe Biden festgelegten Abzugstermin am 11.September 2021.
Einer neuen Untersuchung von Forschern an der Brown University zufolge kostete der zwei Jahrzehnte dauernde Krieg in Afghanistan den Vereinigten Staaten beinahe 2,3 Billionen Dollar. Jetzt fragen sich Afghanistans Nachbarländer - Pakistan, Iran, China, Indien und die zentralasiatischen Länder - wie viel es sie kosten wird, die Sicherheit aufrechtzuerhalten, wenn die USA nicht mehr da sind.
Ende Juni gelangten die US-Geheimdienste zu der Schlussfolgerung, dass die afghanische Regierung innerhalb von sechs Monaten nach Abzug der USA zusammenbrechen könnte - eine deutliche Korrektur ihrer früheren, optimistischeren Einschätzung nach unten. Als die Taliban über Nordafghanistan hinwegfegten und Dutzende von Bezirken und größeren Städten einnahmen, haben sich die afghanischen Sicherheitskräfte oftmals kampflos ergeben. Laut des im Juni veröffentlichten Berichts des Teams der Vereinten Nationen zur Überwachung der Sanktionen kontrollieren die Taliban mittlerweile mehr als die Hälfte der regionalen Verwaltungszentren des Landes direkt und auch bis zu 70 Prozent des Territoriums außerhalb der städtischen Gebiete stehen unter ihrer Kontrolle.
Die Erschütterungen aufgrund dieser Siege der Taliban sind bereits in der gesamten Region spürbar. Nur vier Stunden von Tadschikistans Hauptstadt Duschanbe entfernt waren heftige Kämpfe im Gange. Am 20. Juni wurden Regierungstruppen in Kundus - der (mit 300.000 Einwohnern) sechstgrößten Stadt des Landes - von im Norden Afghanistans operierenden militanten Taliban umzingelt. Dann, am 22. Juni, eroberten die Taliban kampflos den Grenzposten in Shir Khan Bandar an der afghanisch-tadschikischen Grenze.   
Unterdessen meldete der tadschikische Grenzdienst, dass 134 afghanische Soldaten am Grenzübergang Asyl erhalten hätten. Weitere 53 afghanische Grenzsoldaten und lokale Milizionäre wichen vor einem Taliban-Angriff im afghanischen Bezirk Shortepa zurück und überquerten die Grenze nach Usbekistan. Und am 5. Juli sollen über 1.000 afghanische Soldaten aus der Provinz Badachschan über die Grenze nach Tadschikistan geflohen sein.
Wahrscheinlich werden die Taliban den Amudarja sowie den Pandsch, die beiden Grenzflüsse zwischen Afghanistan und Usbekistan beziehungsweise Tadschikistan, innerhalb von Wochen vollständig einnehmen. Da eine derartige Entwicklung es den Taliban ermöglichen würde, die internationalen Grenzen Afghanistans entlang dieser Linie zu kontrollieren, steigt auch das Risiko großer Flüchtlingsströme aus Afghanistan nach Zentralasien und anschließend weiter nach Russland und Europa stark an.
Subscribe to Project Syndicate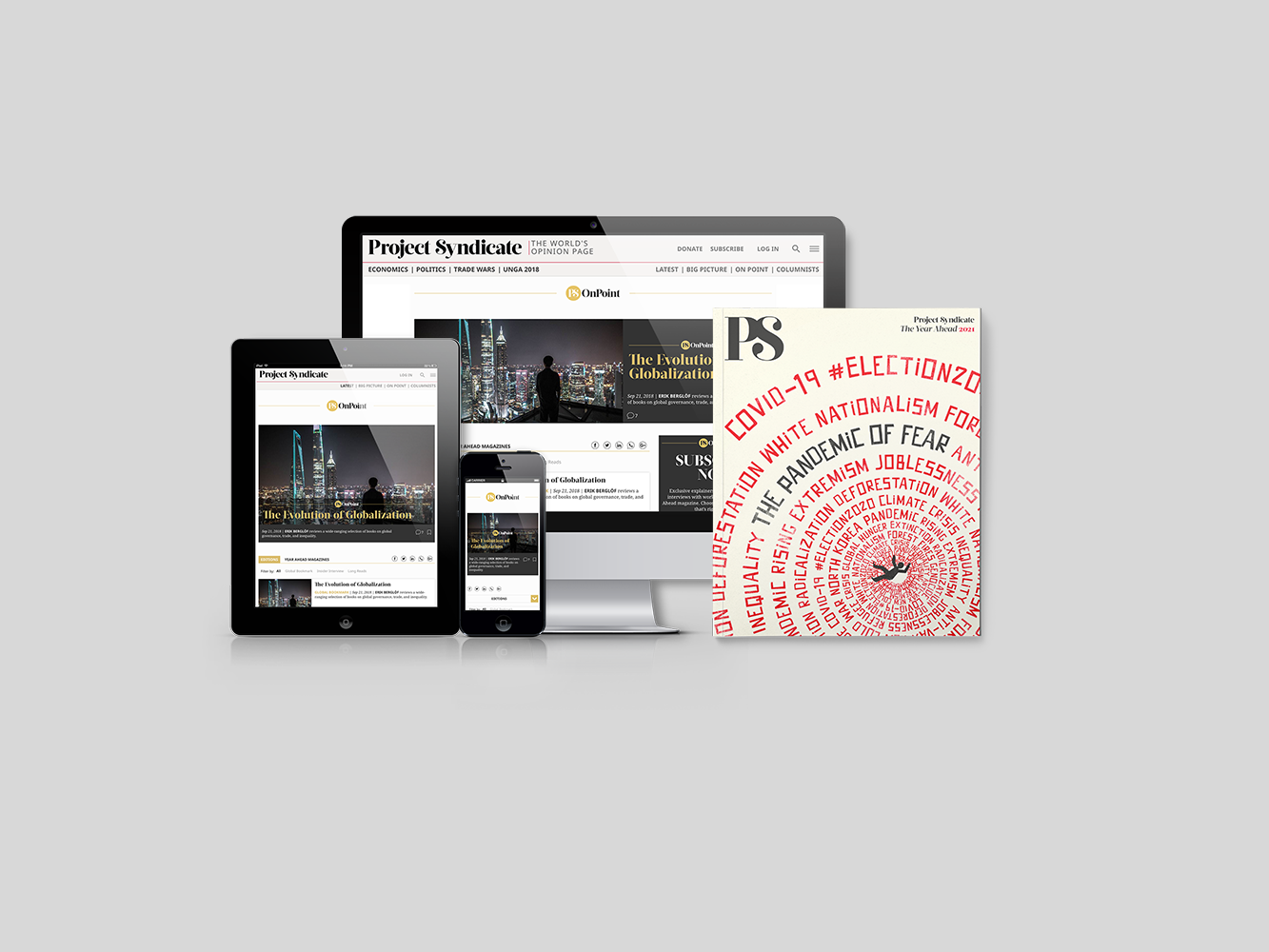 Subscribe to Project Syndicate
Enjoy unlimited access to the ideas and opinions of the world's leading thinkers, including weekly long reads, book reviews, topical collections, and interviews; The Year Ahead annual print magazine; the complete PS archive; and more. All for less than $9 a month.
Nachdem Russland die Taliban heimlich unterstützte, um die amerikanischen Kriegsanstrengungen zu untergraben, fürchtet man nun auf russischer Seite die Destabilisierung der Grenzen in Zentralasien und darüber hinaus. Als Reaktion auf die jüngsten Entwicklungen in Afghanistan sagte der russische Verteidigungsminister Sergei Schoigu: "Bis zum Ende dieses Jahres gilt es für das Kommando des Zentralen Militärbezirkes, zwei Fliegerregimente mit modernisierten Jagdbombern vom Typ Su-34M und Abfangjägern vom Typ MiG-31BM auszustatten." Diese Aufrüstung der russischen Luftstreitkräfte in der Region "wird die Möglichkeiten des Militärbezirks zur Bekämpfung des Feindes durch Beschuss und Marschflugkörper in der strategischen Richtung Zentralasien deutlich verbessern."
Auch China, das sich mit den Taliban gut gestellt hat, fürchtet nun die stärkere regionale Instabilität, die der Rückzug der USA hervorrufen könnte. Die neu erstarkten Taliban könnten könnte nicht nur die ganz Eurasien umspannende Neue Seidenstraßen-Initiative des chinesischen Präsidenten Xi Jinping stören, sondern auch der extremistisch-islamistischen Bedrohung in Chinas westlicher Provinz Xinjiang neuen Auftrieb verleihen. 
Die Aussicht, dass aus Afghanistan ein Hort zunehmender Armut, Massenmigration und Instabilität wird, entwickelt sich rasch zu einem Problem für alle. Doch an vorderster Front stehen die Regierungen Zentralasiens. Dennoch geben sich zahlreiche offizielle Vertreter der Region überraschend optimistisch. Im Anschluss an einen jüngst absolvierten Besuch in den USA, wo die Themen Afghanistan und die regionale Sicherheit besprochen wurden, gab der usbekische Außenminister Abdulaziz Kamilow ein ausführliches Interview, in dem er argumentierte, dass Afghanistans Probleme nur von den Afghanen, einschließlich der Taliban, gelöst werden könnten.  
"Wir hegen einen gewissen Optimismus", erklärte er, "denn die Situation hat sich verändert. Erstens haben die beiden Seiten zum ersten Mal seit 40 Jahren direkten Kontakt aufgenommen. Auch die Taliban wollen direkte Verhandlungen, um eine friedliche Einigung zu erreichen." Obwohl Kamilow betonte, kein Verteidiger der Taliban zu sein, wies er auf eine offizielle Verlautbarung auf der Website der Gruppe hin, wo es heißt, dass man ein unabhängiges, souveränes islamisches Emirat Afghanistan ohne jegliche Einmischung von außen aufbauen wolle. In diesem neuen Land wären die Rechte von Frauen, Mädchen und Minderheiten angeblich garantiert.
Es fällt schwer zu glauben, dass ein routinierter Diplomat wie Kamilow auf derartige Süßholzraspelei hereinfallen würde. Doch mit seinem Plädoyer für eine stärkere Integration Afghanistans in die zentralasiatische Wirtschaft befindet er sich durchaus auf einer soliden strategischen Grundlage. Selbst den Taliban könnte die Idee von der Wiederbelebung "Großzentralasiens" gefallen, im Rahmen derer man etwas von der wirtschaftlichen Dynamik des glorreichen Zeitalters der Großen Seidenstraße (1100-1600) neu schaffen könnte.
Angesichts der chinesischen Entschlossenheit, seine Handels-, Investitions- und Infrastrukturverbindungen in ganz Eurasien zu vertiefen, hat diese Vision durchaus eine Chance, Realität zu werden. Aber zuerst muss Frieden herrschen, vor allem in Afghanistan.
Aus dem Englischen von Helga Klinger-Groier