The Big Picture brings together a range of PS commentaries to give readers a comprehensive understanding of topics in the news – and the deeper issues driving the news. The Big Question features concise contributor analysis and predictions on timely topics.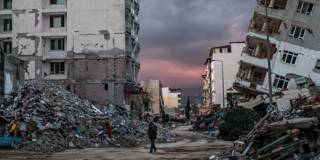 PS Commentators Respond: Will the Earthquake Be a Political Game-Changer for Turkey?
Even before a magnitude 7.8 earthquake toppled buildings, killed tens of thousands of people, and left over a million homeless, Turkey was grappling with a currency collapse, runaway inflation, and slowing growth. But while President Recep Tayyip Erdoğan's government is on shaky political ground, toppling Turkey's strongman after two decades in power will be no easy feat.
In this Big Question, we ask Seyla Benhabib, Sebnem Kalemli-Ozcan, and Sinan Ülgen consider how the unfolding crisis will – and will not – change Turkish politics.
Featured in this Big Question
Seyla Benhabib

Şebnem Kalemli-Özcan

Sinan Ülgen
https://prosyn.org/rLy3HgZ;