The Big Picture brings together a range of PS commentaries to give readers a comprehensive understanding of topics in the news – and the deeper issues driving the news. The Big Question features concise contributor analysis and predictions on timely topics.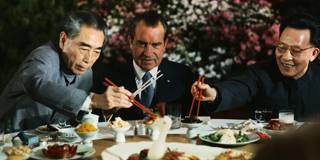 Nixon in China at 50
US President Richard Nixon's historic visit to China 50 years ago shifted the Cold War balance of power and undermined the Soviet Union's global influence. But with Sino-American relations currently in crisis, a new marriage of convenience between China and Russia is threatening to turn the tables on America.
In this Big Picture, Chris Patten, the last British governor of Hong Kong, thinks the most important legacy of Nixon's meeting with Mao Zedong was that it enabled China's subsequent economic opening to the world. But Minxin Pei of Claremont McKenna College refutes the revisionist US view that engagement with China was therefore a strategic blunder, arguing that the policy served the interests of both countries until Chinese President Xi Jinping pursued a more assertive and expansionist course.
For that reason, Brahma Chellaney of the Center for Policy Research in New Delhi argues that preserving America's global preeminence will require US leaders to focus on the central threat posed by China, and not be distracted by Russia's current aggression toward Ukraine.
But the two authoritarian powers are presenting an increasingly united front. Yale University's Stephen S. Roach worries that a vulnerable United States is not prepared for a deepening Sino-Russian rapprochement. Likewise, former Spanish foreign minister Ana Palacio warns that it could upend the rules-based international order, which democracies, led by the US and Europe, must work together to defend. Yet, Nina L. Khrushcheva of The New School argues that, just as the Soviet Union was the big loser of the Sino-American rapprochement of 1972, Russia will likely turn out to be the big loser from the new alliance between President Vladimir Putin and Xi.
Meanwhile, Richard Haass of the Council on Foreign Relations urges today's US policymakers to emulate Nixon by taking an imaginative diplomatic approach to resetting bilateral relations with China. In that spirit, Columbia University's Shang-Jin Wei highlights the significant risks to the US of ending the policy of economic engagement toward China for geopolitical reasons.
Featured in this Big Picture
https://prosyn.org/YxdSRhU;