The Big Picture brings together a range of PS commentaries to give readers a comprehensive understanding of topics in the news – and the deeper issues driving the news. The Big Question features concise contributor analysis and predictions on timely topics.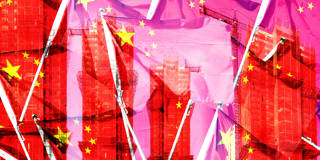 How Bad Is China's Economy?
The World Bank's recent downgrade of its forecast for Chinese GDP growth for 2024 – from 4.8% to 4.4% – is just the latest in a long series of such cuts. Rising pessimism about the global economy's largest growth engine stems largely from the weakness of its property sector, exemplified by the proliferation of missed payments and defaults on overseas bonds by real-estate developers, with the giant Evergrande leading the way.
The University of Wisconsin-Madison's Yi Fuxian traces the property bubble back to flawed policies – especially the one-child policy that the government adopted in 1980 in an attempt to ensure future food security. But even worse than the real-estate bubble, he argues, is the fact that "much of China's economic growth over the past decade has been an overdraft on future growth that now may never materialize."
According to Northwestern University's Nancy Qian, however, China's economy is not in "dire straits" at all. "Even the rise of jobless young people in China is less concerning when compared to OECD countries like Spain, Italy, and Sweden." It is only in comparison with China's "exceptional economic performance" over recent decades that the outlook appears gloomy.
Similarly, Yu Yongding, a former member of the Monetary Policy Committee of the People's Bank of China, argues that even if the "era of sustained double-digit growth is over, China is well-positioned to achieve a significantly higher growth rate than most developed economies in the foreseeable future." Far from reflecting "fundamental changes to economic conditions," the recent growth slowdown can be addressed with a "carefully designed fiscal and monetary expansion focused on boosting effective demand."
One sector where Chinese policymakers are not standing in the way of progress, observes Angela Huyue Zhang of the University of Hong Kong, is artificial intelligence. "While China was an early mover in regulating generative AI, it is also highly supportive of the technology and the companies developing it." But, she warns, China's "growth-centric regulatory approach" may well have negative long-term consequences.
Looking beyond growth, Bocconi University's Daniel Gros notes that China's changing "balance of savings and investment" could have serious implications for the global economy. As it stands, the "potential to drive further increases in income" through investment is severely limited, and, given China's "extraordinarily high" savings ratio, domestic consumers are unlikely to fill the gap. This will cause Chinese current-account surpluses to grow, potentially fueling counterproductive protectionism abroad.
Featured in this Big Picture
https://prosyn.org/kE13X87;