The Big Picture brings together a range of PS commentaries to give readers a comprehensive understanding of topics in the news – and the deeper issues driving the news. The Big Question features concise contributor analysis and predictions on timely topics.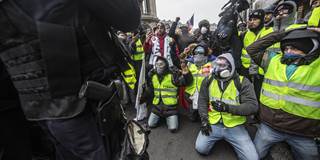 Europe's Yellow Fever
The "Yellow Vest" protests in Paris and other European capitals are a harbinger of what awaits Europe in the months leading up to the European Parliament election in May. But will the grassroots uprising inspire genuine reform, or add fuel to the continent-wide populist backlash against the European Union?
In this Big Picture, Guy Verhofstadt laments that illiberal activists have managed to hijack the protests, but nonetheless sees them as a sign that Europe needs more democracy, not less. And Bernard-Henri Lévy believes that the outcome will depend on whether the protesters can prevent their movement from being taken over by nihilists and Kremlin-backed agitators.
Either way, Sławomir Sierakowski suspects the Yellow Vests are here to stay, given the socioeconomic distress that drove them to react so strongly to French President Emmanuel Macron's proposed fuel tax. And though Macron's own missteps are partly to blame for stoking the protest movement, says Dominique Moisi, the president remains the best hope for countering the populists who seek to exploit its participants' grievances.
More broadly, Richard N. Haass warns that the EU's worst days could lie ahead, owing to the intransigence of its problems and the increasingly hostile geopolitical environment in which it must face them. Carl Bildt agrees, and advises EU policymakers not to assume that they can continue to muddle through every crisis.
Featured in this Big Picture
https://prosyn.org/3fSgpth;