The Big Picture brings together a range of PS commentaries to give readers a comprehensive understanding of topics in the news – and the deeper issues driving the news. The Big Question features concise contributor analysis and predictions on timely topics.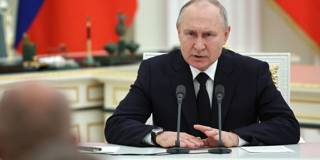 Cracks in the Kremlin
In his first speech since the weekend rebellion by Yevgeny Prigozhin and his Wagner mercenaries, Vladimir Putin asserted that Russian security forces would have crushed the uprising, had that been necessary, and said that he would honor his promise to allow the fighters to enjoy immunity in Belarus. But how much faith the Russian people – or, more important, Russian elites – now have in their president is far from clear.
According to the political analyst Wacław Radziwinowicz, pacifying the "battle-hardened," "well-armed," and "superbly organized" Wagner mercenaries would have required "at least four full, well-motivated, and trained army divisions." But all such Russian troops are in Ukraine. While Putin avoided having to pull them off the frontlines to "put down a rebellion at home" – for now, at least – he still faces the "hellishly difficult task" of "re-asserting control" over Russia's "demoralized and divided military force." And he is clearly not up to it.
In fact, The New School's Nina L. Khrushcheva argues, the rebellion may have "fatally undermined" Putin's regime, not least because the decision effectively to "let Prigozhin off the hook" made Putin look "pathetically weak" to many. The "fact that Prigozhin publicly defied Putin so flagrantly, and lived to tell the tale, could inspire new attempts to overthrow Russia's top leadership." Putin's "rivals are probably already eyeing the throne."
As appealing as the end of Putin's reign may sound, the University of Oxford's Rana Mitter reminds us how dangerous this could be: Russia today "runs the risk of being split between four or five factions, each with its own army." A "hundred year ago it was China that was split" between rival warlords. The "effects of divided authority" were "grim," with China's urban and rural population becoming "unwilling victims or conscripts on the frontline of the constant battles among the various camps."
But whereas China was not a nuclear power, Russia is. As Georgetown University's Ana Palacio points out, warlords would be competing for "control of the world's largest nuclear arsenal." But "even if Putin remains in the Kremlin, Russian nuclear weapons pose an imminent risk," because Russia's domestic discourse seems increasingly gripped by "nuclear fever."
Featured in this Big Picture
https://prosyn.org/9iRrr9B;