A Inflação, a Fed, e o Panorama Geral
CAMBRIDGE – A inflação – as suas causas e a sua ligação à política monetária e às crises financeiras – foi o tema da conferência internacional de responsáveis por bancos centrais e académicos deste ano em Jackson Hole, no Wyoming. Mas, embora seja compreensível o desejo dos responsáveis políticos em prepararem-se contra potenciais riscos futuros para a estabilidade dos preços, não colocaram estas preocupações no contexto dos desenvolvimentos recentes da inflação a nível global – ou mesmo numa perspectiva histórica.
Para os 189 países para os quais existem dados disponíveis, a inflação média para 2015 está pouco abaixo dos 2%, um pouco menos que em 2014 e, na maior parte dos casos, abaixo das projecções do Fundo Monetário Internacional no seu World Economic Outlookde Abril. Como mostra a seguinte figura, a inflação em quase metade de todos os países (avançados e emergentes, grandes e pequenos) está agora a 2% ou abaixo disso (que é como a maioria dos responsáveis de bancos centrais definem a estabilidade de preços).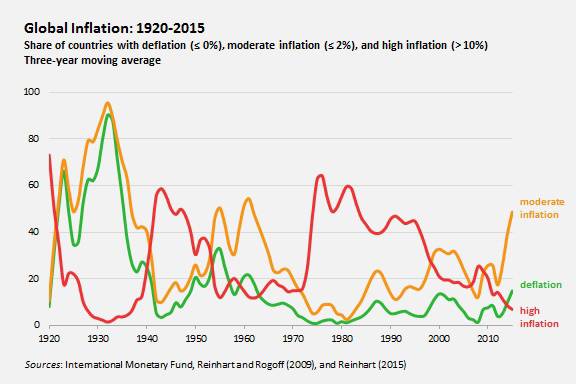 We hope you're enjoying Project Syndicate.
To continue reading, subscribe now.
Get unlimited access to PS premium content, including in-depth commentaries, book reviews, exclusive interviews, On Point, the Big Picture, the PS Archive, and our annual year-ahead magazine.
Already have an account or want to create one? Log in