Die Inflation, die US-Notenbank und der Gesamtzusammenhang
CAMBRIDGE – Thema der internationalen Konferenz von Notenbankern und Wissenschaftlern in Jackson Hole, Wyoming, war in diesem Jahr die Inflation – ihre Ursachen und ihre Verbindung zu Geldpolitik und Finanzkrisen. Doch während der Wunsch der politischen Entscheidungsträger, auf potenzielle künftige Risiken für die Preisstabilität vorbereitet zu sein, verständlich ist, haben sie diese dort weder in den Zusammenhang der jüngsten Inflationsentwicklung auf globaler Ebene gestellt noch aus historischer Perspektive eingeordnet.
Für die 189 Länder, für die Daten zur Verfügung stehen, liegt die mittlere Inflation für 2015 bei knapp 2% und damit geringfügig niedriger als 2014. In den meisten Fällen liegt sie außerdem unter den Prognosen des Internationalen Währungsfonds aus dessen World Economic Outlook vom vergangenen April. Wie die nachstehende Abbildung zeigt, liegt die Inflation in fast der Hälfte aller Länder (egal, ob hochentwickelt oder Schwellenland, klein oder groß) nun bei oder unter 2% (dem Wert, bei dem die meisten Notenbanker von Preisstabilität sprechen).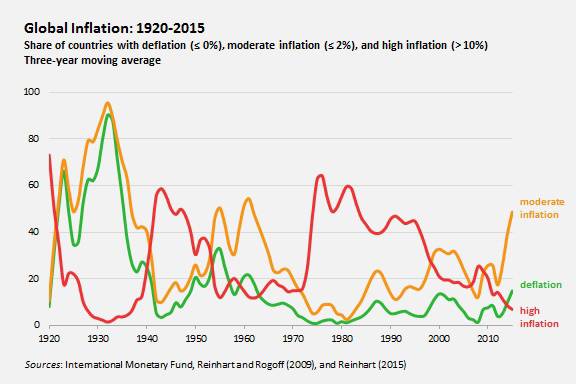 To continue reading, please log in or enter your email address.
To read this article from our archive, please log in or register now. After entering your email, you'll have access to two free articles every month. For unlimited access to Project Syndicate, subscribe now.