De hoge inzet van de aanstaande digitale valutaoorlog
SOUTH BEND – Facebook-CEO Mark Zuckerberg had op z'n minst voor de helft gelijk toen hij onlangs tegen het Amerikaanse Congres zei dat er geen Amerikaans monopolie bestaat op de regulering van de nieuwste betalingstechnologieën. Misschien vind je Facebooks (pseudo-)cryptocurrency Libra wel niks, zo impliceerde Zuckerberg, maar de introductie van een door de staat gecontroleerde Chinese digitale munt met mondiale ambities is misschien nog slechts een kwestie van een paar maanden tijd en staat je waarschijnlijk nog minder aan.
Wellicht ging Zuckerberg te ver toen hij suggereerde dat de dreigende opkomst van een Chinese digitale munt de dominantie van de dollar in de wereld van de mondiale handel en financiën zou kunnen ondermijnen – althans het grote deel dat legaal, belast en gereguleerd is. In feite hebben Amerikaanse toezichthouders grote bevoegdheden, niet alleen ten aanzien van binnenlandse entiteiten, maar ook ten aanzien van financiële firma's die toegang nodig hebben tot de dollarmarkt, zoals Europa onlangs tot haar ongenoegen heeft geleerd toen de VS Europese banken dwongen om zich te houden aan ernstige beperkingen op het zakendoen met Iran.
Amerika's diepe en liquide markten, zijn sterke instituties en zijn rechtsstaat zullen de Chinese pogingen om de dominantie op valutagebied in handen te krijgen nog lange tijd overtroeven. De knellende Chinese kapitaalcontroles, de beperkingen op buitenlands bezit van obligaties en aandelen, en de algehele ondoorzichtigheid van het Chinese financiële systeem zorgen ervoor dat het nog tientallen jaren zal duren voordat de Chinese renminbi de plek van de dollar zal overnemen in de legale wereldeconomie.
Het toezicht op de ondergrondse economie is echter een totaal andere zaak. De mondiale ondergrondse economie, die voornamelijk bestaat uit belastingontduiking en criminele activiteiten, maar ook terrorisme omvat, is veel kleiner dan de legale economie (misschien een vijfde van de omvang), zij het nog steeds met veel gevolgen. De kwestie hier is niet zozeer wiens munt dominant is, maar hoe je de negatieve effecten kunt minimaliseren. En een alom gebruikte, door de staat gesteunde Chinese digitale munt kan zeker invloed hebben, vooral op gebieden waar de belangen van China niet samenvallen met die van het Westen.
Van een digitale munt onder Amerikaanse toezicht kan in beginsel gevergd worden dat de Amerikaanse autoriteiten hem moeten kunnen volgen, zodat als Noord-Korea er Russische kernwetenschappers mee zou inhuren, of als Iran er terroristische activiteiten mee zou financieren, deze landen een groot risico zouden lopen om betrapt en uiteindelijk zelfs geblokkeerd te worden. Als de digitale munt echter vanuit China gecontroleerd zou worden, zouden de VS veel minder mogelijkheden hebben om het gebruik ervan tegen te gaan. Westerse toezichthouders zouden uiteindelijk het gebruik van China's digitale munt kunnen verbieden, maar dat zou het gebruik ervan in grote delen van Afrika, Latijns-Amerika en Azië niet kunnen voorkomen, wat op zijn beurt zelfs zou kunnen leiden tot enige ondergrondse vraag in de VS en Europa.
Je kunt je afvragen waarom bestaande cryptocurrencies zoals Bitcoin die functie niet zouden kunnen vervullen. In buitengewoon beperkte mate doen ze dat ook al. Maar wereldwijd hebben de toezichthouders veel redenen om cryptocurrencies aan banden te leggen door hun gebruik bij banken en in de detailhandel te verbieden. Dergelijke restricties zorgen ervoor dat de liquiditeit van bestaande cryptocurrencies nagenoeg nihil is en beperken uiteindelijk hun fundamentele onderliggende waarde in grote mate. Dat geldt niet voor een door China gesteunde digitale renminbi die makkelijk zou kunnen worden uitgegeven in een van de twee grootste economieën ter wereld. Het is waar: als China zijn nieuwe digitale munt wereldkundig maakt, zal die vrijwel zeker "gecontroleerd" zijn: een centrale vereffeningsinstantie zal de Chinese regering in beginsel in staat stellen alles en iedereen in de gaten te houden. Maar de VS kunnen dat dan niet.
Subscribe now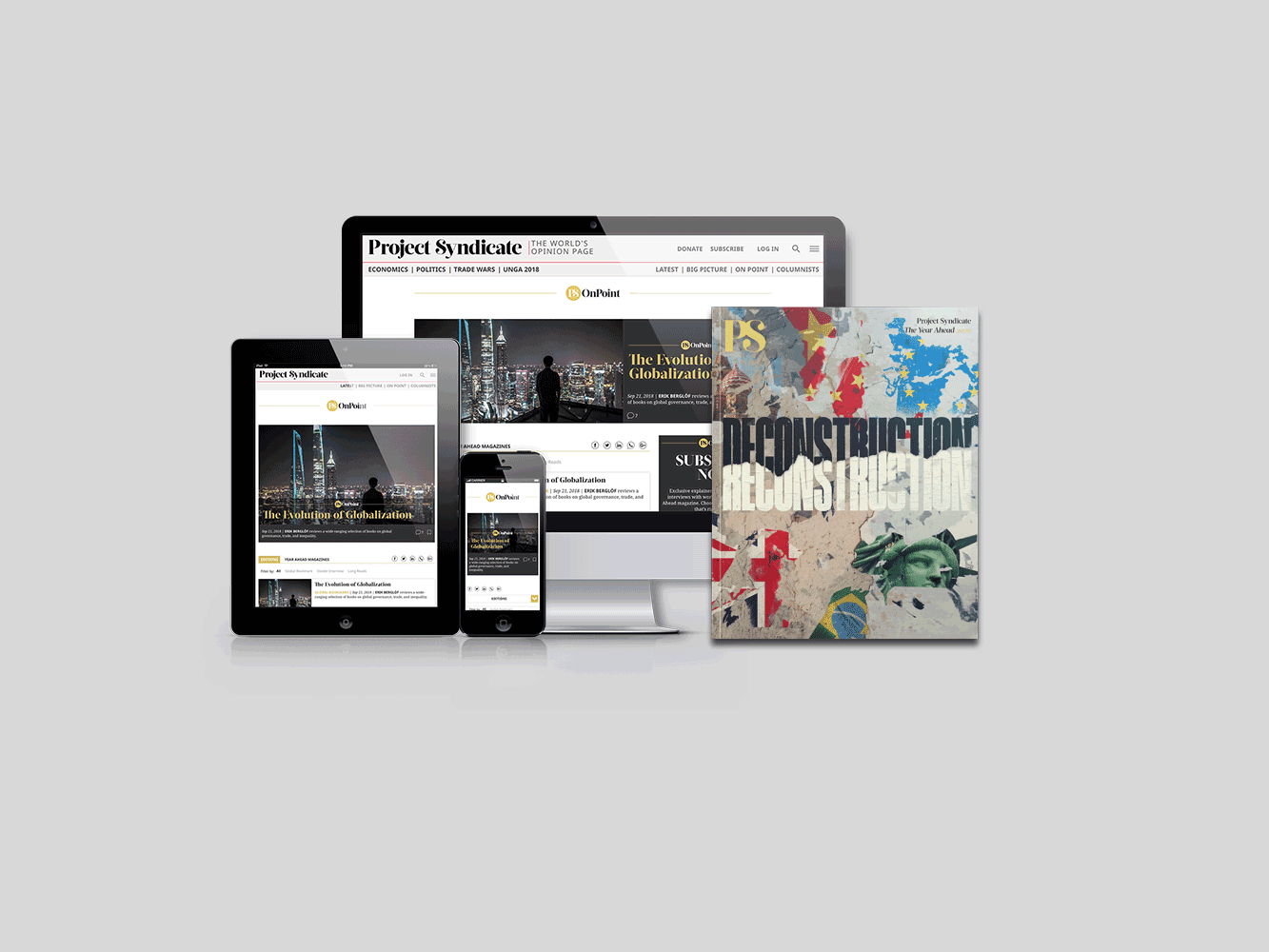 Subscribe now
Subscribe today and get unlimited access to OnPoint, the Big Picture, the PS archive of more than 14,000 commentaries, and our annual magazine, for less than $2 a week.
Facebooks Libra is ook ontworpen als een "gecontroleerde" munt, in dit geval onder auspiciën van Zwitserse toezichthouders. De samenwerking met Zwitserland, waar de munt officieel is geregistreerd, zal beslist veel beter zijn dan die met China, ondanks Zwitserlands lange traditie van het garanderen van de privacy van financiële transacties, met name in het geval van belastingontduiking.
Het feit dat de Libra gekoppeld zal zijn aan de dollar zal de Amerikaanse autoriteiten extra inzichten verschaffen, omdat alle dollar-vereffeningen (nu nog) moeten plaatsvinden via door de VS gereguleerde instellingen. Toch is het, gezien het feit dat de functionaliteit van de Libra grotendeels kan worden gedekt door bestaande financiële instrumenten, lastig om veel fundamentele vraag naar de Libra te ontwaren, behalve onder degenen die ontdekking willen vermijden. Tenzij deze door technologie ondersteunde munten werkelijk superieure technologie bieden – en dat is nog helemaal niet zeker – moeten ze op dezelfde manier worden gereguleerd als alle anderen.
Hoe dan ook heeft de Libra veel centrale banken van geavanceerde economieën ertoe aangezet hun programma's voor de terbeschikkingstelling van digitale munten met een bredere basis te versnellen, en – zo mag je hopen – hun pogingen te versterken om de financiële inclusiviteit te bevorderen. Maar deze strijd gaat niet simpelweg over de winsten uit het drukken van geld; uiteindelijk gaat hij over het vermogen van de staat om de economie in het algemeen te reguleren en te belasten, en over het vermogen van de Amerikaanse regering om de mondiale rol van de dollar te gebruiken om haar internationale beleidsdoelstellingen te verwezenlijken.
De VS hebben momenteel financiële sancties in stelling tegen twaalf landen. Turkije kreeg afgelopen maand gedurende korte tijd sancties opgelegd na de invasie van Koerdisch grondgebied in Syrië, hoewel de maatregelen snel weer werden ingetrokken. Voor Rusland gelden er al vijf jaar sancties.
Net zoals de technologie media, politiek en bedrijfsleven heeft ontwricht, staat zij op het punt het vermogen van Amerika te ontwrichten om het vertrouwen in zijn munt te gebruiken om zijn bredere nationale belangen na te streven. De Libra is waarschijnlijk niet het antwoord op de komende ontwrichting van de kant van door regeringen gesteunde digitale munten uit China en andere landen. Maar als dat inderdaad niet zo zal zijn, moeten westerse overheden wel hard gaan nadenken over hun reactie, voordat het te laat is.
Vertaling: Menno Grootveld