Die wahre Schwäche der Eurozone
LONDON – Der zwanzigste Jahrestag des Euro in diesem Jahr ist ein guter Zeitpunkt, um über die Robustheit der Europäischen Währungsunion nachzudenken. Die letzte Krise, die 2008 in den Vereinigten Staaten begann, ist den Europäern noch gut in Erinnerung: Die Eurozone hatte mehr zu leiden als die USA und einige ihrer Mitglieder waren sehr viel stärker betroffen als andere. In einer Zeit, in der die Eurozone erneut Anzeichen einer deutlichen Konjunkturabschwächung zeigt, ist es wichtig zu verstehen, was beim letzten Mal passiert ist. Haben wir in den ersten 20 Jahren des Euro etwas gelernt, das helfen könnte, eine weitere Rezession zu bekämpfen?
Die gängigste Sichtweise der Krise in der Eurozone basiert auf der Theorie des Ökonomen Robert Mundell eines "optimalen Währungsraumes" (Optimum Currency Area, OCA), die davor warnt, eine gemeinsame Währungspolitik in einem Verbund verschiedener Staaten mit unterschiedlicher wirtschaftlicher Widerstandsfähigkeit zu etablieren. Dieser Auffassung nach fehlt es den Mitgliedern der Eurozone an der Wechselkursflexibilität, die ihnen helfen könnte, auf einen negativen Schock zu reagieren. Erschwerend kommt hinzu, dass die geldpolitische Haltung der Europäischen Zentralbank möglicherweise nicht für alle Mitgliedstaaten geeignet ist, da ihr Zielwert an der durchschnittlichen Inflationsrate der Eurozone orientiert ist. In den schwächsten Ländern kann dies zu Realzinsen führen, die über dem für die Vollbeschäftigung erforderlichen Niveau liegen.
Eine weitere Sicht stellt finanzielle Instabilität in den Mittelpunkt. In guten Zeiten bauen einige Länder der Eurozone aufgrund relativ niedriger Realzinsen eine übermäßige Verschuldung auf – zum Teil eine Folge der einheitlichen Geldpolitik der EZB. In Ländern mit schwachen Institutionen und schlechter Regierungsführung kann dies zu einem Verlust an Wettbewerbsfähigkeit und übermäßigem Konsum führen. Eine Krise wäre dann schlimmer als normal und würde zu einem Preisverfall bei den Vermögenswerten und zu Zahlungsausfällen führen, gefolgt von einer Periode des Schuldenabbaus und einer schwachen Nachfrage.
Zwei Fragen sind heute relevant. Zum einen, ob schwächere Länder der Eurozone außerhalb der Währungsunion mit ihren eigenen nationalen Währungen besser dran wären. Dabei handelt es sich nicht um eine rein theoretische Debatte, angesichts der Wählerschaften in einigen Mitgliedstaaten, die den Euro immer lautstarker ablehnen. Eine zweite, dringendere Frage ist, ob eine neue Rezession im Euroraum wieder zu einer Krise mit sehr ungleichen Auswirkungen führen würde. Die Antwort wird dazu beitragen, politische Prioritäten für den Fall eines wirtschaftlichen Schocks festzulegen.
Meine Antwort auf die erste Frage ist nein, vor allem, weil die Theorie optimaler Währungsräume zwei Schlüsselfaktoren außer Acht lässt. Zum einen können globalisierte Finanzmärkte und große kurzfristige Kapitalflüsse in Ländern mit frei schwankenden Wechselkursen – und insbesondere in kleinen, offenen Volkswirtschaften – große Wechselkursschwankungen auslösen. Wie viele Schwellenländer gezeigt haben, können solche Währungsschwankungen die Fähigkeit eines Landes zur Rückzahlung von Fremdwährungsschulden beeinträchtigen und es zwingen, eine Geldpolitik zu verfolgen, die im Widerspruch zu seinen nationalen Zielen steht.
Darüber hinaus berücksichtigt die OCA-Theorie nicht den stabilisierenden Effekt, den die Glaubwürdigkeit der Zentralbank hat. Es ist schwer vorstellbar, dass beispielsweise Irland eine Finanzkrise vermieden hätte, wenn es im Jahr 2008 in der Lage gewesen wäre, seine Währung stark abzuwerten – insbesondere mit Schulden, die auf Euro und andere starke globale Währungen lauten. In den Krisenjahren 2008 bis 2013 kämpften die politischen Entscheidungsträger der Eurozone mit einer "Flucht in die Sicherheit" der Kernländer sowie mit einer zunehmenden geografischen "Balkanisierung" der Finanzmärkte, wobei Investoren die Staatsanleihen ihrer eigenen Länder bevorzugten. Infolgedessen war die lockere Geldpolitik der EZB weniger effektiv, als sie es sonst gewesen wäre. Unter diesen Umständen ist es schwer zu glauben, dass eine nationale Zentralbank durch national ausgerichtete Anlagenkäufe in der Lage gewesen wäre niedrigere Risikoprämien zu erzielen, wenn es einem makroökonomischen Anpassungsprogramm an Glaubwürdigkeit gemangelt hätte.
Subscribe now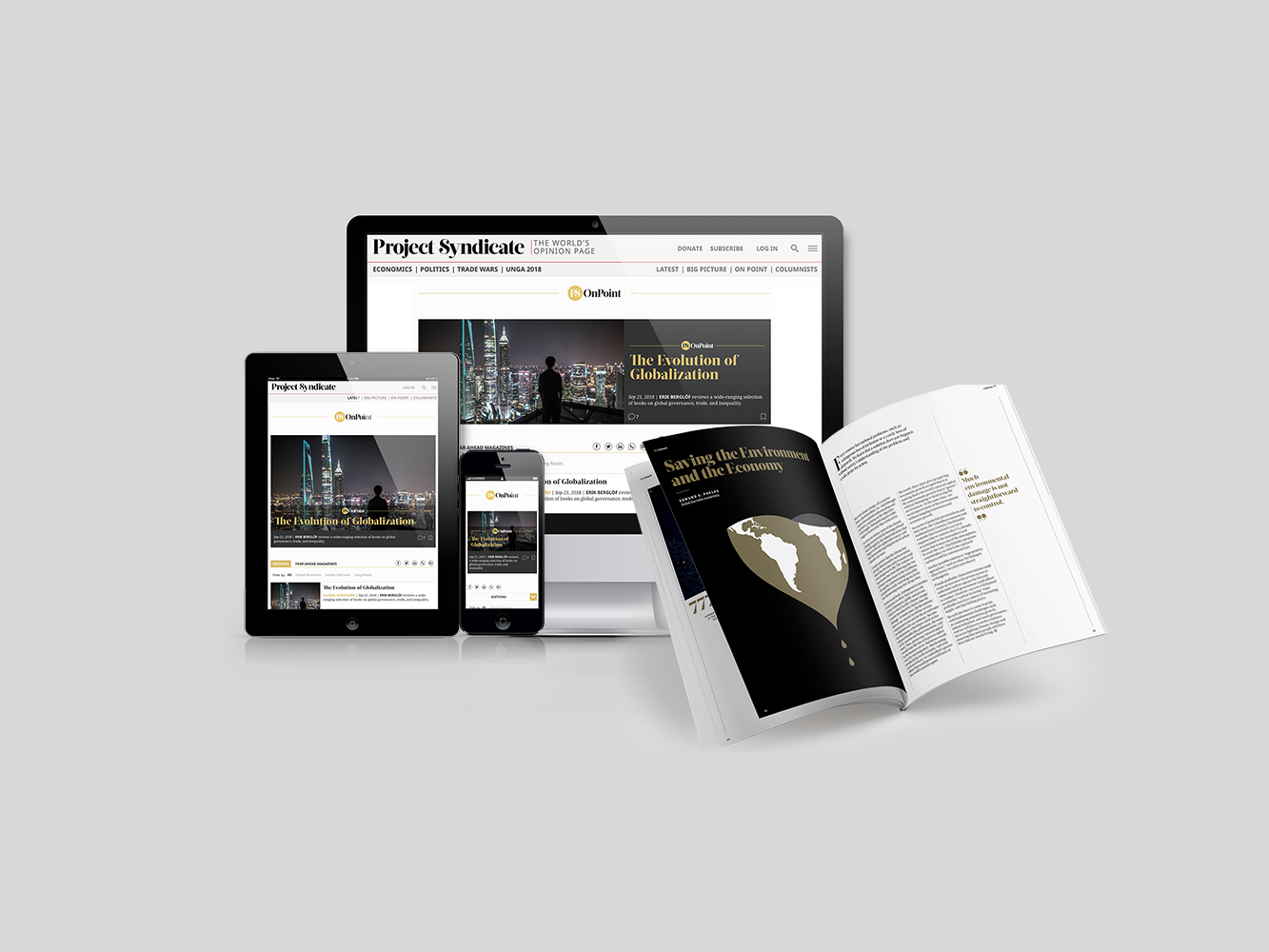 Subscribe now
Get unlimited access to OnPoint, the Big Picture, and the entire PS archive of more than 14,000 commentaries, plus our annual magazine, for less than $2 a week.
Befürworter der Rückkehr zu nationalen Währungen weisen oft darauf hin, dass Japan und das Vereinigte Königreich bei der Bekämpfung der letzten Rezession erfolgreicher waren als Spanien, Irland, Griechenland und Portugal. Dieser Standpunkt lässt jedoch unberücksichtigt, dass die Wirtschaftsentwicklung in diesen Ländern in der Vergangenheit unbeständiger war als in Deutschland oder Frankreich, was auch nach der Einführung der Einheitswährung so blieb.
Was die zweite Frage betrifft, so würde eine neue Rezession in der Eurozone höchstwahrscheinlich weniger ungleiche Auswirkungen haben als in den Jahren 2008 oder 2011. Heute weisen fast alle Länder der Eurozone Leistungsbilanzüberschüsse auf. Irland wächst schneller als China und auch Spanien und Portugal stehen relativ gut da. Und auch wenn robuste Preise für Wohnimmobilien zum Teil für dieses Wachstum verantwortlich sind, ist die Verschuldung geringer als vor zehn Jahren. Die nächste Rezession in diesen Ländern dürfte daher nicht mit einer schlimmen Bankenkrise einhergehen, die die Lage verschärfen könnte.
In den drei größten Volkswirtschaften der Eurozone wächst die Rezessionsgefahr hingegen. Deutschland und Italien haben einen schwachen Bankensektor und stehen vor einer starken konjunkturellen Abschwächung, die in Italien mit einem sehr geringen langfristigen Wachstumstrend und einer hohen Staatsverschuldung einhergeht. Auch in Frankreich ist das Wachstum verhalten und der private Sektor ist hoch verschuldet. Eine Rezession in den drei größten Volkswirtschaften würde auch die kleineren Mitglieder der Eurozone nach unten ziehen.
Der daraus resultierende Schock in der gesamten Eurozone würde eine gemeinsame Reaktion erfordern, bei der die Länder die Geld- und Finanzpolitik koordinieren, um die richtigen Impulse zu setzen. Aber ein solcher koordinierter fiskalpolitischer Impuls wäre schwierig umzusetzen, wenn nicht Deutschland, das Land mit der größten Finanzkraft, die Führung übernehmen würde. Darüber hinaus müssten die politischen Entscheidungsträger versuchen, eine weitere Balkanisierung der Finanzmärkte der Eurozone zu verhindern. Wie die letzte Krise gezeigt hat, beeinträchtigt eine solche Fragmentierung die Geldpolitik, schränkt die Risikoteilung ein und lässt alle Vorteile eines großen, liquiden, integrierten Kapitalmarktes hinfällig werden.
Die wahre Schwäche der Eurozone ist nicht die fehlende Wechselkursflexibilität oder ihre gemeinsame Währungspolitik. Vielmehr ist es die Aufteilung der Risiken, wenn die Wirtschaft von großen Schocks erschüttert wird, verbunden mit dem Fehlen einer gemeinsamen Finanzpolitik. Das ist die wichtigste Lehre der letzten 20 Jahre.
Aus dem Englischen von Sandra Pontow.