La tragi-comédie du Brexit
PRINCETON – Alors que le reste du monde nous observe dans un mélange d'amusement et de pitié, la politique britannique à l'âge du Brexit finit par ressembler à un feuilleton télévisé. Le chaos qui s'abat sur le Royaume-Uni peut-il être bénéfique pour l'Europe, ou même pour la Grande-Bretagne ? Peut-être, mais seulement dans le sens où une catastrophe ferroviaire nous permet de tirer des leçons sur ce que nous essayons d'éviter.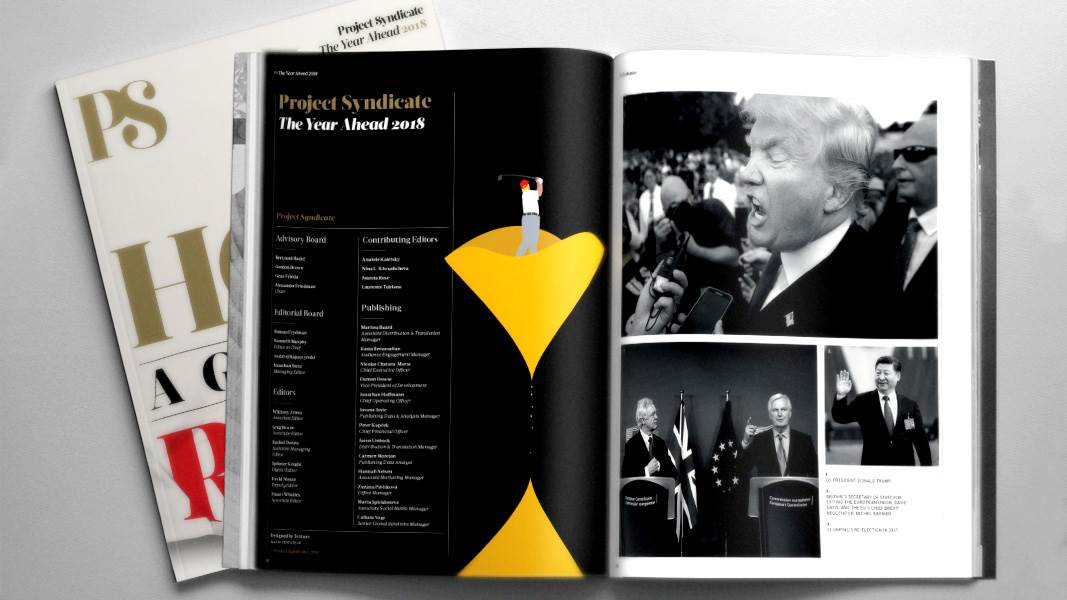 The Year Ahead 2018
The world's leading thinkers and policymakers examine what's come apart in the past year, and anticipate what will define the year ahead.
Les acteurs politiques britanniques savent qu'ils fabriquent une mise en scène et parlent ouvertement de la vie qui imite l'art. Leur modèle est celui de la série dramatique Game of Thrones ou la comédie noire House of Cards (la version britannique, pas l'imitation américaine fleuve qui a été annulée suite aux allégations d'agression sexuelle contre sa vedette Kevin Spacey).
Contrairement à Hamlet, où chacun finit par mourir et où un étranger (Fortinbras) apparaît pour rétablir la normalité, les drames politiques modernes romancés n'ont jamais une résolution satisfaisante. Le drame du Brexit imite dès lors fidèlement l'art : il ne peut se clore que par un dénouement complexe.
Le Brexit n'est pas un simple bouleversement politique : c'est une révolution. Historiquement, les réalignements politiques radicaux ont été plutôt rares dans la politique britannique. Un exemple en est la Glorieuse révolution de 1688, qui a produit un système à deux partis comprenant les Whigs, favorables à un nouvel accord, et les Tories qui y ont résisté.
Ce système a duré plus d'un siècle, jusqu'aux années 1840, lorsque le parti Whig est devenu synonyme de Libéral - et le parti Tory synonyme de Conservateur. Mais ensuite en 1846, le Parti Conservateur s'est divisé sur la question de la réduction des droits de douane sur les céréales, ce qui était mauvais pour la base agricole rurale du parti, mais bon pour l'industrie et pour la société en général. L'équilibre politique qui en a résulté a duré près d'un siècle, jusqu'aux années 1920, lorsque le Parti travailliste a remplacé les Libéraux comme alternative au Conservatisme.
Sans doute, un nouveau remaniement politique est-il peut-être en souffrance. Dans les années 2000, le Premier ministre britannique Theresa May a joué un rôle crucial en redorant l'image du Parti conservateur souvent qualifié de « méchant parti. » Mais sa stratégie du Brexit, par laquelle elle a évité de prendre des positions claires, a transformé son Parti en une chose encore pire : une cabale politique malhonnête, divisée et faible dont les décisions peuvent s'avérer fatales.
Le Brexit transcende l'ancien fossé à deux partis de la politique britannique. Le bloc du Parti conservateur au Parlement comprend une petite minorité qui considère le Brexit comme une catastrophe, d'autres qui veulent un compromis négocié, et un groupe important qui s'oppose à tout compromis et qui a accepté l'idée d'une rupture nette avec l'Union européenne.
Le Parti travailliste est lui aussi divisé. Le chef du parti Jeremy Corbyn est hostile à l'UE, qui pourrait l'empêcher de mettre en œuvre son programme socialiste utopique. En même temps, de nombreux députés travaillistes reconnaissent que l'UE joue un rôle central en offrant des opportunités économiques et de la mobilité sociale aux citoyens britanniques.
Parce qu'aucune question fondamentale ne sépare les Conservateurs pro-UE des Travaillistes pro-UE, la coopération entre les partis a commencé à se mettre en branle. Mais pour qu'une telle alliance parlementaire ait une légitimité démocratique, elle devra se présenter non seulement comme une coalition d'autres députés de même opinion, mais également comme un nouveau parti politique, avec un programme capable d'affronter de manière réaliste les défis du changement technologique et de la mondialisation.
Des changements similaires ont eu lieu dans d'autres pays européens où les partis établis et les traditions se sont effondrés. Dans les années 1990, le système en grande partie bipartite de l'Italie s'est désintégré lorsque la Démocratie chrétienne a été engloutie par des scandales de corruption et que le Parti communiste a volé en éclats suite à l'effondrement de l'Union soviétique. La politique italienne est depuis cette date marquée par l'instabilité.
En France, le nouveau parti politique du président Emmanuel Macron, La République en Marche, a effectivement remplacé le vieux parti gaulliste de centre-droit Les Républicains, ainsi que les socialistes de centre-gauche. Pourtant Macron reconnaît à juste titre que sa révision de la politique française ne réussira que si elle est relayée à l'échelle européenne. Si un changement à l'échelle de l'Europe se produit, il sera grandement redevable envers la mise en garde qui se joue actuellement en Grande-Bretagne.
En Allemagne, la rupture de négociations de coalition entre l'Union chrétienne-démocrate, l'Union chrétienne-sociale, les Démocrates libres et les Verts suggère qu'un remaniement politique est peut-être là aussi nécessaire.
En fait, les réajustements auront peut-être de meilleures chances de réussir ailleurs en Europe plutôt qu'au Royaume-Uni. Après tout, le malaise britannique s'étend beaucoup plus loin que la politique des partis. Le Brexit a déclenché une révolution dans un pays sans tradition révolutionnaire. Se retirer de l'Union va nécessiter le déracinement d'un entrelacs de cadres institutionnels et juridiques complexes, autour duquel gravitent la plupart des normes et conventions internationales.
Jusqu'à présent, chaque arrangement alternatif qui a été proposé a été problématique. Par exemple, si la Grande-Bretagne libéralise ses échanges commerciaux et ses politiques réglementaires, les travailleurs britanniques pourraient se retrouver dans une situation pire que sous le régime de l'UE. Inévitablement, chaque étape concrète hors de l'UE est forcée de conduire à un factionnalisme encore plus tranché.
À l'avenir, il y a deux scénarios possibles pour la politique britannique. Le premier est scénario de Hamlet, dans lequel le chaos se poursuit jusqu'à ce que le Royaume-Uni s'écrase sur le marché unique européen et sur l'union douanière. La scène sera jonchée de cadavres politiques et une catastrophe économique s'ensuivra.
Dans le deuxième scénario, le bon sens l'emporte : un pragmatisme inspiré du style de Macron prend racine en Grande-Bretagne, en supplantant le style de Poujade qui a alimenté le populisme anti-UE de la campagne du « Leave ». Cela suppose que le Macronisme réussisse au niveau européen, afin qu'il puisse déjouer les plans politiques dysfonctionnels et déformés des États-Unis, de la Russie et de la Turquie, ainsi que la nouvelle instabilité en Allemagne.
Ce résultat serait également shakespearien et ressemblerait beaucoup à Tout est bien qui finit bien : l'une des « comédies » les plus sombres de toute l'œuvre de Shakespeare.