Who Will Win the US Presidential Election?
If the latest polls are any indication, Joe Biden is on track to win the popular vote in the upcoming US presidential election by a substantial margin, and an Electoral College reversal of that outcome, like in 2016, is unlikely. But the polls have been wrong before, including in 2016.
MILAN/STANFORD – In late July, opinion polls clearly indicated that US President Donald Trump had lost ground to Joe Biden, his Democratic challenger in the upcoming presidential election, owing primarily to his administration's mismanagement of the COVID-19 pandemic. Since then, Trump's fortunes have not improved; if anything, they have deteriorated further. Now, Trump appears set not only to lose the popular vote on November 3, but also to fail to pull off an Electoral College upset, as he did in 2016.
Start with party affiliations. As Table 1 shows, since the 2016 election, the Democratic Party's ranks have grown by 6%, compared to just under 3% for Republicans. Self-identified independents declined by 8%. Among those who still identify as independents, the share of those leaning either left or right has changed little.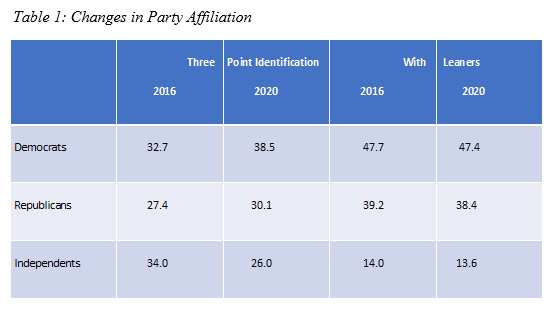 Moreover, as Table 2 shows, perceptions of Trump's management of the COVID-19 crisis have declined considerably since March, and even since July, especially among moderate Republicans, Democrats, and independents – three groups whose votes are decisive in battleground states. Trump's overall approval rating has also declined, though not quite as much.
To continue reading, register now.
Already have an account? Log in