The End of Little Germany?
Germany has long enjoyed the luxury of pretending to be something it is not: a small country. Now that a new government has finally been formed, Germany must start thinking of itself as the major economic player it is, and behave accordingly – preferably before new ministers settle into old routines.
LONDON – At long last, Germany is ready to swear in a new government. After five months of political wrangling, the Social Democrats (SPD) and the Christian Democratic Union – together with the CDU's Bavarian sister party, the Christian Social Union – have formed a government coalition. But in the process of reaching that agreement, something has shifted in German political debate.
Germany has long enjoyed the luxury of pretending to be something it is not: a small country. At the time of the election last year, there was hardly any public debate about the European Union and Germany's role in it. Chancellor Angela Merkel's then-comfortable lead in opinion polls confirmed her instinct that German voters did not want to be bothered with discussions about Europe's future. And, despite being the former president of the European Parliament, then-SPD leader Martin Schulz also focused almost entirely on domestic issues.
But the election of US President Donald Trump, the reform agenda of French President Emmanuel Macron, and, to a lesser extent, the United Kingdom's vote to leave the EU, have focused minds across Germany. If Europe is to meet its many challenges, Germany needs to question some of its longstanding assumptions. It needs a clear European agenda, one that dispenses with small-nation thinking.
To be sure, Germany's historical narratives and political preferences limit the options available to any government. But there are still realistic steps that the incoming German government can take to serve the European and global good. Will the new coalition be up to the task?
The Europe chapter in the coalition agreement between CDU/CSU and the SPD has been framed in Germany as an answer to Macron's eurozone reform proposals. But those who were hoping for a fundamental change in economic policy will likely be disappointed. The new government might talk about restarting the EU's Franco-German engine of reform, but it is unlikely to support proposals for debt mutualization or the creation of a sizeable common budget.
But it can and should pursue other measures. Germany could accept – and even promote – the idea that fiscal policy should be more counter-cyclical at the national level. It should also stop dragging its feet on the eurozone banking union and make the capital markets union a high political priority. It could make a bold offer on European deposit insurance and a common fiscal backstop for the Eurozone's Single Resolution Fund, which steps in when banks collapse and are wound up. It could tie that offer to a thorough clean-up of the European banking system, especially in Italy, and to tough rules on creditor bail-ins.
Germany must also tackle its large savings surplus, which is unbefitting Europe's largest economy. To boost consumption, low-income earners need to be relieved of their excessively high tax burden. Germany's labor-market institutions leave many service workers without much bargaining power or protection, thereby creating one of the largest low-wage sectors in Europe. German savers could also do with a low-fee public wealth fund, which could boost equity investments both in Germany and across borders, while reducing German demand for international safe assets.
With the finance ministry in SPD hands, a greater emphasis on public investment, rather than tax cuts and further reductions in public debt, has also become a possibility. Germans are beginning to grow tired of the decade-long ideology-driven pursuit of lower deficits. The country's constitutional fiscal rule, known as the debt brake, does allow for higher public spending. Slight economic overheating as a result of higher private and public investment would help boost wages and import demand, which might help reduce Germany's current-account surplus.
The new German government should also develop a new trade policy that recognizes and is willing to use the country's economic clout, and that of the EU, more strategically. The increasingly protectionist tone of the Trump administration presents a perfect opportunity for Germany to step into the breach. The US will soon impose tariffs on all steel and aluminum imports, and this requires a firm European response.
It is notable that the German debate about the US-EU Transatlantic Trade and Investment Partnership was focused primarily on consumer rights and protecting domestic regulations and standards. But narrow economic goals such as these, to which a small country would give priority, no longer suffice for today's German neo-hegemon. The same is true of overly optimistic support for a form of trade multilateralism that has largely run its course.
Instead, the incoming German government needs to develop a trade policy that supports economic reforms and social standards, while promoting market economics and the rule of law in its neighborhood. Germany could also be doing more to push the rest of Europe to be more forceful at the World Trade Organization on social rights, environmental protection, fair taxation, and improved political standards.
These proposals require German politicians to shift the debate. As the eurozone's dominant country, Germany needs to make sure that the bloc benefits all of its members and is a stabilizing force in the world economy. Germany must finally start thinking of itself as the major economic player it is, and behave accordingly – preferably before new ministers settle into old routines.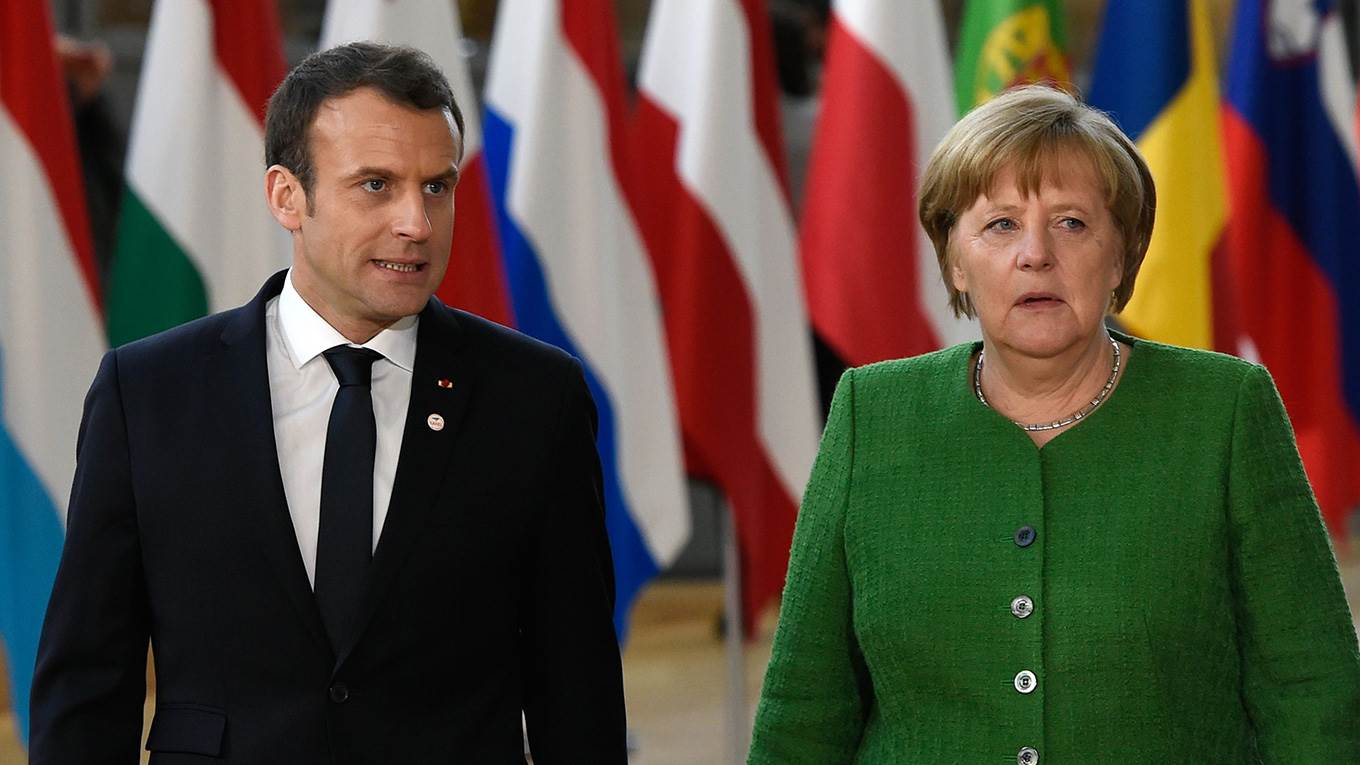 Europe's Bretton Woods Moment
Political leaders in France and, soon, Germany will have a chance to deliver the European Union from its malaise, but only by heeding the right lessons from the past. The success of grand bargains between France and Germany in 1963, and between the victors of World War II in 1944-1945, speak to the need for a bold, comprehensive approach.
PRINCETON – After years of paralysis during the debt crisis that began in 2009, the European Union seems to have regained some momentum. In France last year, Emmanuel Macron and his La République En Marche ! won the presidency and a strong parliamentary majority. And in Germany, after much delay, the center-left Social Democrats are currently voting on a new coalition agreement with the center-right Christian Democratic Union and its Bavarian sister party, the Christian Social Union.
The hope now is for renewed Franco-German cooperation and a new Élysée Treaty, updating the historic 1963 agreement negotiated by German Chancellor Konrad Adenauer and French President Charles de Gaulle. A new arrangement might involve more spending at the EU level and overcoming old German taboos against a "transfer union."
But, to have the desired effect, the Franco-German vision for Europe must be fresh and bold enough to capture the popular imagination. Many Europeans are fed up with technocratic fixes negotiated behind the scenes and empty invocations of universal ideals. People need ideals, but they also need sensible, concrete measures.
Consider some of the grand bargains of the past, not just in 1963, but in the immediate aftermath of World War II, when liberal-democratic systems were fundamentally reconceived. The world ended up not just with new institutions, but also with a new way of thinking about social, political, and economic interconnectedness. For Europe, the historical lesson is that a genuinely concerted effort to address institutional and philosophical imperatives is indeed possible.
One promising proposal contained in the German coalition agreement is for a new European Monetary Fund (EMF), to be overseen by the European Parliament. An EMF could represent a significant improvement on the EU's current intergovernmental financial-bailout institution, the European Stability Mechanism. Moreover, it might provide a model for other parts of the world. In fact, similar efforts to link regional-cooperation mechanisms to global financial institutions are already underway in Asia, through the Chiang Mai currency-swap initiative and the Asian Infrastructure Investment Bank.
Europe, for its part, has long been fixated on Bretton Woods, the 1944 conference in New Hampshire that, among other things, created the International Monetary Fund and a rules-based international monetary system of fixed but adjustable exchange rates. Ever since the breakdown of the so-called Bretton Woods system in the early 1970s, France and Germany have been trying to find a European-level equivalent.
For example, a 1978 initiative by French President Valéry Giscard d'Estaing and German Chancellor Helmut Schmidt led to the creation of a European Monetary System with fixed but adjustable exchange rates, and provided for the establishment of an IMF-style European Monetary Fund within two years. But that incarnation of the EMF was stillborn, owing to opposition from the German Bundesbank. And when the idea was revived again during the financial turmoil of the early 1990s and in the early stages of the euro crisis, it gained no more political traction than it did in the late 1970s.
Still, it is worth looking back to the Bretton Woods conference, which responded to the interwar backlash against globalization by treating poverty, autarky, and war as causally interlinked phenomena. The post-war project of enlightened internationalism allowed multiple countries to align their interests as economic agents, and integrated states and markets. The new system was undoubtedly based on high-minded idealism, but it was an idealism that corresponded to concrete and realistic – even cynical – measures and institutions.
For every country other than the United States, the post-war settlement was in fact sugar coating on the bitter pill of dollar hegemony, which favored American companies and workers. And within the US, Bretton Woods was sugar coating on the bitter pill of internationalism, for which distaste lingered from the interwar period of "America first" isolationism.
The question now is whether a similar settlement can address contemporary concerns about the legitimacy of European-level political processes. One often-overlooked feature of the original Bretton Woods architecture is that it tried to link economic and political interests with security interests. In 1944-1945, the five largest shareholders of the IMF and the World Bank – the US, the Soviet Union, the United Kingdom, China, and France – were the same countries that would end up with permanent seats on the United Nations Security Council.
Yet, after the communist revolution in China and the Soviet Union's failure to ratify the Bretton Woods Agreement, the IMF and the World Bank went in a different direction. The Soviet Union and the People's Republic of China were excluded (at least initially in the case of China), and the security aspect of the post-war settlement never materialized. Now is the time for Europe to revive it, and to create a model of interconnectedness for the rest of the world to follow.
Over the last eight years, most proposals to deal with the euro crisis have been arcane and overly wonky, appealing only to technocrats and insiders, while leaving the broader public mystified. What is needed now is a grand bargain to link economics and the big security issues of a world that is being upended by the likes of Russian President Vladimir Putin and US President Donald Trump.
More to the point, Europe's heads of state need to devise a settlement that breaks down the conceptual silos between economic issues – which are mistakenly treated as zero-sum battles for resources – and defense, which is widely recognized as a shared concern. It is time to bring back the comprehensive thinking of 1944-1945, which emphasized collective goods over narrow interests.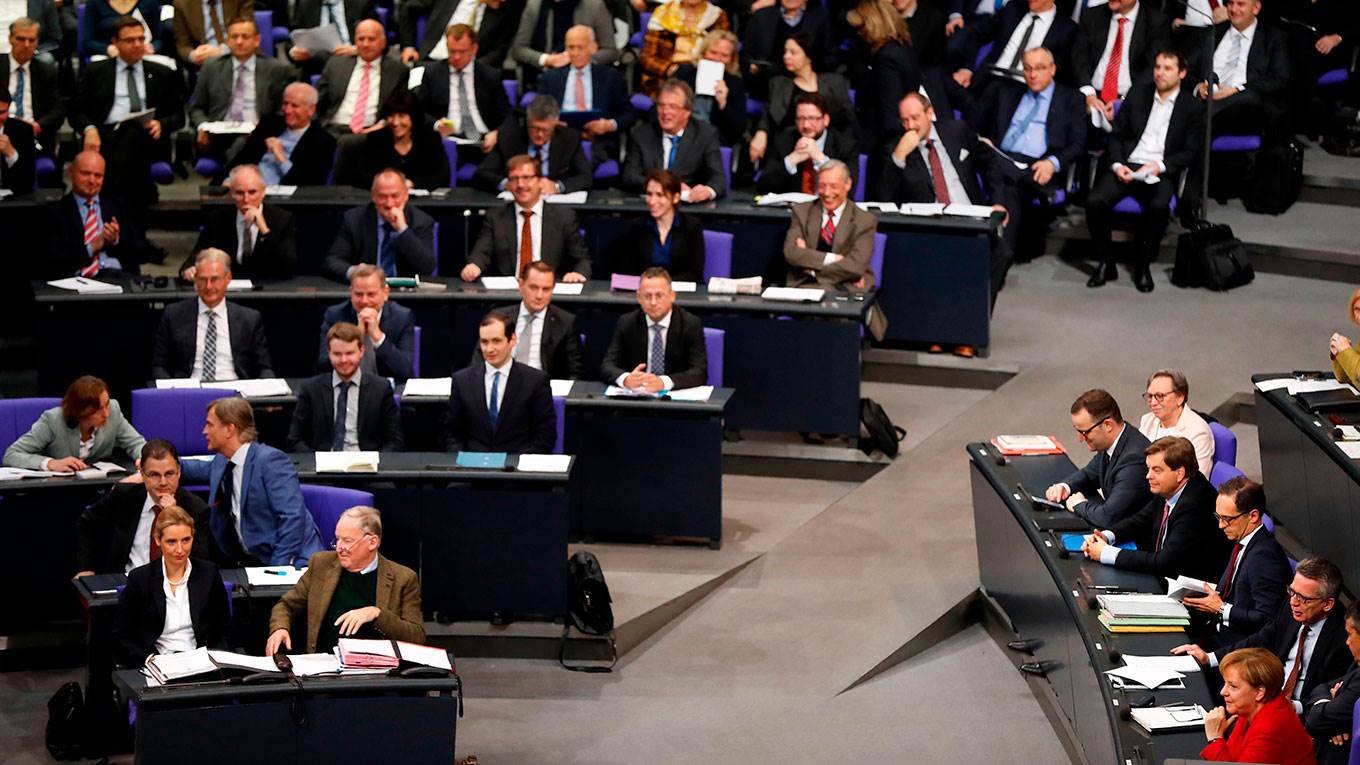 A New Grand Coalition for Germany – and Europe
With America AWOL and China ascendant, this is a critical time for Germany and the European Union to provide the world with vision, stability, and global leadership. And that imperative extends to Germany's Christian Democrats and Social Democrats.
NEW YORK – Friends of Germany and Europe around the world have been breathing a sigh of relief at the newfound willingness of Germany's Christian Democrats and Social Democrats (SPD) to discuss reprising their grand coalition government. The world needs a strong and forward-looking Germany in a dynamic European Union. A new grand coalition working alongside French President Emmanuel Macron's government would make that possible.
The SPD's initial decision to go into opposition after its poor election result in September may have been sincere, and even strategically sound. But it is not timely. Diplomacy almost everywhere is fractured.
The United States is reckoning with a psychologically unstable president, a plutocratic cabinet, and a Republican congressional majority. Europe is in the throes of multiple economic, social, political, and institutional crises. China, by contrast, is dynamic and outward-looking – providing good reason for the EU to assume vigorous leadership and engage in constructive partnerships with China on key initiatives (such as sustainable infrastructure across Eurasia).
In short, this is a critical time for Germany and Europe to provide vision, stability, and global leadership. And that imperative extends to Chancellor Angela Merkel's Christian Democratic Union (CDU), its Bavarian sister party, the Christian Social Union (CSU), and the SPD.
But the CDU/CSU and the SPD need to do more than merely extend the previous government, which was too parochial in outlook and temperament. The world and Europe need an outward-looking Germany that offers more institutional and financial innovation, so that Europe can be a true counterpart to the US and China on global affairs. I say this as someone who believes firmly in Europe's commitment and pioneering statecraft when it comes to sustainable development, the core requirement of our time.
Economic growth that is socially inclusive and environmentally sustainable is a very European idea, one that has now been embraced globally in the United Nations' 2030 Agenda and its 17 Sustainable Development Goals, as well as in the 2015 Paris climate agreement. Europe's experience with social democracy and Christian democracy made this global vision possible. But now that its agenda has been adopted worldwide, Europe's leadership in fulfilling it has become essential.
A grand coalition government in Germany must help put Europe in a position to lead. French President Emmanuel Macron has offered some important ideas: a European finance minister; Eurobonds to finance a new European investment program; more emphasis on innovation; a financial transactions tax to fund increased aid to Africa, where Europe has a strategic interest in long-term development; and tax harmonization more generally, before the US triggers a global race to the bottom on taxing corporations and the rich.
Contrary to the Germans who oppose such ideas, a European finance minister and Eurobonds would not and should not lead to fiscal profligacy, but rather to a revival of investment-led green growth in Europe. China has proposed the Belt and Road Initiative to build green infrastructure linking Southeast Asia and Central Asia with Europe. This is the time for Europe to offer the same bold vision, creating a partnership with China to renovate Eurasia's infrastructure for a low-carbon future.
If Europe plays its cards right, Europe's (and China's) scientific and technical excellence would flourish under such a vision. If not, we will all be driving Chinese electric vehicles charged by Chinese photovoltaic cells in the future, while Germany's automotive industry will become a historical footnote.
A European finance minister would, moreover, finally end Europe's self-inflicted agony in the aftermath of the 2008 financial crisis. As difficult as it is to believe, Greece's crisis continues to this day, at Great Depression scale, ten years after the onset of the crisis.
This is because Europe has been unable, and Germany unwilling, to clean up the financial mess (including Greece's unpayable debts) in a fair and forward-looking manner (akin to the 1953 London Agreement on German External Debts, as Germany's friends have repeatedly reminded it). If Germany won't help to lead on this issue, Europe as a whole will face a prolonged crisis with severe social, economic, and political repercussions.
In three weeks, Macron will convene world leaders in Paris on the second anniversary of the climate accord. France should certainly take a bow here, but so should Germany. During Germany's G20 Presidency, Merkel kept 19 of the 20members of the G20 firmly committed to the Paris agreement, despite US President Donald Trump's disgraceful attempt to wreck it.
Yes, the corruption of US politics (especially campaign funding by the oil and gas industry) threatened the global consensus on climate change. But Germany stood firm. The new coalition should also ensure that the country's Energiewende ("energy transition") delivers on the 2020 targets set by previous governments. These achievable and important commitments should not be a bargaining chip in coalition talks.
A CDU/CSU-SPD alliance, working with France and the rest of Europe, could and should do much more on climate change. Most important, Europe needs a comprehensive energy plan to decarbonize fully by 2050. This will require a zero-carbon smart power grid that extends across the continent and taps into the wind and solar power not only of southern Europe but also of North Africa and the eastern Mediterranean. Once again, Eurobonds, a green partnership with China, and unity within Europe could make all the difference.
Such an alliance would also enable a new foreign policy for Europe, one that promotes peace and sustainable development, underpinned by new security arrangements that do not depend so heavily on the US. Europe, a magnet for hundreds of millions of would-be economic migrants, could, should, and I believe would regain control of its borders, allowing it to strengthen and enforce necessary limits on migration.
The political terms of a new grand coalition government, it would seem, are clear. The SPD should hold out for ministerial leadership on economic and financial policy, while the CDU/CSU holds the chancellorship. That would be a true coalition, not one that could bury the SPD politically or deny it the means to push for a truly green, inclusive, EU-wide, sustainable development agenda.
With Merkel and SPD leader Martin Schulz in the lead, the German government would be in excellent, responsible, and experienced hands. Germany's friends and admirers, and all supporters of global sustainable development, are hoping for this breakthrough.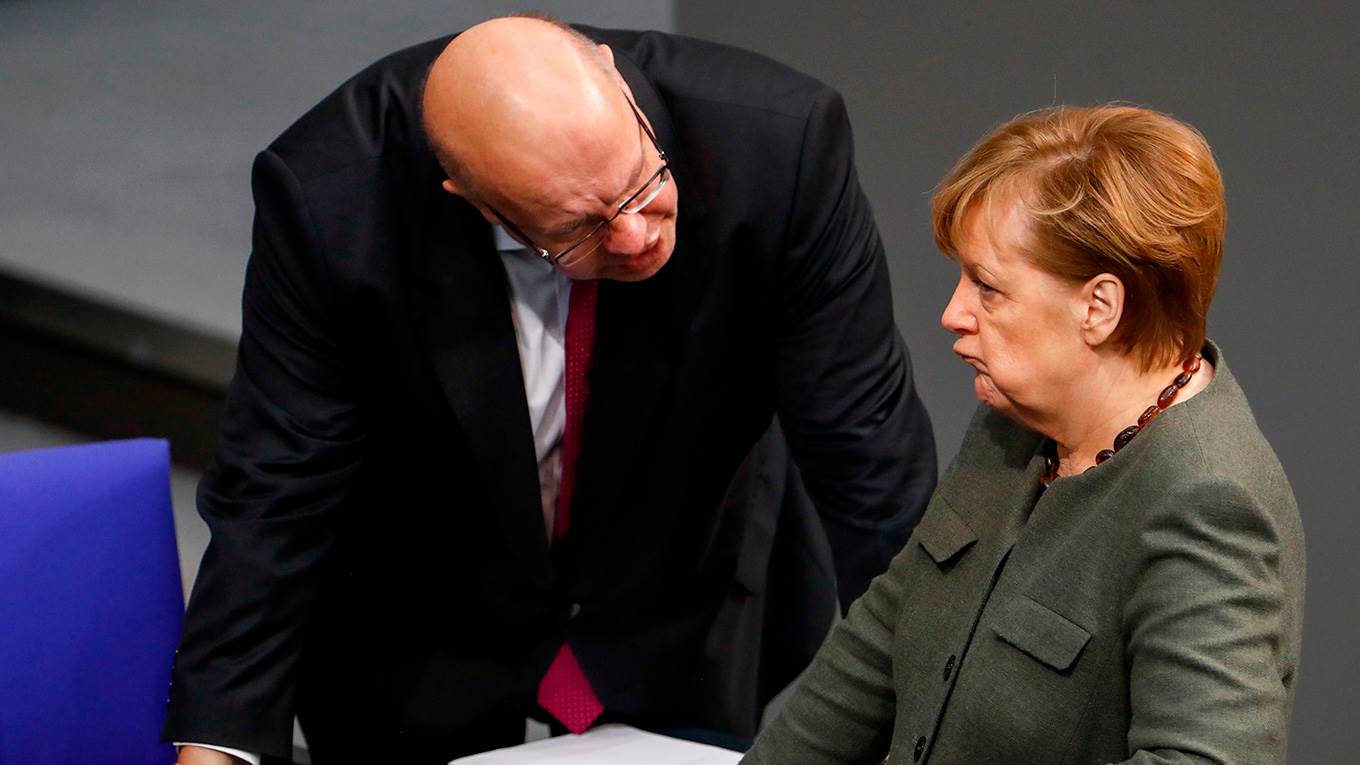 Germany's Bland Grand Coalition
In pursuit of another "grand coalition" government, Germany's Social Democrats and Christian Democrats have published a provisional agreement outlining their proposed agenda. But the program party leaders have devised seems to have been inspired by a wish not to offend rather than a desire to confront the country's challenges.
MUNICH – Germany's Social Democrats (SPD), the Christian Democratic Union, and the CDU's Bavarian sister party, the Christian Social Union (CSU), have agreed to pursue another "grand coalition" government, and have published a 28-page agreement outlining their proposed policy agenda.
The agreement comes months after an election in which the SPD and CDU/CSU advanced rather different economic-policy views. Whereas the SPD has focused on the need for more redistribution and public spending, the CDU/CSU has promised "tax cuts for all" and a more restrictive refugee policy. The question now is whether a coalition comprising such ideologically divergent forces can truly prepare Germany for the challenges that await it.
In the months and years ahead, German policymakers will need to manage the transition into the digital era, in order to preserve the country's competitiveness. They must also stabilize the welfare state at a time of rapid population aging. And they must develop a rational migration policy. On top of this full domestic agenda, many are looking to Germany to keep the European Union together.
As many commentators have pointed out, Germany's new government will benefit from a budget surplus, because the booming economy, coupled with peculiarities of the German tax code, has boosted government revenues over the last four years. Even by pursuing the balanced-budget policy described in its provisional coalition agreement, the government will have room either for more spending or tax cuts amounting to €46 billion ($56 billion) – around 0.3% of GDP – over four years.
According to the coalition agreement, €36 billion of the surplus will be allocated to various outlays such as transfers to families, higher agricultural and regional subsidies, housing-construction incentives, roads and related infrastructure, universities and school buildings, and even the military.
That leaves just €10 billion for tax cuts, which will take the form of reductions in the solidarity surcharge (Solidaritätszuschlag), a special income tax that was introduced in 1991 to finance German reunification. The grand coalition envisions abolishing this tax for everyone except the top 10% of earners, who generate more than half of the revenue from it.
But when one considers the effects of "bracket creep," the outlook for taxpayers worsens. Unlike most other developed countries, Germany's tax system lacks an automatic adjustment mechanism to prevent inflation from pushing households into higher tax brackets. And while discretionary adjustments do take place, they hardly provide full compensation to countless households that end up paying more tax than they should.
In fact, at the current rate of bracket creep, Germany's tax revenues will increase by roughly €50 billion over the next four years. Halving the solidarity surcharge no earlier than 2021 will come nowhere close to offsetting that.
All told, nobody is particularly enthusiastic about the coalition agreement, including the SPD. Despite the coalition agreement's emphasis on spending, the SPD fears that participating in another grand coalition will further damage its public standing, and drive more of its voters into the arms of the radical left or the far-right Alternative für Deutschland (AfD).
For others, the problem is not politics, but the agenda itself: for all of its specific provisions, it achieves very little. When spread over four years, an additional €2 billion spent on defense, €600 million on universities, and €4 billion on housing will make little difference.
And while the coalition's plan also promises higher contributions to the EU budget and more spending on the mothers' pension and low-income households, it does not specify how those increases will be reconciled with a balanced budget.
More fundamentally, the agenda lacks ambition and direction. It neither provides significant relief to the middle class through tax cuts, nor allocates adequate investment for research, infrastructure, or education. And it makes no mention of corporate taxation, even though rate cuts in the United States, and planned cuts in France and the United Kingdom, will inevitably lure investment and jobs away from Germany.
A truly bold policy agenda would require the new government to focus on specific priorities and accept that not everyone can get what they want. Rather than tweaking the margins in a futile attempt to please everyone, the government would set its sights on deeper structural reforms, to lay the foundation for future growth and stability.
For example, Germany spends billions of euros every year on green-energy subsidies. But as the provisional coalition agreement acknowledges, Germany will likely fall short of its target for reducing carbon dioxide emissions by 2020, suggesting that these subsidies have not worked. Fundamental reforms in this area could make Germany's climate policies both cheaper and more effective. But doing that would require the government to abandon its ideological position and challenge powerful interest groups.
Nevertheless, the coalition agreement does include some promising ideas. For example, it proposes a program to attract skilled workers, and to align Germany's immigration policies with its economic interests. And although the new government should attach conditions to Germany's larger EU budget contribution, in order to prevent wasteful spending, its clear commitment to the EU should be welcomed.
There is still time for the coalition partners to revise their program. Surely, they should want to do more than use the current economic upswing to provide piddling handouts to various constituencies (except those paying the most in taxes, of course). Now is the time to start preparing Germany for its future challenges.