Germany's Dangerous Obsession
The European Union's ability to respond to global and internal challenges will depend largely on the governing program that emerges from Germany's ongoing coalition talks. Will the next German government be willing to put fears of unfair EU redistribution to the side, or will it continue to allow those fears to dictate its every action?
PARIS – As Germany's Christian Democratic Union (CDU) and its Bavarian sister party, the Christian Social Union (CSU), seek to form an unprecedented "Jamaica coalition" with the liberal Free Democrats (FDP) and the Greens, the rest of Europe anxiously awaits the government program that will result from their negotiations.
The stakes are high for Europe, because these are not ordinary times. The rise of economic nationalism, growing security threats, and the ongoing refugee crisis have made collective responses more necessary. China is becoming increasingly assertive, and US President Donald Trump's administration has made clear its disdain for the European Union and its suspicions of Germany's economic strength.
At home, the EU's rationale is being tested by Brexit, and by the defiant governments of Poland and Hungary – two countries that, as Constanze Stelzenmüller of the Brookings Institution recently noted, are enjoying the benefits of EU membership and ignoring the corresponding obligations.
In this context, Emmanuel Macron's election to the French presidency in May was a relief for Germany. Yet Macron has put Germany in the uncomfortable position of having to respond to his proposals for EU-level reforms. By calling for a common EU defense fund, tax harmonization, and a joint eurozone budget, Macron is upending the European status quo.
The question now is whether Europe's largest and most prosperous country will provide the leadership these trying times demand. Each party in the coalition talks brings a very different perspective to the table. On European matters, Chancellor Angela Merkel's CDU, which has been in power for 12 consecutive years, will bring continuity. But the more conservative CSU is being pulled to the right by competition from the populist Alternative für Deutschland (AfD).
As for the other two parties, the FDP has adopted a tough line toward Europe. Its leaders have suggested that Greece should leave the euro, and that the EU mechanism for bailing out struggling countries should be dismantled. The Greens, on the other hand, are keen on deepening European integration; but that is not their first priority, and they are the smallest party at the table.
Ultimately, the new government's program will likely reflect the suspicion that other EU member states want to solve their problems with German money rather than domestic reforms. German politicians and opinion makers assess virtually every proposal for EU-level reform through this distributional prism. Schemes that are not intended to result in structural transfers are routinely dissected to confirm that they will not become cash dispensers for other EU members.
For example, Germans regard a joint budget not as a way to finance public goods such as research or infrastructure, but as a device to compel Germany to cover other countries' expenses. Similarly, common unemployment insurance is regarded as a scheme to make Germans pay for unemployed Spanish or French workers. And a deposit-guarantee program for banks is seen as a way to force prudent German depositors to pay for non-performing loans in Italy.
To be sure, each of these concerns may be legitimate. All proposals certainly should be scrutinized to ensure that they will not be abused or introduce moral hazard. European solidarity is not a one-way street.
But, at the same time, German leaders must recognize that their exclusive focus on distributional effects is poisonous. They should recall the moment, in 1979, when British Prime Minister Margaret Thatcher marched into a European summit and said, "I want my money back." The same logic was on display nearly 40 years later during the Brexit campaign, when "Leave" politicians falsely claimed that withdrawing from the EU would bring "money back" to the National Health Service.
Why has Gemrany become obsessed with the fear of paying too much? The EU budget contains much to criticize, but it hardly treats Germany unfairly. Germany may be the largest net contributor, but that is because it has the largest economy. As a proportion of national income, countries like Belgium, France, and the Netherlands also contribute a meaningful share of their net income.
German fears that the European Stability Mechanism serves as a channel for hidden transfers are similarly unfounded. Yes, the ESM benefits from low borrowing costs, which are essentially passed on to borrowing countries. If Greece cannot repay its debt, ESM shareholders will suffer a loss; and that risk is not priced into the interest rate Greece pays. But, so far, the ESM has continuously posted profits, and any loss it does suffer will be spread among all shareholders – including, for example, Italy. The ESM is a far cry from a subsidy machine financed by the German taxpayer.
Some in Germany also decry the so-called Target2 balances, which record bilateral surpluses and deficits of national central banks vis-à-vis the European Central Bank. The University of Munich's Hans-Werner Sinn, for example, argues that the Target system has become a conduit for hidden operations to benefit debtor countries in southern Europe. True, in September, the Bundesbank had a net surplus of €878 billion ($1.2 trillion) vis-à-vis the ECB, whereas Italy and Spain ran deficits of €432 billion and €373 billion, respectively. These positions reflect the degree to which official flows are still substituting for private flows.
But, again, this arrangement has not cost Germany a single euro. On the contrary, the Target system is essentially a collective insurance scheme: if a national central bank were to default, the loss would be shared among all ECB shareholders. The system thus allows German exporters to continue to sell their products in southern Europe, because it guarantees that they will be paid. The claim that Germany loses from this is simply false.
It will always be in a political party's interest to respond to the electorate's fears. But politicians also have a duty to let voters know when their fears are excessive or unfounded. Europe needs a Germany that will veto half-baked proposals. But it also needs a Germany that can overcome its narrow obsessions and provide leadership.
With the current coalition talks, German leaders have an opportunity to assess new global developments that will have far-reaching implications for Europe and Germany alike. They must decide whether it is riskier to do nothing, or to take the initiative. No one is expecting a Damascene conversion. But one hopes for a government that will be more forthcoming in offering solutions.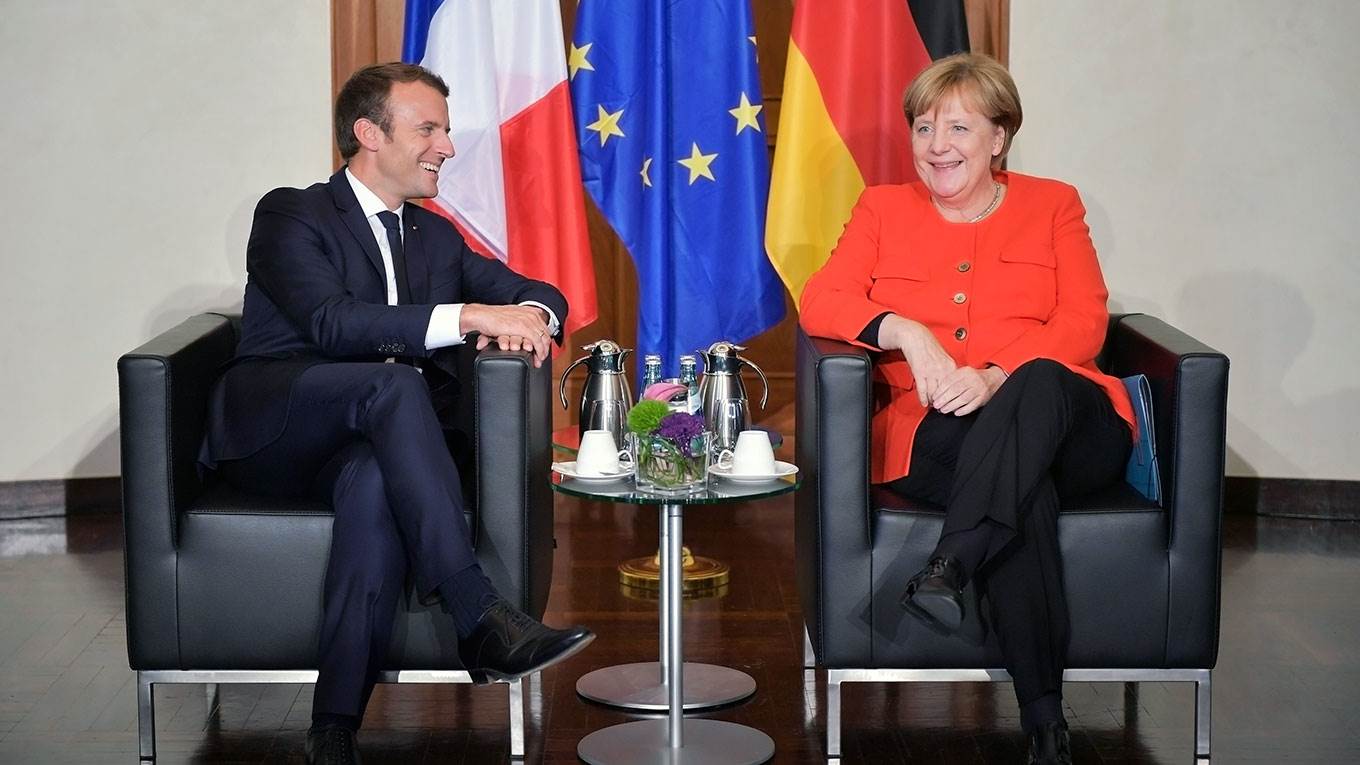 Can France and Germany Come Together?
The crisis in Catalonia and the resilience of European populists have made a well-functioning Franco-German partnership more important than ever. But if the European project is going to have any chance of surviving, the gap between German prudence and French audacity will have to be bridged.
PARIS – Seven months ago, when Marine Le Pen of the far-right National Front had a chance of winning the French presidency, Germany feared for France's future. But after Germany's federal election in September, France has not been particularly afraid for its neighbor. The extreme-right Alternative für Deutschland (AfD), for all its gains, is not about to come to power. Germany, after all, is not Austria.
Nevertheless, French and German elites have found a common cause for concern: Germany may be unable to seize the exceptional opportunity created by French President Emmanuel Macron's victory. Before, the problem was not that Germany was too strong, but that France was too weak. Now the problem is not that France is too ambitious for Europe, but that Germany is not ambitious enough.
For years, Germans complained that France was incapable of domestic reform, and that the French did not understand the meaning of "federalism" in the context of the European Union. Against that backdrop, Macron took the stage, presenting himself as an activist philosopher-president. He is a disciple of the French philosopher Paul Ricœur, and speaks of "European sovereignty" in the same way that German philosopher Jürgen Habermas speaks of "European citizenship."
It will be difficult to strike a harmonious balance between a French president at the dawn of his power and German Chancellor Angela Merkel, who seems to be in the twilight of hers. Above all, it will require Germany to match France's new audacity.
Of course, Germany's suspicion of greater risk-sharing in the eurozone, which Macron's EU reform agenda seems to imply, is understandable. For Germans, that sounds like an updated version of the old EU mantra: "Germany will pay." But the enthusiasm gap between the two governments need not be an unbridgeable abyss.
Le Pen often quipped during the French presidential campaign that, "Whatever the election results, France will be governed by a woman: It will be either me or the chancellor of Germany." The line was witty and provocative; but it was also wrong. Today, Le Pen is well on her way to being a mere detail of history. And while Merkel is still the wise statesperson to whom much of Europe looks for leadership, she is no longer in a position to set the EU's agenda unilaterally.
Clearly, French and German politics are on different emotional trajectories. Germany is more or less satisfied with itself and its place in the world. Merkel's decision to open the country's borders at the height of the refugee crisis surely cost her previous coalition votes in September's election. But, on the whole, Germans remain unwilling to change a European status quo that has proved highly successful for their country.
France, by contrast, feels that change must come now or never. If France and Europe wait until tomorrow to do what should have been done today, then all will have already been lost. From France's perspective, history seems to be accelerating. The United Kingdom is currently negotiating the terms of its withdrawal from the EU; Catalonia's regional parliament has just declared independence from Spain; and populism is resurgent in Central and Eastern Europe.
If France wants to remain relevant in Europe, it must use the current moment to reform itself. And if the EU wants to remain relevant in the world, especially now that America has lost its way, it needs to put European integration back on track.
The gap between France and Germany is largest when it comes to defense and security, owing to a deep cultural divide between the two countries. To be sure, most French and German citizens identify as European, as opposed to UK citizens, who identify as British – or even as English, Irish, Scottish, or Welsh. This is why German and French critiques of the EU generally focus on the bloc's performance, whereas the British often strike at the European project itself.
But when it comes to security and defense, these affinities are reversed: France and Britain are very likeminded, while Germany, owing to its history, has long shied away from martial pursuits of any kind.
Of course, there are many differences between Britain and France with respect to how they engage with the United States and NATO. The UK is naturally closer to NATO than France is. But the UK, mortified by US President Donald Trump, has also grown more distant from the US, while France, under Macron, has grown somewhat closer. Unlike Macron, British Prime Minister Theresa May is not convinced that she can charm Trump.
The Franco-German partnership has long been the pillar of EU stability. And given the deepening crisis in Catalonia and the resilience of European populists, the bilateral relationship is more important than ever.
Put bluntly, Macron and Merkel represent European liberal democracy, based on reason and openness, in contrast to the populist vision represented by Hungarian Prime Minister Viktor Orbán and de facto Polish leader Jarosław Kaczyński. With recent elections in Austria and the Czech Republic moving Central Europe toward what might be called an Austro-Hungarian populist empire, Germany has as much at stake in successful EU reform as France does. The ball, as the Americans say, is in Merkel's court.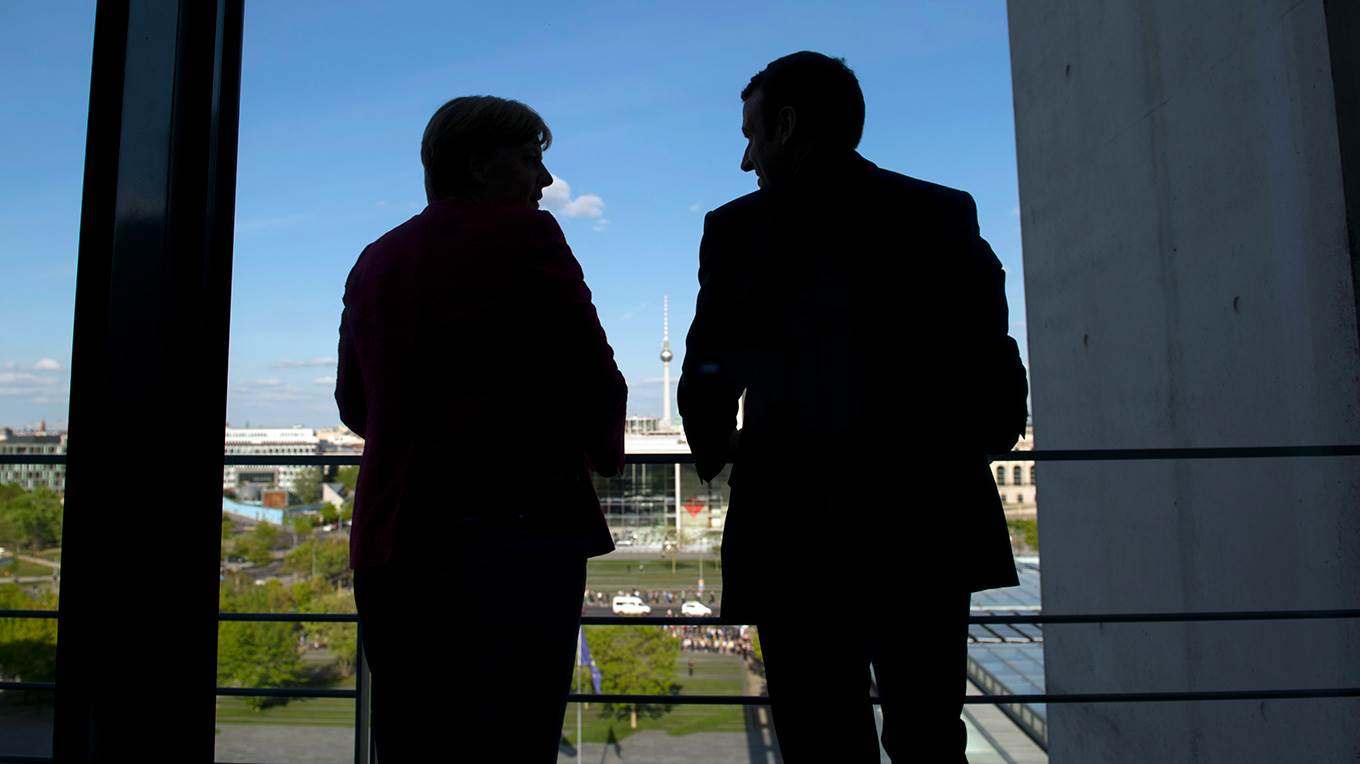 Europe's Hard-Core Problem
With populism endemic in its periphery, the European Union is clearly in a period of deep uncertainty. If EU leaders are ever going to right the ship, they will need to identify the root cause of today's instability, which is not so much about economics or immigration as it is about de facto Franco-German leadership.
PRINCETON – President Emmanuel Macron's election in France and the likely continuation of Angela Merkel's chancellorship in Germany are dramatically at odds with developments in the rest of Europe, which has become increasingly unstable and unpredictable. One wonders if the European Union's hard Franco-German core is becoming too hard for the rest of the bloc. If so, those who dream of "ever closer" European integration may have to settle for a modestly enlarged Franco-German axis.
Europe today is being torn apart by centrifugal forces, including Catalonia's secessionist movement and the more muted push for autonomy in the Italian regions of Lombardy and Veneto. Right-wing populism is in power in Hungary and Poland, and may now be resurgent in Austria, too. Left-wing populists govern in Greece, and centrist populism seems to be coming to the Czech Republic, where the mogul Andrej Babiš is on track to be the country's next prime minister.
Obviously, the EU is producing a bitter backlash from voters across the political spectrum, as the name of Babiš's triumphant party, "Action of Dissatisfied Citizens," would suggest. But what is not obvious is the root cause of that dissatisfaction.
It is often said that populism is an inevitable response from globalization's victims. But this claim is belied by strong economic performance in the Czech Republic, Hungary, and Poland. And it doesn't explain why the Catalan crisis erupted just as Spain was staging a strong economic recovery, or why Greece remains vulnerable. Meanwhile, another favorite culprit, refugee inflows, has a compelling alibi: there are actually very few asylum-seekers in the countries spearheading attacks on the EU's migration policies.
To identify the root of European discontent, we need to examine the long-held expectation that leadership in Europe must always come from the Franco-German partnership, which was the primary driver of European integration for decades. In the post-war period, French President Charles de Gaulle worked closely with West German Chancellor Konrad Adenauer, and this carried through until the 1990s, when François Mitterrand and Helmut Kohl forged a close friendship.
Owing to this history, it was long assumed that if France and Germany agree on something, the rest of Europe should simply fall into line. But during the eurozone debt crisis, which began in late 2009, power started to shift away from France, and toward Germany, and many in Europe began to regard both as bullies. In opinion surveys, French and Germans now rank low in other Europeans' assessments of trustworthiness.
Merkel, to be sure, has been polarizing. Before September 2015, many Europeans believed her to be too devoted to an austerity regime that had intensified the euro crisis. Then, she led Europe's humanitarian response to the refugee crisis, earning praise from former critics but condemnation by populists and other anti-EU nationalists, particularly in the United Kingdom, France, and Central Europe. Now, populists blame her for not just refugees, but for terrorism, too.
Similarly, Macron has not done himself any favors in Central and Eastern Europe. His criticism of the Posted Workers Directive – which allows workers from the region to undercut Western European wages and avoid payroll taxes – has made him as much a villain as Merkel in some countries.
During the euro crisis, many Greek, Italian, and Spanish politicians saw France as a counterweight to Germany. They thought that France could temper Germany's austerity push and advocate for higher public-sector investments. But this was an illusion, and a misreading of France's role in the Franco-German partnership. According to the traditional division of labor, France provides security and the means for Europe to project power abroad; and Germany oversees finance and economics at home.
When Europe was confronted with a security challenge after Russia's 2014 annexation of Crimea, the Franco-German engine ran rather efficiently. But the EU's critics do not like the idea of coordinated foreign policies any more than they liked the idea of fiscal and monetary discipline being imposed in the middle of a recession.
Still, even as the Franco-German partnership has drawn fire, it has also gained salience, owing to the UK's decision to leave the EU. Before the 2016 Brexit referendum, many on the EU's periphery saw the UK as a barrier to French dirigisme and German power grabs. Now, the UK is at the mercy of Germany and France as it negotiates its exit.
The press photographs of British Prime Minister Theresa May's visit to Brussels on October 20 were telling, because they recalled the moment when, at an EU summit in November 2011, Merkel and former French President Nicolas Sarkozy rolled their eyes at Italian Prime Minister Silvio Berlusconi. Within a couple of weeks, Berlusconi was out of government.
Looking forward, France and Germany urgently need to develop a shared vision that transcends their own national politics and embraces genuine EU-level reform. There is already some agreement on the need for defense coordination and tax harmonization. But that is not enough. France and Germany still need to address many questions with respect to fiscal centralization, sovereign-debt restructuring, and other fundamental issues.
And regardless of whether France and Germany agree on any given issue, all policy areas need to be opened up to a bargaining process that includes all other EU member states. The rest of Europe needs to feel as though it has a seat at the table. This could be accomplished with EU-level candidate lists for the European Parliament, as Macron recently proposed; or with formal mechanisms to engage Europe's regions and cities, so that the European Council is not reserved exclusively for member states.
Ultimately, the EU can still develop, but only if it frees itself from narrow French and German priorities. What Europe needs now is not a hard core, but a hard think.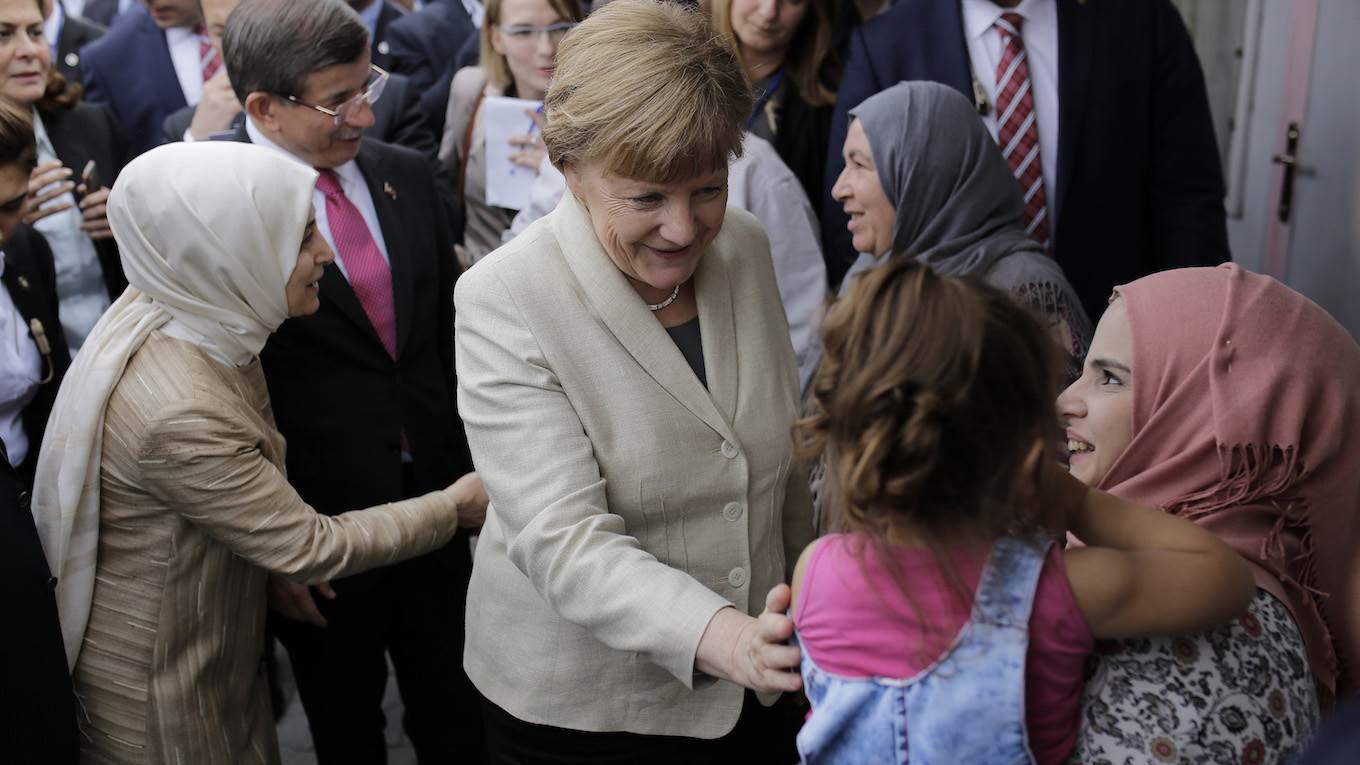 Angela Merkel's New Germany
From welcoming refugees to improving gender equality, German Chancellor Angela Merkel's talent at bridging social and political divides has made Germany's transformation into an open society possible. This, not economic policy, has been the greatest achievement of her tenure.
BERLIN – German Chancellor Angela Merkel's Christian Democratic Union (CDU) may have won a majority in September's federal election, but that does not mean that the country's future is clear. What emerges as Merkel seeks to form a new coalition with the Greens and the Free Democrats will not only shape Germany's economic trajectory over the next four years; it will also determine the fate of the country's transformation into a truly open society.
In less than a generation, Germany, once the sick man of Europe, has emerged as a global economic powerhouse. But the truth is that Germany's current economic success is less the result of good policies than of favorable external conditions, especially in Europe, which ensured strong demand for German exports.
To be sure, important domestic economic reforms enabled Germany to take advantage of external demand. But they were undertaken long before Merkel came to power, and few meaningful economic reforms have been implemented during her 12-year tenure. For example, domestic private investment remains weak, partly owing to overregulated services and heavy bureaucratic burdens.
Moreover, as the German government has preached austerity to its neighbors, it has increased social spending on pensions and transfers, all while allowing net public investment to turn negative. The much-needed overhaul of the tax system once hyped by the CDU has failed to materialize. And, though employment has increased during Merkel's tenure, job creation has not succeeded in reducing the low-income segment of the labor market.
The parties most likely to form the next government – the CDU (and its Bavarian sister party, the Christian Social Union), the Greens, and the Free Democrats – are now fighting over how best to use Germany's large fiscal surpluses to serve their respective constituents. Whatever decision they make, Germany's economic performance is likely to remain strong, at least in terms of trade and a balanced budget.
The real test of the so-called Jamaica coalition (named for the parties' colors) lies elsewhere. What Merkel has lacked in economic-policy achievements, she has made up for in bringing about social change. Under her leadership, Germany has become the open society it is today. But it is also an increasingly divided society.
As it stands, some 20% of Germany's population of 82 million has a migrant background, and close to five million are Muslim. This multiculturalism is reflected in changing perspectives on the part of all Germans. Four out of five Germans now consider Islam and homosexuality to be part of German society; three out of four say the same about migrants and refugees. And Germany has one of the most pro-European populations on the continent.
The last three governments, all led by Merkel, have contributed mightily to this transformation. Critics call Merkel the first social democratic chancellor from a conservative party, because she has embraced many progressive policies, while preaching stability and traditional values. Arguably her most important decision – which almost cost her the chancellorship, but might ultimately shape her legacy – was her 2015 decision to accept, despite fierce opposition from many in her own party, almost 1.5 million asylum-seekers and push for their integration into German society.
Germany's Merkel-led governments have also supported early childhood education and children's rights, while overseeing substantial progress on gender equality. Broader, more flexible access to the labor market, expansion of early childhood facilities, and financial incentives have driven an increase in female labor-force participation to more than 70%, one of the highest in the industrialized world. The current German government also implemented a 30% quota for women on supervisory boards of large companies, as well as a wage transparency law aimed at reducing the country's gender pay gap, which is still a whopping 21%.
While Merkel did not spearhead these reforms – not least because she had to avoid alienating those in her party who viewed them negatively – she offered tacit support. Similarly, though Merkel herself voted earlier this year against legalizing gay marriage, which many in her party do not support, she accepted graciously the Bundestag's decision, declaring that she hoped the vote would not only promote "respect between different opinions," but also bring "more social cohesion and peace."
Ultimately, it is Merkel's talent at bridging social and political divides that has made Germany's transformation into an open society possible. And this, not economic policy, might ultimately become the greatest achievement of her chancellorship. In some ways, Germany has already moved beyond the point of no return on its path toward openness, owing to Merkel's 2015 refugee policy.
Yet there are enormous challenges ahead. Beyond the technical and social challenges associated with the successful integration of refugees, there is a need for greater tolerance toward Islam and diversity more generally on the part of all Germans. Further changes to family and gender policies and an overhaul of the education system will also be needed.
As Germany continues to debate what it means to be German, the outcome of the current coalition negotiations will determine whether Merkel's next government confronts these challenges effectively. If it does, Merkel will be remembered as the architect of a new German society.